VYPE Public School Football Team, Players of the Year & All-VYPE Teams by Houston Methodist Orthopedics & Sports Medicine
Jan 12, 2023
...
ALL-VYPE PUBLIC SCHOOL
Offensive MVP – David Amador, North Shore
Defensive MVP – Jadon Ducos, Atascocita
…
OFFENSE
Quarterback
First-Team
Preston Hatter, Westfield
Gavin Rutherford, Cinco Ranch
…
Second-Team
Mabrey Mettauer, The Woodlands
Trey Owens, Cy-Fair
…
Honorable-Mention
Zion Brown, Atascocita
Jordon Davis, FB Marshall
Denim Johnson, CE King
Caleb Koger, Katy
DJ Lagway, Willis
Cade Tessier, Lake Creek
…
Running Backs
First-Team
Seth Davis, Katy
Rueben Owens, El Campo
…
Second-Team
Rashaad Johnson, North Shore
Kedrick Reescano, New Caney
…
Honorable-Mention
Taji Atkins, Westfield
Tyvonn Byars, Lake Creek
Xai'Shaun Edwards, Clear Springs
Trey Morris, Cy Falls
Ashton Ojiaku, Foster
Santana Scott, Morton Ranch
Christian Womack, Tomball
…
Wide Receivers
First-Team
Ja'Koby Banks, FB Marshall
Jaelen Smith, Klein Cain
Jonah Wilson, Dekaney
...
Second-Team
Noah Abboud, Cinco Ranch
Ryan Niblett, Eisenhower
Jaquaize Pettaway, Langham Creek
...
Honorable-Mention
Marquis Johnson, Dickinson
Zion Kearney, Hightower
Seth Salverino, Cinco Ranch
Ashton Schumann, Clear Springs
Ethan Wyatt, Klein Collins
…
Tight Ends
First-Team
Hawkins Polley, Stratford
Cooper Stevens, Cy-Fair
…
Second-Team
Hayden Davis, Clear Springs
Clayton McBride, Deer Park
…
Honorable-Mention
Luke Carter, Katy
Chico Holt, Strake Jesuit
Reid Mikeska, Bridgeland
Gary Rebodello, MacArthur
Jordan Washington, Langham Creek
…
Offensive Line
First-Team
Omarion Dudley, North Shore
Nick Fattig, Clear Springs
Ashton Funk, Tompkins
Nate Kibble, Atascocita
Gibson Pyle, Klein Cain
…
Second-Team
Ray'Quan Bell, Westfield
Peyton Farmer, Ridge Point
Reagan Gill, Jersey Village
Hudson Perroni, Stratford
Cross Tucker, The Woodlands
…
Honorable-Mention
Layton Mann, Lake Creek
Frank Moss, Heights
Jonte Newman, Bridgeland
Zach Session, Morton Ranch
Koltin Sieracki, The Woodlands
Marquis Yancy, Shadow Creek
Erick Zapata, Kingwood Park
…
DEFENSE
Defensive Line
First Team
Zach Chapman, FB Marshall
Elijah Fields, North Shore
David Hicks Jr., Paetow
Samu Taumanupepe, Atascocita
…
Second-Team
Bryson Balka, Westfield
Theorin Randle, Shadow Creek
Ashton Porter, Cy Ranch
Serigne Tounkara, Clear Springs
…
Honorable-Mention
Mason Fleming, Manvel
Terrance Green, Cy Woods
Joseph Jonah-Ajonye, Oak Ridge
Jaylon Joseph, North Shore
Landon Rink, Cy-Fair
Emaon Small, Fulshear
Trent Spence, Klein Forest
Zion Taylor, Shadow Creek
…
Linebackers
First-Team
Dillon Dixon, North Shore
Daymion Sanford, Paetow
Braylan Shelby, Friendswood
Brad Spence, Klein Forest
…
Second-Team
Christian Brathwaite, Cy Ranch
Alex Kilgore, Paetow
Jordan Sample, Marshall
Justin Williams, Oak Ridge
…
Honorable-Mention
Jarvon Coles, North Shore
Cooper King, Stratford
Grayson Lincecum, Memorial
Dylan Rogers, Cy Woods
James Walley, Ridge Point
Breylon Wyatt, Westfield
…
Defensive Backs
First-Team
Jayven Anderson, North Shore
Johnathan Hall, Katy
Devin Sanchez, North Shore
Maurice Williams III, Shadow Creek
…
Second-Team
Jacoby Davis, North Shore
Taylor Davis, Ridge Point
Vernon Glover Jr, Dickinson
Braylon Conley, Atascocita
…
Honorable-Mention
Patrick Batiste, Klein Cain
Rodney Bimage, Dickinson
Evan Jackson, North Shore
Cory Huff, Nimitz
Tyler Hutcherson, Eisenhower
Darius Johnson, Jersey Village
Caleb Komolafe, Tompkins
Marques Neal Jr, Channelview
Paul Omodia, Bush
Lazarus Ranch, Pearland
…
SPECIAL TEAMS
Kickers
Aidan Bui, Shadow Creek
Carlos Alvarado, Tomball
Garrett Carleton, Clear Creek
Adam Carter, Katy
Christian Castaneda, Langham Creek
Giancarlo, Chelala, Stratford
Wyatt May, Kingwood Park
David Michel, George Ranch
Jose Morales, Channelview
Erik Peters, Lamar
Ray Razo, Alvin
Scott Starzyk, The Woodlands
Dillion Trimble, FB Austin
…
Punters
Zidane Allan, Memorial
Caylon Dygert, Magnolia West
Kade Eudy, Crosby
Francisco Sanchez, Deer Park
Max Williams, Clear Falls
...
OFFENSIVE PLAYER OF THE YEAR FINALISTS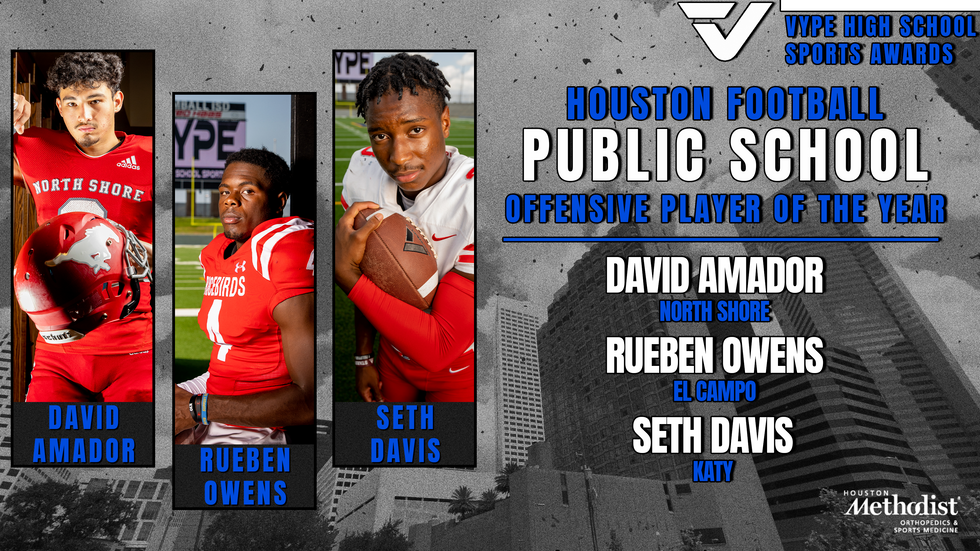 ...
DEFENSIVE PLAYER OF THE YEAR FINALISTS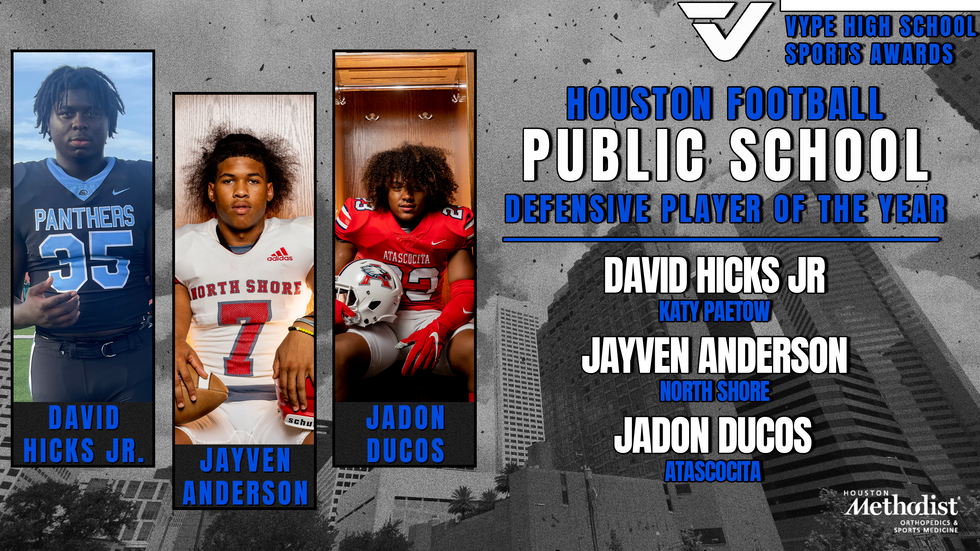 ...
Watch the video below to find out who won the Public School Offensive & Defensive VYPE Awards presented by Houston Methodist Orthopedic & Sports Medicine
Houston Methodist Orthopedics & Sports Medicine is Houston's leading provider of orthopedic services, from sports medicine to joint replacement. Houston Methodist offers comprehensive diagnostic, treatment and rehabilitative services with a high standard of excellence for elite athletes, active adults and student athletes. Houston Methodist serves as the official health care provider for the Houston Texans, Houston Astros, Rice Athletics, Houston Livestock Show and Rodeo™, Houston Ballet, Houston Symphony and Houston Grand Opera.