By Bradley Collier
Entering Week 5, here are the Class 5A/4A leaders in passing, rushing and receiving.
...
TOP 10 RUSHING LEADERS
Ashton Stredick, Needville, 631 Yards
Zion Childress, New Caney, 609 Yards
Tyree Simcik, Columbus, 579 Yards
Ronald Holmes, Northside, 549 Yards
AJ San Miguel, Huffman Hargrave, 545 Yards
Marvin Lewis, Hempstead, 539 Yards
Johntre Davis, El Campo, 533 Yards
Mitch Hall, Magnolia, 532 Yards
Devon Achane, FB Marshall, 511 Yards
Matthew Lord, Sealy, 504 Yards
…
TOP 10 PASSING LEADERS
Ryan Stubblefield, Foster, 959 Yards
Tucker Yarbrough, Manvel, 959 Yards
Ronald Holmes, Northside, 944 Yards
Justin Shively, Huffman-Hargrave, 842 Yards
Trevor Needville, Needville, 699 Yards
Steele Bardwell, Willis, 665 Yards
Kyron Drones, Shadow Creek, 649 Yards
Ijenea Wooley, Lee, 646 Yards
Jonah Brooks, Waltrip, 598 Yards
Christian Kaopula, Barbers Hill, 594 Yards
…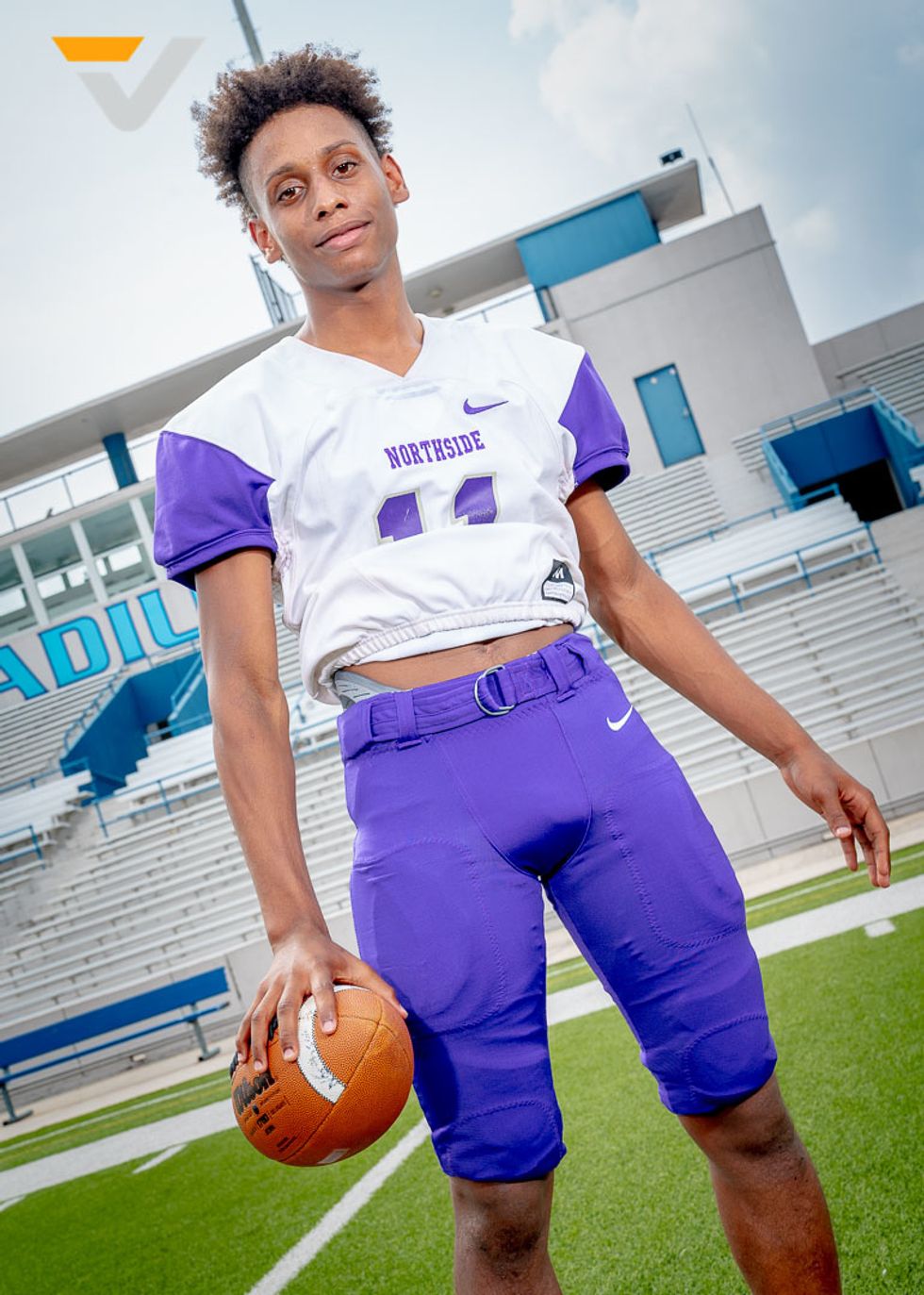 Devondre Moore, Northside
TOP 10 RECEIVING LEADERS
Cody Jackson, Foster, 503 Yards
Devondre Moore, Northside, 403 Yards
Cameron Cauley, Barbers Hill, 379 Yards
Devon Achane, FB Marshall, 336 Yards
Chris Martinez, Northside, 326 Yards
Roylee Williams, Yates, 316 Yards
Tre Harden, Montgomery, 287 Yards
Vince Villareal, Needville, 280 Yards
Dax Bridges, Needville, 280 Yards
Ty'Dederick Anderson, Stafford, 263 Yards
The first week of Texas high school football definitely lived up to the hype. Several athletes had outstanding performances in the Houston area, but who do the fans think was the top performer from the first week of football?
The Freddy's Poll of the Week – VYPE Houston Week 1 Football Player of the Week is now live! Fans will have the chance to vote until Friday, September 6th, at Noon.
Please note that the use of voting software or bots will result in a deletion of votes and a potential DQ from the contest. PLEASE try to keep this fair and fun for all involved!
All athlete polls and their content are only associated and created by VYPE Media and its staff. The content is not created or voted on by any corporate sponsor or marketing partner. Please contact VYPE Media directly if you have any questions, comments, or concerns around our Fan Polls.
The Freddy's Way: Enjoying great food without a long wait doesn't mean your meal has to be cooked before you order it. From steakburgers to sundaes, Freddy's makes food fresh after you ask for it because that's the kind of quality you deserve. Take a moment to catch up with friends and family; it's almost time to eat. Click here to see the nearest Freddy's location to you!

<a href="https://poll.fm/10400381">FREDDY'S POLL: VYPE Houston Week 1 Football Player of the Week (Closes Fri. 9/6 at Noon)</a>