VYPE ATX/SATX Boys and Girls Basketball Rankings Week of 1.16.23
Jan 17, 2023
New year, same great rankings! As 2023 kicks off district play is heating up. Where do teams stand since the last rankings before Christmas? Also 2 schools showing dominance in the boy's and girl's side of things? Check in below to find out.
**Records obtained from MaxPreps unless otherwise noted
**Games already played have been noted but not taken into account for the rankings
BOYS BASKETBALL RANKINGS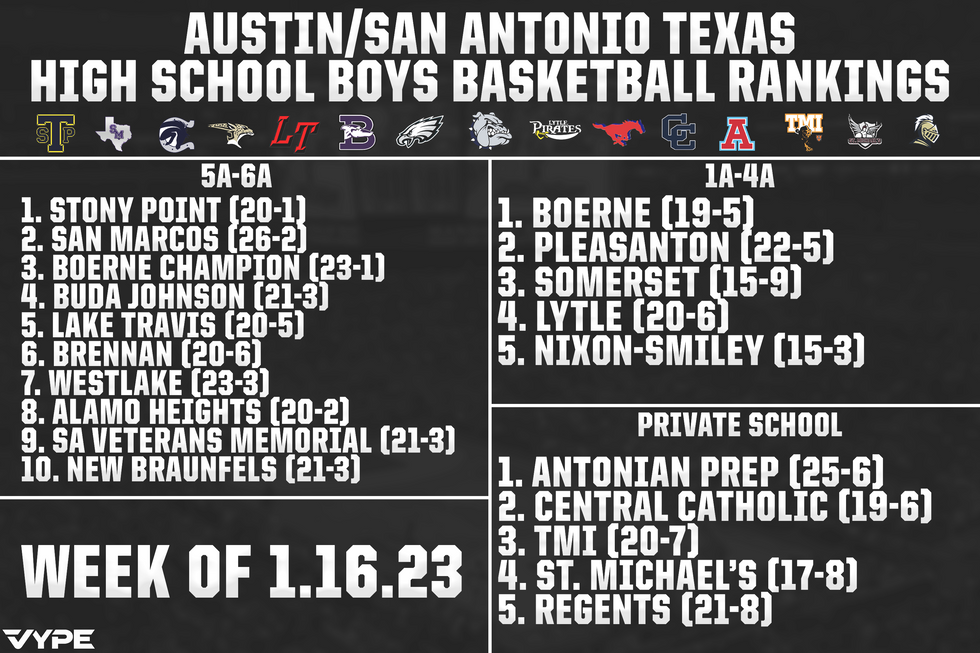 5A-6A: Stony Point stays at the top and looks like the team to beat in 6A for the region, though I'm sure number 2 San Marcos wants another shot at them. They are coming off a thrilling buzzer beating win over district foe Clemens. Buda Johnson moves into the rankings after handling Westlake and San Antonio Veterans Memorial and New Braunfels jump into the rankings to round out our Top 10. The end of the season should be exciting with a handful of these teams about to play one another.
1A-4A: Boerne and Pleasanton are still the team to beat in district. Pleasanton got the best of Somerset in their first district game but that rematch will be one to watch. Meanwhile Nixon-Smiley finds themselves in the rankings for the first time of the season.
PRIVATE SCHOOL: Antonian jumps over Central Catholic after their head-to-head victory and Regents jumps into the rankings after defeating the previous number 5 Brentwood.
GIRLS BASKETBALL RANKINGS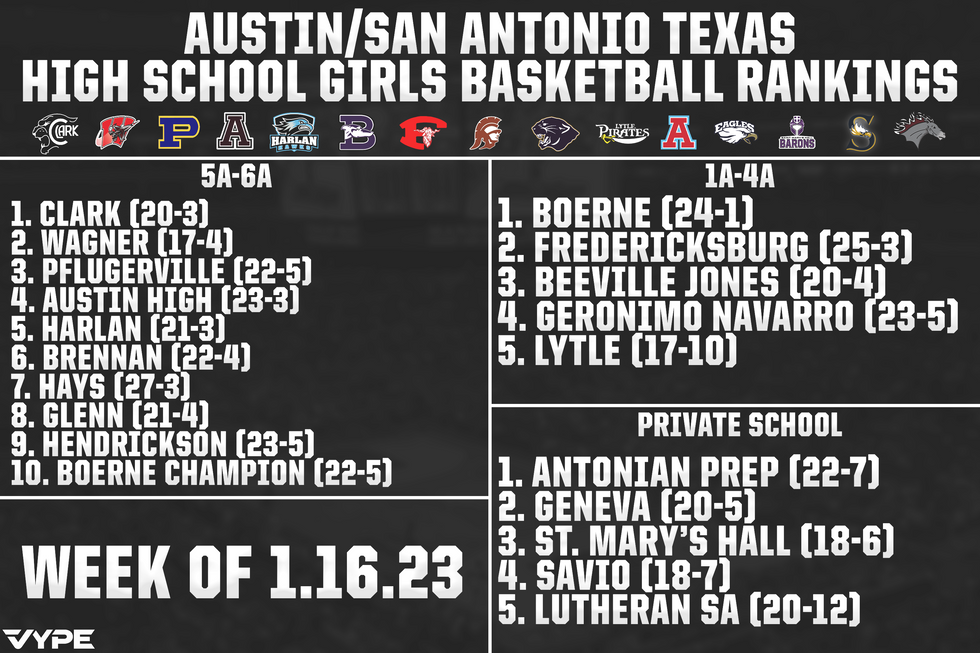 5A-6A: Clark is still the best in 6A in the region. After that arguments can be made as to who should be where, in my opinion, when talking about 2-7. Austin and San Antonio is that contested. After that Glenn makes their way into the rankings sitting at 21-4 on the season.
1A-4A: Boerne jumps over Fredericksburg after their head-to-head win and that rematch will be a must watch. Beeville Jones jumps to 3 and Navarro settles in at 4. They lost to both Boerne and Fredericksburg and will look to try and exact some payback in the 2nd half of district. But if you're asking me now Boerne and Fredericksburg are a step above and should contend for a title this year.
PRIVATE SCHOOL: Antonian Prep stays at number 1 and Geneva jumps into the 2 spot. Other than that no change in the teams in the top 5, just their placement.