VYPE ATX/SATX Boys and Girls Basketball Rankings Week of 11.28.22
Nov 29, 2022
**Records obtained from MaxPreps unless otherwise noted
**Games already played have been noted but not taken into account for the rankings
BOYS BASKETBALL RANKINGS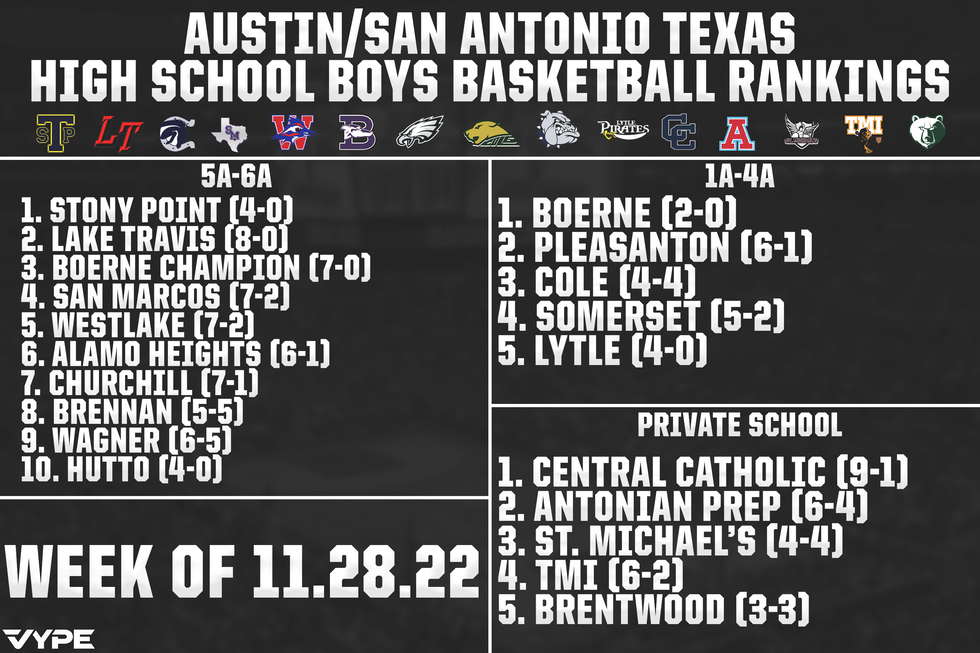 5A-6A: Lots of movement from the preseason, and we decided to go Top 10 here. Stony Point has looked good so far this season with a win over #4 San Marcos, and even with 4 games under their belt we decided to put them in. Boerne Champion is looking great in the 5A level to start the year as well. 6A is going to be a slog this year and there are going to be so many good teams in contention in the Austin and San Antonio areas.
1A-4A: Nothing changes here. Some teams like Cole and Somerset have some losses but early in the season losses aren't always what they appear. Take Cole for instance. They have 4 losses but they are all to teams of higher classification.
Private School: Central Catholic takes over the top spot and has a game tonight against San Marcos that is going to tell us where both of these teams stand heading into 2023.
GIRLS BASKETBALL RANKINGS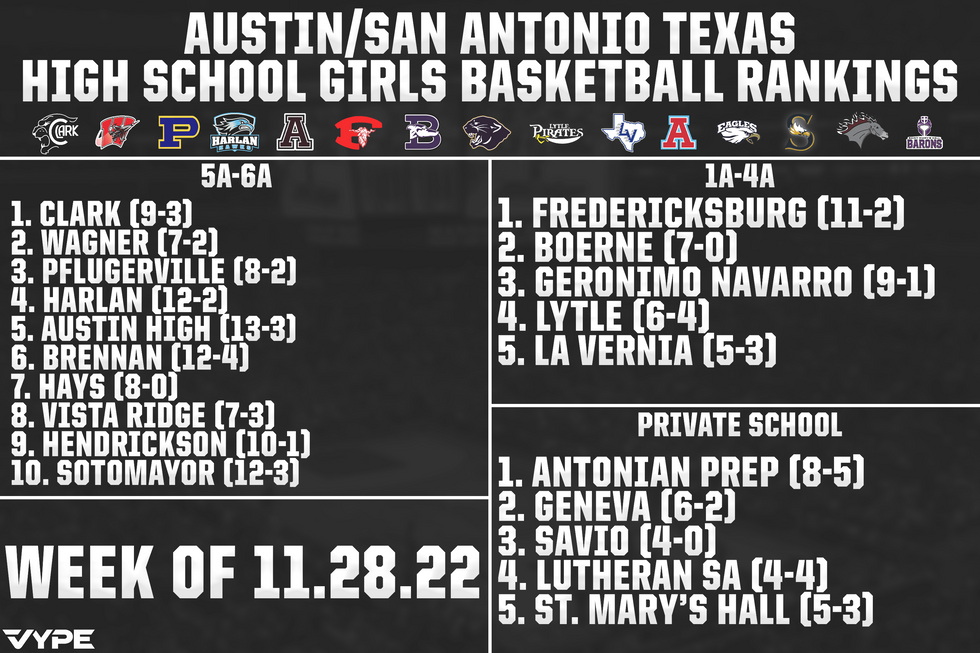 5A-6A: Steele and Cedar Park drop out after a slow start to the season and Pflugerville moves into the Top 3 after a great start to the season. Austin High will be a team to watch as the season progresses as well. And a 12-3 start for new school Sotomayor sees them enter the Top 10.
1A-4A: Fredericksburg and Boerne stay 1 and 2 with Fredericksburg looking really good. They are looking to get back to the Alamodome for the State tournament and they have the squad to do it. Also moving into the rankings is Geronimo Navarro who look great to start the season.
Private School: Antonian Prep stays in the top spot while Geneva moves to the 2 spot. Savio moves to 3 with their undefeated start.