VYPE ATX/SATX Boys and Girls Basketball Rankings Week of 12.21.22
Dec 21, 2022
As we head into Christmas break we release our last rankings of the year, how do things stack up as district starts for some districts as we head into the home stretch of the basketball season? Check in below to find out.
**Records obtained from MaxPreps unless otherwise noted
**Games already played have been noted but not taken into account for the rankings
BOYS BASKETBALL RANKINGS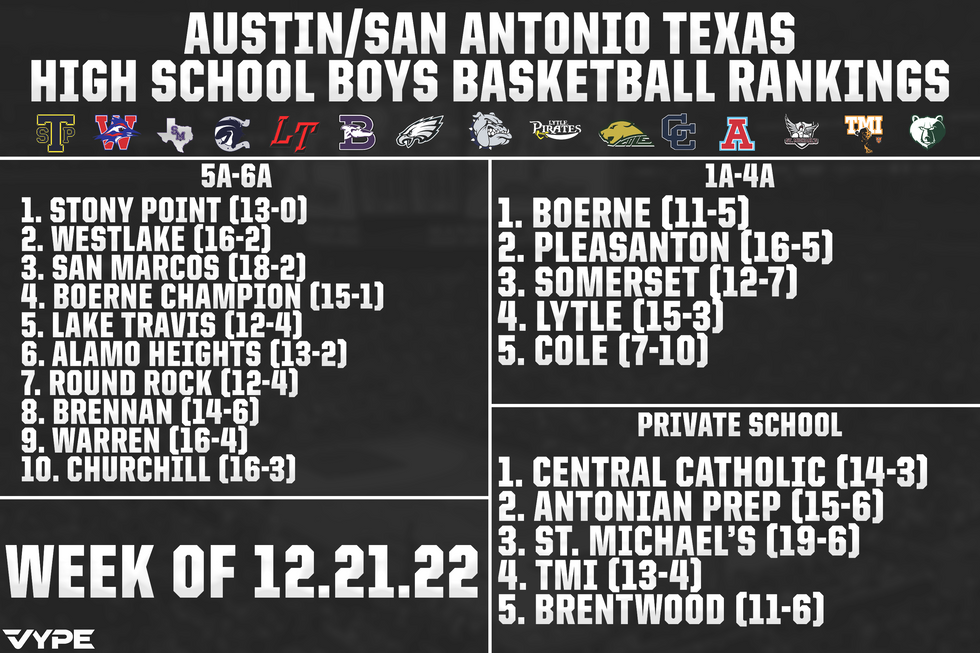 5A-6A: Not a lot has changed for the most part at the top, except Westlake is now at number 2 in the rankings after their win over Lake Travis who is now at 5. Will be interesting to see their trajectory now that football season is over and to see if Stony Point can stay at number 1 and if so for how long. And don't sleep on San Marcos, a team I am high on.
1A-4A: Not much has changed here, except moving Cole from 3 to 5. People may scratch their head at the 5 spot for Cole who is 7-10, but do us a favor and go look at their non-district schedule. This team is playing some 6A and 5A schools that will set them up come playoffs and beyond.
Private School: Central Catholic still stays at 1 and is looking great to start the season with Antonina Prep on their heels. Brentwood and St. Michael's are the 2 teams to watch in Austin as we head into 2023.
GIRLS BASKETBALL RANKINGS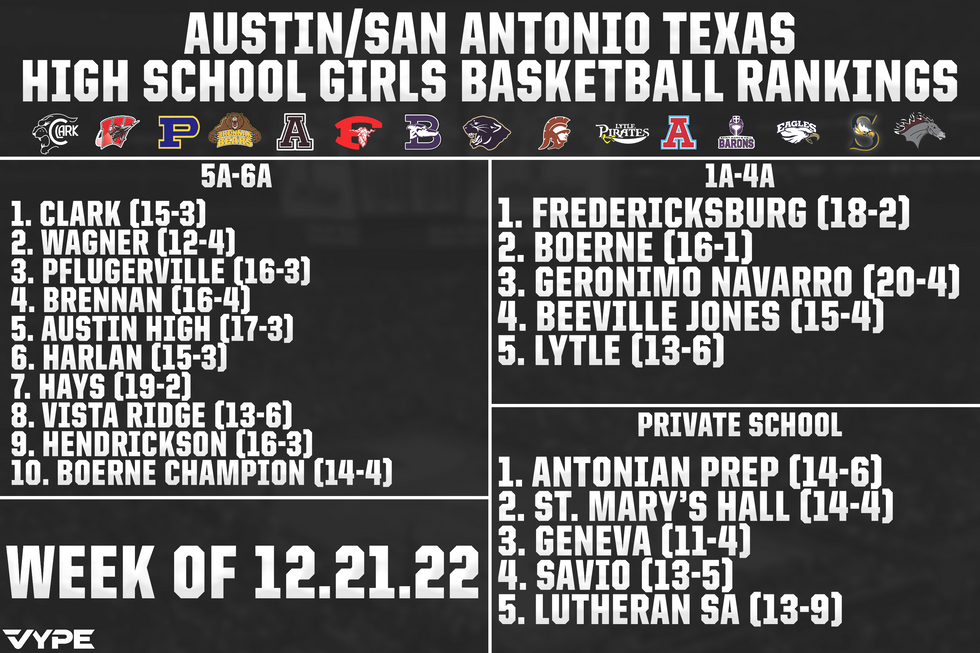 5A-6A: Clark is the team to beat still though teams like Hays, Brennan and Harlan you should keep your eyes on as we move into 2023. I'll be watching the rematch between Brennan and Harlan later in the year.
1A-4A: Fredericksburg and Boerne are on a collision course for their January 13th district matchup. Oh and let's not forget Navarro. They lost to Fredericksburg last week and will be looking for some revenge later in the season.
Private School: Antonian Prep sits at the top with St. Mary's Hall on their tail.