Photo by Bradley Collier
Seven Lakes senior Casey Batenhorst has enjoyed a storied high school volleyball career so far.
She is an SMU-commit, four-year varsity letterman and a state champion.
Incredibly, however, Batenhorst has accomplished all of this while dealing with Duane syndrome in her left eye. It's an eye movement disorder that causes her to see double when looking to her left.
"I've had it all my life, so I've learned to choose the right one (ball) when I see double," Batenhorst said, laughing. "I've had some complications. It takes a little more effort and focus from me to see the ball completely and get around the ball."
While the disorder doesn't affect her serving, blocking or defense, if Batenhorst is hitting from the right side, it can be difficult to see the ball when looking left. She must take a different approach than normal, more direct toward the ball instead of opening up her right side toward it.
The positive is that Duane syndrome has become the force behind a fearless, competitive drive that belies a friendly, outgoing personality.
"If I can overcome having to see double of the ball, I know I can overcome anything," Batenhorst said. "Any little challenge, I'm up for."
Batenhorst is the last of a remarkable trio of sisters that has dominated for Seven Lakes over the last few years. The oldest sister, Dani, class of 2017, plays at Gonzaga. The middle sister, Ally, was the 2020-21 Gatorade National Volleyball Player of the Year last season and now plays at Nebraska.
It is now Casey's turn.
She averaged 10.2 assists per set in helping the Spartans win Katy ISD's first volleyball state championship in 2020 and is ready for more.
"I'm excited to show diversity and different talents I've acquired, as far as more dumping skills, more blocking, mixing up the offense and being more of a leader," Batenhorst said.
Batenhorst is confident the Spartans have what it takes to repeat. They will look different after graduating three of their top hitters. Seven Lakes will have to mix things up offensively and move hitters around more, which means Batenhorst could see some time as an attacker with the emergence of sophomore setter Simone Romriell.
"People say it's hard to win a championship back-to-back, but we're the team for it," Batenhorst said. "We're all passionate to win it all again. Anything's possible with the group of girls we have now."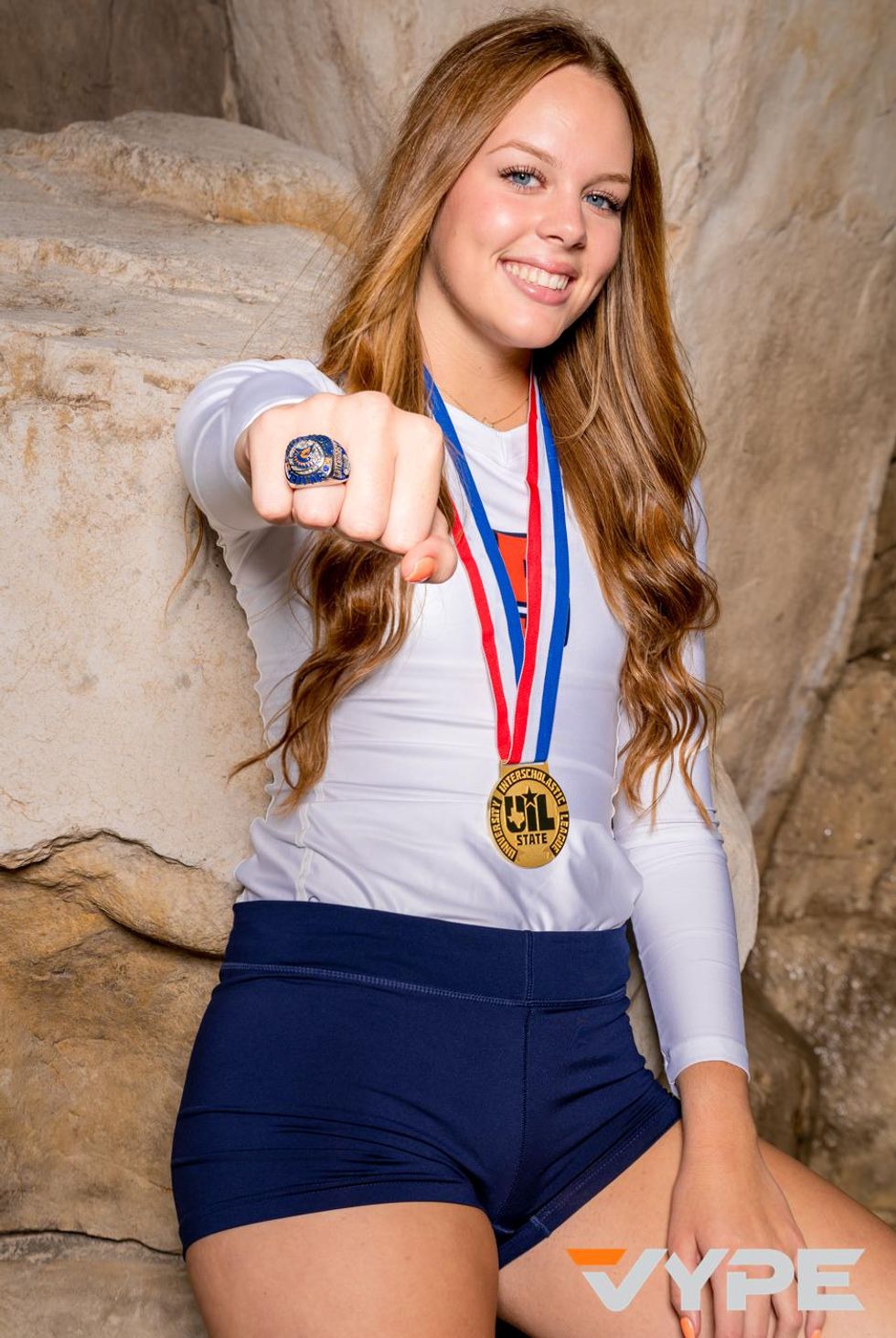 To purchase the 2021 VYPE Volleyball Preview CLICK HERE
To view the VYPE Digital Magazine CLICK HERE
To view all photos from the photo shoot CLICK HERE
By Bradley Collier
HOUSTON: VYPE Media released its 2021 Houston Volleyball Preview presented by Academy Sports and Outdoors Wednesday, it's 14th annual edition.
Houston is currently the epicenter of volleyball in Texas and arguably the nation. The Bayou City is home to Seven Lakes High School, which captured the 2020 Class 6A State Title over Klein High School, another Greater Houston program.
Fulshear High reached the Class 5A State Title Game in its first year moving up a classification. The Chargers won state in Class 4A in 2019.
There are double-digit state contenders hailing from Houston in all classifications in 2021.
A special thanks goes to Balmoral Crystal Clear Lagoon & Beach Club and Lago Mar Lagoon, which hosted the VYPE photo shoots where hundreds of the nation's top volleyballers were on hand for the two-day event.
Gracing this year's cover are five national recruits – Ava Underwood of Fulshear, Casey Batenhorst of Seven Lakes, Morgan Perkins of Episcopal, Logan Lednicky of George Ranch and Kierstyn McFall of Klein.
Batenhorst will play her college ball at SMU, Underwood and Lednicky are future Aggies, Perkins will star at Oklahoma and McFall heads east to North Florida.
VYPE's Volleyball Preview provides a prospectus of the 2021 public and private school landscape and releases its All-VYPE teams.
To purchase the 2021 Volleyball Preview CLICK HERE. Limited copies available.
For access to all the images from the photo shoots CLICK HERE