COLUMN: Jaydon Blue missing "most authentic football he will ever play"
May 27, 2021
The minute I saw the Tweet that Klein Cain RB and national recruit Jaydon Blue was forgoing his senior year of high school football, I just had to laugh. But it's really not a laughing matter.
Is this what we've come to? Really? Opting out of college football is whack, but high school football? I've seen kids check out of their senior year because they have dozens of offers, but not opt-out altogether.

Is this a trend or just an anomaly? Is this the future of nationally-ranked football recruits? We know this is the standard in basketball as athletes bounce from their high schools and drift to Prep Schools across the country.
But has the Texas Longhorn commit let the genie out of the bottle that we will never get back in?
...
I first heard of Jaydon Blue when he was graduating from middle school… middle school! Not through social media, not from a recruiting service, not from a personal trainer, not from a 7-on-7 team… but from his high school coach… his future high school coach.
"The kid is going to be special," everyone said. And he is talented.
At 6-foot, 205-pounds, Blue was the District Offensive MVP last season. He's really good and he's a Top 10 player in the country. He knows it, his family knows it, his people know it.
Look, when you are a coveted national recruit there are so many trappings. So many influences. You have dollar signs in your eyes. Big NFL dreams. I've been doing this for over two decades, I've seen this 100 times.
However, those who are kept grounded and humbled by their coaches and friends, usually succeed on the field and in life.
But this onion has so many layers and gory details that I won't go into, It's a tough pill to swallow, but what I love about high school coaches is their "next man up mentality."
High school coaches have 350 kids in their program and no one person is bigger than the program, right? One thing about football coaches, they are consistent as hell. They just keep moving.
See North Shore, coach Jon Kay, Zach Evans, and the 2019 State Championship game. Google it.
What's the biggest shame about this? Blue's "350 brothers", who he "went to war with" at practice and on the playing field found out like we all did… on social media. Friends he played with before all of this crap ever mattered – from Little League to junior high to coming up on varsity.
Here's the point. High school is a special time, it's magical. It's friendships and bonds that last longer than the money. This chapter is nearly over, why not finish it out?
Don't just take it from me. Take it from someone who has been through it.
...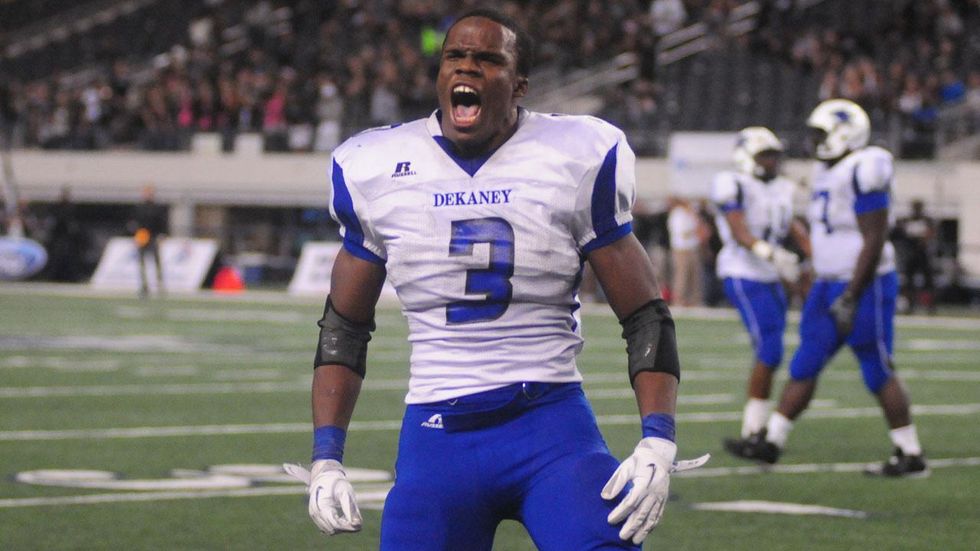 Trey Williams won state at Dekaney HS
In 2012, Dekaney running back Trey Williams was Jaydon Blue before Jaydon Blue. Williams was the No. 2 overall All-Purpose Back in the country. Everyone wanted him. He had all the same trappings.

Dekaney was a new school looking for a "face of the program". The school was just five years old but had a prodigy.
The parallels are interesting. Klein Cain is also entering year five and Blue was the Big Man on Campus. Nationally, not just locally.
Williams and the Wildcats came out of nowhere to win a STATE TITLE in 2011 – Williams legacy was cemented forever.
"High school football is the most genuine football you are ever going to play," Williams said in a phone interview with VYPE. "You are playing for the love of the game with your friends. Don't get ahead of yourself and enjoy it.
"If I would have done such a thing, I would have regretted it. Not only would I be letting my teammates down, but my coaches down, my community down. I wanted to build something at Dekaney. Something that had never been done. I wanted to build a legacy.
"Here's the thing, there is going to come a time where he's going to have to come back to the community. What about those guys you left in high school? You are going to leave and do your own thing. That's not what football is about."
Williams finished with over 8,000 yards and 86 TDs. He was an All-American on every level and was offered by everyone in the country. He even played baseball. He had a successful career at Texas A&M before turning pro, where he has played for seven NFL teams. Now, he plays in the Canadian Football League.
"Take it from me, when you leave high school, it's nothing but business. It's a business and they treat you like that starting in college," Williams said. "You are going to get your feelings hurt.
"I could have never sacrificed my senior year. All the things my teammates and I went through, the highs and lows. Those were the greatest moments of my football career. It was better than making the NFL.
"That sticks with you. Trust me, coaches or GMs see you leaving your team now, they are going to think that someday you will leave them too."
Some might argue, didn't Trey Williams leave Texas A&M early?
"Yes, I skipped my senior year of college but I was playing in the SEC," he said. "There was NFL talent on every down I was playing. I was grown. I was in college for three years and ready to get off that porch and get to real work. I was a man by that time and able to make my own decisions based on what I knew. But in high school?"
"You've got to know what you are getting into. You think you are immortal, but you can quickly find out that you're not such a big guy after all. It happens that quickly and people who don't know what it's really like, don't know what it's really like out there. Everyone thinks they are going to play in the league for a long time. It's just not set up like that.
"If I could get in an athletes' ear, I would tell them to enjoy football now. This decision is bigger than football."
...
One of the best in the business recently told me, "we will never know the impact that COVID had on high school athletes. They virtually missed one of the most formative years of their lives without their coaches, their teammates, and the life lessons of football that go with it."
With that, the grip of the Texas high school coaches has loosened even more. That's too bad and here's why. Who SHOULD a big-time recruit trust the most? Their high school coach. The coach wants to win, right? The wins are great, but the losses are worse. They push and pull and try and get the most out of their players.
But they DON'T coach for the money. Coaches are simply not trying to cash in on their players, especially at the high school level.
They are in the business of HELPING kids, teaching life lessons, and giving good advice. If any parent or outsider tries to say otherwise… they are FLAT wrong. That's their currency. Call it KidCoin.
…
To tie a bow in it, Jaydon Blue's decision to forego his senior year of high school has become a national story. What's next?
Is Jaydon Blue a victim of circumstance? Nahhhh.
But what is it? COVID 19? Not wanting to get injured? Is it bad advice? Focusing on academics? Like what is it, really? Yes, it is his decision, but is it a good decision?
The question is, will he be one of the first to start this trend, or is this just a one-off?
I hope it's the latter.
Look, I don't have a vested interest in kids playing for their high schools. But I have kids of my own, and here's what I know is true. Having mentors like high school coaches; having an opportunity to grow in a locker room environment where different races and socio-economic classes work together for a common goal; learning accountability, and being a part of something bigger than yourself is a great thing. It's called LIFE-LESSONS.
Should I go on?
I hope the best for Jaydon Blue and his people. But, I hope he doesn't look back 20 years from now and say, "I wish I would have played with my guys".
Maybe, maybe not.
VYPE reached out to Jaydon Blue for comments, but didn't hear back.
True