VYPE Sunday Feature: Volleyball bonds Cinco Ranch's O'Briens
Sep 18, 2022
Courtesy of Cinco Ranch volleyball
On Tuesday, Sept. 6, Cinco Ranch's O'Brien sisters, senior Courtney and sophomore Kassidy, achieved career milestones within moments of each other.

In the second set of the Cougars' 3-0 sweep of Mayde Creek, Courtney took a pass from Kassie after a Rams serve and delivered a crushing hit for her 1,000th career kill.
"It was served to me," Courtney said. "I had a perfect pass to Kassie, and she set me the most beautiful set ever and I just went up and cranked it. Before the match, we figured I needed about seven more kills (to reach 1,000). I knew it was definitely reachable. I was really hoping that night was the night."
Kassie needed 25 assists to reach 1,000 for her career entering the game. She got there in the third set.
"I was serving," Kassie recalled. "The other team scrambled and set it back over. It was an off pass, so I ran from the 10-foot line and set it for the outside. Courtney was back row at the time, but our other outside Gabby (Martinez) swung, hit it across, and the other team shanked it."
It was a surreal night for the O'Briens' parents, Clay and Jennifer, and older sister Madalyn, a former Cougar now a junior playing for Texas Tech. Since the day Maddie was in the fifth grade and took to the game, with Jennifer teaching the basics, the O'Briens have been a fixture of the Katy volleyball scene, starting with the Katy Volleyball Academy.
"It's so crazy to me that it lined up on the exact same night," Jennifer said. "I definitely wanted them to do it together. I felt it would be kind of a defining memory in their high school volleyball careers to do something like that on the same night."
Two-and-a-half years separate the sisters. Maddie, the tallest at 6-foot-2, was a middle for Cinco Ranch—compiling 966 kills and 389 total blocks during her four-year varsity career—and is now a middle and outside hitter for the Red Raiders. Courtney, 5-10, is an outside hitter and a Texas Tech commit. Kassie, 6-feet, is a setter and one of the top players in the Greater Houston area for the Class of 2025.
Volleyball is their bond. From the days when Courtney would scurry back inside the O'Brien home, crying and mad, because Maddie was so tough on her while peppering in the driveway, to when Kassie would scream and cry because of how hard Maddie and Courtney were on her, it has been an unbelievably thrilling, yet rewarding, ride for Clay and Jennifer.
"I think it's crazy that they all chose the same path," said Jennifer, who is adamant that she never forced the girls into playing volleyball. "We never compared one to the other. They all play different positions and have different personalities and strengths and weaknesses. But it's super cool they all share that bond, and it's nuts to me to think that I could have three DI volleyball players, especially when I'm 5-5.
"We'll thank their dad for their height."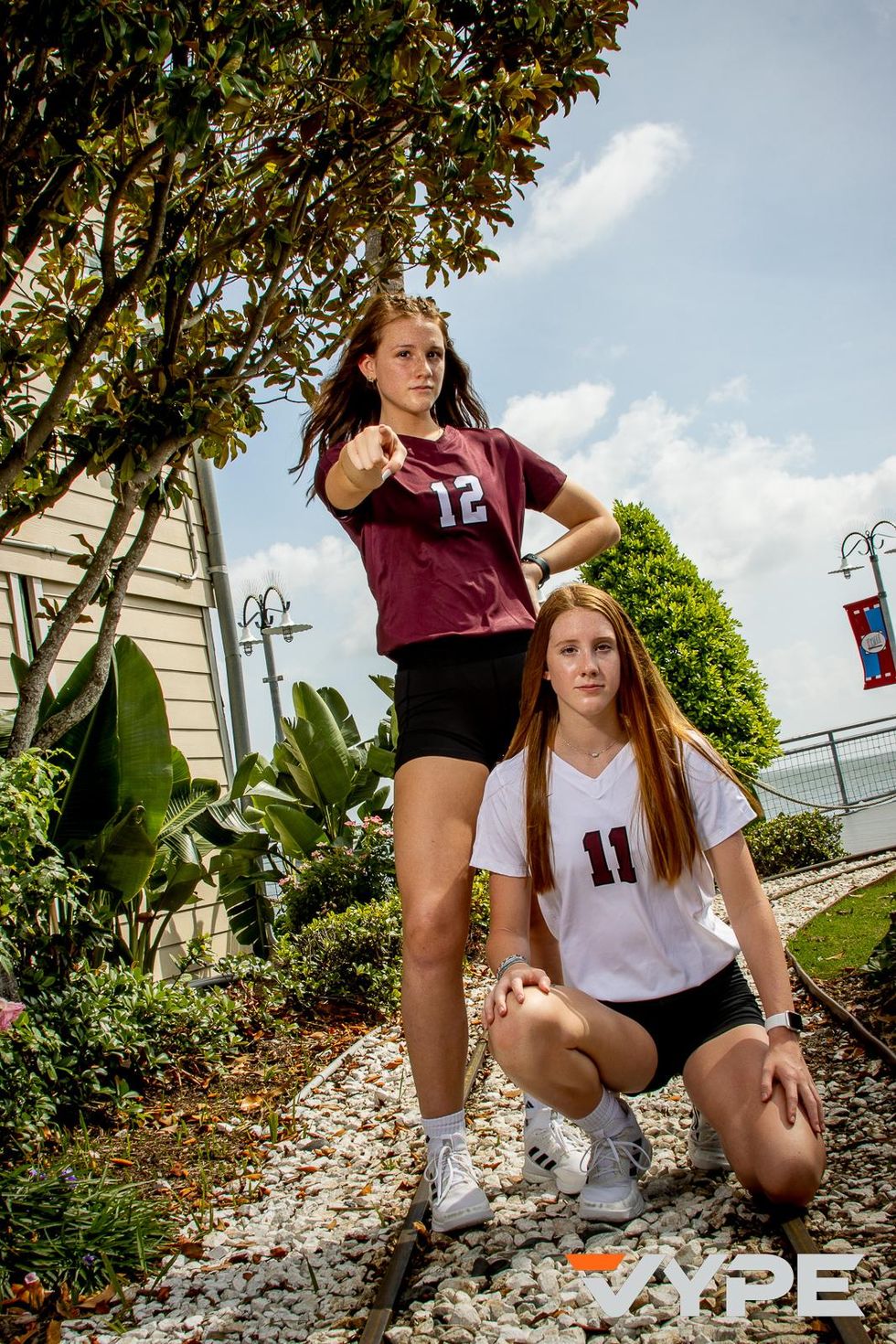 Cinco Ranch senior Courtney O'Brien (standing) and sophomore Kassie O'Brien.VYPE Media
A COMMON LOVE
Maddie first got her hands on a volleyball as a fifth grader. Jennifer, who played in middle school but gave up the sport to focus on dance in high school, introduced the game to her eldest child, taking her out on the driveway to toss the ball.
"She did a good job teaching me to use my legs and move to the ball and how to track it," Maddie said. "She taught me how to serve. She taught me how to hold my platform and she'd send me to camps and got me more involved so I could develop and learn more."
Maddie has always been a dedicated, committed individual. Determination is in her DNA. If she wants to do something, she will do it. She is a natural athlete. If it wasn't volleyball, she'd probably be playing high-level college basketball somewhere.
But volleyball stole her heart. Not long after she started playing, Maddie knew what she wanted to do with her life.
"She told me, 'This is what I'm going to do. I'm going to play DI college volleyball,'" Jennifer said. "In fifth grade!"
Courtney, and then Kassie, came to love the game, too.
"I loved it," Maddie said. "It made me feel so good, and I knew I wanted to play for as long as I can."
"I remember being younger and just really wishing I could be on the court," Kassie said. "So, as soon as I could … yeah."
The only issue was Maddie was unwilling to wait for them to catch up.
Courtney started doing passing and pepper drills with Maddie in the second grade. It was a grating experience for both.
Maddie would pass the ball to Courtney, but Courtney had no control. Maddie even devised games to simplify things. She would toss Courtney the ball. The ball would have to bounce once before Courtney had to pass it back. The idea was to give Courtney more time to gather and control the ball.
It didn't work. Courtney was an eager, willing partner, but too young. It was trying times at first, but she eventually got it. She had no choice.
Maddie desperately wanted to get better and needed someone who could challenge her, keep up with her.
"One thing my parents had to engrain into me is that my sisters are so much younger than me and I shouldn't be holding them to my standard," Maddie said. "There were years I'd been playing that they had not yet. They were scared I'd make them lose that love for the game because I went so hard on them. But I wanted someone to make me better and push me. It was a want to get better for myself, and for her."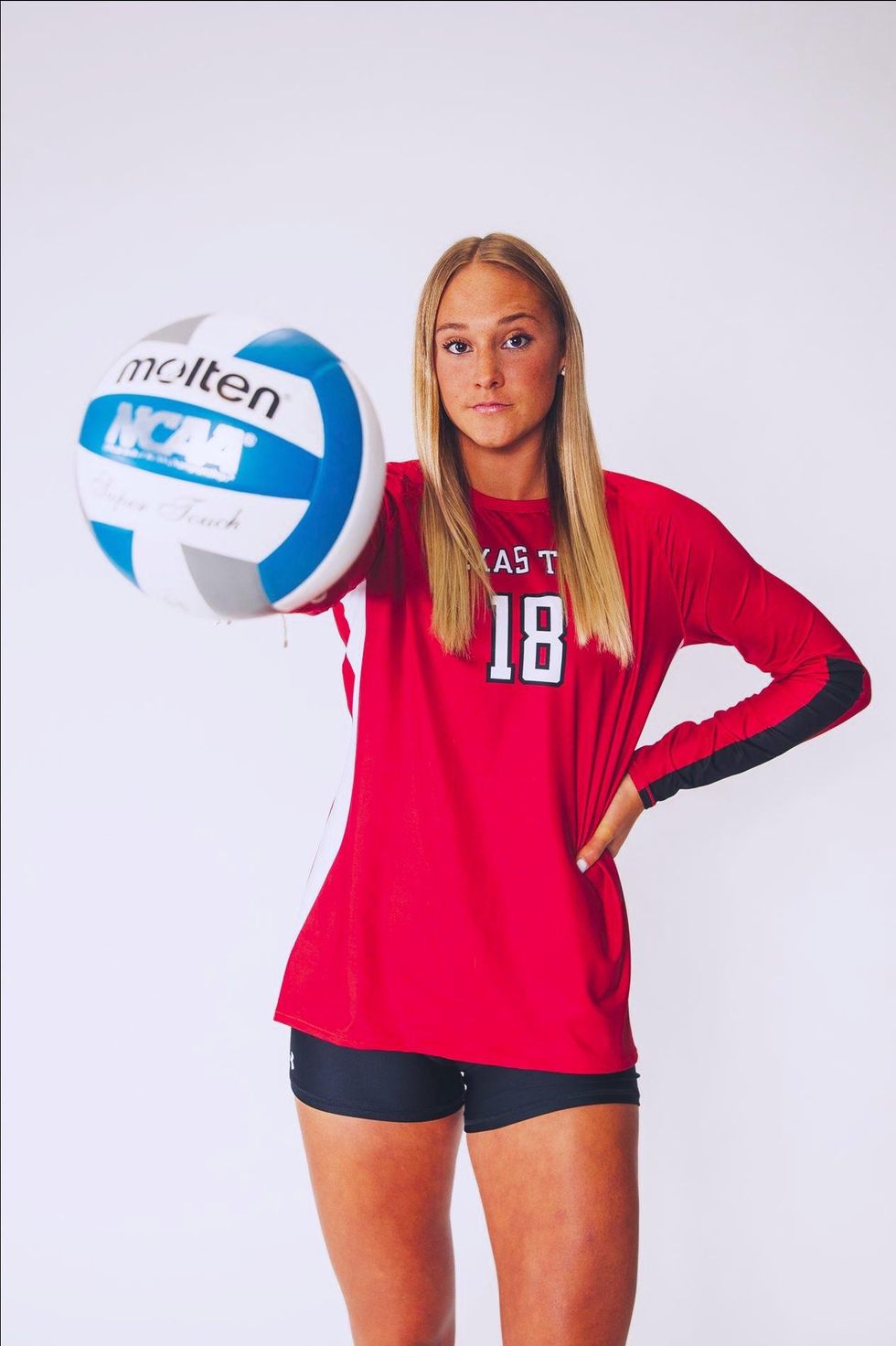 Texas Tech junior Maddie O'Brien.Courtesy photo
Courtney and Kassie can now see the benefit of those trying days trying to meet Maddie's expectations.

"I looked up to her a lot," Courtney said. "She is a role model. She's an amazing attacker and I was like, 'Wow, I could be like her one day.' I wanted to be like her. She led me in the direction of my volleyball path."
What Courtney learned from Maddie, she returned the favor for Kassie.
"Whenever Courtney and Maddie would go out there, I'd go out there, too," Kassie said. "They'd be so hard on me, but I think that's what made me a better player today, because of them. They brought everything to the court, even in practice. Just giving it their all."
The girls are often asked if they ever fought growing up. How could they not, considering their competitiveness and hunger to be the best? But they didn't.
The love and respect for one another is shown in how Courtney is following Maddie to Lubbock, and how much Maddie is thrilled for it.
"Courtney coming to Tech, I couldn't be more excited," Maddie said. "To play with my sister again is just something so special for us."
During the COVID year of 2020, Clay built a volleyball net for the girls in the driveway. The O'Brien sisters passed the months by practicing together, with Courtney passing, Kassie setting and Maddie hitting, and then rotating and switching.
"Looking back, yeah, I was probably a little rough on them, but it definitely impacted who we are today a lot," Maddie said. "I told my mom it was crazy, because growing up, we both thought Courtney and Kassie would end up as dancers in high school. We now all share a common love for the sport. It makes me speechless sometimes. I'm just so proud of them."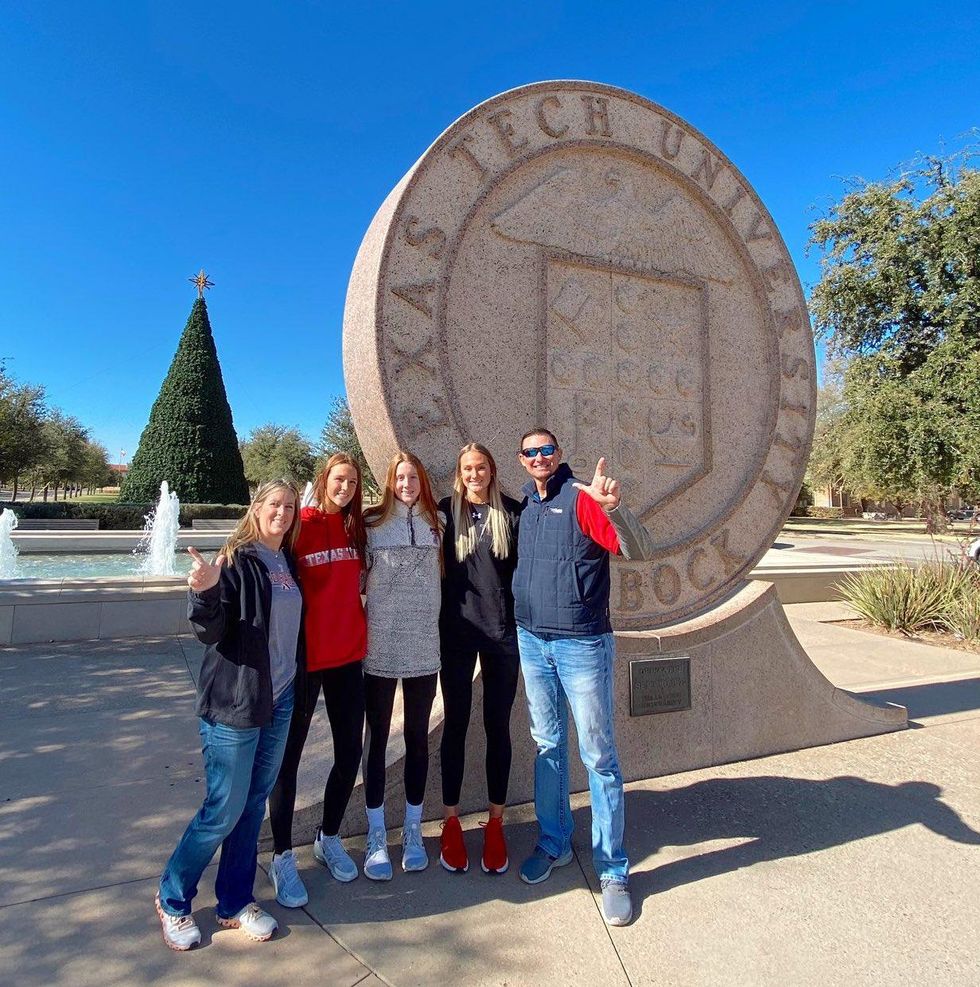 The O'Brien family in Lubbock at Texas Tech University. From left to right: Jennifer, Courtney, Kassie, Maddie and Clay.Courtesy of the O'Brien family
'AMAZING TO WATCH'
Maddie and Courtney played one year of high school volleyball together. It was in 2019, when they helped lead Cinco Ranch to an undefeated district championship and the Class 6A regional quarterfinals.
Last year, Courtney and Kassie's first season playing together, the Cougars again made it to the regional quarterfinals. This year, Cinco Ranch is 18-10 and second in a highly competitive District 19-6A.
Jennifer said she has gotten better at savoring every moment and every game in her youngest daughters' last year playing together.
"I wish I had done more of it when it was Maddie and Courtney out there," Jennifer said. "But thankfully I'll get to watch them together in college. But this is really a big year. Courtney will be graduating early so she's leaving in January to go to Lubbock. It's so cool they get to play together on the same court. They're best friends. I'm definitely taking it all in."
Maddie is a starter for Texas Tech. Courtney is averaging 4.7 kills and 4.2 digs per set. Kassie is averaging 9.3 assists per set with 26 total blocks. Life is good for the O'Briens.
But it's not unexpected. At least, not to Maddie.
She remembers watching Courtney four years ago playing for Houston Skyline at nationals.
"She was digging up balls and picking up balls she shouldn't have gotten to, and her volleyball IQ was just so high," Maddie said. "You can tell by watching her that her IQ is out the roof. She's an undersized outside, so she has to be smarter, and she's worked hard to be super effective. Playing with her as a freshman, I knew she'd be good. She was hanging with all of us and starting. She's powerful. She's got an arm on her."
And Kassie might have been the most impressive of all. At a young age, Kassie was dictating offense expertly in the middle of the court, setting up right side hitters with good form and running the middles to where they needed to be.
"Every single time I watch her, I'm shocked and amazed by how natural and how easy she makes everything look," Maddie said. "How she leads and how selfless she is."
Maddie is the more reserved of the three. She's always been talented but has grown into more of a leader by being vocal on the court, something she's always had to work on. She is taller and more athletic than her sisters and better at the net.
Courtney is "super aggressive," Jennifer said, and will do whatever it takes to save a ball. She is more defensive-minded than the other two—she proudly boasts about Maddie is playing more defense at Texas Tech this year—and worked tirelessly over the offseason to change her techniques to become a more consistent passer.
She started her volleyball career as a libero before moving to a six-row outside, because "She had no fear," Jennifer said. "She'd go up and hit anything and everything at any time."
Kassie is the most competitive, which is saying something considering how driven the O'Briens are.
"The one who will do anything and everything to win," Jennifer said.
Kassie is stronger and more physical this year. No matter how deep she is on the court, she's able to push the ball out and sustain tempo with precise ball placement.
The volleyball stars have aligned perfectly for the O'Briens. Central casting. Fate. Meant to be.
Whatever you want to call it, it's not lost on them.
"I still pinch myself thinking about it," Jennifer said. "It's so crazy. It's really been amazing to watch. It's been a great experience for our family."
True