MENS BASKETBALL
THE WARRIORS MADE QUITE THE FIRST IMPRESSION MOVING UP IN CLASSIFICATION AS COACH TANNER FIELD'S BOYS STORMED TO A 25-5 OVERALL RECORD AND THE STATE CHAMPIONSHIP.
TWCA beat Fort Worth Christian, 60-47, in the state title game led by junior point guard Austin Benigni and small forward Chanse Perkins.
Benigni is currently being recruited by Stanford and holds offers from Mount St. Mary's, Morgan State and McNeese State. Perkins is currently being recruited by Dallas Baptist and the University of Chicago.
Benigni and Perkins were both named to the TAPPS 5A all-state tournament team, along with 6-foot-2 freshman guard Zion Pipkin. Benigni was an all-state first-team selection, and Perkins and Pipkin were second-team picks.
The District 5 champion Warriors named four to the all-district first team: Benigni, Perkins, Pipkin and Cedric Cook. Cook is an Our Lady of the Lake signee.
Wyatt Boeker and Giovanni Awasum were named to the all-district second team, and Jack Cole and Josh Bento were named as honorable mention all-district selections.
WOMENS BASKETBALL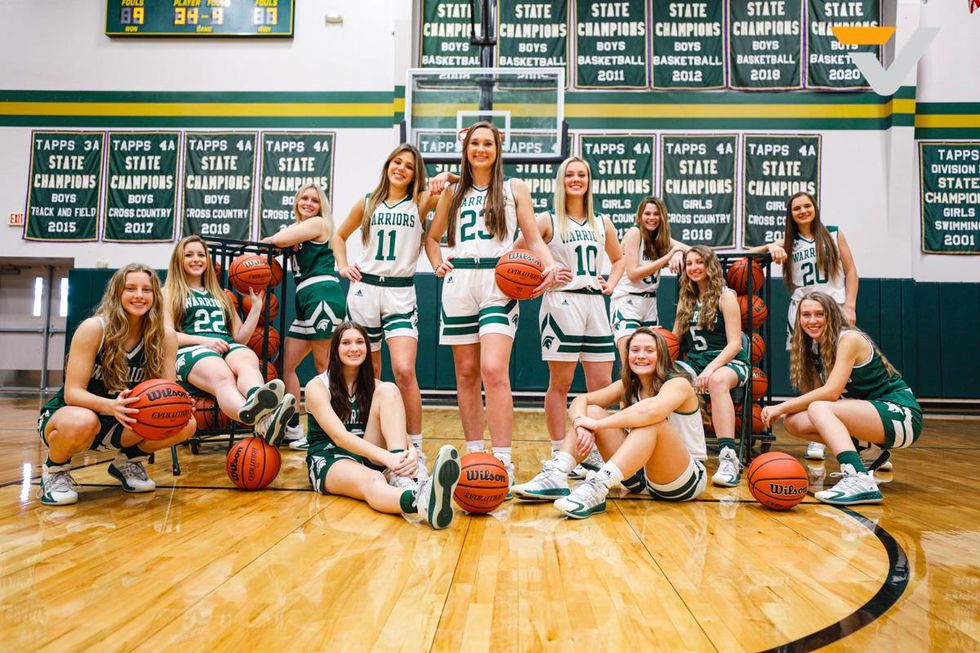 THE WOODLANDS CHRISTIAN ACADEMY'S GIRLS BASKETBALL TEAM FINISHED IN AN IMPRESSIVE SECOND PLACE IN DISTRICT 5 IN 2020-21, DESPITE A YOUNG TEAM AND COMPETING IN ITS FIRST YEAR IN TAPPS 5A.

The Warriors compiled a 17-7 overall record, 10-2 in district play. TWCA beat Saint Mary's Hall-San Antonio, 51-29, in the first round of the playoffs before falling in the area round, 40-34, to Geneva School of Boerne.
Three Warriors were named to the all-district first team: juniors Madison Steed, Mackenzie Morris and Reagan Harris. Three more were named to the second team in senior McKenna Meadors, junior Danielle Mendoza and sophomore Kelly Gorman.
Senior Catherine Berger, sophomore Avery Buck and junior Madison Frey were named as honorable-mention selections.
Steed was also a first-team, all-state pick and Morris was a second-team, all-state selection.
SOCCER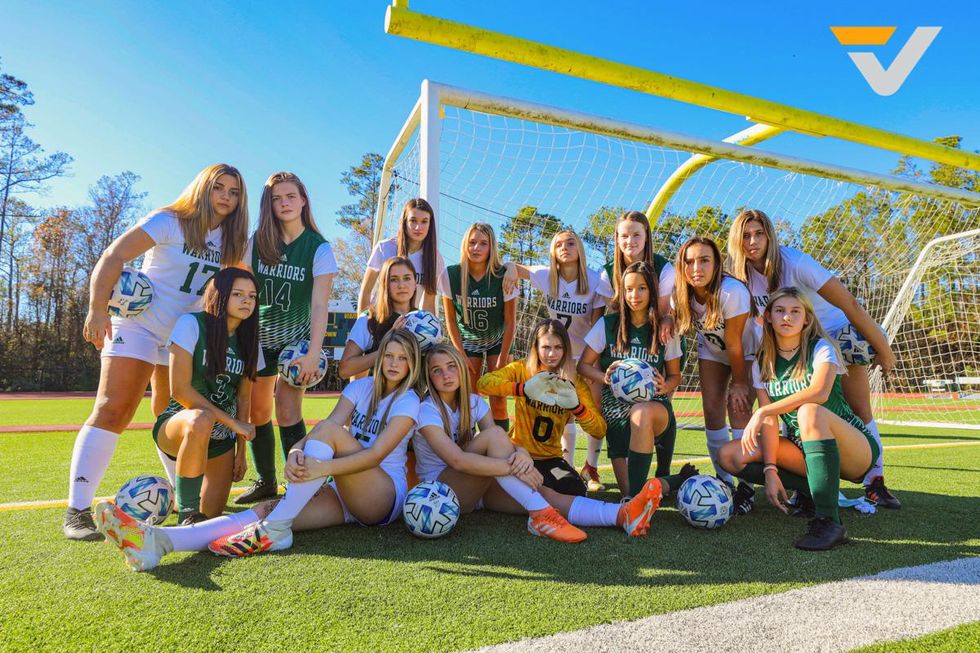 THE 2020-21 SEASON WAS THE FIRST WITH SENIORS FOR THE WOODLANDS CHRISTIAN ACADEMY GIRLS SOCCER COACH PAIGE PETERSON, AND IT WAS ALSO ONE TO REMEMBER.

The Warriors were undefeated District 5 champions, posting 10 shutouts in 14 games.
TWCA scored 96 goals and allowed just six. TWCA lost in the second round of the postseason in eight rounds of penalty kicks, but the Warriors will be back. They only graduate two seniors and had six underclassmen on the roster.
Junior Lindsay Worthington was the team's MVP with 29 goals and seven assists in district play. Freshman forward Jocelyn Klages had 22 goals and 10 assists. Junior goalkeeper Mattie Hopkins stopped eight penalty kicks this season.
The Warriors named six players to the all-district first team: Worthington, Klages, Hopkins, freshman Camille Young, junior Leah Francis and senior Megan Hanigan. Worthington, Francis and Hopkins were also first-team, all-state picks.
Named to the all-district second team were sophomore Abigail Stanosheck, freshman Aspen Butaud (11 goals, 17 assists) and junior Emma Shepperd. Junior Ellie Johnson was an honorable mention all-district pick.
Klages was a second-team, all-state honoree, and Hanigan was an honorable mention all-state pick.
Ruffner was the team's Most Improved Player because of her effort, energy and willingness to be coached. Hanigan was awarded the "Heart of a Warrior" for her pride, commitment, selflessness and "ridiculous work ethic."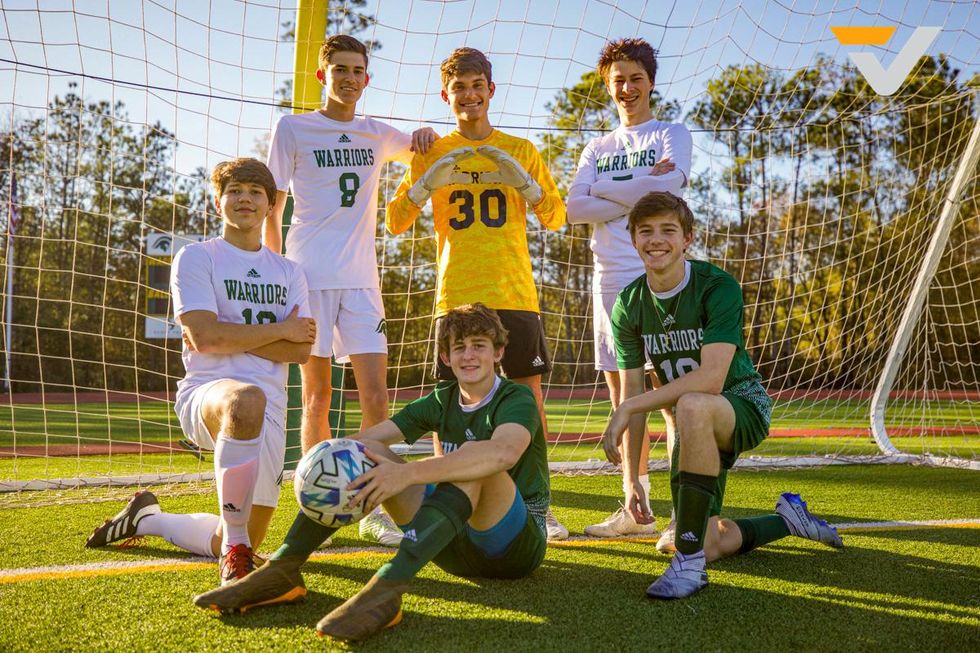 THE TWCA BOYS WENT 8-10 IN THEIR FIRST SEASON IN TAPPS 5A SOCCER, 6-8 IN DISTRICT 5.

The Warriors named three players to the all-district first team in senior forward Stratton Butaud, senior defender Forrest Remy and sophomore goalkeeper Bruno Bobato. Butaud led the team with 16 goals and was second on the team with 32 points.
Junior midfielder Kyle Jasek (11 goals, 13 assists) and senior defender Davis Heise were named to the second team. Junior forward Ezekiel Jurado and senior defender Tanner Torres were named as honorable-mention picks.
SWIM
BECAUSE OF COVID-19, 2020-21 WAS A TRYING SEASON FOR COACH LISA MURPHY. THE TWCA SWIMMING TEAM COULD NOT PRACTICE AT ITS USUAL LOCATION, AND SOME ATHLETES CHOSE NOT TO PARTICIPATE THIS YEAR DUE TO COVID CONCERNS.
Still, the Warriors were able to put together some impressive performances at the regional and state meets.
At the TAPPS Division II Regional Meet, The Woodlands Christian Academy girls finished sixth as a team in the East division, scoring 37 points. TWCA junior Isabella Krantzcke was awarded Regional Swimmer of the Meet. She won the girls 200-yard freestyle (1:55.27) and the 500-yard freestyle (5:09.87).
Sophomore Brynnah Stowell finished second in the girls 100-yard butterfly (1:01.78) and second behind teammate Krantzcke in the 500-yard freestyle (5:23.71).
Senior Merritt Ruffner finished sixth in the 100-yard backstroke (1:18.09) and seventh in the girls 50-yard freestyle (29.53 seconds).
At the state meet in San Antonio, Krantzcke placed first and second, respectively, in the 500 freestyle and 200 freestyle. Stowell placed third in the 100 butterfly and 500 freestyle. Ruffner, who was also competing in soccer around the time of the state meet, swam the 50 freestyle and 100 backstroke and placed 15th and 14th, respectively, posting a personal-best time in the 50 free.
MCKENNA MEADORS ADMIRES HER PARENTS, BRADD AND TRISH. SHE LOOKS UP TO THEM. ADORES THEM.
So, when The Woodlands Christian Academy senior discovered that both of her parents played sports in college at Hannibal-LaGrange University in Missouri, she knew she wanted to as well.
"Growing up, it wasn't an expectation, but it was something that I wanted," Meadors said. "I wanted to be like them."
Like parents, like daughter.
Meadors, a two-sport standout for the Warriors, signed February 1 to play softball at Hill College. She is a right-handed pitcher who also plays first and third base.
"It's so cool to me, because it was real important that I played in college," said Meadors, who also played basketball for the Warriors and was even offered to play both sports in college.
Through the softball season's first 12 games, Meadors hit .512 with 22 RBIs and four home runs for the Warriors with 22 runs scored and a .533 on-base percentage. In the circle, she had a 2.41 ERA with 59 strikes to 21 walks and 13 earned runs in 61 innings.
After the 2020 high school softball season was canceled because of the pandemic, Meadors is grateful to be playing her senior year. "It was a seize-the-moment type of thing," she said. "I'm very blessed for the opportunities that God has provided me with, with us being able to play our season.
It really is a blessing and I know God has big plans for my life. Us getting to play this year was a part of that, because I've been able to grow more with my friends and my walk of faith as well."
Playing and going to school at TWCA has aided that purpose, spiritually and athletically.
"It's definitely a lot more freedom that's put on us as students," Meadors said. "I feel like they trust us a lot more. I've definitely grown in my walk with God. That's been a huge part. I feel with it being a smaller school, I've been able to focus more on myself with my coaches, opposed to the 60 or 70 girls that would try to play one sport at a public school. I've been able to hone my skills more."
Meadors used to never see a correlation between athletics and faith. But her time at TWCA showed her that they are more a team than not.
"Whenever you're at a public school, it's not as common to see people living out their Christian lifestyle," Meadors said. "So, whenever you come here, and it's like the norm for everyone, always praying and having a Bible class that focuses on improving in our walk with God … from a sports level, it had always been separate to me. But through coming to this school, I have combined Christianity and sports and I try and use that."