Courtesy Waco Tribune
MIDLOTHIAN - For all the good that Springtown was able to mount against Waco La Vega in the 4A Division I state semifinal, it was all undone by costly penalties.
On the game's first offensive play of the game, it fumbled on its own three yard line and was picked up by La Vega's Demarrquese Hayes for a score.
So not only did it give up score after getting the opening kickoff, that meant La Vega would get the ball back to start the second half.
Fast forward to the second quarter and Springtown starting to make things interesting. It had already cut the La Vega lead down from 14-0 to 14-7 and were in La Vega territory and looking to draw even. Quarterback Camden Chesney throws a pass to the left and hits La Vega's Jordan Rodgers right in the chest and he runs it back 77-yards to make things 21-7.
Jordan Rogers with a big interception and takes it to the house for @lvpirates to make the score 21-7 @lvpirates lead with 8:52 in the first half. What a play!!!!!!! @AdamFromGP @Parker_Turley52 pic.twitter.com/8kYh1ZHUNq
— Friday Night Glory (@FridayNghtGlory) December 14, 2019
From that moment on, the game was never in doubt as it was just a sign of things to come for Springtown. While the defense did its part to stifle the La Vega (14-1) offense, Springtown (13-2) could not stop shooting itself in the foot with turnovers - six of them to be exact (3 fumbles and 3 interceptions).
Rogers would finish with two of La Vega's three INTs on the night.
For a team that had just two in four playoff games, Friday's game will probably be look as an outlier.
Springtown's 13 wins is the most in school history and its venture into the state semis is the deepest it has gone since 1995. For La Vega, it makes its second straight appearance in the state finals, where it will meet the winner of Lampasas and Carthage at 11 a.m. Friday, December 20.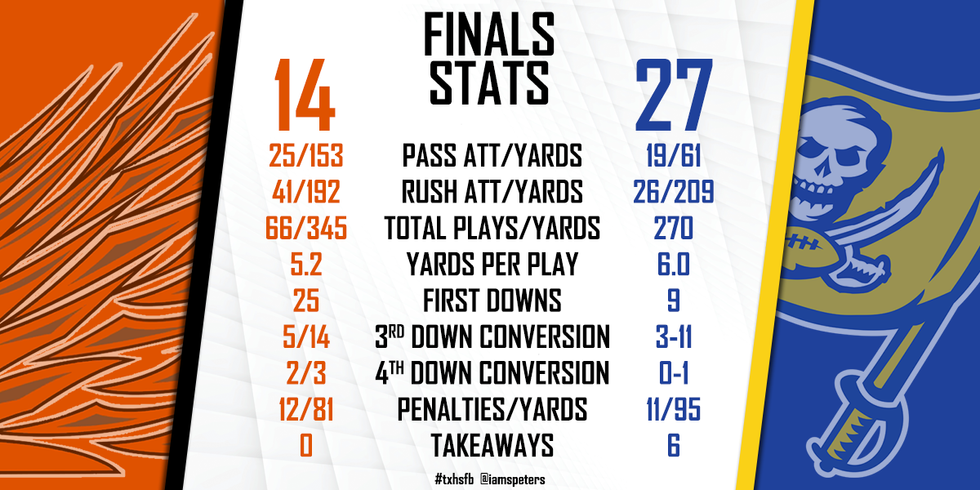 FRISCO - Wow. Just wow. What an ending experienced at the Ford Center as Pottsboro stormed back from an 11-point deficit in the fourth quarter to win 36-35 and punch its first-ever ticket to the State Finals.
This was the play that sealed the win for Pottsboro (15-0)
This is the play that sends Pottsboro to its first ever State Championship #TexomaNation @BrendanAgans @txredzonereport @txhsfb #txhsfb @pottsboroisd @PottsboroF @JasonDellaRosa @ProfessorDiggs @Gosset41 pic.twitter.com/aYhFt6Rv3o
— Derek Ray Johnson (@derekraydj) December 13, 2019
Facing third and 12, Brock went with the double pass and somehow Pottsboro defensive back Tyler Farris ended up with the ball in his hands.
It was the only turnover in the game for either side in a very briskly-played game with just a handful of penalties and only two other possessions that did not end in scores (outside of kneel down possessions to end each half).
Pottsboro leaned on quarterback Braden Plyler, who rushed the ball 30 times for 101 yards and a score and threw for 216 yards on just 10 completions and another score.
Brock (12-3) was led running back Cash Jones, who seemingly found little resistance on the ground to the tune of 265 yards on 36 carries and five rushing scores.
Pottsboro and Brock scored on each of their first two possessions, but a Pottsboro punt on its third allowed Brock to score again and take a 21-17 lead into the half following late second quarter field goal by Pottsboro's Jacob MacDonald.
Brock opened the third with a touchdown, which was responded in one play by Pottsboro.
Brock scored again and led 35-24 as the third quarter ended. On a reverse to Jasek Hooker, Pottsboro pulled to within 35-30 (failed 2-point conversion).
On Brock's next possession, Pottsboro was able to make a stop for the first time in the game. It took two big-time fourth down conversions, but Pottsboro was able to extend its drive and finally get into the endzone and regain the lead, which ended up being the final score.
The win gives Pottsboro its first-ever berth to the state finals where it will play the winner of Grandview and Columbus at 3 p.m. Thursday at AT&T Stadium.