VYPE Austin/San Antonio Helmet Stickers: Week 7 (10.12.22)
Oct 12, 2022
Welcome back to another edition of VYPE Austin/San Antonio Helmet Stickers for the 2022 Texas High School Football season.
There were tons of amazing performances last week across the Central Texas. We compiled all of those top performances in the VYPE Austin/San Antonio Football Player of the Week Fan Poll - CLICK HERE TO VOTE - but then we boiled that down to what we felt were personally the Top 7 performances of the week
These are Week 7's Helmet Sticker selections (in no particular order).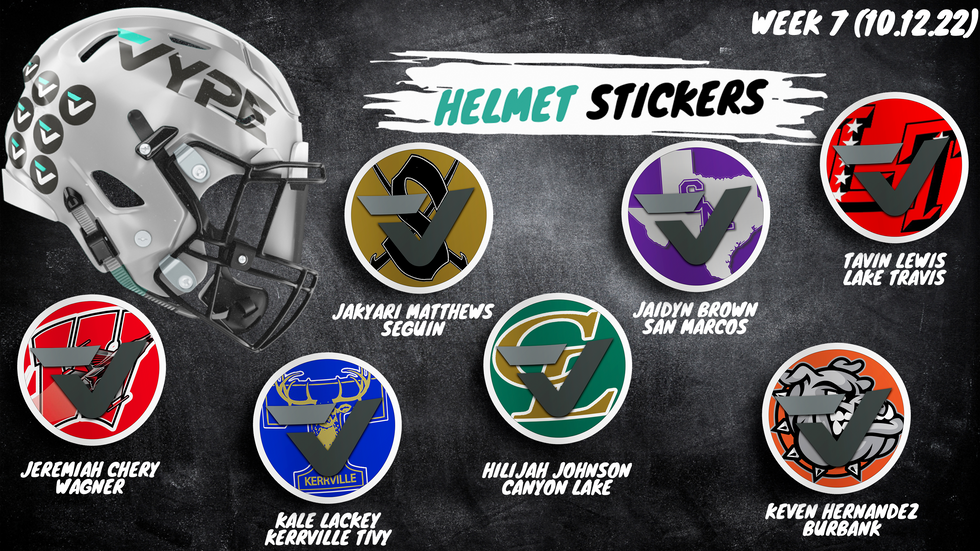 JEREMIAH CHERY-WAGNER
Jeremiah Chery was efficient in Wagner's 61-12 victory over MacArthur on Thursday. Chery had 101 yards on 15 carries with another 73 yards on 3 catches and a total of 4 touchdowns.
KALE LACKEY-KERRVILLE TIVY
The Antlers got back into the win column last week with a 54-30 win over Pieper. Kale Lackey led the way for the Antlers throwing for 166 yards on 15/19 passing and 3 touchdowns with another 116 yards on the ground and another 2 touchdowns.

JAKYARI MATTHEWS-SEGUIN
Seguin has been making some noise in 12-5A and is off to a 3-0 start in district play after their victory over Boerne Champion on Friday. Jakyari Matthews carried the ball 23 times for 135 yards and 3 touchdowns in the contest to lead the way for the Matadors.
HILIJAH JOHNSON-CANYON LAKE
Canyon Lake goes into its huge game against Davenport this week coming off a win against Marble Falls 42-7. Helijah Johnson did it all for the Hawks with 157 yards on 11 carries and 3 touchdowns. He was also 1/1 for 51 yards and 1 touchdown in the air for good measure.
JAIDYN BROWN-SAN MARCOS
Jaidyn Brown did everything asked for him in the Rattlers 28-24 win over Clemens on Friday. Brown carried the ball 23 times for 116 yards and 1 touchdown and had 2 more touchdowns receiving, having 4 catches for 71 yards.
KEVEN HERNANDEZ-BURBANK
Burbank kept its fight for a playoff spot alive on Thursday with a 28-21 win over McCollum. Keven Hernandez did it all for the Bulldogs going 7/12 for 65 yards and 2 touchdowns through the air and 238 yards on 18 carries and 2 touchdowns on the ground.
TAVIN LEWIS-LAKE TRAVIS
Lake Travis rebounded from their loss to Westlake with a 49-7 victory over Del Valle on Friday. Their defense kept the Cardinals uncomfortable all night and Tavin Lewis was a big part of that. Lewis had 9 tackles, including 1 tackle for loss, and 1 sack on the night.