Southlake Carroll Girls Repeat As State Champs; Kingwood Boys End Title Drought
Feb 16, 2020
If you've been around Texas high school swimming, you know that one of the most storied programs in the state is found at Southlake Carroll High School. On Saturday at The University of Texas at Austin's Lee and Joe Jamail Texas Swimming Center, its girls team won four of the first five UIL 6A swimming and diving state championship meet events to set up a 284-point day and its fourth UIL state championship since 2012.
Southlake Carroll kicked off the classification's action with a win in the Girls 200-yard Medley Relay. Ohio State commit Kit Kat Zenick earned her first of four wins of the day by earning a 1:42.55 time with Corbyn Cormack, Hailey Heldenbrand and Madelyn Clem.
"This year's run was different, especially for me," Zenick said in comparison to her team's 2019 state championship season. "Just because I was a senior and a lot of our state team was freshmen. And it was really great to be a role model for them and be able to help lead the team to their second state title in a row."
Senior Kit Kat Zenick helped Southlake Carroll girls swimming extend its UIL state championship dynasty & talked Oh… https://t.co/zlqOENBnyP

— VYPE DFW (@VYPE DFW) 1581825967.0
Riley Francis followed with a Girls 200-yard Freestyle runner-up finish and a 1:47.00 time, and the Dragons added Cormack's 200-yard Individual Medley victory and Zenick's 50-yard Freestyle win.
At this point, Southlake Carroll led second-place Kingwood by 41 points. But, that wasn't good enough for the Dragons. They immediately powered up the jet skis and continued to expand their lead. Hailey Hernandez won the Girls 1-meter Diving event with a 553.70 score and Bridget O'Neil's 532.70 score allowed her to finish in second. Then, Zenick won the Girls 100-yard Freestyle with a 49.05 time and Francis finished right behind her with a 49.51 time.
And a final push of the gas allowed Southlake Carroll to wrap up its latest state title. The Dragons' 200-yard Freestyle Relay Team, which included Francis, Clem, Cormack and Ashley Zettle, recorded a third-place time of 1:34.66 and the 400-yard Freestyle Relay made up of Zenick, Francis, Zettle and Kate Heintz won the final event of the season with a 3:23.42 time.
Another community with a lot of state swimming success is Kingwood and that continued on Saturday. It had a strong day on the boys' side, which was headlined by Kingwood Park's UIL 5A win and Kingwood's UIL 6A title. Both programs leaned heavily on their relay teams and that resulted in the Panthers' fifth UIL state boys swimming championship and the Mustangs' seventh UIL boys crown for the sport.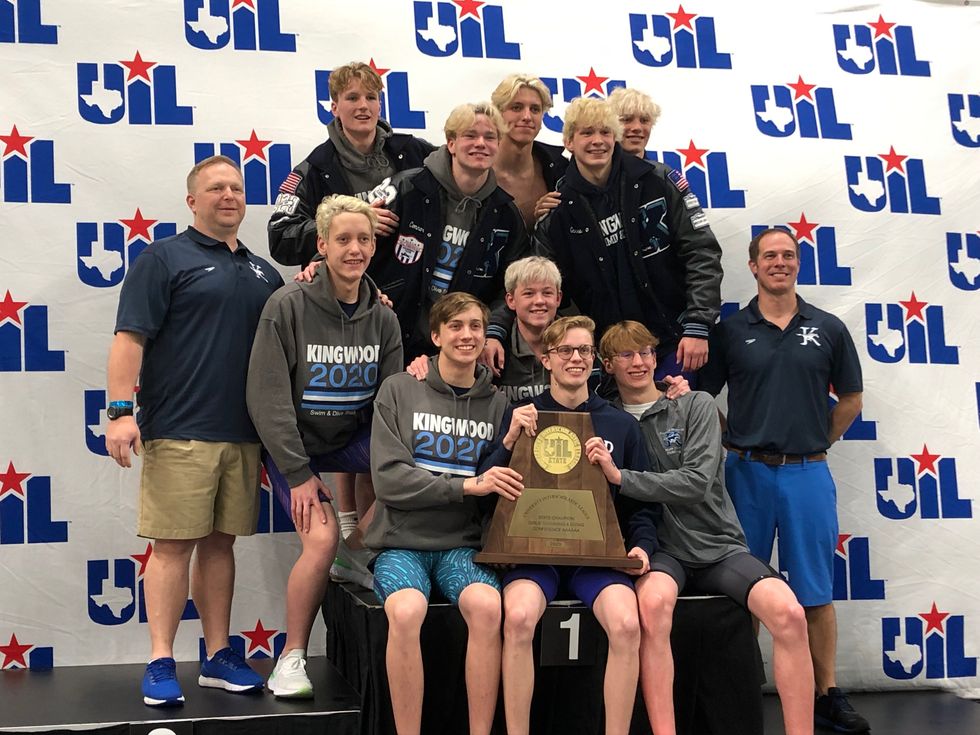 Photo by VYPE Media's Thomas Bingham.
Kingwood High School may not have won any boys state championship meet events on Saturday, but its relay teams medaled enough to give its swimming and diving program a winning point total of 189.5.
Texas commit Victor Tremblay played a major role in the Mustangs' success by recording a second-place time of 1:31.58 with Garret Green, Owen Pickering and Luke Langley in the Boys 200-yard Medley Relay. He later added a third-place time of 1:23.77 with Green, Connor Little and Gabe Roberts in the Boys 200-yard Freestyle Relay. The swimmers' combined effort helped the Mustangs top fellow North Houston program and UIL state runner-up The Woodlands (186 points) for its first UIL state swim championship since 2009.
"It's been 11 years since we've had the state title and I can't be any more happy with the guys than I am right now," said Tremblay. "I've seen all the hard work they put in through these last four years I've swam with them and all the grinding they put in. It's paid off, so I'm just really happy to be a Kingwood swimmer."
It's a Kingwood boys sweep at UIL State Swimming! Kingwood Park grabbed 5A title to start the day & Victor Tremblay… https://t.co/mQVBDZB5pf

— VYPE Houston (@VYPE Houston) 1581819727.0
For more sports coverage, follow Thomas (@Texan8thGen) and VYPE (@VYPEHouston/@VYPEDFW) on Twitter.

Looking to get more involved? Check out ShopVYPE for fresh gear that supports local schools and the VYPE U Ambassador Program. To sign up for the VYPE U Program, apply at VYPEU.com.