If you've been around Texas high school swimming, you know that one of the most storied programs in the state is found at Southlake Carroll High School. On Saturday at The University of Texas at Austin's Lee and Joe Jamail Texas Swimming Center, its girls team won four of the first five UIL 6A swimming and diving state championship meet events to set up a 284-point day and its fourth UIL state championship since 2012.
Southlake Carroll kicked off the classification's action with a win in the Girls 200-yard Medley Relay. Ohio State commit Kit Kat Zenick earned her first of four wins of the day by earning a 1:42.55 time with Corbyn Cormack, Hailey Heldenbrand and Madelyn Clem.
"This year's run was different, especially for me," Zenick said in comparison to her team's 2019 state championship season. "Just because I was a senior and a lot of our state team was freshmen. And it was really great to be a role model for them and be able to help lead the team to their second state title in a row."
Riley Francis followed with a Girls 200-yard Freestyle runner-up finish and a 1:47.00 time, and the Dragons added Cormack's 200-yard Individual Medley victory and Zenick's 50-yard Freestyle win.
At this point, Southlake Carroll led second-place Kingwood by 41 points. But, that wasn't good enough for the Dragons. They immediately powered up the jet skis and continued to expand their lead. Hailey Hernandez won the Girls 1-meter Diving event with a 553.70 score and Bridget O'Neil's 532.70 score allowed her to finish in second. Then, Zenick won the Girls 100-yard Freestyle with a 49.05 time and Francis finished right behind her with a 49.51 time.
And a final push of the gas allowed Southlake Carroll to wrap up its latest state title. The Dragons' 200-yard Freestyle Relay Team, which included Francis, Clem, Cormack and Ashley Zettle, recorded a third-place time of 1:34.66 and the 400-yard Freestyle Relay made up of Zenick, Francis, Zettle and Kate Heintz won the final event of the season with a 3:23.42 time.
Another community with a lot of state swimming success is Kingwood and that continued on Saturday. It had a strong day on the boys' side, which was headlined by Kingwood Park's UIL 5A win and Kingwood's UIL 6A title. Both programs leaned heavily on their relay teams and that resulted in the Panthers' fifth UIL state boys swimming championship and the Mustangs' seventh UIL boys crown for the sport.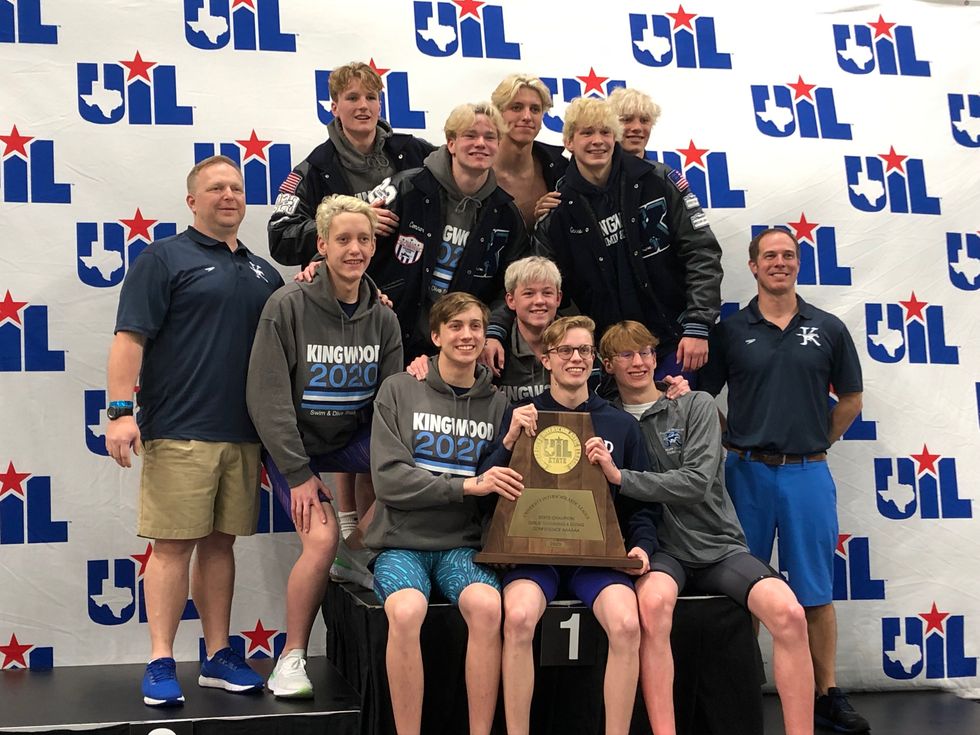 Photo by VYPE Media's Thomas Bingham.
Kingwood High School may not have won any boys state championship meet events on Saturday, but its relay teams medaled enough to give its swimming and diving program a winning point total of 189.5.
Texas commit Victor Tremblay played a major role in the Mustangs' success by recording a second-place time of 1:31.58 with Garret Green, Owen Pickering and Luke Langley in the Boys 200-yard Medley Relay. He later added a third-place time of 1:23.77 with Green, Connor Little and Gabe Roberts in the Boys 200-yard Freestyle Relay. The swimmers' combined effort helped the Mustangs top fellow North Houston program and UIL state runner-up The Woodlands (186 points) for its first UIL state swim championship since 2009.
"It's been 11 years since we've had the state title and I can't be any more happy with the guys than I am right now," said Tremblay. "I've seen all the hard work they put in through these last four years I've swam with them and all the grinding they put in. It's paid off, so I'm just really happy to be a Kingwood swimmer."
For more sports coverage, follow Thomas (@Texan8thGen) and VYPE (@VYPEHouston/@VYPEDFW) on Twitter.

Looking to get more involved? Check out ShopVYPE for fresh gear that supports local schools and the VYPE U Ambassador Program. To sign up for the VYPE U Program, apply at VYPEU.com.
@d_jack78 twitter
Four-star offensive lineman Donovan Jackson's path to Ohio State might not be what most would consider normal.
On decision day,Jackson displayed the hats of Stanford, Texas, Texas A&M, Georgia and Ohio State as his final five. This however, was mainly for theatrics.
While most will settle on a school during the fall of their senior season, Jackson made up his mind early on during a cool November day his junior year. That day he was on hand to watch Ohio State take on Big 10 Conference-rival Penn State.
"Seeing those guys in the locker room and the bond they have for each other is rare to see and was something I wanted to be a part of," Jackson said.
Keeping it quiet, Jackson committed during the Thanksgiving break without hesitation. Being only a junior there wasn't any school like "The" Ohio State.
"I felt there was no need to lead other teams on when I knew that I wanted to be a Buckeye," Jackson said.
What made the decision so clear for him?
With more than 20-plus universities going after him, he had more than a handful of great choices coming his way. When it came to making the perfect choice Jackson says, "I had my coaches and family members in my ear about where they wanted me to go, but ultimately it was my decision to choose Ohio State."
This decision came down to wanting to go to a school that was more than football; something that "offered things like an alumni network and an atmosphere to help me make the transition from high school to college easier," Jackson recalls.
One of the defining moments of the recruiting process that sticks with him was "having a special moment with the entire OSU football team when they all came and introduced themselves to me and my family," Jackson said.
Speaking to Jackson for a bit he emphasized family values consistently. However, this, in the end, did not stop the Texas native from pursuing colleges outside of the state.
"It wasn't exactly a big factor," Jackson said. "I just wanted to be comfortable at the university that I chose."
Donovan is one of the top prospects of the class of 2021 and for a school like Episcopal, another athlete in recent years to have potential of reaching the NFL like alumni including Marvin Wilson (Florida State), Walker Little (Stanford) and Jaylen Waddle (Alabama).