The 2019-2020 UIL girls basketball postseason begins tonight and there are interesting Austin area storylines going into it. Check out five things to know.
No. 1: Westlake Wants To Snap Another State Title Drought
What does Westlake girls basketball have in common with the Dallas Cowboys? The first similarity occurred in a four-year span in the 1990s. The Chaparrals girls basketball program earned a trio of UIL state championships during the 1992-1993, 1994-1995 and 1995-1996 seasons and America's Team won three Super Bowl titles in the 1992-1993, 1993-1994 and 1995-1996 seasons. Their other connection is the fact that they haven't won a title of that magnitude since. The Cowboys have a lot of work to do if they want to return to that stage, but Westlake has a great opportunity to top the 2019-2020 UIL 6A girls basketball postseason. Its girls basketball team paid close attention to the school's football team, which closed out its first state championship since 1996 in December. It plans to add to its 28-6 regular season record by leaning on seniors Shay Holle (Texas signee), Presley Bennett (Texas State signee) and Bailee Chynoweth.
No. 2: Cedar Park Is A Basketball Hotbed
The Austin Toros/Spurs franchise, which has called the H-E-B Center at Cedar Park home since 2010, first put Cedar Park basketball on the map when it won the 2012 NBA D-League championship and later added the 2018 NBA G League title. Now, its two public high schools are aiming for additional basketball crowns at the end of the 2019-2020 UIL 6A and 5A girls basketball postseasons. We start with Cedar Park Vista Ridge, who enters the 6A dance with a 27-6 record, a 13-6A district title and big time ballers in AJ Marotte, Victoria Baker and Zion Neat. Its crosstown rival, Cedar Park, earned an undefeated 17-5A district crown, owns an impressive 29-3 record and is led by notable playmakers Nicole Leff, Hanna Wheeler and Alisa Knight.
No. 3: 27-4A Playoff Teams Are Ready For Deep Runs
27-4A is such a strong district that three of its four playoff qualifiers won 20-plus regular season games. That included Liberty Hill (21), Salado (23) and Lampasas (25), who finished first, second and fourth in the final district standings. The only outlier was third-place Burnet, who finished with an 18-18 regular season record and advanced to the 2019 UIL 4A state semifinal.
No. 4 Georgetown ISD Rivalry Deserves A Playoff Meeting
Georgetown East View edged Georgetown for the 18-5A district crown during the 2019-2020 girls basketball regular season, so both the Patriots and Eagles are teams to watch going into the UIL 5A postseason. The Pats pulled out important crosstown rivalry wins by the scores of 46-42 and 42-41 to top Georgetown by a game in the district standings and earn a slight 26 to 25 regular season win advantage. With the teams' competitiveness during district play, we can all hope for a third season meeting in the UIL 5A Region III Final.
No. 5: Fayette County Fighters
Fayette County, which covers the southeastern portion of the Austin area, is home to state-ranked La Grange and Schulenburg. The UIL 4A Leopards and UIL 3A Shorthorns both enter the UIL postseason with a 29-4 record.
For more sports coverage, follow Thomas (@Texan8thGen) and VYPE (@VYPEATX) on Twitter.

Looking to get more involved? Check out ShopVYPE for fresh gear that supports local schools and the VYPE U Ambassador Program. To sign up for the VYPE U Program, apply at VYPEU.com.
If you've been around Texas high school swimming, you know that one of the most storied programs in the state is found at Southlake Carroll High School. On Saturday at The University of Texas at Austin's Lee and Joe Jamail Texas Swimming Center, its girls team won four of the first five UIL 6A swimming and diving state championship meet events to set up a 284-point day and its fourth UIL state championship since 2012.
Southlake Carroll kicked off the classification's action with a win in the Girls 200-yard Medley Relay. Ohio State commit Kit Kat Zenick earned her first of four wins of the day by earning a 1:42.55 time with Corbyn Cormack, Hailey Heldenbrand and Madelyn Clem.
"This year's run was different, especially for me," Zenick said in comparison to her team's 2019 state championship season. "Just because I was a senior and a lot of our state team was freshmen. And it was really great to be a role model for them and be able to help lead the team to their second state title in a row."
Riley Francis followed with a Girls 200-yard Freestyle runner-up finish and a 1:47.00 time, and the Dragons added Cormack's 200-yard Individual Medley victory and Zenick's 50-yard Freestyle win.
At this point, Southlake Carroll led second-place Kingwood by 41 points. But, that wasn't good enough for the Dragons. They immediately powered up the jet skis and continued to expand their lead. Hailey Hernandez won the Girls 1-meter Diving event with a 553.70 score and Bridget O'Neil's 532.70 score allowed her to finish in second. Then, Zenick won the Girls 100-yard Freestyle with a 49.05 time and Francis finished right behind her with a 49.51 time.
And a final push of the gas allowed Southlake Carroll to wrap up its latest state title. The Dragons' 200-yard Freestyle Relay Team, which included Francis, Clem, Cormack and Ashley Zettle, recorded a third-place time of 1:34.66 and the 400-yard Freestyle Relay made up of Zenick, Francis, Zettle and Kate Heintz won the final event of the season with a 3:23.42 time.
Another community with a lot of state swimming success is Kingwood and that continued on Saturday. It had a strong day on the boys' side, which was headlined by Kingwood Park's UIL 5A win and Kingwood's UIL 6A title. Both programs leaned heavily on their relay teams and that resulted in the Panthers' fifth UIL state boys swimming championship and the Mustangs' seventh UIL boys crown for the sport.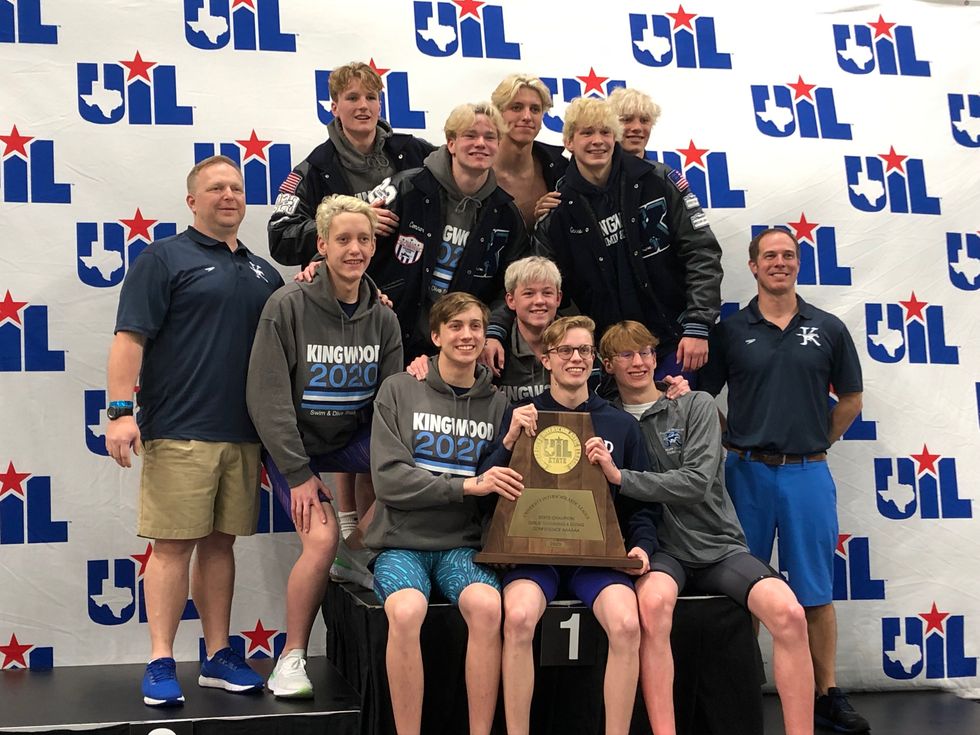 Photo by VYPE Media's Thomas Bingham.
Kingwood High School may not have won any boys state championship meet events on Saturday, but its relay teams medaled enough to give its swimming and diving program a winning point total of 189.5.
Texas commit Victor Tremblay played a major role in the Mustangs' success by recording a second-place time of 1:31.58 with Garret Green, Owen Pickering and Luke Langley in the Boys 200-yard Medley Relay. He later added a third-place time of 1:23.77 with Green, Connor Little and Gabe Roberts in the Boys 200-yard Freestyle Relay. The swimmers' combined effort helped the Mustangs top fellow North Houston program and UIL state runner-up The Woodlands (186 points) for its first UIL state swim championship since 2009.
"It's been 11 years since we've had the state title and I can't be any more happy with the guys than I am right now," said Tremblay. "I've seen all the hard work they put in through these last four years I've swam with them and all the grinding they put in. It's paid off, so I'm just really happy to be a Kingwood swimmer."
For more sports coverage, follow Thomas (@Texan8thGen) and VYPE (@VYPEHouston/@VYPEDFW) on Twitter.

Looking to get more involved? Check out ShopVYPE for fresh gear that supports local schools and the VYPE U Ambassador Program. To sign up for the VYPE U Program, apply at VYPEU.com.