FEATURE: Sam Houston's Schmid ready for a playoff run, father Mark eager to watch
Apr 22, 2021
HOUSTON – The last time Eric Schmid ran out of the tunnel for a playoff game it was December 17, 2016.
The venue was AT&T Stadium. The opponent was Lake Travis led by Charlie Brewer (Utah). The game was the Class 6A Division I State Championship.
Fast forward four years, four months, and eight days (1,590 days total), and Schmid – who starred at The Woodlands High School – will once again run out of the tunnel for a playoff game on Saturday.
This time wearing the orange of Sam Houston.
"It's been a while," Schmid said with a laugh. "It's about time."
The Southland Conference Player of the Year will lead No. 4 Sam Houston against No. 10 Monmouth in the first round of the 2021 FCS Playoffs on Saturday at Bowers Stadium in Huntsville.
It is a little unconventional to be playing real college football games in April, which is usually reserved for program's annual Spring Games and offseason programs, but the past year has been anything than conventional.
One person who has thoroughly enjoyed the switch has been Eric's father Mark, who is the head football coach at Oak Ridge High School in North Houston.
A year ago, when Eric was in his redshirt sophomore season, Mark would find himself at airports or jumping in the car for a long road trip early on Saturday mornings to get to where the Bearkats were. Then he would have to quickly get back to start getting his high school team ready for their upcoming game.
Football in the spring has really worked out for Mark's schedule.
"It's just really worked out well for me as a dad, who is also a high school football coach," he said. "I don't have to try to find ways to see him play and make my high school schedule and his college schedule work at the same time.
"It's been a blessing to be able to go on Saturdays and watch him play in the spring."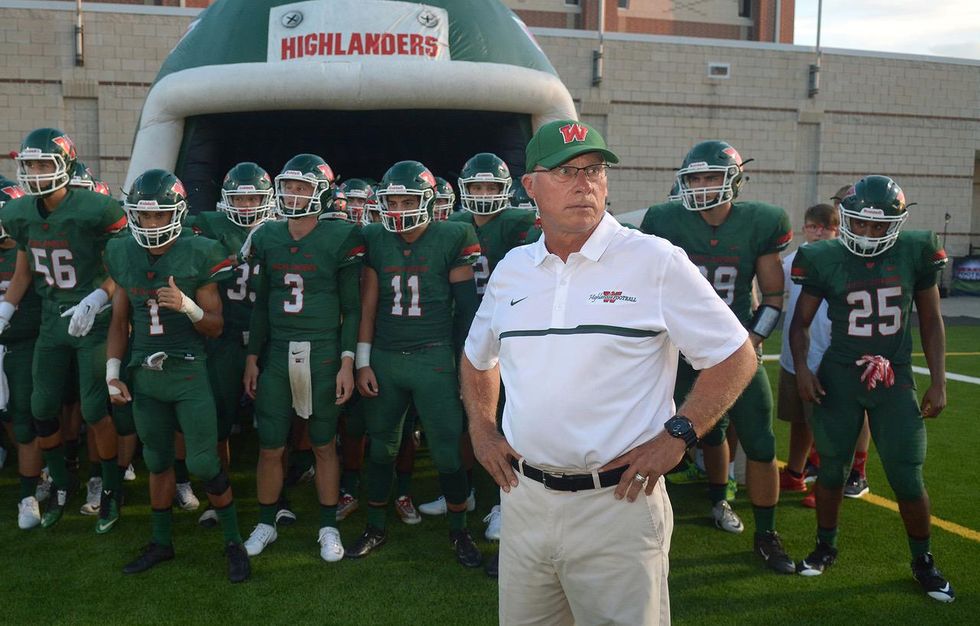 In 2019, Eric was just a redshirt sophomore at Sam Houston but was battling for the starting gig.
Through the first three games of that season, he battled it out. In the fourth game he got the start against Incarnate Word and led Sam Houston State to a 45-6 victory passing for 531 yards and five touchdowns.
The next week, Eric broke his hand against McNeese, which required surgery that sidelined him for six weeks. He would come back later that season but then pulled his hamstring three quarters into the game and then play in the season finale.
A season, which Mark referred to as "bittersweet", full of adversity taught Eric a lot of valuable lessons.
"Definitely to play smarter, I'm still trying to figure that out now. I still take a bunch of shots," Eric said. "Playing smarter, knowing more about where I am going with the football faster and not putting myself in difficult situations."
Heading into the 2020 season with the COVID-19 pandemic in full siege on sports, the Southland Conference decided to postpone its football season until the spring.
Once the spring hit, they pushed forward and Eric was the starter and one of the captains for Sam Houston.
In a pandemic-shortened season, which kicked off in February, Eric has led the Bearkats to a 6-0 mark, winning the conference crown, was Southland Conference Offensive Player of the Week once, and passed for 2,021 yards and 14 touchdowns while completing 62 percent of his passes. Schmid also rushed for 373 yards and five touchdowns.
"I wouldn't say I was expecting it but having the weapons that we have as an offense, if you told me it was going to happen, I would have believed you," Eric said. "We have unreal talent all around me."
Throughout the season, Eric and Mark talk or text a few times a week.

The former quarterback-coach relationship carries on even though he doesn't play for him anymore as they discuss everything football. But then the father-son relationship also takes over the rest of the conversation.
"It's nice and it's different for both of us," Eric said. "In high school we always knew everything that was going on. It's fun being able to inform him on stuff that's been going on in my life and he gets to inform me on stuff that's going with him back at Oak Ridge."
As Eric leads Sam Houston into their first FCS Playoff game since 2017, his true freshman season, he is excited.
And the same can be said for Mark, who plans on being in the stands at Bowers Stadium come Saturday.
"I'm really excited, I get butterflies in my stomach just like I used to for him," Mark said. "I get nervous and excited at the same time. That'll be the same with me on Saturday.
"But I can tell you, Eric played his best football of his career once we got to the playoffs and I'm thinking that's probably what's going to happen now. I'm looking forward to him to play his best football of the season."
It's been nearly five years since Eric suited up for The Woodlands but just like his senior season, he's ready to make this playoff run and make that unbreakable bond with this team just like he did with the Highlanders.
"It's felt like a long road even though it has flown by," Eric said. "It feels good to be in this position and to go after another championship run."
True