The Woodlands Christian Academy Magazine: Fall Wrap
Jun 11, 2021
FOOTBALL
THE 2020 FOOTBALL SEASON WAS YET ANOTHER SUCCESSFUL CAMPAIGN FOR THE WOODLANDS CHRISTIAN ACADEMY AS THE WARRIORS MADE THE PLAYOFFS FOR THE EIGHTH TIME IN THE LAST 10 YEARS.
The Warriors went 4-3 overall and finished third in District 4 at 3-2 while competing for the first time in TAPPS Division II. TWCA closed the regular season with three straight wins, before falling to Geneva School of Boerne, 50-49, in a heartbreaking bi-district playoff loss.
Five underclassmen played key roles for the Warriors in 2020, including Class of 2023 running backs Roric Hawkins (225 rushing yards) and Ryan Leslie (375 yards, 3 TDs). Leslie was also a standout at linebacker with 4.1 tackles per game and an interception.
TWCA's key player to keep an eye on is Class of 2023 quarterback/ running back/defensive back Josh Johnson, who had a breakout campaign in 2020.
Johnson led the team in rushing (397 yards, 8 touchdowns) and passing (1,101 yards, 13 TDs) and also compiled 3.3 tackles per game and seven passes defended.
A junior class that included offensive lineman Colby Gorman, tight end Sebastian Bryngelson, running back Keaton Harvey, defensive lineman Ezekiel Jurado, linebacker Sean Kane and defensive back Dereck Felder returns to captain the crusade for 2021. Kane led the 2020 Warriors with 10 tackles per game to go with 2.5 sacks.
TWCA says goodbye to senior stalwarts and program cornerstones like receiver/punter Caedmon Parker, kicker Stratton Butaud and running back Davis Heise. Parker was the team's top offensive playmaker in 2020, catching 34 balls for 789 yards and 14 TDs, and led the team with five interceptions. He also averaged 34.1 yards per punt. He will be tough to replace because of his big-play ability. Butaud averaged 46.6 yards per kickoff with seven touchbacks.
In December, Randy Hollas stepped down as head football coach after four years at the helm. He will focus more on his duties as athletic director. Defensive coordinator Chris McClanahan was promoted to head coach and sustains the continuity and tradition the Warriors had established under Hollas.
ALL-STATE OFFENSE
SECOND TEAM
Caedmon Parker, WR
HONORABLE MENTION
Colby Gorman, OL
Stratton Butaud, K
ALL-STATE DEFENSE
SECOND TEAM
Sean Kane, LB
Caedmon Parker, DB
ALL-DISTRICT OFFENSE
FIRST TEAM
Colby Gorman, OL
Roric Hawkins, RB
Caedman Parker, WR
Stratton Butaud, K
SECOND TEAM
Ryan Leslie, RB
Sebastian Bryngelson, TE
HONORABLE MENTION
Colby Shilling, OL
Keller Davis, OL
Davis Heise, RB
Keaton Harvey, RB
Roric Hawkins, ATH
ALL-DISTRICT DEFENSE
FIRST TEAM
Ezekiel Jurado, DL
Sean Kane, LB
Caedmon Parker, DB
SECOND TEAM
Ryan Leslie, LB
Josh Johnson, DB
HONORABLE MENTION
Dereck Felder, DB
Caedmon Parker, P
VOLLEYBALL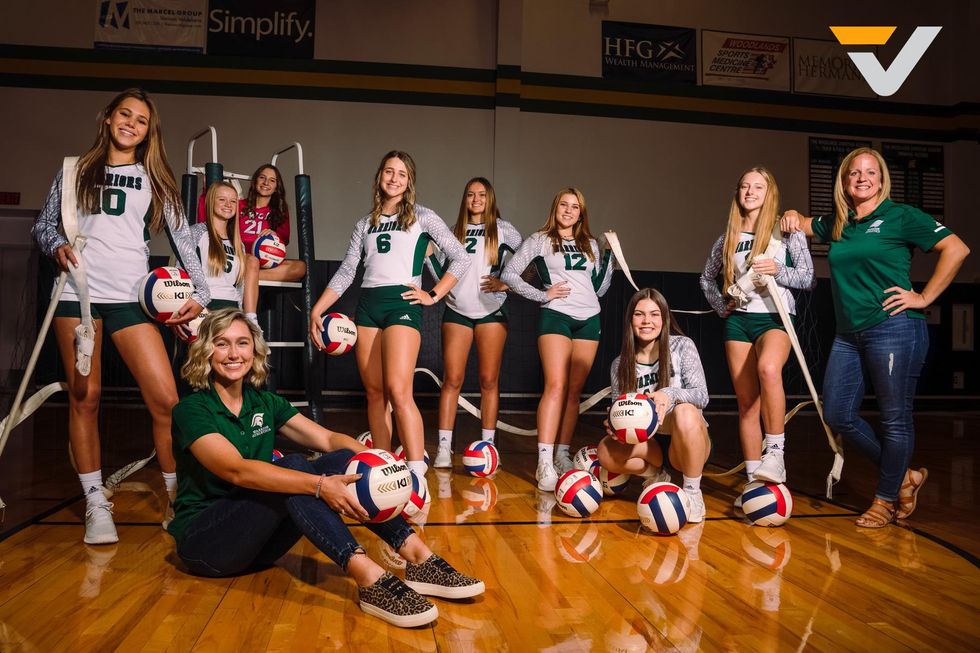 THE WOODLANDS CHRISTIAN ACADEMY FINISHED 14-7 AND EARNED A BYE IN THE BI-DISTRICT ROUND OF THE PLAYOFFS BEFORE DROPPING A NAIL-BITING, FIVE-SET AREA PLAYOFF MATCH TO HYDE PARK IN THE SECOND ROUND.

The Warriors had three all-district, first-team selections in Claire Dewine, Abigail Adams and Jordan Booth. Second teamers were Katherine Tucker, Katie Wise, and Brooke Harris. Honorable mentions included Avery Buck and Madison Steed.
Dewine was a first-team, all-state pick and Adams was a second-team pick. Booth was an honorable mention, all-state selection.
ALL-DISTRICT
FIRST TEAM
Claire Dewine
Abigail Adams
Jordan Booth
SECOND TEAM
Katherine Tucker
Katie Wise
Brooke Harris
HONORABLE MENTION
Avery buck
Madison Steed
ALL-STATE
FIRST TEAM
Claire Dewine
SECOND TEAM
Abigail Adams
HONORABLE MENTION
Jordan Booth
CROSS COUNTRY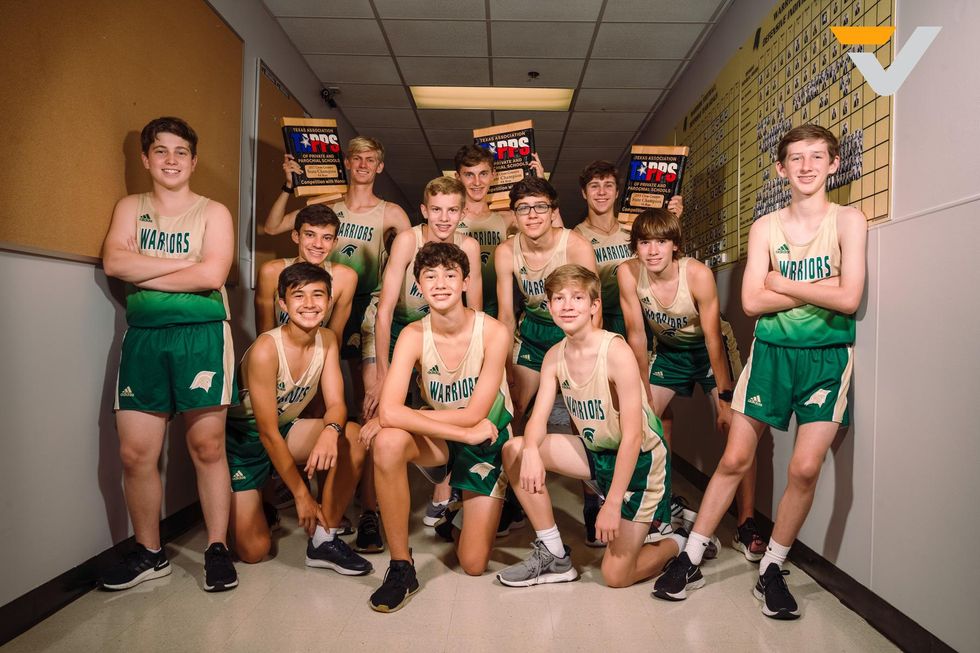 STOP US IF YOU'VE HEARD IT BEFORE: THE WOODLANDS CHRISTIAN ACADEMY BOYS CROSS COUNTRY TEAM WON STATE.

Never mind, don't stop us. Because the fact remains coach Tom Earle's boys are still at the head of the class despite moving up in classification to TAPPS 5A. TWCA made it a four-peat as state champion in 2020, as three runners finished in the Top 10. They were first-team, all-staters Ben Shearer, Josh Mueck and Caleb Bigler.
The Warriors also won the district championship for the fifth straight year. Four runners were named as all-district, first-teamers: Shearer, Mueck, Bigler, Zach Bagnoli and Lucas Trevathan.
Shearer was dominant all season. He won the McNeil meet in Austin to earn a first-place ranking in Texas, public or private schools. He also won the Desert Twilight meet in Arizona, overcoming some of the top runners in the country from California, Arizona and Utah. That meet championship elevated Shearer to No. 3 in the country.
At the Nike Virtual Nationals, the Warriors finished 16th overall in the country.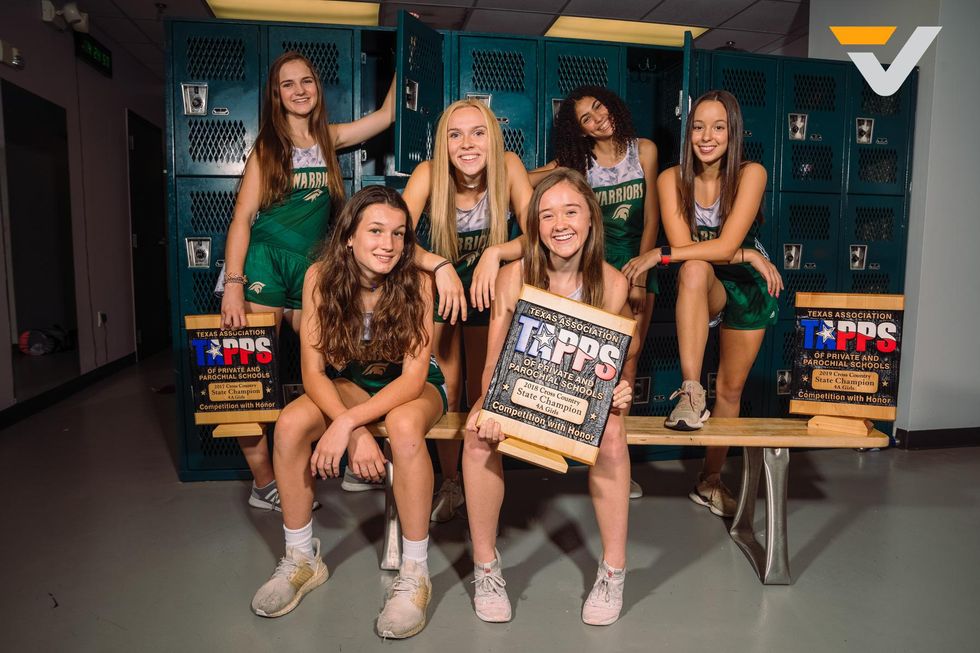 The Warrior girls also enjoyed a stellar season.

The TWCA girls finished third overall at state, their ninth consecutive year finishing in the top three. They also won the district championship for the sixth year in a row.
The Warrior girls had four all-district, first-teamers in Lindsay Worthington, Fern Shirley, Zoe Calimani and Camille Young. Shirley competed against the large private schools in a 5K race and got seventh overall. She also competed against the boys in a 5K race in October and finished 26th overall.
CLICK HERE TO VIEW DIGITAL MAGAZINE