IT IS RATHER EASY TO SPOT JACKIE LESMEISTER ON THE SOCCER OR LACROSSE FIELD AND EVEN THE TRACK. SHE'S THE ONE RUNNING AROUND WITH THE CAMO HEADBAND.
"Camo Girl" has excelled at three sports at St. Pius X and shined once again in her sophomore campaign after a solid freshman year, which was cut short due to COVID-19.
In 2020-2021, Lesmeister earned second-team, all-district as a defender for soccer; made the all-state roster in lacrosse, and advanced to the TAPPS State Track Meet with her 4x200- meter relay team.
"I'm quite honestly very happy with how everything went this year," Lesmeister said. "Soccer went great as well as our lacrosse season. In track, we also executed very well. Really happy with it all."
Lacrosse is what she envisions playing at the next level and judging by the laundry list of accomplishments for the Class of 2023 prospect, that won't be a problem.
This season for St. Pius X in seven matches, Lesmeister netted 36 goals, averaging 5.14 per match, and registered 13 assists, which both were best on the team. The group made the state tournament for only the second time and first since 2018.
Lesmeister was an all-state selection as a midfielder, named to the 2021 Women's National Tournament Team-Greater Houston/Central Texas, a 2021 US Lacrosse Texas Junior Board Member, and for a second-straight year named to the Under Armour 150.
"I've been working on this so long. I've been playing since I was in the fourth grade and playing club since the fifth grade," Lesmeister said. "It's really great to know that all my hard work has paid off."
Lesmeister has gotten some interest from Division II and Division III colleges, and starting September 1 she can be contacted by Division I programs.
SPX BASEBALL ON TRACK
COACH MIKE EVANS AND THE ST. PIUS X BASEBALL TEAM MADE SOME PROGRESS IN 2021. THE PANTHERS FINISHED FOURTH IN A COMPETITIVE DISTRICT.
The Panthers scratched and clawed all season but fell in the Area Round to Antonian in a 1-0 heartbreaker.
Some of the bright spots included first-team, all-state lefty Kyle Winkler and all-state, honorable mention Tregan Hyder. Winkler has committed to Incarnate Word and will return for his senior season as the team's most lethal pitcher. He's solid at the plate as well. Hyder is off to Labette CC after leaving a tremendous legacy at St. Pius X.
Both were first-team, all-district picks along with freshman Casan Evans. Evans, along with second-teamer Trent Caram and honorable-mentions Jackson Mobley and Carson Hintz, will make up a talented nucleus that joins Winkler next season as the Panthers try and strike at a district title.
GOLF HAD SOLID FINISH AT DISTRICT; REGIONALS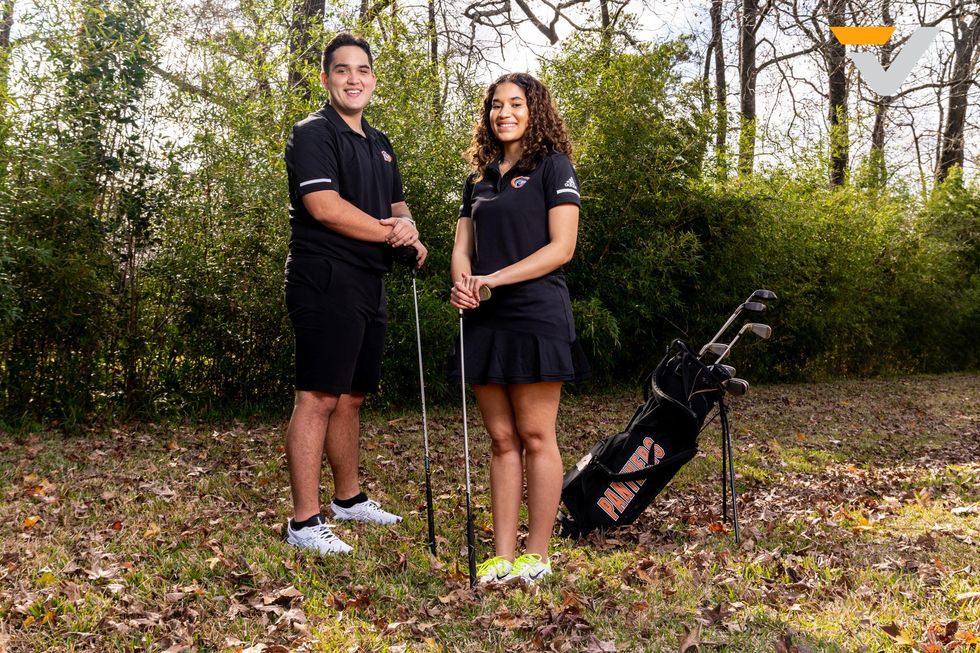 THE GOLF SEASON STARTED OFF SLOW AT ST. PIUS X, BUT THAT WAS PAR FOR THE COURSE FOR EVERYONE DUE TO COVID. IT WAS SIMPLY TOUGH FINDING TOURNAMENTS.

Coach Kelly Patterson saw improvement with every event when the teams got back on the course, and the season highlight was at the Frassati Tournament just before district. The Panther girls took first and the boys finished second as they gained momentum going into the postseason.
At district, the girls finished fourth and advanced to regionals for the "first time in ages". At regionals, Gabby Martinez Botini and Sofia Ordaz had great showings and were named to the all-district team. The boys' team was led by Brandon Snader.
"What's most promising is how young we are," Patterson said. "I had two freshmen and two sophomores in our Top 5 for girls, and two freshmen and two juniors for the boys. The upcoming seasons look solid."
PAGE LEADS WAY FOR ST. PIUS X TENNIS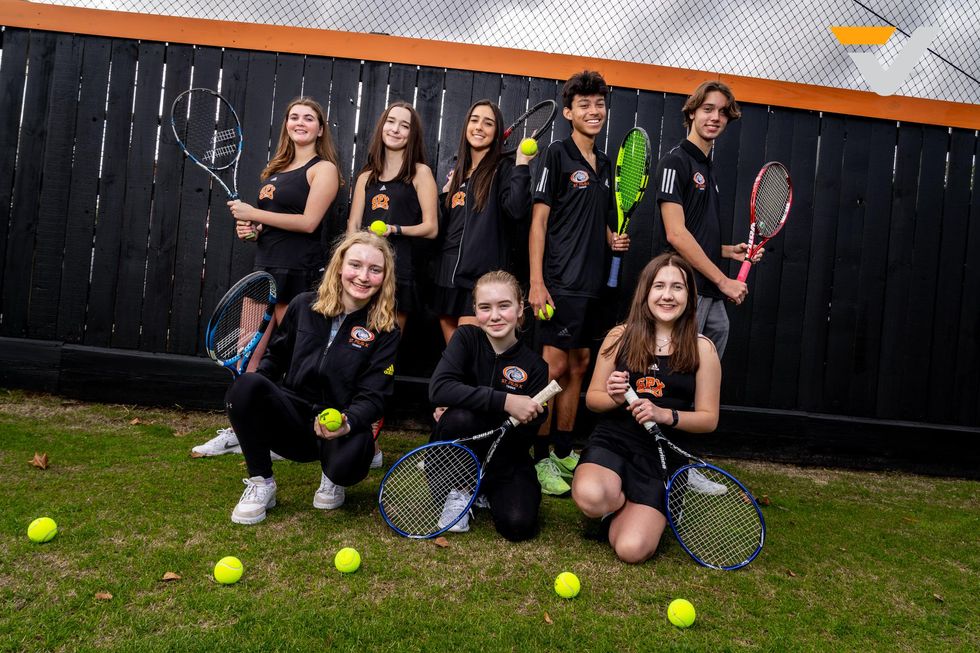 THE TENNIS TEAM CONTINUES TO BUILD UNDER THE DIRECTION OF COACH AMY PESEK.

The Panthers have drastically increased in numbers the past two seasons as they become more competitive in district play.
Jefferson Page was the story of SPX tennis. The defending district champ had high expectations this season and reached the second round of the state tournament before bowing out to Jaime Herrera, who was the state runner-up.
Chloe Botello led the girls team.
LOOLO; GIRLS TEAM REACH STATE IN TRACK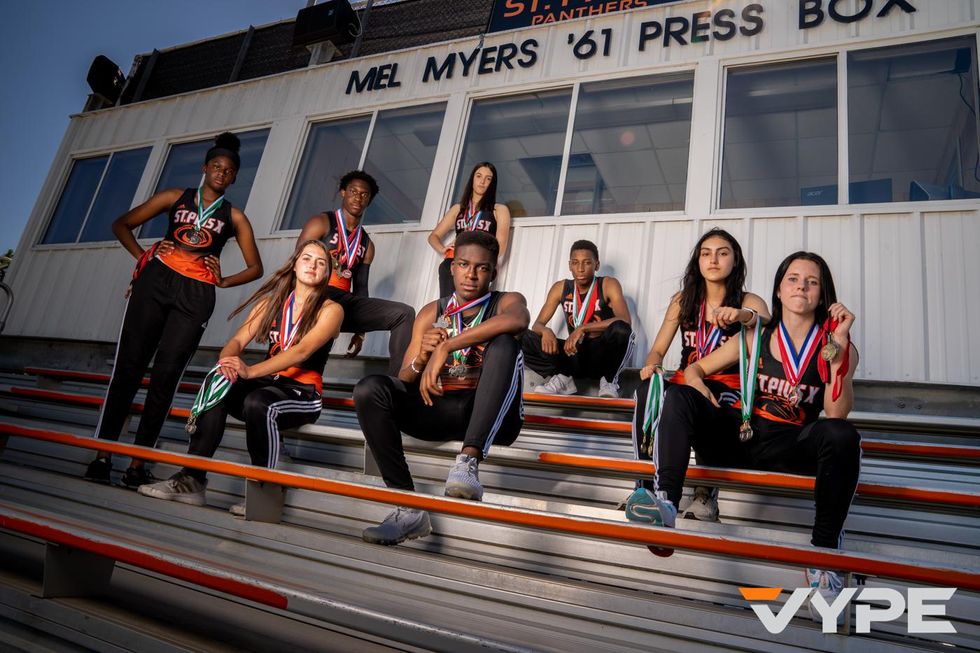 THE ST. PIUS X TRACK AND FIELD SEASON WAS "SHORT AND SWEET " BUT "LOOK FOR BIG THINGS TO COME IN THE NEXT FEW YEARS" AS COACH MAYA EWING HAS SOME ELITE GIRLS ON THE HORIZON.

The boys team reached regionals and performed well but fell just short of reaching state. Only Nethaneel Loolo, who also stars out of the backfield for the football team, advanced to the final meet in Waco and finished fourth in the 100-meter dash.
"It was great to see the boys get out and run after the season getting cut short due to COVID," Ewing said. "They really persevered and improved as athletes and as young men. They did a great job leading our younger guys."
On the girls' side, the future is bright. The 4x200 Relay team reached state and was led by Brianna Espinoza, Athen Atkinson, Anna Bordas and Jackie Lesmeister.
"Going to state was nerve-racking, but now we know what to expect," Espinoza said. "We will be back and will perform much better."
GIRL'S LACROSSE REACHES STATE TOURNEY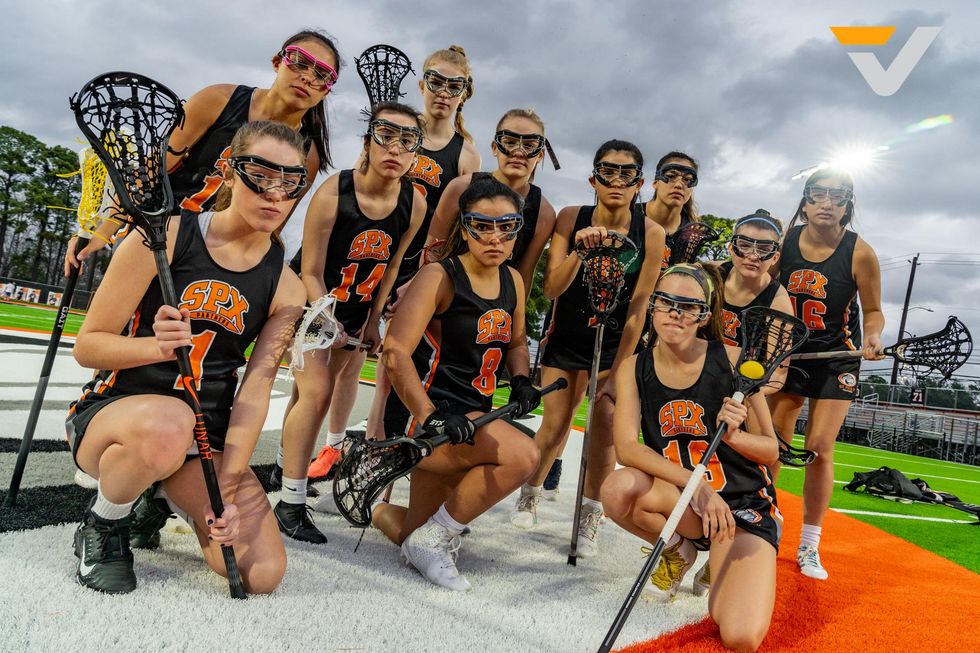 IT WAS A BANNER YEAR FOR ST. PIUS X WOMEN'S LACROSSE AS FOR THE SECOND TIME EVER AND FIRST TIME SINCE 2018, THE PANTHERS FOUND THEMSELVES IN THE STATE TOURNAMENT. THE LADIES REACHED THE REGIONAL SEMIFINALS WHERE THEY FELL TO STRATFORD.

In the regular season, SPX registered some big wins against Friendswood (22-10), Houston Christian (17-6) and Emery/Weiner (16-3).
Jackie Lesmeister led the team with 36 goals and 13 assists, while Makenna Capitaine had 33 goals. Maya Cortez had 23 goals, Abby Konicki had 19 goals and 11 assists and Alex Konicki had 11 goals.
After the season, Capitaine, Lesmeister, Alex Konicki and Kayla Pesek earned All-State nods. Cortez and Abby Konicki were all-district picks.
BRIGHT FUTURE FOR SPX BOY'S LACROSSE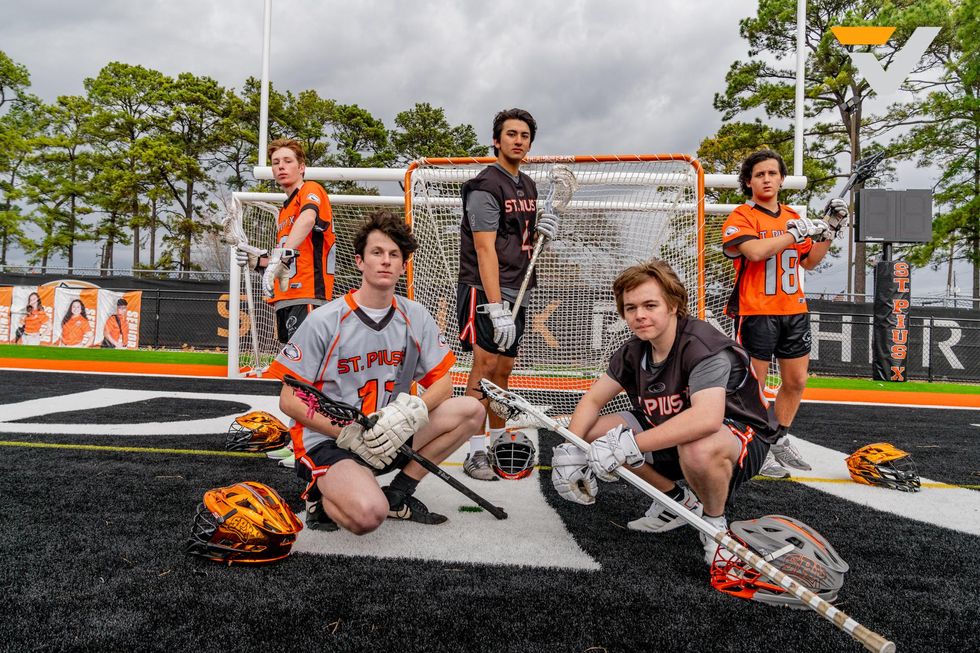 THE SPX LACROSSE TEAM PUT TOGETHER A NICE SEASON GOING 3-1 IN THE CLASS D VARSITY LEVEL OF THE TEXAS HIGH SCHOOL LACROSSE LEAGUE. THEIR OVERALL RECORD WAS 7-7.

Led by coach Dr. Matthew Carr, the future looks bright as SPX only graduates two players entering next season. "We were very solid up the middle," he said.
"We have a great goalie and we were solid on defense. We have a very intelligent offensive group whose strength is speed. Most everyone will be back next season."
As the THSLL has reshuffled the brackets, SPX feels confident moving forward that they are in the appropriate level to compete in.
"We want to win a state title soon," Carr said.
PLAYING FOR YOUR BROTHER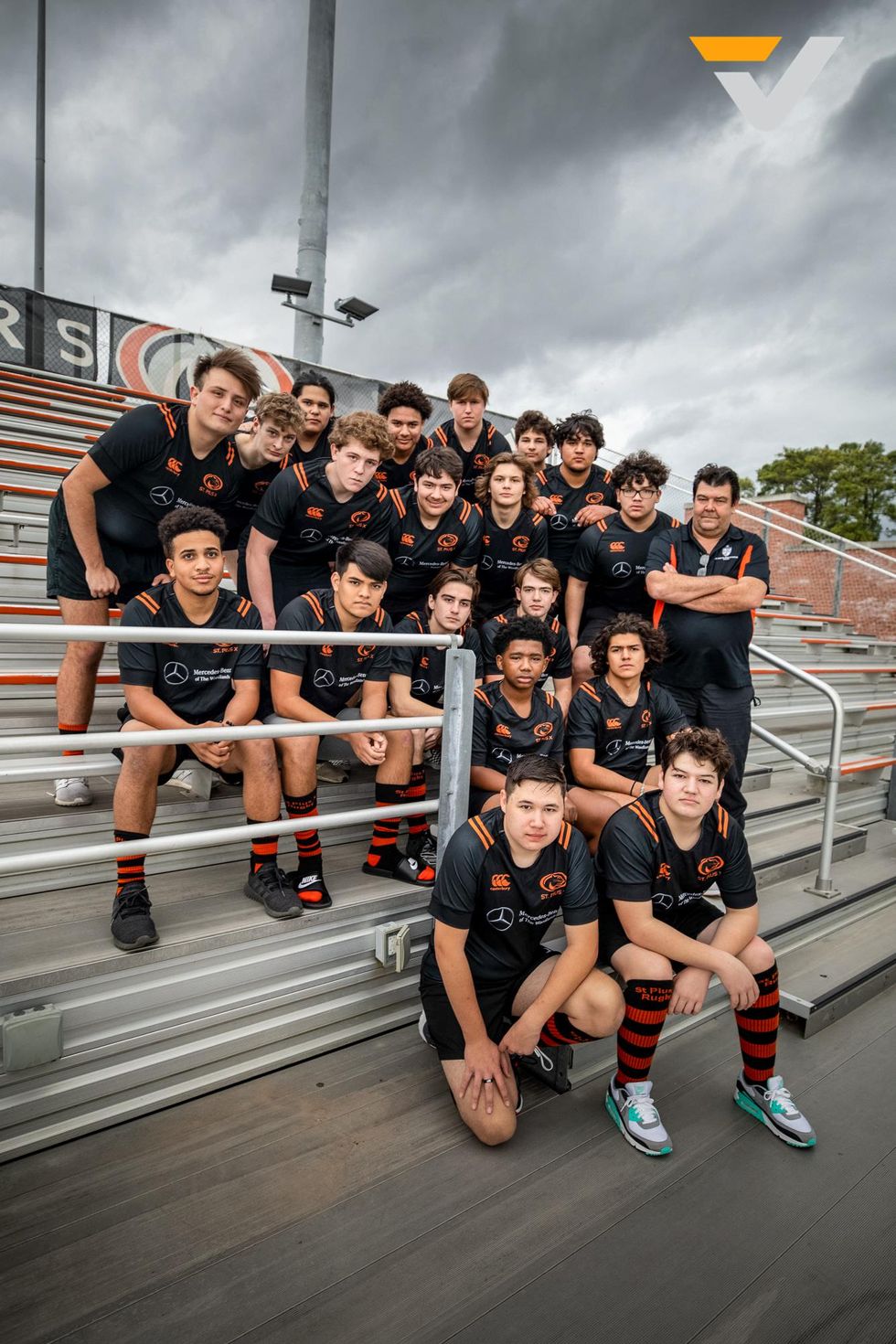 COACH DAVID SELBY HAS A DEFINED PHILOSOPHY WHEN IT COMES TO RUGBY.

"We don't have any superstars but we are very cohesive as a unit," he said. "When everyone steps up and plays for their brother next to him, we have success. We play physical and we play as one."
The Panthers' season began with high expectations based on recent history balanced with the knowledge that this would be learning season as they added 10 first-year players to the team. The team also scheduled a Spring Break brace of matches in New Orleans with New Orleans Jesuit High School and Brother Martin High School, both nationally rated teams. After a hard-fought win against Lamar High School and a last-second loss to St. Thomas High School, the Panthers found themselves ranked No. 21 in the nation by a highly regarded national high school rugby rating service. After that, the season began to level out with losses outnumbering wins.
Key to the growth of any program is the depth in numbers and by position. Based on this year's squad of 30 athletes, the Panthers will have 23 returning players for the 2022 season.
At season's end, Max Bright, Michael Fite, Alex Gutierrez, and Burke Battenfield were named to the Houston Sabercats U18 team.