Yoo starring on, off field for Cypress Ranch
May 18, 2022
VYPE Media
As the only senior on Cypress Ranch's varsity softball team, Molly Yoo felt alone coming into this season. Scared, even.

"I've done all these things and getting ready for the next part of my life, and some of these girls, their high school career is just beginning," said Yoo, a four-year varsity letterman and Nicholls State commit. "They haven't even gotten into the recruiting process yet, and I have. Yeah, I was scared."
Yoo had conversations with coaches and her parents that were cathartic. She ultimately extinguished those druthers when the team needed it most.
In the offseason, the team, mostly of sophomores and juniors, was separated in cliques. "Super split," Yoo said. At first, Yoo, wanting to be liked by her teammates, let it slide. But it got to be too much as the division seeped into January, weeks before the start of the season.
"We had to push each other to get out of our comfort zone," Yoo said. "Talk to each other and build those relationships. I'm not the type of person that will be really loud. But eventually, I was just over everything."
Yoo started taking initiative. She arranged team dinners at her house. She encouraged the team to gather at someone's house prior to games to get ready.
"We were going to do everything together," Yoo said. "It was hard for me to speak up and say something because I don't want them to be afraid of me. I like to lead by example. But I have expectations for us as a team and I know they have the same for me."
The Mustangs have since lived up to great expectations, even surpassed them. So has Yoo.
Cy Ranch (25-13) is back in the regional semifinals for the first time since 2018. A big why is Yoo.
The two-way talent is 17-8 in the circle with a 1.51 ERA and a .174 batting average-against. But what jumps out like the elephant in the room is Yoo's incredible 9.7 strikeout-to-walk ratio, 223 punchouts to 23 walks.
She said her command and abhorrence of free passes come from playing for her 16U team when a pitcher was pulled if they walked two batters in a game.
"I hated to get pulled, so I worked really hard to not walk anyone," Yoo said. "I really don't like to lose. Each at-bat is like a mini-game in itself. My focus is only on the batter I'm facing and what I have to do to beat them."
Yoo is a left-handed pitcher, a rarity in softball.
"As a hitter, you're not used to seeing the ball come out from a different side," she said. "It can get in your head a bit. Most lefties have a lot of weird movement, too. I've never understood it. But I can throw a fastball and it will wiggle."
And Yoo knows about hitting, too. She's not just the Mustangs' ace. Yoo leads the team in RBIs (51) and home runs (four), and hits .371 with a .431 on-base percentage.
But it's pitching that has her heart.
"It's my bread and butter," Yoo said. "It's a game inside of a game. One day, you can be on, throwing as hard as you can and balls will be breaking. And the next day, things aren't going your way. I like the challenge of working and improving. I always have something to get better at."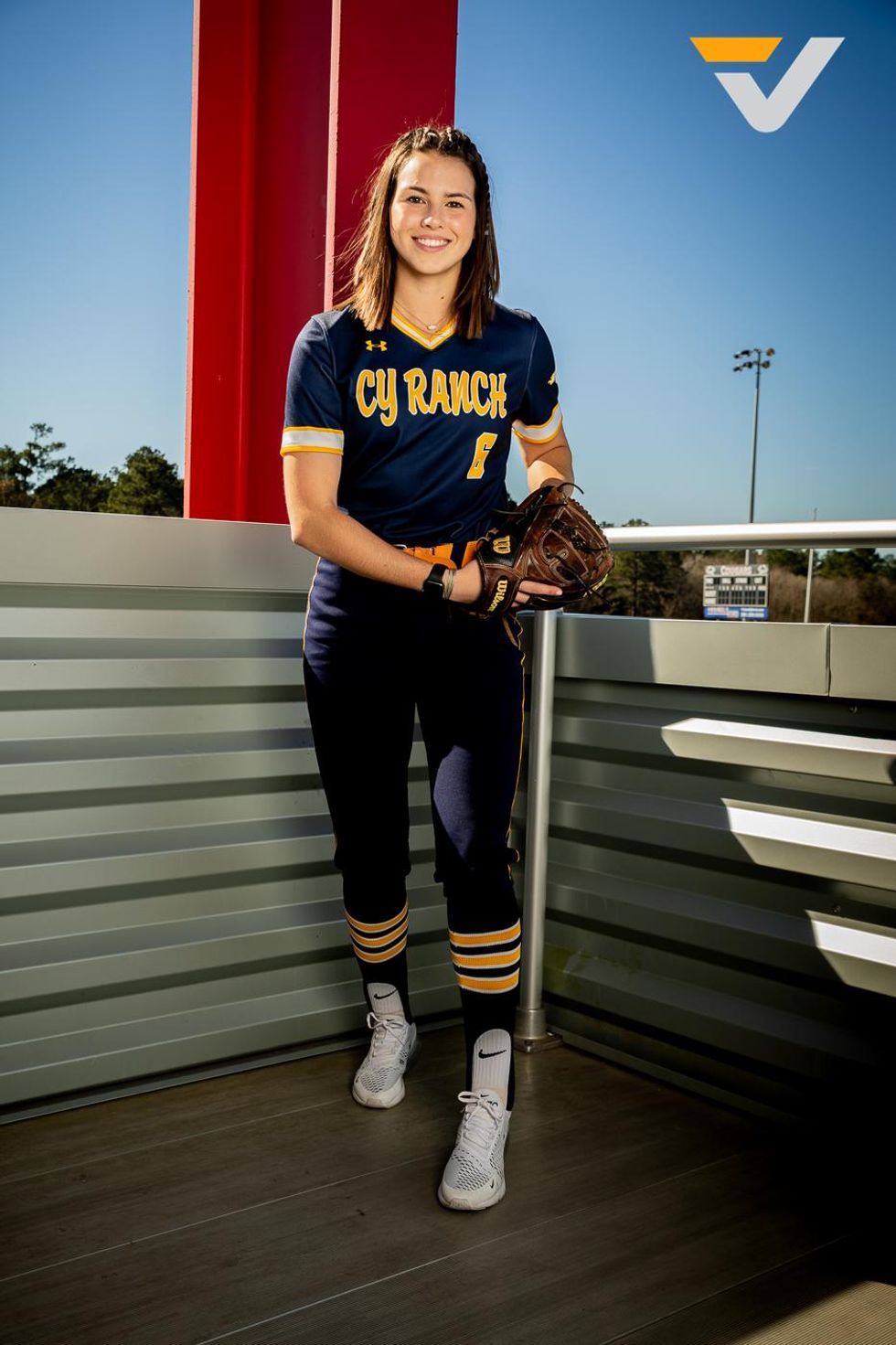 Cypress Ranch senior Molly Yoo.VYPE Media
Ever since the Mustangs became closer as a team— "We're not just teammates now," Yoo said. "We're a family."— following a tenuous start to the season, Yoo said she is more relaxed. She credits her play on the field to what she helped transpire off it.
"I know we have what it takes to bounce back from anything," she said. "I'm able to play loose."
Yoo is stronger and faster this season. The spin and speed of her pitches are better.
Yoo has always had a nasty curveball, but now the rise ball is just as dangerous. What once was a "struggle pitch," she said, is now one of her best.
"I know we all want to work on the things we're good at, and I do, too," Yoo said. "But I also try really hard to work on the things I'm not good at."
That list isn't long. In the box, Yoo is doing better keeping it simple and not always trying to swing for the fences. In the circle, she's become adept at studying a hitter's body language.
Are their shoulders slumped? Are they excited? Where are they standing in the box? Can she jam them inside with a curveball or should she go higher and out?
Whatever Yoo does, it's working. Now she wants a trip to next week's regional finals, where Cy Ranch hasn't been since 2015.
Lake Ridge stands in the way. But Yoo has expectations for these Mustangs. And they have expectations for her.
"It's been amazing," Yoo said. "It's kind of coming full circle. When I was a freshman, we made it to round four, but I was on the bench and didn't get to see the field much. Now I'm kind of in the center of it and it's crazy. It's so exciting."
True