THE HEADLINERS: Top 5 Stories Going Into the 2022 Volleyball Season
Jul 25, 2022
VYPE takes a look at some of the top headlines going into the 2022 High School Volleyball season, and there are quite a few.
We chose five of the biggest stories going into this year, including legendary coaches, mother-daughter duos and new coaches in new places.
Brewer - A Bellville Legend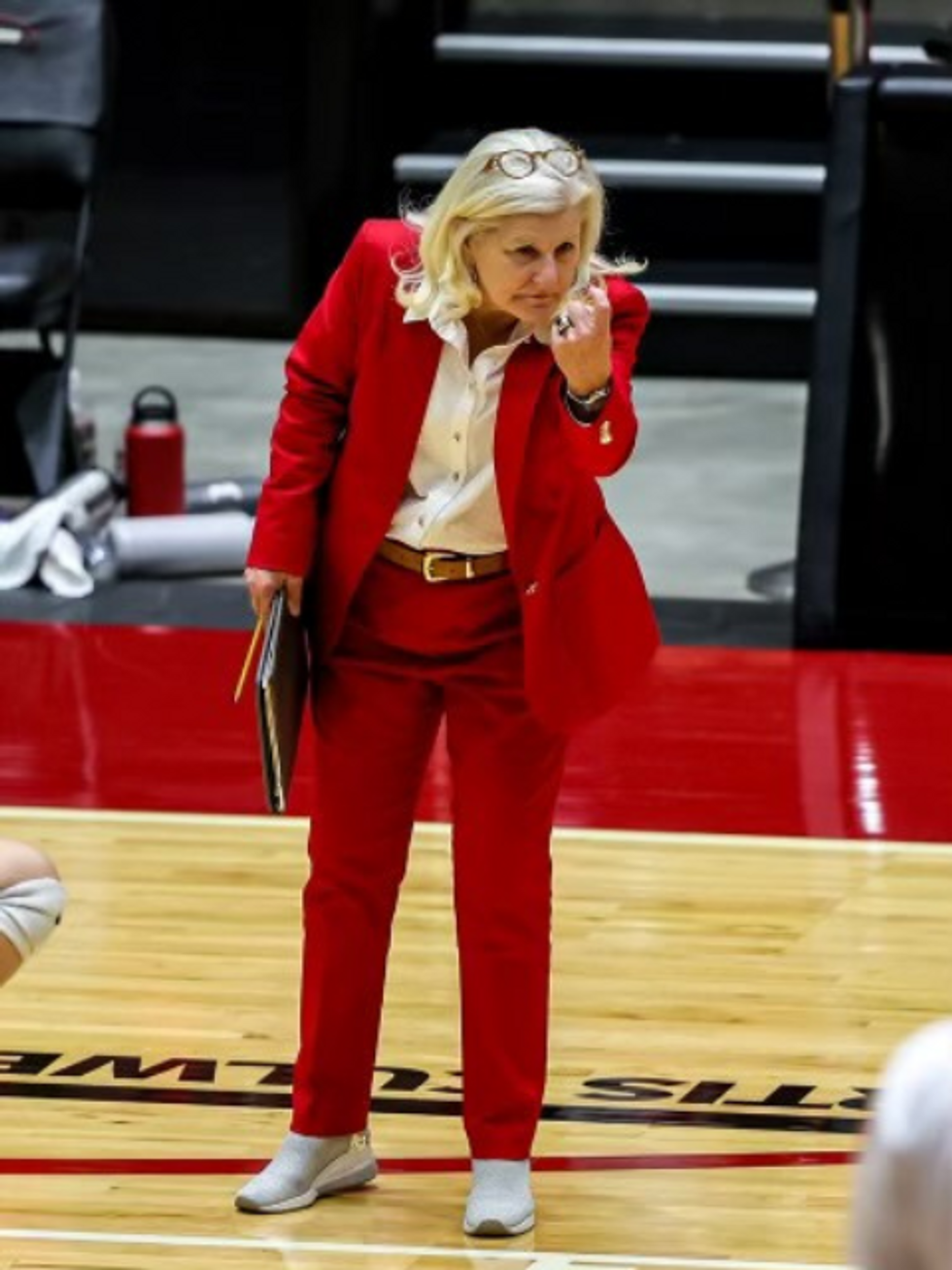 Susan Brewer, Bellville
SUSAN BREWER HAS BEEN A HEAD COACH FOR 45 YEARS. EVERY ONE OF THOSE YEARS HAS BEEN AT THE HELM OF BELLVILLE.
Brewer has an overall record of 1,139-499 leading the Brahmanettes as she goes into her 46th year as the head coach of the Class 4A program.
An East Bernard alumn (Class of 1973), Brewer said she is a "life-long learner" and prides herself on continuing to learn how to teach skills more efficiently and how to reach young women in the sport, starting with creating a sense of fun.
Brewer has led the Brahmanettes to 17 State Tournaments and nine State Championships, numbers that rank among the best in Texas high school volleyball history. Her 1,139 wins are the most among active coaches.
WHAT THEY'RE SAYING:
"It's the people. The people here in Bellville are special. When the girls suit up in their red uniforms on Tuesday and Friday nights and the gym is full, and the people in the community come and enjoy the game and enjoy watching the kids ... it's a really good feeling for every team I've ever coached." — Susan Brewer
Family Matters at Conroe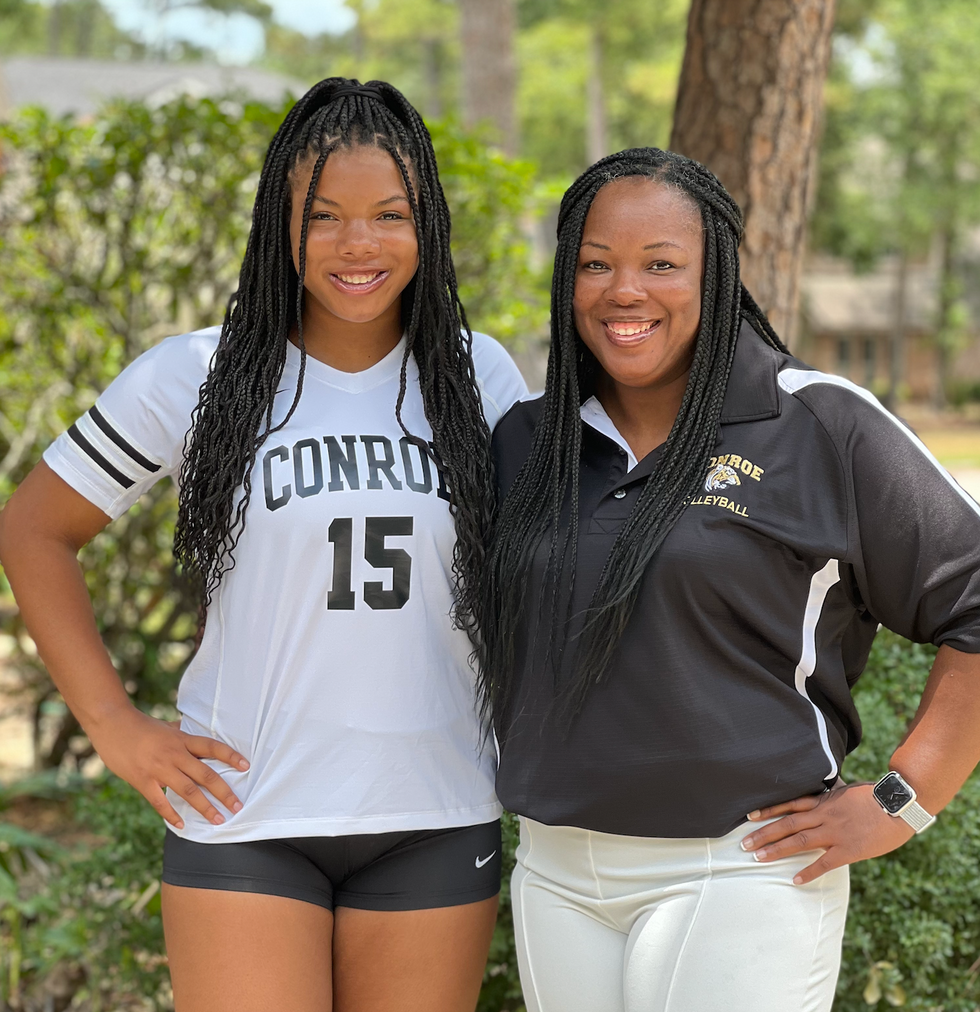 Ariana & Charvette Brown, Conroe
KLEIN STAR ARIANA BROWN TRANSFERRED TO CONROE IN JANUARY TO PLAY FOR HER MOTHER CHARVETTE, HEAD COACH OF THE TIGERS SINCE 2013.
It will be a game-changer not only for the Tigers' program, but also for mother and daughter. Brown led the Bearkats in kills (481) and aces (67) last season to go with 390 digs and 205 assists.
Conroe has a strong team returning, and the addition of Brown, a Louisiana-Monroe-commit, is a significant boon. Conroe has not made the playoffs since 2017 and Coach Brown is optimistic this is the year the Tigers break through.
Ariana will have a big-time say if the Tigers do just that. She has already had an immediate impact helping change the culture and establishing a standard of what it will take to win.
WHAT THEY'RE SAYING:
"We are beyond excited about the move. There were so many great moments in her career I missed and it was very hard on our relationship. To be able to coach her every night will be very rewarding for the both of us." — Charvette Brown
Platt Nears Milestone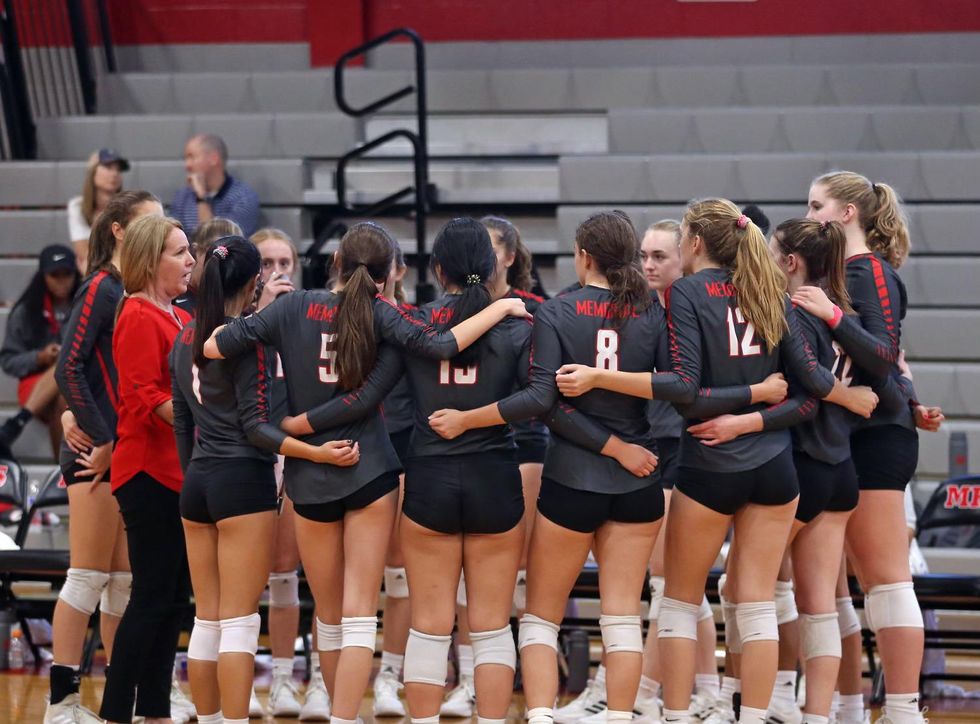 Kaddie Platt, Memorial
MEMORIAL COACH KADDIE PLATT IS APPROACHING 700 CAREER WINS AS A COLLEGE AND HIGH SCHOOL VOLLEYBALL COACH.
Coming into her fourth season at the helm of the Mustangs, Platt is 675-317 overall in 26 years as a head coach, including seven at the University of Houston and 17 at Houston Baptist University. She is 82-37 in three seasons at Memorial.
Throughout her illustrious career, Platt said she has learned seven critical things: pray for wisdom (because you don't
know what's going on in everyone's personal life), pray for your players' needs, value every person in the program, start tough conversations from the other person's perspective, improve every day (and when you don't, it might be time to do something fun) and make sure your people know you love them.
But perhaps most of all? "I have much more to learn," Platt said.
WHAT THEY'RE SAYING:
"What I enjoy most, I truly love seeing their growth. I love seeing their confidence grow and their toughness develop. I love when players have worked hard and have the opportunity to earn success. I do feel like I was called to coaching, and I have been blessed." — Kaddie Platt
USA Volleyball Tabs Minor For Training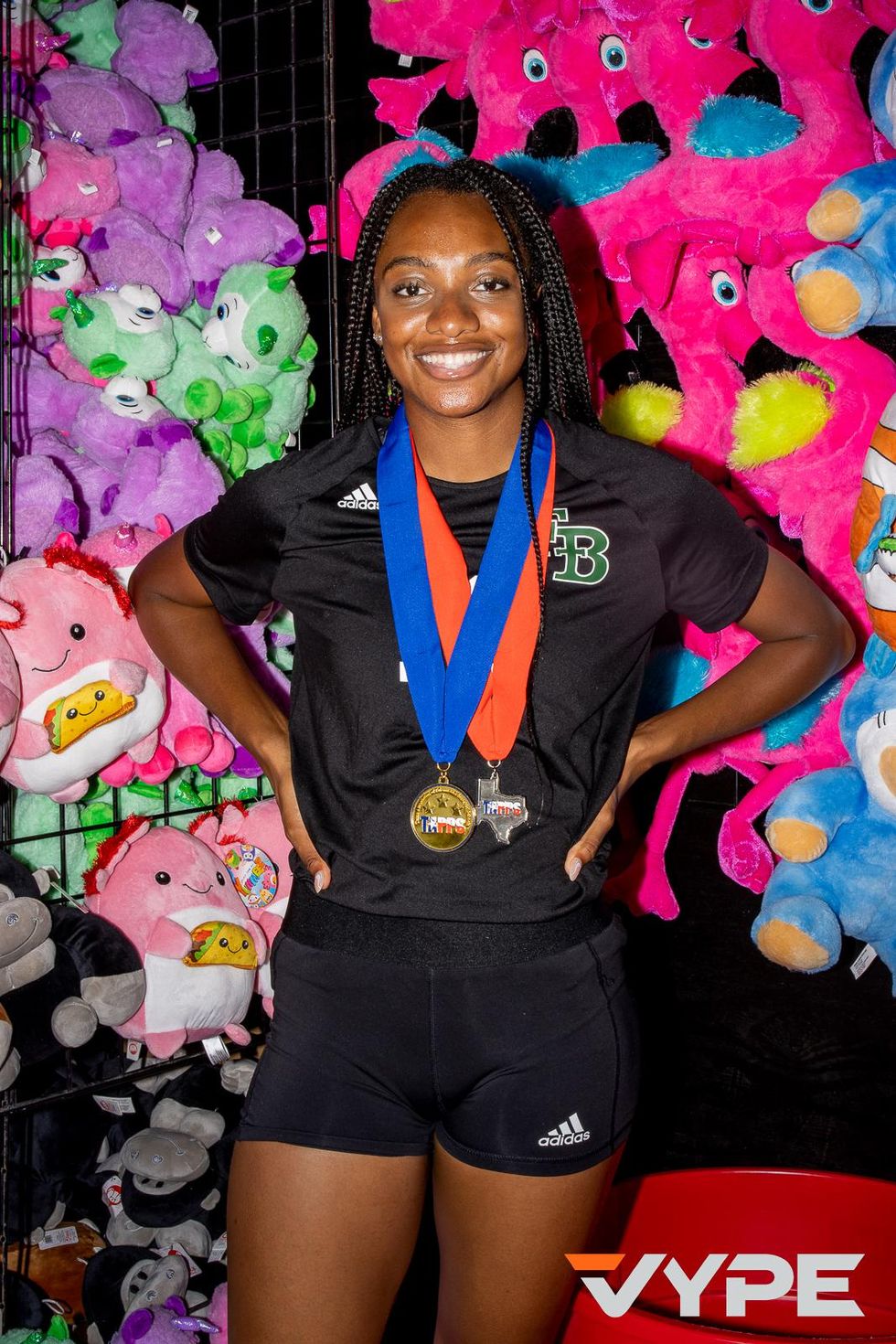 Bayleigh Minor, FBCA
FORT BEND CHRISTIAN ACADEMY SOPHOMORE BAYLEIGH MINOR'S STOCK CONTINUES TO RISE.
This past summer, the athletic dynamo was selected by the USA Volleyball National Team Development Program for their training camp series.
The series lasted four days in mid-July. Minor helped FBCA to the TAPPS 5A State Championship
last year as a freshman, compiling 254 kills, 65 total blocks and 29 digs in 118 sets. She is a natural, gifted athlete.
Not only is Minor a star on the volleyball court, but she dominated the spring, winning five gold medals at the State Track and Field Meet, along with the TAPPS 5A Girls Team State Championship.
WHAT THEY'RE SAYING:
"I look forward to trying to improve my game and some techniques. I have still been practicing in the postseason because of Nationals, but I want to stay in shape and be court aware for next season." — Bayleigh Minor
Shoffner in at Klein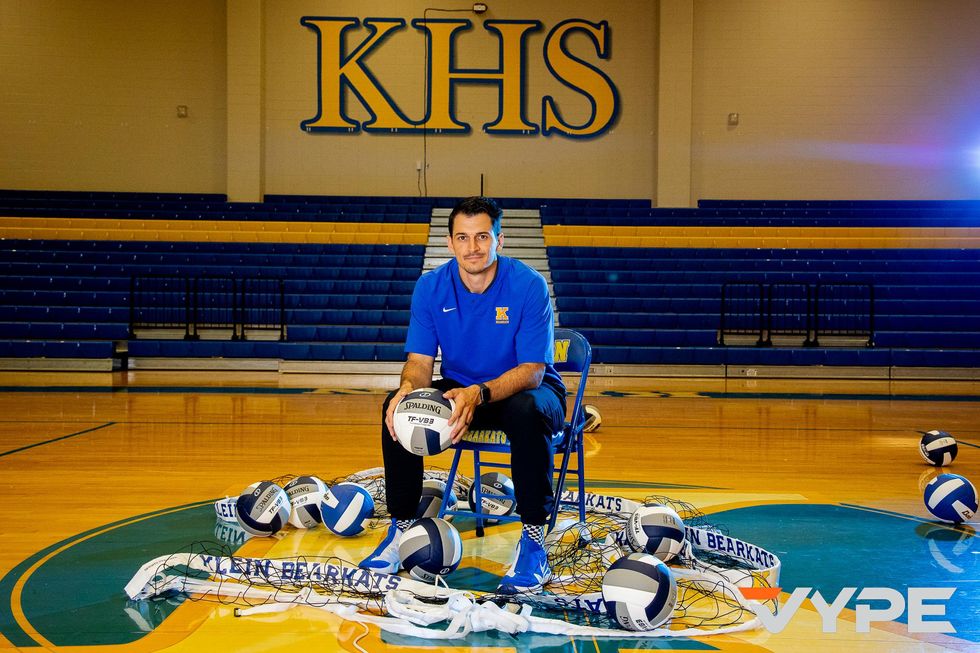 Cameron Shoffner, Klein
KATE ZORA LEFT KLEIN FOR NEW BRAUNFELS IN APRIL AFTER LEADING A DECORATED RUN FOR THE BEARKATS THE LAST SEVEN SEASONS.
Zora led Klein to the Class 6A State Championship match in 2020, the Region III-6A Championship twice in the last three seasons and the Regional Tournament in four of the last five years.
Cameron Shoffner comes over from New Caney High to succeed Zora. Shoffner led New Caney the last two seasons and was at Kingwood Park before that, where he was an assistant coach when the Panthers won the Class 5A State Title in 2018. Shoffner said he hopes to bring a sense of community and commitment amongst all four teams in the Klein program.
WHAT THEY'RE SAYING:
"Competing against each other day in and day out is only going to help whenever we're playing those games where the target is on your back, and everybody wants to put that on the weekly tweet of 'we beat Klein or went four or five sets'. I'm ready to get working on that competitive streak and understanding that we're going to have to push each other to succeed as much as we can." — Cameron Schoffner
True