Magnolia back at state for 1st time since 2013
Apr 13, 2022
Courtesy of Magnolia girls soccer
When she was a freshman, Magnolia senior goalkeeper Taylor Sanderson won over the varsity Bulldogs with her play between the posts. She beat out seniors to earn a starting spot.

While her skills were advanced, it didn't take long for Sanderson's leadership ability and maturity to catch up. She was wise to watch and observe veteran upperclassmen like seniors Erin Mooneyham and Surya Nero, and junior Katie Clark.
When the 10 seniors on that 2019 team graduated, Sanderson was forced into a leadership role, along with senior defender Skylar Replogle. She was ready.
"She didn't have a choice when she became a leader," coach April Cleveland said. "So, from her sophomore year until now, she's carried this team on her back. She's led this team. She has the ability to make a relationship with every type of player on the field, whether a starter or reserve."
Sanderson is invaluable to a program reasserting itself as a dominant regional force. Magnolia (24-1-2) is back at the state tournament for the first time since 2013 after avenging its regional final loss to Friendswood last year with a 1-0 win over the Mustangs in the regional final last weekend.
The Bulldogs play Frisco Wakeland in the Class 5A state semifinal at 9:30 a.m. Thursday at Birkelbach Field in Georgetown.
And they\u2019re off! Good luck \u2066@MagHSsoccer\u2069 \u2066@MagnoliaISD\u2069 \u2066@MagnoliaHighTX\u2069 \u2066@ConroeSports\u2069 \u2066@LethalSoccer\u2069 #GeorgetownBoundpic.twitter.com/8vzkp7Wvfw

— Magnolia ISD Athletics (@Magnolia ISD Athletics) 1649866360
"It's hard to lose in the fifth round," Sanderson said. "We didn't want them to beat us again. I think it really came down to just how badly we wanted to win. Last year was a year where we all kind of got thrown together. A lot of new players. This year, the experience that we have now is key. We've been able to do something now that we know what we have."
Sanderson and a talented back line that includes Replogle, senior Avery Tindall and junior Kaitlyn Myers have played a huge role in Magnolia's success. The Bulldogs have only surrendered 11 goals all season (18, total, including last season). Of their 24 wins, 17 are shutouts.
"It's how we work together," Sanderson said. "We have all been playing together for three years now. We all have each other's back, no matter what happens. 'Dream Team' back there."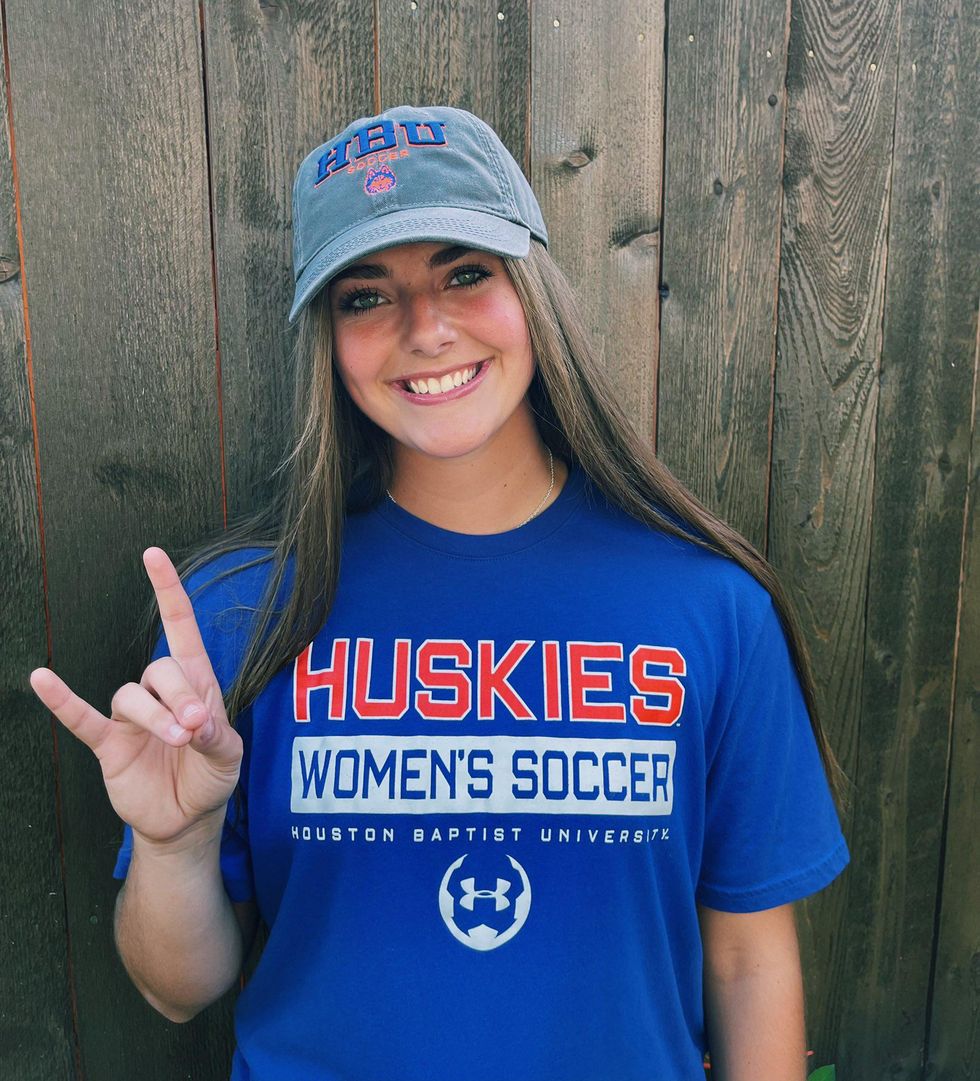 Magnolia senior goalkeeper Taylor Sanderson.Courtesy of Taylor Sanderson
Sanderson, who is committed to play at Houston Baptist University in the fall, was put in as a goalkeeper when she was seven years old because of her height.
Sanderson stands 6-feet tall, but she also has quick feet, uncanny reaction and terrific judgment on shots. She doesn't make the same mistake twice.
"She's one of those players that they say coaches don't get the pleasure of coaching very often, and when they do you have to hold onto it," Cleveland said. "It's her drive. She is a hard worker. She's talking the entire game and is ready 110 percent of the time."
Cleveland sees a lot of similarities between this year's Bulldogs and the team that went to state in 2013, when Magnolia fell to Denton Guyer in the final.
Like Sanderson, the Bulldogs had a dominant shot-stopper then in Sarah Hubble. They also had a lethal marksman in Allison Abendschein like they have this year in senior Laney Gonzales, an LSU commit who has scored in every playoff game.
"She's 110 percent soccer," Cleveland said. "She loves the game and loves this team. Great attitude. Always has a smile on her face. Club can be stressful and always focused on soccer. With us, she's able to let loose a little bit and just always be Laney. She's finding a way to put the ball in the back of the net."
REGION III-5A Semifinal: @MagHSsoccer strikes again on an amazing top shelf goal from @LSUSoccer signee Laney Gonzales (@laneygonzales13) as she rockets this one in the 34\u2019 to give Bulldogs an eventual 2-0 halftime lead. #txhssoccer @LethalSoccer @MagISDAthletics @KPRC2RandyMcpic.twitter.com/MMb0ewNv0D

— VYPE Houston (@VYPE Houston) 1649436311
The Bulldogs aren't just all about Sanderson and Gonzales, however. Like that 2013 team, Cleveland said there are a bunch of gritty, hard workers—like junior Madeline Ellis, sophomore Ellie Ketzner and junior Sammie Guidie, among others—who do whatever is asked of them. Many are playing out of position because they want to do what's best for the team.
Prior to last weekend's win over Friendswood, Abendschein, who was an assistant coach for her alma mater for three years before taking over Tomball Memorial and leading it to the regional tournament this year, surprised the Bulldogs and gave a rousing pregame speech. These seniors were freshmen when Abendschein came on as an assistant coach in 2019, and they were beyond elated to see her again.
Abendschein will be in Georgetown rooting on Magnolia on Thursday. She won't be alone. After the Friendswood win, many of Cleveland's former players from that 2013 team reached out to congratulate her.
"Many of them say that state team is one of the best memories of their high school years," Cleveland said.
And now these Bulldogs have an opportunity to make some more memories of their own.
"We're all excited," Sanderson said. "This is our first time to state. We obviously weren't here the last time this program went. So, we're all motivated and driven."
True