Photo by: Matthew Ogle (VYPE)
Pearland Softball is going to have to make some room in their trophy case.
Senior left-hander Abigail Gutierrez delivered the final pitch of her high school career, which would result in a 5-4-3 double play. A period of anticipatory silence fell upon the crowd as they awaited the umpire's gesture--out.
Mayhem erupted as the Pearland dugout raced onto McCombs Field in celebration of the one desirable outcome to the season they would accept.
For the third time in school history, the Lady Oilers had become UIL-6A State Champions–capping off a season that showcased the team's resiliency.
"[Our greatest strength is] definitely the fact that we have one common goal to win–to prove people wrong," said Gutierrez. "We've been the underdogs over the past few years, and now we're officially on top–we're No. 1 in the state. Proving people wrong is what really puts that fire under our butts."
Soon-to-be Texas A&M Aggie, Hailey Golden (Sr. OF), added to that sentiment.
"I'd say the trust in one another," she said. "We trust each other, and we know that we've got each other's backs. That's what we had to do, to put up runs and play the way that we have."
Pearland Softball Stars detail their State Championship seasonwww.youtube.com
After a 3-2 slugfest against San Benito in the State Semis, Pearland compiled ten hits to defeat Denton Guyer 4-2 in the season finale.
Golden contributed three of those, plus two RBIs, earning her the title of Class 6A's State MVP.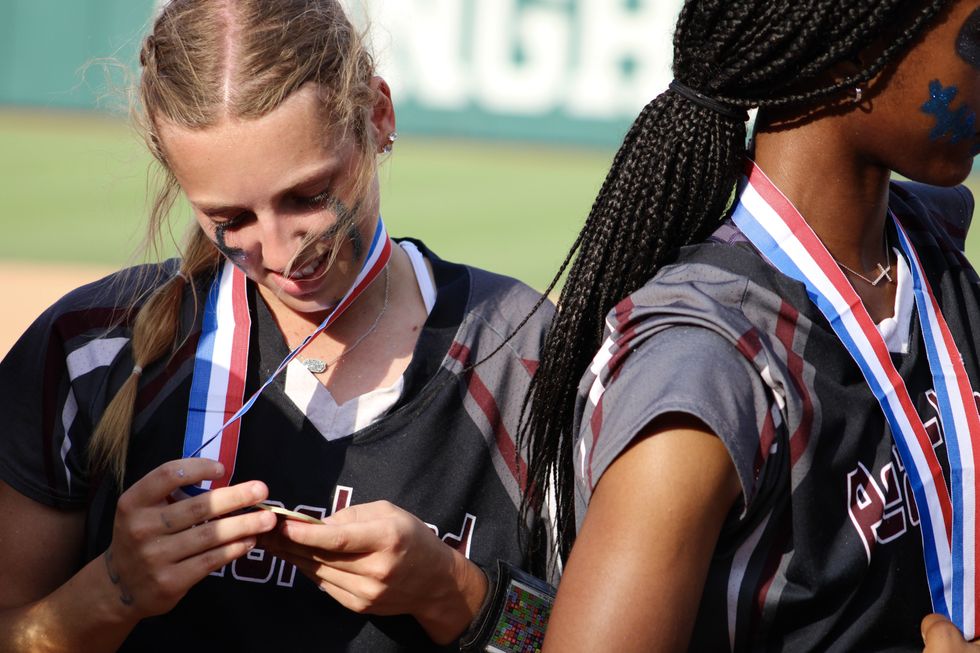 Pearland's Hailey Golden admires her first UIL gold medalMatthew Ogle (VYPE)
In addition, sophomore outfielder Kaylee Schweitzer went 1-for-2, with an RBI, while UT-Arlington-signee Gutierrez compiled six strikeouts in her two-hit win on the mound.
"These kids made this one so special," said coach Laneigh Clark. "When we lost out in the Regional Tournament, last year against Deer Park, they took it hard. They said that they wanted to be back at Regionals and be able to win it to come to State. They set a goal and that's what they did."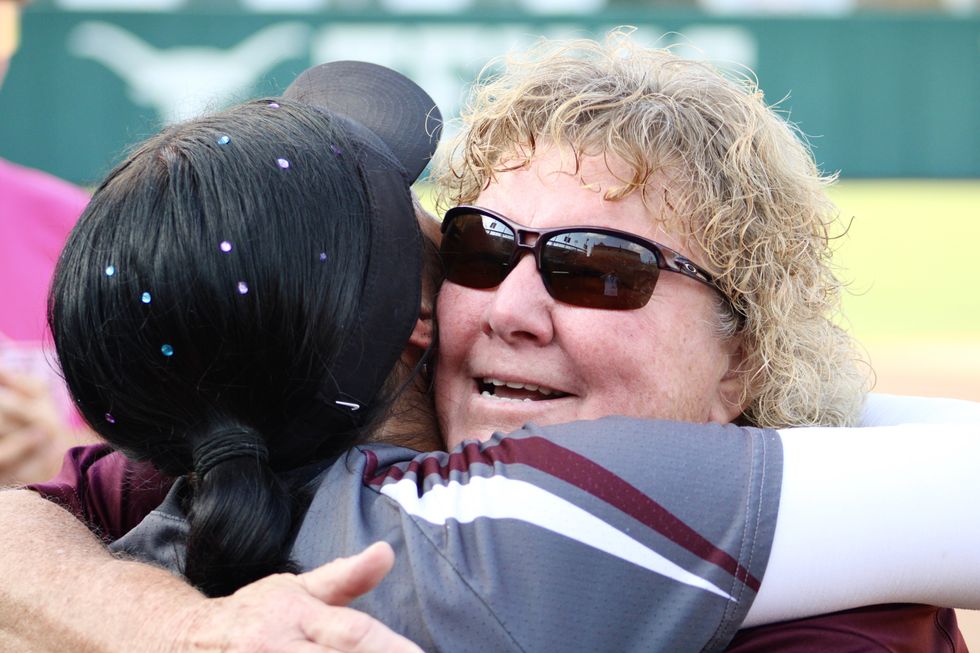 Coach Clark and Kristyn Whitlock embrace following their Title winMatthew Ogle (VYPE)
This championship marks Clark's second as Pearland's head coach, in her 25th season with the program.
For the seniors--Golden (OF), Gutierrez (LHP), Kristyn Whitlock (SS), Kennedy Drafton (2B), Darian De Leon (OF), just to name a few--they will cap off their final season with a record of 40-3, bringing their career total to an immaculate 108-28-2.
Whitlock, who will be extending her playing career at Sam Houston State University in the ensuing school year, began to detail what the program has meant to her.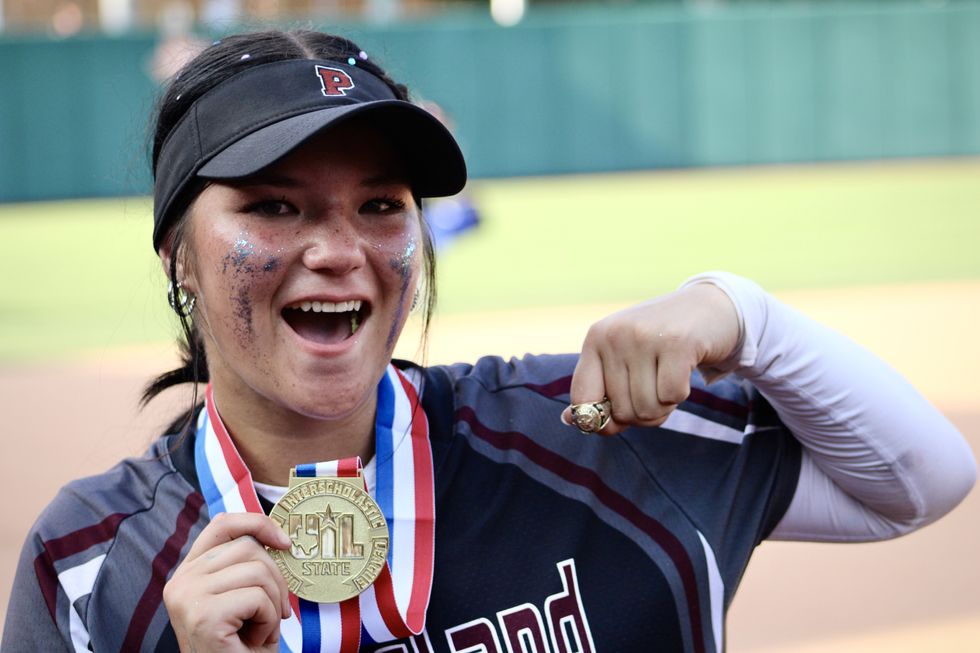 Pearland's Kristyn WhitlockMatthew Ogle (VYPE)
"This place has been my home for the last four years," she said. "I have loved being here–"
The emotionally bittersweet ending to her high school journey had finally kicked in. Tears filled Whitlock's eyes as she became choked up.
Gutierrez would finish the thought for her teammate.

"We've all built a nest here. We've all gotten to the point where we have a great relationship with these coaches and with each other. To leave that and move on is such a hard thing to do. But, we all know that we're going to be on the bus traveling to watch each other play, and rooting each other on–even when we're seniors in college."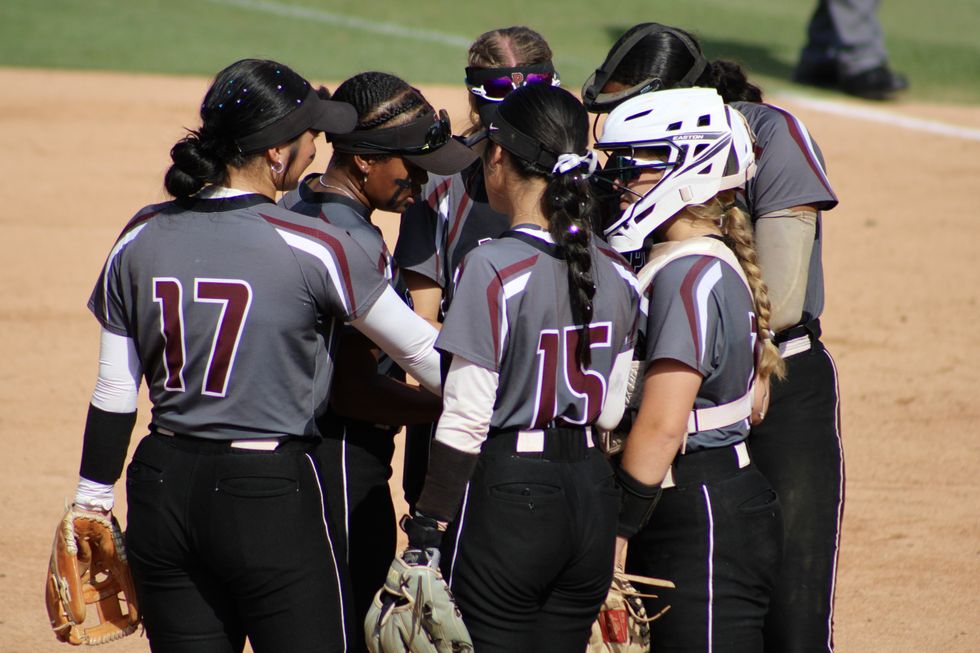 Matthew Ogle (VYPE)
This team will be remembered for years to come.
Pearland's supporters will now be traveling back to Austin this week, in hopes of watching their baseball team finish their own season in a similar fashion at the State Tournament.
Photo by Matthew Ogle (VYPE)
The Class 5A crown is staying with Lake Creek.
Senior right-hander Ava Brown winded up for the final pitch of her high school career, and just as she had done countless times before--strikeout.
With the iconic sound of the ball slapping into the catcher's mitt, the Lake Creek crowd and dugout were sent into a frenzy. They were state champions, yet again.
Almost immediately, tears began to stream down the face of the soon-to-be Florida Gator.
"I was just so proud--so proud of all the people in the stands there for us, so proud for all the people behind me and everybody in the dugout," Brown said. "You know, our bats came alive, our defense was great--we were solid. I had a full team effort in the game and that's all I can ask for."

As any fan would hope, the Lions' bout with NB Canyon was won with style.
Brown earned her second-consecutive UIL-5A MVP award, having struck out 15 in her one-hit shutout, while tacking on an RBI at-bat.
Other key contributors included senior DH Payton Bauer, who compiled three RBIs, and Piper White (Jr. OF) who drove in two of her own, while LSU-signee Maddie McKee (Sr. SS) scored two on the bases–culminating in an 8-0 victory for the No. 1 team in the nation.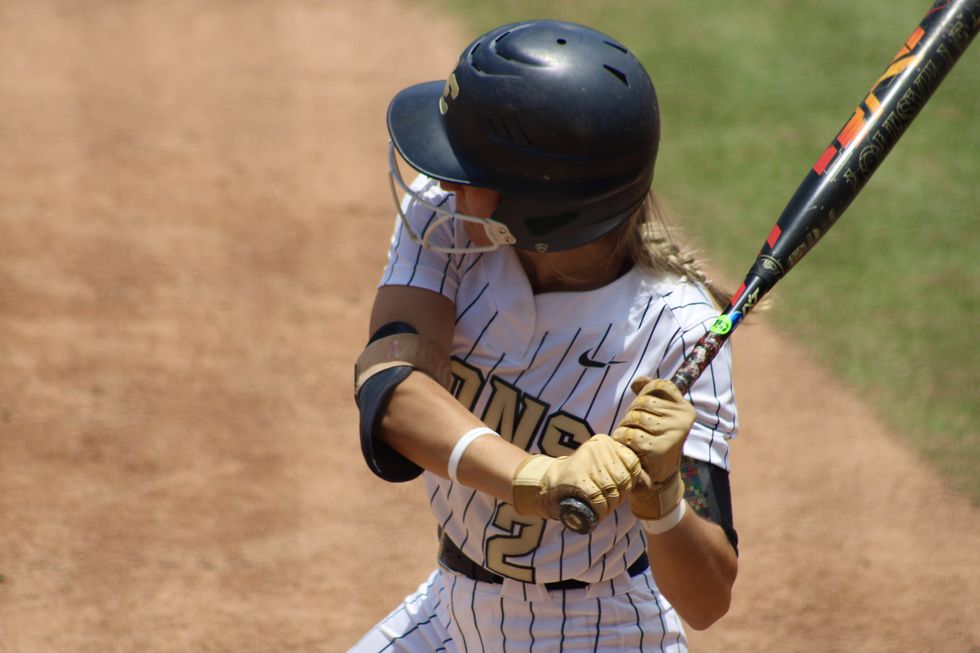 Senior SS Maddie McKeeMatthew Ogle (VYPE)
"We all just played together," said McKee. "There's a bunch of freshmen, a bunch of seniors. So, we all just came together as one. Playing with your best friends is something that you can never forget. It was just really fun to come out here and win."
Lake Creek's final record of the 2023 season was capped off at 44-1, bringing the seniors' career total to 138-4--almost assuredly making them the most dominant high school softball club that the state, perhaps the nation, has ever seen.
BACK2BACK: Stars of Lake Creek Softball reflect on winning another UIL State Titlewww.youtube.com
Coach Michelle Rochinski has had the pleasure of directing this group of elite seniors over the past four years--one of whom is her own daughter, Kalee Rochinksi (Sr. C), who will soon be playing at UTSA.
"It's not easy going back-to-back," she said. "The way that this team had to fight all year with that target on their back–I've got to give the credit to the kids. From day one, when they walked into Lake Creek, they knew what their goal was. I'm so proud of them and I couldn't be any happier."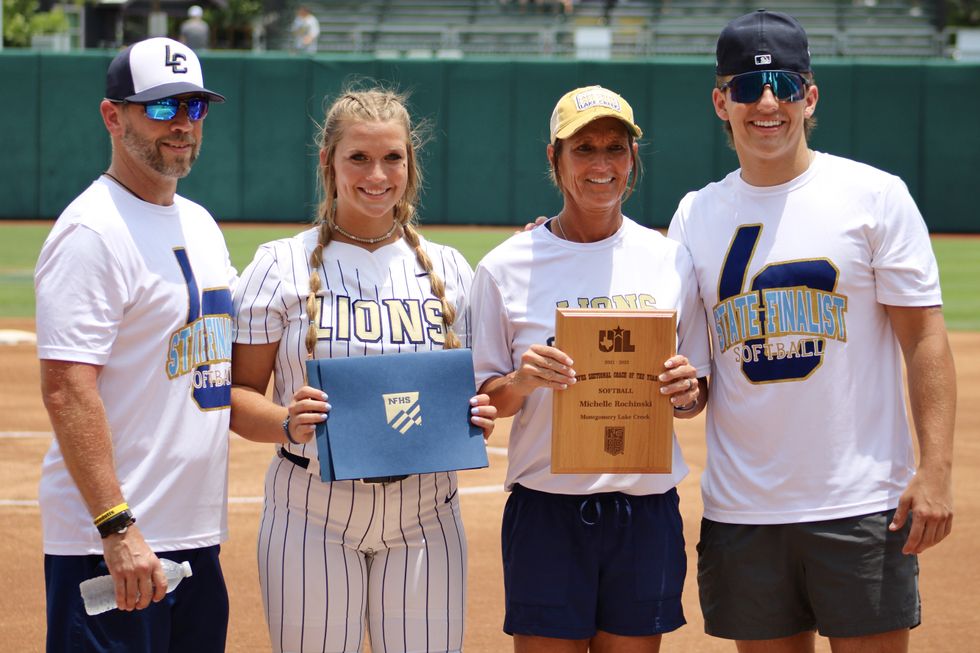 Coach Michelle Rochinski accepts the UIL Coach of the Year Award, alongside her familyMatthew Ogle (VYPE)
Tears began to well up in the now-retired Rochinski's eyes as she discussed coaching her daughter through her career.
"Well, it's been fun watching them all grow up, playing the game that they love. To be able to coach Kalee the last four years--I wouldn't take anything back. I've enjoyed every moment of it, through the ups and downs. It hasn't been easy for her, but I have to give her credit. She did a phenomenal job."
Earlier in the postseason–after defeating Barbers Hill in the Regional Semis--Kalee Rochinski described that their effort throughout the year was "for the city."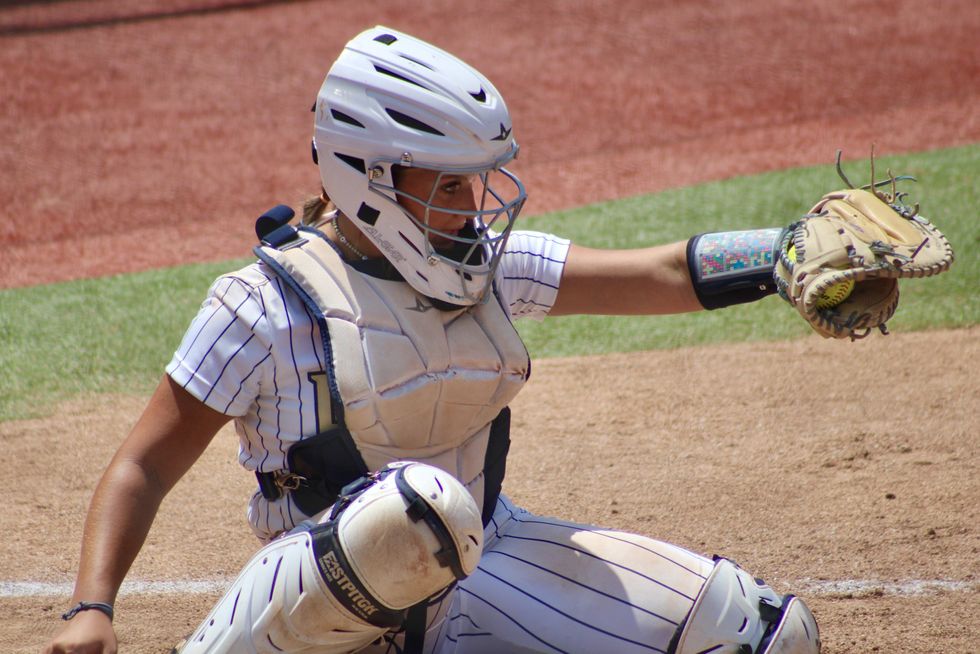 Senior Catcher Kalee RochinskiMatthew Ogle (VYPE)
She had one thing to say to the team's mass of fans who drove to Austin to witness history being made.
"Thank you for the support throughout all four seasons in our high school career," she said. "Thanks for all the energy you brought, and traveling with us wherever we played. Just thank you."
To cap off her stunning career, Ava Brown summed up the Lions' heritage with perfection.
"I think we left a legacy and showed our county how awesome female sports are to watch--how awesome female athletes are," said Brown. "I hope that legacy continues across the county, and through all sports. For the girls to come, show them that you are fun to watch and people will come watch you when you put on a show. I hope that's something we can leave for the rest of high school softball."
Similar to their pre-game hype song–"Hair Up" from the movie Trolls –Lake Creek Softball's legacy will go down as an all-time great.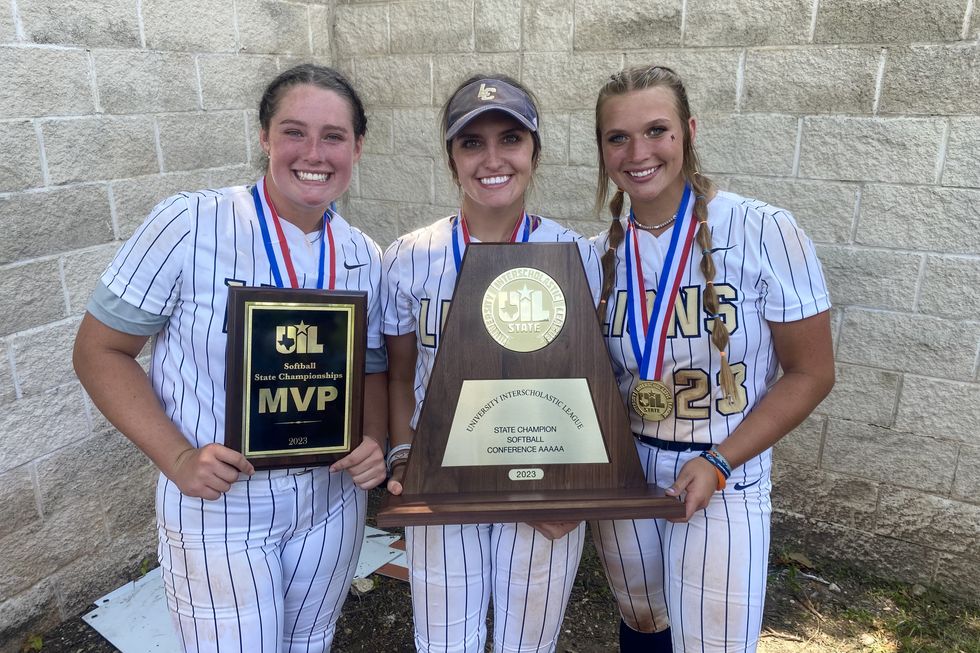 Matthew Ogle (VYPE)
Matthew Ogle (VYPE)
Lake Creek certainly knows how to make an entrance.
Coach Michelle Rochinski and her team of premier athletes decided to make a statement when they faced Frisco Heritage this morning--REPEAT OR BUST.
The opening game of the UIL-5A State Tournament at McCombs Field did not disappoint.
Both Lake Creek and Frisco Heritage initially experienced difficulties when attempting to get their base-runners across home plate--primarily due to the exceptional pitching and defense both sides have come to expect.
However, that all changed in the bottom of the fourth inning, when LSU-signee Maddie McKee (Sr. SS) sparked the Lions offense with an RBI-triple to bring home senior outfielder Jolie Bazan. Shortly after Madalyn Davis (Fr. 2B) and Payton Bauer (Sr. DH/OF) would run home off of two separate errors committed by Frisco Heritage.
With the score now 3-0, Lake Creek didn't have much trouble scoring after that.
Inning No. 5 saw the Lions score five runs to distance themselves from the Coyotes.
Florida-signee Ava Brown (Sr. RHP) began the score-fest with an RBI-double, followed by an RBI-double by freshman phenom Madalyn Davis, a two-RBI double by UTSA-signee Kalee Rochinski (Sr. C), and an RBI-single by senior OF Shelby Winn to make the score 8-0.
Brown would go on to add another run in the ensuing inning, via a sac-fly, which would ultimately seal Lake Creek's return to the UIL State Title game, which will be played tomorrow at 1 pm.
The reigning champs are just one game away from sealing their repeat. Stay tuned.
NOTABLE STATS
Ava Brown (Sr. RHP): 2 RBI, 2B: 0 ER, 9 K
Maddie McKee (Sr. SS): 3-4, RBI, 2B, 3B
Kalee Rochinksi (Sr. C): 1-3, 2 RBI, 2B
Shelby Winn (Sr. OF): 3-3, RBI
Madalyn Davis (Fr. 2B): 2-3, RBI, 2B
Join the #VYPETEAM
Get up to date news from all over the country!