VYPE Sunday Feature: Retired Hall of Fame coach Clayton giving back to profession
Aug 28, 2022
Courtesy
Don Clayton is relieved. He is in the middle of edging and mowing the yard at his Fulshear home on a muggy weekday afternoon when a reporter calls.

"A break is welcome!" Clayton exclaimed.
It's just another day in retirement for Clayton, one of the most distinguished coaches in Texas high school football history.
Clayton opened Cinco Ranch High School in Katy in 1999 and led the Cougars' football team to a 141-78 overall record, 13 playoffs and two state semifinal appearances in 20 years before retiring in April of 2019.
"It's what I thought it would be, although you find yourself more busy around the house than you thought," said Clayton, who was inducted into the Texas High School Coaches Association Hall of Honor in 2017. "Either that, or for years you were neglecting a lot more than you should've been."
Clayton, a product of Nederland, coached for 38 years. A standout quarterback for the University of Wyoming, he coached at Nederland High, his alma mater, Livingston and was offensive coordinator at Katy High under Mike Johnston for six years before taking over at Cinco Ranch.
Clayton left the Cougars to spend more time with family and his wife of 40 years, Rhonda. He has four grandkids.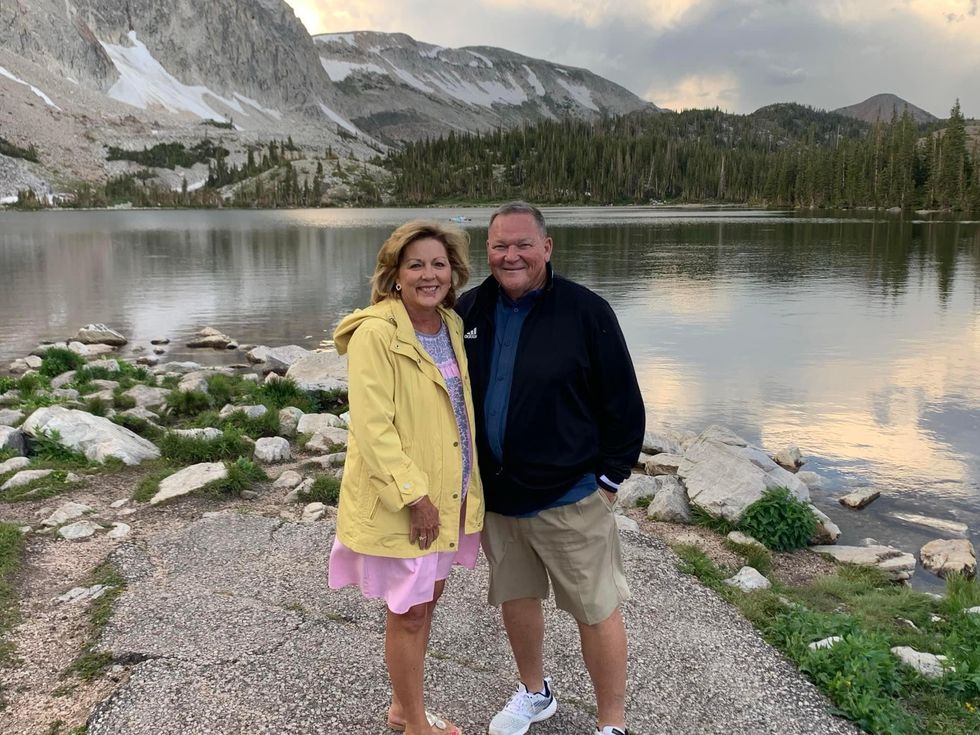 Don Clayton pictured with his wife, Rhonda.Courtesy
Clayton has traveled to watch former players, like Brant Kuithe at Utah, David Gbenda at Texas, and Ben Mathiasmeier and Tyler Worrell at Columbia. The Claytons went to New Hampshire in late October to watch the changing of the leaves. They went to Florida for a former player's wedding.
Their next trip, Clayton said, will probably be through the Ozarks, up through Arkansas and Missouri. Next summer, the plan is to go to Alaska.
"It seems there are a lot of things to do, but it's not bad because you get to do it at your own pace," Clayton said. "It's a good thing to spend a lot of time with grandkids. We've done a lot of traveling. I play golf every week, sometimes more than once. I can't complain."
But as the cliché goes, you might be able to take the man out of coaching but you can't take the coach out of the man.
When he knew retirement was on the horizon, Clayton asked someone what the harshest part would be.
"When you walk out of that office, you take a lot of experience and knowledge with you, and it may never be used again. And that's sad," Clayton was told.
Those harrowing words resonated with him.
"So, I've kind of made it my life's work now that I'm retired to be able to help and give back to the coaching profession somehow, someway," Clayton said. "I don't know everything. But I have been exposed to a lot of things."
'HALL OF FAMER'
Clayton got his first chance to give back when his former defensive coordinator at Cinco Ranch, Shannon Carter, asked him to speak to his Goose Creek Memorial team in the fall of 2019.
Since then, Clayton estimated he's talked to about 10 other schools. They include the football programs at Summer Creek, Klein Cain, Grand Oaks, Langham Creek, Brazoswood and Richmond Foster, and the volleyball program at Columbus High School.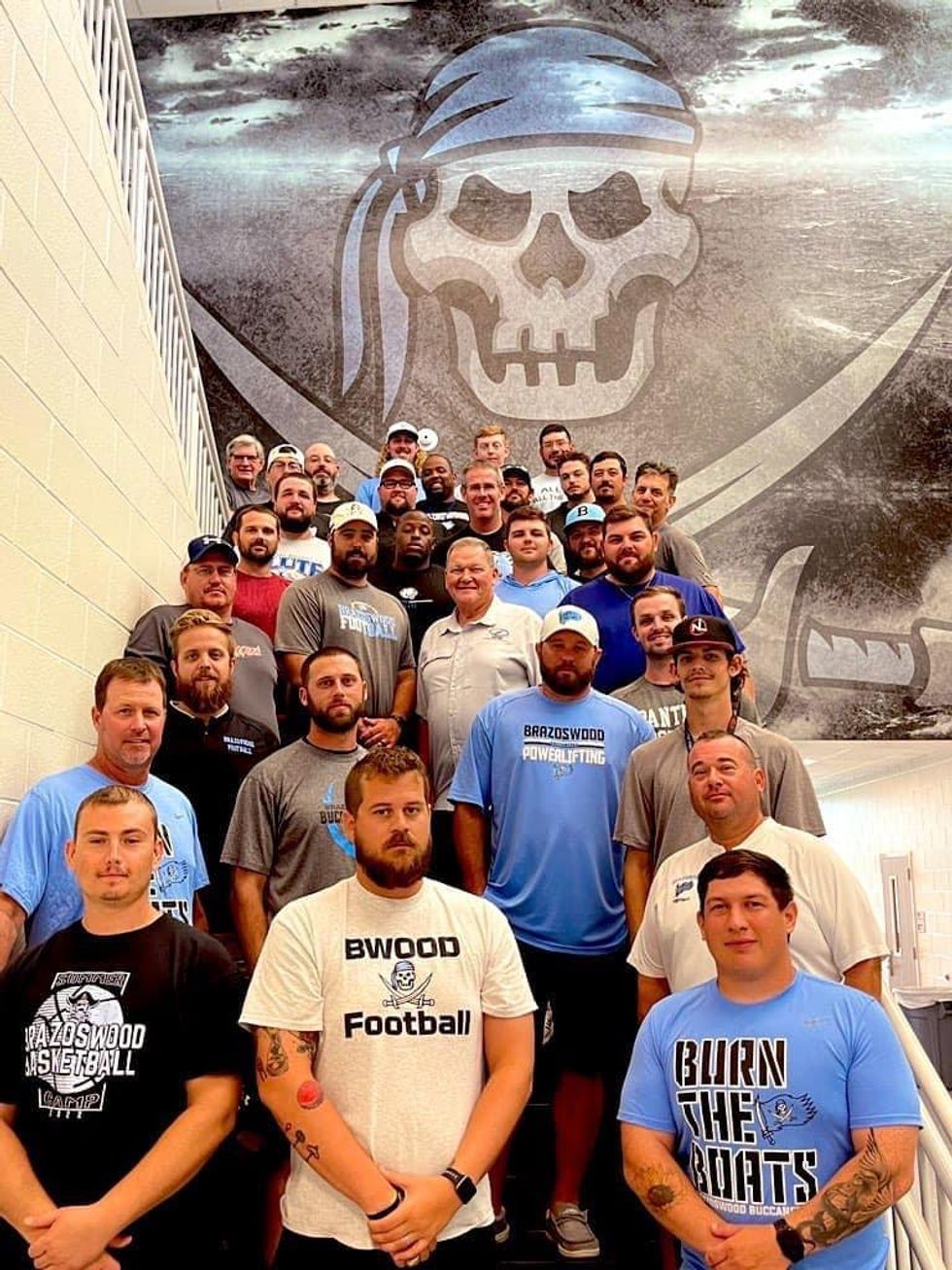 Don Clayton, middle right, pictured with the Brazoswood football program.Courtesy
Clayton does not charge for his talks—there is no compensation of any kind—and the messages are always derived from what the head coach of the respective program desires.
For instance, Clayton spoke to Kenny Harrison's Summer Creek team prior to last season about making memories and having no regrets.
"They played their season that way," Clayton said.
The Bulldogs went 10-4 and made the Class 6A-Division II regional final before falling to eventual state semifinalist Katy by three points.
"Don Clayton is one of my biggest mentors," said Harrison, who spoke at Clayton's retirement party. "He has been very instrumental in my professional career. True family man that understands the balance of family and coaching. He is a man of very high integrity, and he practices what he preaches."
Clayton also spoke to Kayley Johns' Columbus team prior to its season last year. The Cardinals were a stacked, talented team, and Clayton played to its competitiveness and ambition.
"What do you want people to say about the 2021 Columbus volleyball team? What do you want to be remembered for?" Clayton implored. "If you want to be known as the best that's ever come through here, you've got to play every game like the best that's ever come through here."
The Cardinals went 38-9 and made the Class 3A state semifinals.
"It's fun keeping track of teams after you visit with them, hoping that something you say will maybe inspire a kid to do some things they didn't think they could do," Clayton said.
Most recently, Clayton talked to Shaun McDowell's Foster Falcons last weekend.
McDowell wanted Clayton to hit on toughness, both mental and physical. Clayton did, while adding pointers on trust and competitive toughness, two things that directly affected a Falcons team still reeling from a disappointing 5-5 2021 season and overhauling its offense.
"He's a Hall of Famer as a coach," McDowell said. "So, the experience and knowledge he has is invaluable. It truly is. If you can get a guy you trust who can speak the same language you are but is a different voice … that's important. I can't wait for him to come back."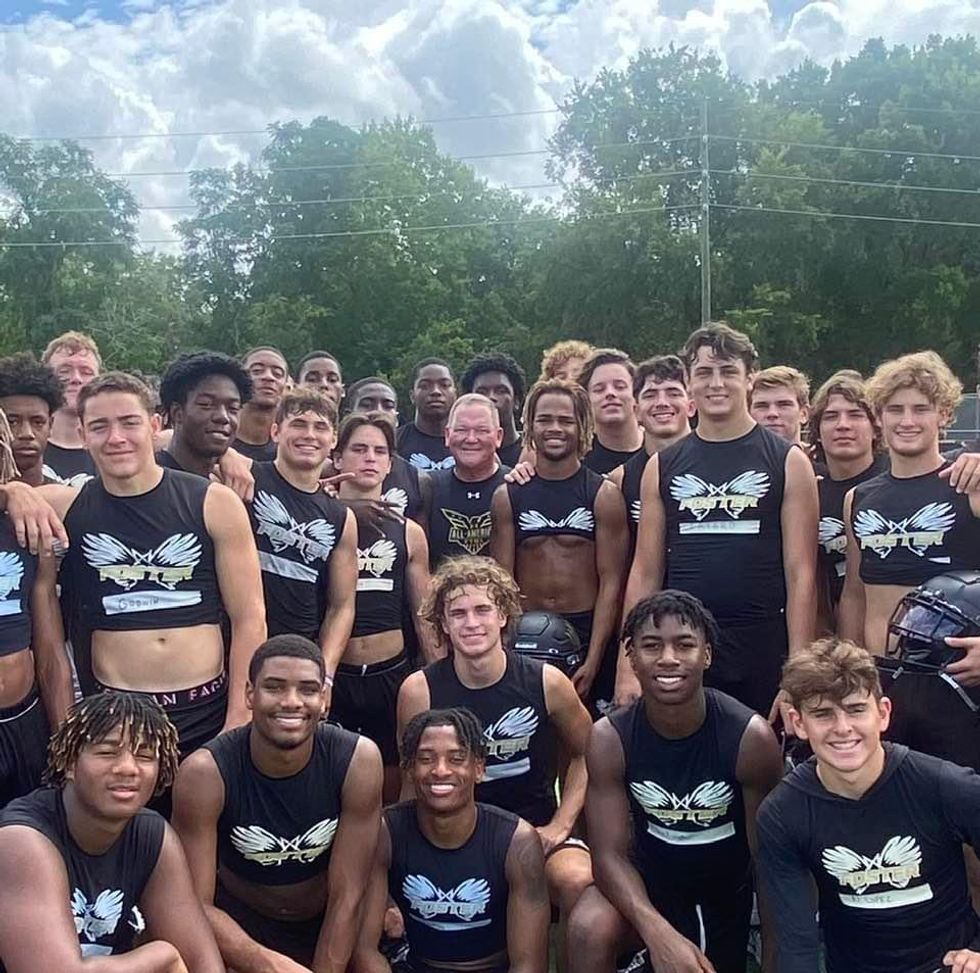 Don Clayton, middle, pictured with the Foster Falcons.Courtesy
McDowell has asked the United States Marine Corps, Army, Navy and his own coaches to talk to his kids. Never, though, had he invited an outside coach to do so.
"He's a great relationship-builder," McDowell said of Clayton, whom he knew well from serving on Texas High School Coaches Association and Greater Houston football committees together. "He's been around the game for a long time and knows a lot of people. Cinco Ranch was really good for a lot of years under his leadership, and he's always been a rock and a foundation as a football coach in the Houston area.
"He always has the right thing to say, and he's really great at coaching coaches," McDowell added, before noting with a laugh, "I wanted to make sure I get my chance to get some of that."
Clayton loves stories. He can gab with the best of them and has an innate ability to capture a room, no matter how big or small.
Clayton implemented a tradition at Cinco Ranch where a different Cougars coach each week told a story, lasting no longer than five minutes, right before the team walked out onto the field to play a game.
One tale that particularly stands out was told by Erik Hammond, now an assistant coach at Katy. Hammond told the Cinco kids about Arabian horses, and how the horses chosen for kings and sultans were the most disciplined.
"It wasn't about the most prettiest," Clayton said. "They were looking for the best, most courageous, most disciplined horse."
As a head coach, Clayton used to find other coaches to give his teams pregame or postgame talks, just to have a different voice heard.
Now he's the one asked to speak.
"I'm now that guy that football parents used to tell me, 'Coach, I don't know what it is, but he listens to what y'all say and they won't listen to us half the time at home,'" Clayton said. "Sometimes when you hear a different voice, it'll trigger something in you."
GIVING IT BACK
It's been almost four years since Clayton last coached a football game. Though he's had calls to return, he feels he's hung up the whistle for good.
"I believe I'm done," Clayton said. "Unless someone came and asked, 'Hey, we've lost a coach, can you help us?' There's been a few opportunities already, but I enjoy my time with my wife and I don't think I want to give up that time. If there was an easier way to do it, I might. But there's not. But you can never say you'd never do something, because you don't know what situation will come up. So, who knows?
"But I'm not actively seeking to go somewhere. In 38 years, coaching gave me a great life. So, I'm going to spend my next 38 years giving back."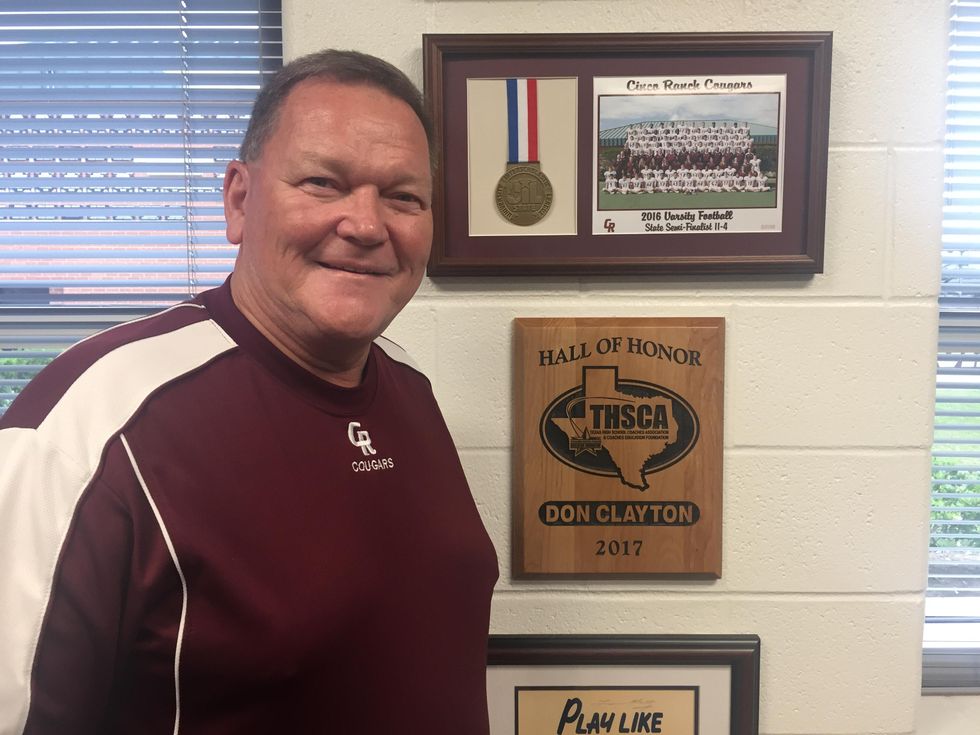 Don Clayton pictured in April 2019, shortly after announcing his retirement following 20 years at the helm of Cinco Ranch High School in Katy.Dennis Silva II | VYPE Media
Clayton does miss the kids. He misses the coaches.
"I even miss the referees," he said.
He doesn't miss the practices.
"I could probably slide on them a little bit," he laughed.
But the games. Oh, boy, does he miss the games.
"The games were a great culmination to a week of work," Clayton said. "What you got to see was what we put in, what we did, what we went over, how we did it. You build toward something and work toward something, and you want that masterpiece on game night. And then the beauty is, can you do it again?"
Clayton is having fun, though. Well, except for the housework, maybe.
He loves helping coaches. He's still influencing young men and women. He's still around teams, coaches, locker rooms and football.
"I'm enjoying what I'm doing, and if I'm needed somewhere, well, we'll cross that bridge when we get to it," Clayton said. "My whole thing is the young lives I can possibly affect in a good way. Coaching gave me a great life, so I'm giving it back."
True