The Strake Jesuit Fighting Crusaders beat the Alief Taylor Lions 64-47 last Friday. Unlike past games, the Crusaders scored in the paint with ease while minimizing turnovers.
Head coach Dominic Amorosa said before the matchup -- "The Pearland game was uncharacteristic of us. That was the one game we didn't show up [...] we've improved on the things we've struggled with before. Let's hope we can keep it up tonight."
Jesuit took control of the first quarter, scoring the first eight points of the game. Aaron Rucker, the 6-foot-7 center for the Crusaders established his presence early—scoring eight points in the quarter.
Jesuit drove to the basket for their offensive production that night. They took advantage of many opportunities at the free throw line, yet they were efficient in their shooting percentage. Only when the team took hesitant jumpers, did they squander their chances for points.
The Crusaders held a 21-15 lead to start the second quarter and found a temporary rhythm—making five straight baskets. One of those shots came from sophomore shooting guard Ryan Chang -- a surprise three that breathed life into the gym. Taylor hit a three in response, and the next five minutes were somehow a scoreless standoff. Jesuit took a timeout to regroup with two minutes left in the half. A set play gave Ryan Chang another open look behind the arc, and the Crusaders took a 35-25 lead into halftime.
At halftime, assistant coach Jeff Caroll said, "we need to see if we can play more fast, aggressive and free flowing. The game's not over yet." Of course, he may have been referring to late blown leads earlier in the year. The bottom line was that Strake Jesuit had to keep Taylor on their heels defensively if they wanted to win.
That's exactly how senior point guard, Luke Thornburn, spent his Friday night. Out of the half, Taylor drew a three point foul. Luke Thornburn responded with an AND 1 off a steal. Taylor went coast-to-coast for a layup. Thornburn went right back down the court with a drive of his own. Then, he poked the ball loose on Taylor's next possession, allowing Oliver King to swoop in and force a jump ball. The forward's efforts gave his team consecutive scores, with Luke Thornburn hitting a pull up two-point shot. Half a minute later, Thornburn was sliding along the court having drawn another foul—he'd make his two free throws.
Within all this flurry of offense, the Crusaders outscored the Lions 16-10. Junior guard Edgar Romero crossed a defender and hit an exclamation point three to cap off the quarter.
Jesuit cruised comfortably through the fourth quarter, nine potential points given up on fouls. Thornburn was slicing his way through the Taylor's defense, hoisting up off-balanced shots, rebounding them and somehow scoring. It was that kind of night. Aaron Rucker's AND 1 and Romero's corner three cemented a 20-point lead to end the game, 64-47.
Coach Amorosa said later, "We played really hard on D[efense], and we kept them to only one shot." Jesuit didn't give any second chance points, forcing one shot per possession all night.
With this win, Strake Jesuit improves to 7-18 (2-5 in district play) while Alief Taylor drops to 5-21 with no district wins as of yet. The Crusaders play Pearland Dawson at home next Tuesday at 7 pm.

Pete Nguyen/SJ Yearbook
Yet again, Strake Jesuit's annual Silent Night basketball game did not disappoint Friday night. A great turnout from the Jesuit student section aided their home team in pulling out an 18-point victory over their district opponent Brazoswood. Hot shooting from the Crusaders followed after the students completed their well-loved Silent Night tradition.
As students packed into the stands wearing jerseys from all different professional sports teams -- the theme of the game was also jersey night. They did the opposite of what they usually do -- sat down and remained silent. Once the game tipped off, the student section was still quiet. Jesuit's cheerleaders wouldn't even cheer when a Jesuit player would score a point.
Then finally, when the Crusaders were leading by a score of nine to eight, senior guard Blaine Holbrooke was passed the ball in the corner behind the three-point line. He shot and what followed was pure hype. The student section went wild and began cheering, as their team had surpassed 10 points and made the score 12-8 . The school's famous Silent Night tradition was complete.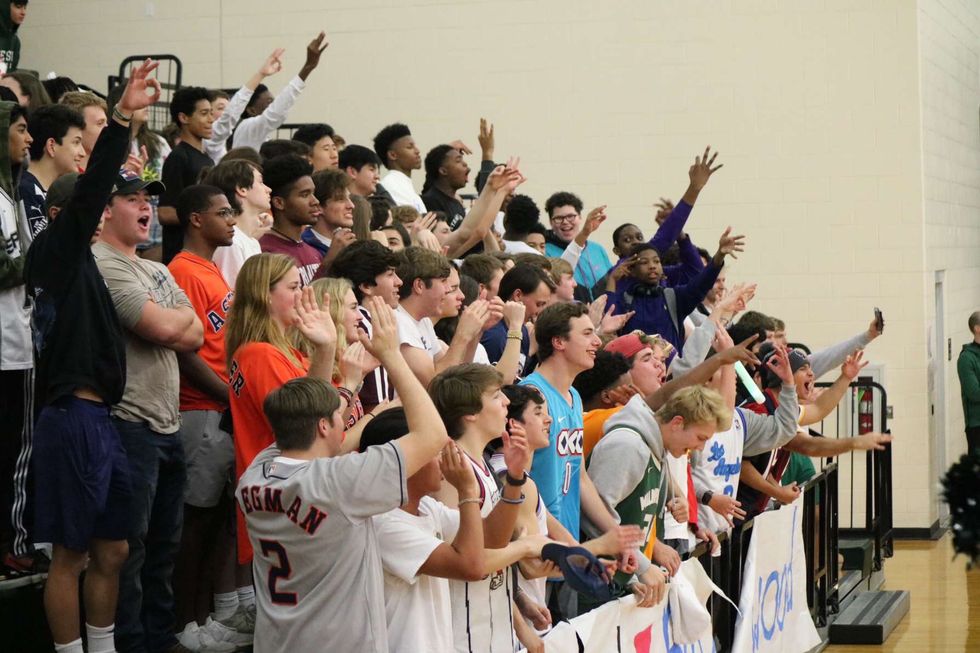 The Fighting Crusaders' student section went crazy in the stands to complete their annual Silent Night tradition.Pete Nguyen/SJ Yearbook
The first couple of points scored by both teams in the beginning kept the two teams close, but once Jesuit's student section got loud, the Crusaders were able to pull ahead and keep a steady lead for the entire rest of the game.
Junior guard Edgar Romero of Strake Jesuit led the team in scoring. He had 10 points in the first half, six of which were from beyond the arc and a couple of assists. The play of the game was when Romero dribbled behind the back to escape a defender and then passed the ball inside the paint to sophomore guard Aaron Rucker. Rucker would then lay the ball up as time expired before halftime. Other Jesuit players such as Ryan Chang, Oliver King and Charles Peckham were also successful at knocking down three-point shots in the first half. Jesuit ended the first half leading by a score of 35-24.

The second half was accompanied by more Jesuit players finding ways to score. Rucker and starting guard Luke Thorburn contributed to the Crusaders' increase in their lead as they were able to make small shots. With 1:19 remaining in the third quarter, Romero hit a corner three-pointer to increase Jesuit's lead to 21 points, capping off his night with 18.
Strake Jesuit won the game by a score of 70-52, which improves their record to 6-17. The Fighting Crusaders' student section enjoyed watching a very well-played performance by their school on one of their favorite games of the year.
An away game against George Ranch this upcoming Tuesday will be coach Dominic Amorosa and the Crusader's next focus, as George Ranch is only one game away from first place in 6A District 23.