Photo by Bradley Collier || VYPE Media
ADRIAN RULE IS A NATION'S FASTEST SEVENTH-GRADER.
Coach Kenny Dirkson is one of the best in the business. He was the 2019 San Antonio Express News TAPPS Coach of the Year and has won several state titles in Cross Country and with distance runners in track and field.
In the sixth grade, Adrian Rule was pulled out of PE at SACS and was told to check in with Coach Kenny.
"That was the first time I ever met Coach Kenny," Rule said. "He told me to go to the field and told me to do some strides. He checked my form and corrected a few things."
The next thing Coach Kenny did was text Rule's parents. A year later, Rule ran the fastest 1600-meters (4:43) by any seventh-grader in the country. "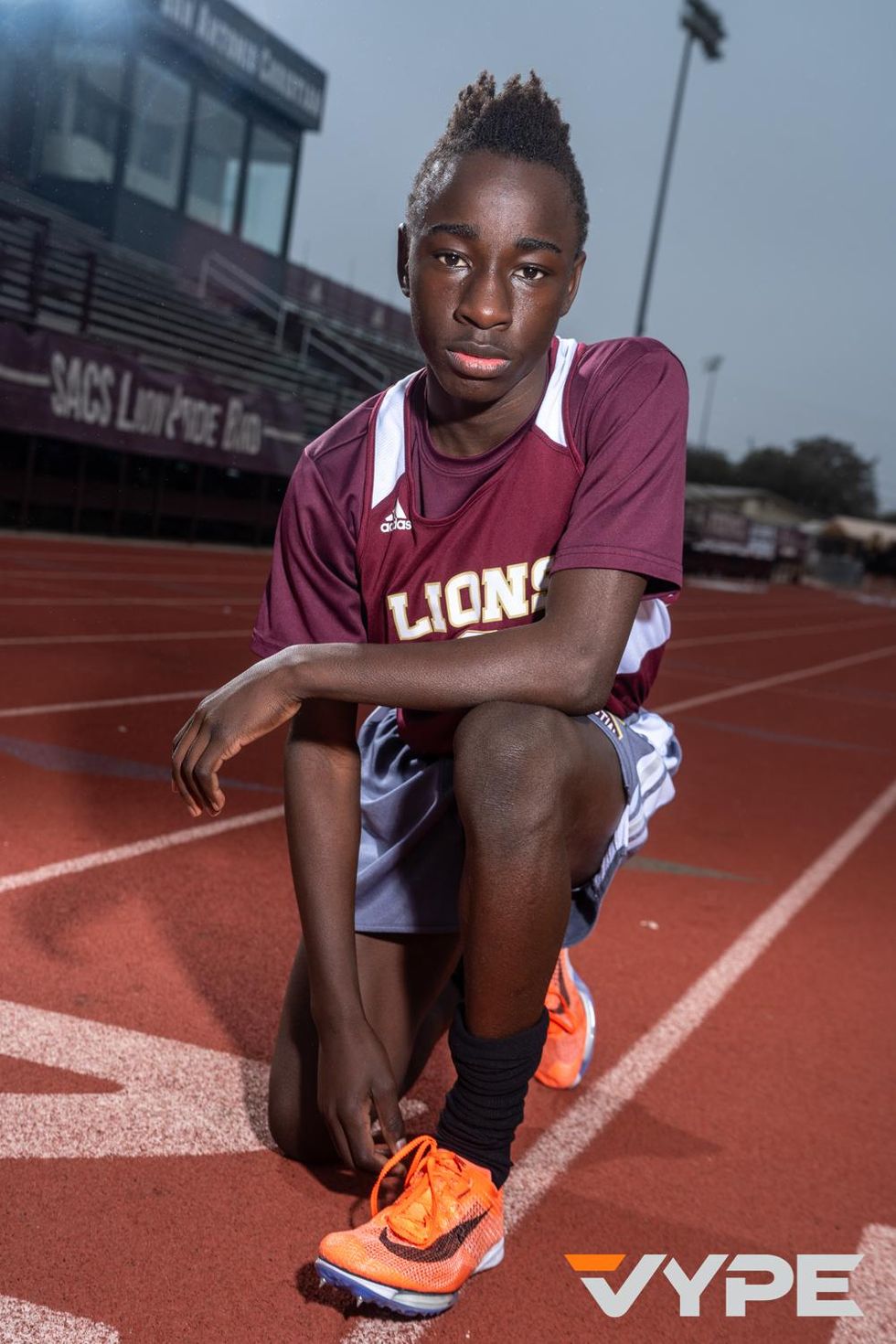 He told my parents I should be training," Rule said. "I really wasn't that excited about it. Like, it's running. I didn't like it back then but then started having success. Now, it's what I want to do."

He fought about going to practice but gave in. Especially after recording that personal best. "When I learned I was the fastest in the nation, I couldn't believe it," he said. "I've stayed grounded but was pretty excited and it pushed me to get better. I don't want anyone to beat me in my age group."
Rule works with the high school team and runs AAU track with Celebrity. "Long distance takes perseverance and mental toughness," he said. "Winning is my favorite thing, but I'm a good sport. I'm big on sportsmanship. "Coach always tells me to look for what's in front of me, not behind me. I live by that."
So, it's apparent that Dirkson knows talent and has developed Rule into the next big star at SACS.
Photo by Bradley Collier || VYPE Media
IT IS NOT THE PLACE THAT ANY ATHLETE WANTS TO FIND THEMSELVES – ON THE TRAINER'S TABLE.
But when you do end up there, you want to have the best of the best working to get you back on the field of play as fast and safely as possible. At San Antonio Christian School, it is Kyle Johnson's job to get the Lions' athletes right whenever they are in need of his services.
Johnson has been at SACS for 16 years and VYPE caught up with him to learn more about what goes into being an athletic trainer during a global pandemic and how he got into the business.
VYPE: How did you become an athletic trainer?
JOHNSON: "I went into the Army out of high school. I didn't even go into the medical field; I was in supply. I thought I would just get my GI money and go get my college education. The Army moved me to the medical field and made me a combat lifesaver. I did that for four years and once I got out, I was like, what am I going to do? So, I liked sports and medicine and boom here we go to athletic training. That's what got me into it."
VYPE: How did you land at San Antonio Christian School?
JOHNSON: "I had just left Trinity University after being there for five years as an assistant trainer. I had taken a year off from anything athletic training wise. My old boss called me and asked me to do this part time. SACS was the second school that I worked for and I've been here for 16 years now."
VYPE: How much time goes into being an athletic trainer?
JOHNSON: "There's a lot and people don't realize the amount of time it takes to do the paperwork and the documentation behind it and arranging appointments. Those are the intangibles that people don't see that I end up doing along with setting up for games, water, doing treatments and all of that."
VYPE: How did the COVID-19 pandemic change how you approach your day-to-day operations as an athletic trainer?
JOHNSON: "It definitely makes it harder. I have a small training room already, so that made it easier on keeping people out. It is a high-traffic area, so it definitely slows things down because I can't get people in and out. I used to be able to do multiple treatments at a time, so it makes it longer to get kids out to practice. That's why I've been coming in at 6:30 in the morning and open times to get kids taken care of."