Katy Seven Lakes defeated the Klein Bearkats 3-1 in four sets in Garland on Saturday to become the UIL Conference 6A Volleyball State Champions. The Spartans ended their season with a 25-1 record and a state title.
Klein came into the match undefeated. The Bearkats, until Saturday, were 26-0. Klein was able to win set one by a score of 26-24 over Seven Lakes. The second set began with Klein showing their strength and taking a quick lead. Seven Lakes was able to turn it around and rallied from behind with a score of 18-12. It wasn't long before the Spartans tied the set at 19-19 against the Bearkats. Once Seven Lakes took the lead, though, they ran with it winning the second set by a score of 25-22.

Set three saw the same physicality and back and forth scoring as the first two sets. Seven Lakes got out to an early lead and came out with a win over Klein by a score of 25-20. Finally, set 4 came and again the teams were back and forth in their scoring. Seven Lakes was able to pull off a 25-22 win to win the championship match.

Senior Ally Batenhorst was awarded the match MVP as she recorded a match-high 30 kills. Batenhorst also recorded a team-high 15 digs alongside a match-high of 32 points. "We started off the first set with a little bit of nerves," Batenhorst said in the press conference. "We were excited to be there and had so much adrenaline… we got in our own heads a little bit. By the middle of the second set, we got out of that mental funk and we were able to put it over the edge."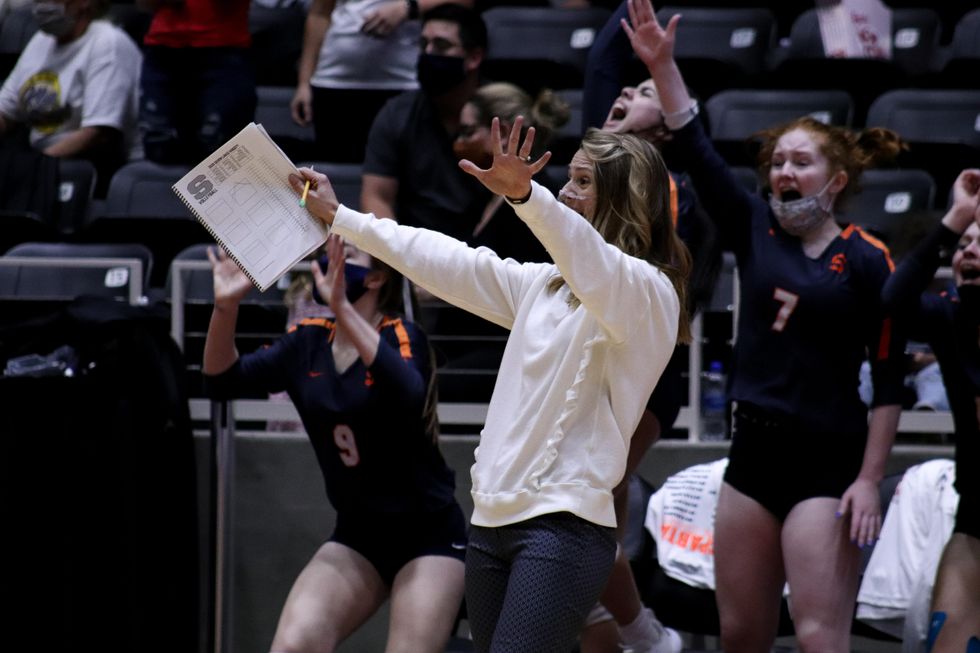 The Spartans had to shut down their season twice in 2020 due to COVID-19 outbreaks. "We talked a lot about [COVID] because the majority of our team had it," Batenhorst said. "We overcame it. Like I said, we are resilient and we bounce back. We kept our spirits up and believed we could still do it." Batenhorst said that right now, she's just excited to get on the bus and go get Chick-Fil-A.

Batenhorst's younger sister, Casey, also plays for the team. A now junior watched both of her older sisters play at the Curtis Culwell Center on a few occasions. She said this helped spark and further her passion for volleyball. "We knew we wanted [a championship] so bad," said Casey Batenhorst. "It's all we've talked about for an entire year."

Spartan volleyball head coach, Amy Cataline had only great things to say about her team in the press conference. "I could not be more proud of this team," Cataline said. "[The atmosphere was] electric. The fans were great." As far as the surreal moment of winning the state title as the first Katy ISD team to take away a championship? "It's an honor," Cataline says. "We talked about it. We wanted it. The reality hasn't sunk in yet."

Coach Cataline spoke on Ally Batenhorst's leadership in the press conference as well: "She loves her teammates and she shows it. She gave her whole heart this season and her team followed. She's a team player to the core and you just don't find that with an elite player these days, so it's been an honor to be by her side."
HOUSTON - Kate Zora remembers the last time her team faced Seven Lakes.

It was August 17, 2018 and Seven Lakes was fresh off its inaugural trip to the UIL State Tournament the year prior. Ally Batenhorst was a sophomore and sister Casey was just a freshman. For Zora's team, Devan Taylor and Annie Antar were just sophomores and Kierstyn McFall was a freshman.
Seven Lakes won the highly contested match 3-2 (26-24, 22-25, 27-25, 20-25, 15-13).
"It was a barn-burner," Zora said as she reflected. "It got to the fifth game and I remember that pretty vividly and how they won it. It was one of those things where they were exhausted and both sides had gone back and forth the entire night. It was just one of those crazy matches.
"The ability for us to play again is super exciting."
Since then, the two programs, Klein led by Zora and Seven Lakes led by Amy Cataline, have tried to schedule home-and-home series against each other.
It just has never worked out schedule-wise.
"Every season I feel like we've communicated trying to make it happen," Cataline said. "Because we both respect each other's programs."
Now, fate would have it the two are slated against each other with the Class 6A State Championship on the line.
"Super cool, that's always fun to have two strong teams from Houston to represent the State of Texas," Zora said. "I love it."
The 2020 season will not be soon forgotten, mainly because of how weird it has been.

First, the regular season didn't start until mid-September - nearly a month and a half later than usual. Then there were no traditional volleyball tournaments, so the number of total matches played in 2020 would be considerably down compared to other years.
For some teams, such as Seven Lakes, they had to halt games and practices for a short period of time due to COVID-19 cases. But then were able to come back the rest of the way to try and get to the state tournament.
"Obviously, I knew [Klein] was out there but we had to take care of in front of us with such a competitive district," Cataline said. "So, I never let myself get too far ahead. It wasn't a challenge of a district opponent it was the challenge of COVID. I didn't let myself go there."

Now, Cataline has allowed herself to go there as the final match of the year comes against undefeated Klein, which has star power including Clemson-commit Devan Taylor, Rice-commit Gaby Mansfield and college prospects in Annie Antar and Kierstyn McFall.
"Klein's a great team and we're excited to play them," she said. "My girls have kind of had their eye on Klein the majority of the season. We know they are solid in every position and so we are just excited for the challenge to face them."
For Zora, the same feeling goes towards Seven Lakes, which has the likes of Under Armour All-American and Nebraska-signee Ally Batenhorst, SMU-commit Casey Batenhorst and Harvard-commit Mayow Olibale to name a few off the star-studded roster.
"You're going to see super-huge talent," Zora said about the match. "You have Ally Batenhorst, a great setter in Casey. You've got Mayo Olibale in the middle, you've got Emma Schroeder on the right side. I've coached some of those kids in club, so that's kind of nice to see some of those kids be really successful.
"Across the board, you've got a pretty good set of talent, it'll be interesting to see how it will play out on the court."
The fact that on Saturday it will be two teams from Houston across the net from each other makes this showdown even more fun for the fans, players and coaches.
Outside of high school volleyball, the majority of these players participate in travel volleyball. Over the years they have either faced each other or been on the same teams during the summer. Meaning they are really familiar with each other.
"When I was a player it was really fun to play somebody that you knew," Zora said. "It gave you a little bit of extra in there. I think they'll have fun on Saturday."
All the fun aside, this is for the Class 6A State Championship.

Houston hasn't had a team win this title since 2014 when The Woodlands last won a state crown. In the history of the UIL Volleyball State Championships, which dates back to 1967, Houston has brought home 10 state titles in the UIL's largest classification. Cypress Creek owns the most (3 - 1989, 1993, 1997).
This will be the first-ever Klein ISD or Katy ISD volleyball team to win a state crown.
"The girls are excited to be back," Cataline said. "It feels like 'Unfinished Business', they've been there and we had our 2017 crew pave the way and so now we want to finish what we started.
"Every practice they are intent and focused,. I think I hear the word 'focus' yelled out at least 50 times by multiple players. But they are high school girls, so they are enjoying this time and they are on cloud nine. It's a little bit of both at the practice of maintaining focus but also having fun."
Zora added: "That's been their ultimate goal all season long. Most of the seniors have played for me for four years. I want them to be able to reach their goal and that will make me a proud mom."
Klein (27-0) faces Seven Lakes (24-1) on Saturday at 3 p.m. inside the Curtis Cullwell Center in Garland for the UIL Class 6A State Championship.
VYPE's Shan Willeford will be on-site providing LIVE coverage. Be sure to follow our Twitter account @vypehouston for all of the State Championship coverage.
"