By Lily Cox
The 2019 VYPE Volleyball Preview will be out in a few weeks, as gyms will be filled with the sound of squeaky shoes and coaches' whistles.
As we enter our 12th year of publishing, I feel like we've seen just about everything. The explosion of social media, some of the most elite athletes in the nation and the greatest stewards of all – high school coaching staffs.
Shockingly on the volleyball front, only two programs have brought home UIL state volleyball gold – The Woodlands (twice) and Kingwood Park last season. So, who has the best chance to hoist the hardware in November? You will have to wait on the preview.
But back to what we've witnessed for over more than a decade, the coaches. Let's just take volleyball. Houston is loaded with some of the best in the business from Seven Lakes' Amy Cataline to The Woodlands' Terri Wade to AP Clarke of Bellaire. The list goes on.
Some legends have moved on like Ridge Point's Lori McLaughlin, Clear Falls' Lindsay Hodges, Pearland's John Turner (now an assistant at Bellaire) and The Woodlands' Leslie Madison.
Why are these coaches so near and dear to my heart?
Coaching girls is tough. I've been told by coaches that girls are more competitive than guys, because they vigorously compete against the other team but also with each other. The glue that keeps a great volleyball team moving in the right direction is the coach.
It's all about communication.
What I've learned being married and raising two girls is that you can't communicate too much. There is no such thing as over-communication. Building chemistry is paramount. Trust is key. You also have to be tough, because they will challenge you.
The best teams have that rock at the core – the coach. The best can master the communication game and build chemistry and trust, all the while pushing their athletes through grueling workouts and adversity. They can be tough, but our city's coaches care and sacrifice so much to see their athletes improve and grow into young adults. I know, I've seen them in action.
On Tuesday and Friday nights, high school teams go to war and coaches are the Generals leading them into battle. But coaching is also a fraternity/sorority. When one is hurting, others come running.
Take the recent case of new Memorial coach Kaddie Platt. In a tragic boating accident, she lost her only child Robert Platt, who was also a UH pole vaulter. She is new to the job after coaching at HBU and UH as the college ranks, however, social media was flooded with well-wishes from across the city and state.
It's horrific for a family to go through the loss of a child. Coach Platt and her family's strength is on display and we can learn from them. We can also lift them up.
Our thoughts and prayers are with the Platt family during this difficult time as the area's volleyball community supports one of their own.
Sometimes it's not about the games.
VYPE dropped by North Shore today to check out the defending state champs and their offseason work outs.
It was staggering.
Coach Jon Kay and his staff have a tremendous attention to detail from game-day prep to speed and strength. It's not only the volume of athletes, but size of these kids.
What stood out…
Class of 2020 OL Damion George is in great shape at 6-foot-7 and over 300 pounds. He's more confident. He's coming out of his shell and he's wearing the Crimson Tide "A" proudly. Complimenting on the offensive line is Kansas move-in Jaeden Roberts, who has dozens of offers as an incoming junior. He is massive and goes hard.
LB Corey Flagg was in a boot and not able to participate, while QB Dematrius Davis looks even more explosive running and throwing. He looks huge.
National recruit Zachary Evans was not on hand, but in the classroom taking classes to graduate early. Coaches have been raving about his summer.
Super WR Shadrach Banks is bigger and faster. He's going to be even harder to bring down in 2019.
The defensive backfield looks on points. Utah State-commit Upton Stout could be the fastest change-of-direction athlete on the field, while 2022 national recruit Denver Harris looks like a college player already. Harris is a 6-foot-1 corner with offers like LSU, Bama, OU, Georgia, TAMU, Arizona and Florida State to name a few.
Interestingly, recruiting coordinator Joe Price has taken a high school relations job at the University of Illinois. Kay has hired new receivers coach Brandon Middleton, who was in the NFL for four years after playing at UH. He went to high school at Elsik.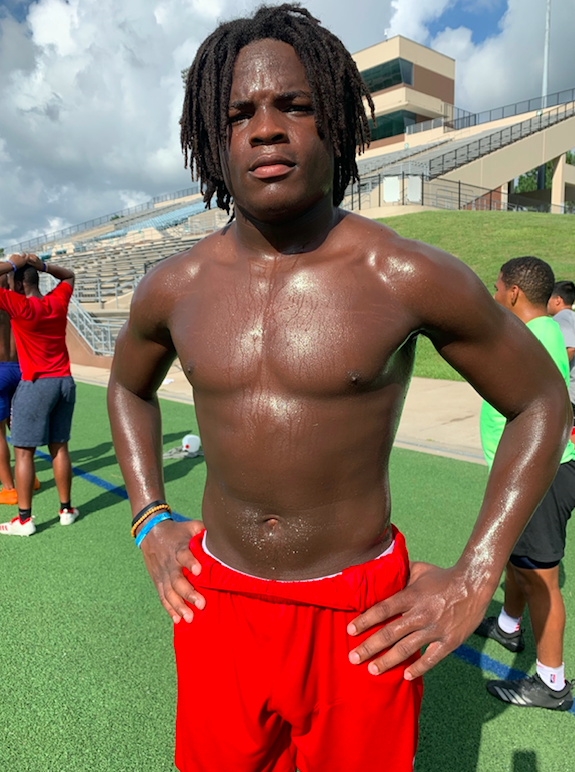 Class of 2022 DB Denver Harris has offers from all the big BCS schools.
Longtime Bulldog coach Dan Schreiber stepped down after nine seasons. Insert new head coach Mike Arogbonlo from Travis. Can the Bulldogs make a playoff run with Troy Omeire and Kendal Septs going into their final year? Their 2019 campaign begins with hosting Katy Tompkins on August 30th.
Stay tuned for our VYPE Football Preview coming in early August.