Sophomore Taylor a rising star for Lobos
Aug 31, 2022
VYPE Media
Langham Creek sophomore Jordan Taylor stands 6-foot-5. Central casting for a dominant volleyball talent.

But not all is what it seems.
"I think a lot of people think because I'm tall, it makes the game much easier," Taylor said. "But that's not true. It helps, but only for a bit. Once you start playing at a high level, you really have to be technically sound. A lot of people misunderstand that just because you're tall does not mean you can play the game. It's a lot of technical work."
Taylor admits there are the obvious advantages to height. She is long, rangy and athletic. She has a high reach.
But there are also disadvantages.
"For me, I'm the serving middle in high school and club, so one disadvantage is digging the tip when I'm going back to serve," she said. "I always get picked on for the tip."
Otherwise, however, there's not a lot of downside to being Ms. Taylor. The Lobos' gifted middle ranked second in kills (144) and first in blocks (72) for the 13-6 team heading into Tuesday's game against Tomball.
"I worked really hard during the offseason," Taylor said. "I take my training really seriously. I tried to focus on making sure my core was stronger and making sure I could move better laterally. It was a lot of work on technique with agility, making sure everything was done right."
Taylor started playing volleyball when she was nine years old.
"I was pretty bad," she said. "But something that always came naturally to me was blocking. As I've gotten older and gotten better, I've always been able to help my team by blocking certain people and being asked to do certain things defensively."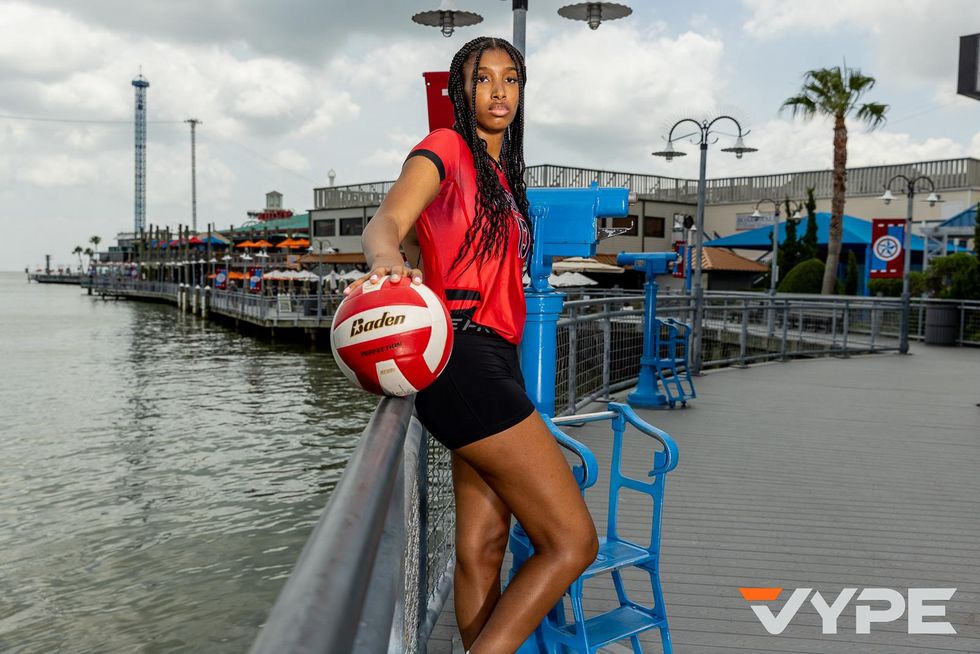 Langham Creek sophomore Jordan Taylor.VYPE Media
Because of her background in basketball, jumping, leaping and blocking came naturally to Taylor. Her blocking is better this season, as she is a year wiser in reading setters.
Taylor studies them during warmups and pays attention to movements and body language, picking up any and all tendencies.
"Last year, if I struggled with sticking with the setter, I wouldn't be effective blocking," Taylor said.
While blocking is her forte, Taylor sees hitting as her Achilles' Heel. But it would be hard to tell by the numbers.
She's hitting .349 this year after hitting .351 last year, more than respectable for a young player.
"Hitting did not come to me as easily so I really had to work hard at it," Taylor said. "I still am putting in a lot of work now, making sure I'm physically stronger and having more court awareness. I'm getting better and better at seeing the blocker.
"It used to be all so fast but now I can see what's open and what's not. I'm not just going up blind and hitting the ball hard and hoping I get something."
Taylor is enjoying her success. It's what she envisioned. She knew she would have to work hard if she wanted to help her team. She has, and she is. She was impressive as a freshman on varsity last year and continues to grow and mature.
She is acclimating herself to the varying demands of school volleyball and playing club volleyball with Houston Juniors.
In club, Taylor can worry about herself and her own play as she is surrounded by elite talent. In school, she has worked to become more of a leader and more assertive, knowing she is depended and relied upon more.
She has a passion to be great.
"Just being the best middle, of either side, motivates me the most," Taylor said. "I want to outplay my opponent, I want to outhit my opponent, I want to outblock my opponent. I even want to outserve and outpass my opponent, even as a middle. Just that want is what drives me."
True