Bradley's rise key to Summer Creek's state run
May 10, 2022
Courtesy of Donovan Bradley social media
Donovan Bradley has long idolized Olympian Grant Holloway. Like Holloway, a 2020 Olympic silver medalist and 2019 world champion, Bradley, a junior at Summer Creek, is a sprinter and hurdler.

"I've carried myself and moved like Grant since day one," Bradley said.
So, when Holloway responded to a tweet of Bradley's last week, acknowledging his reverence of the second-fastest man in 110-meter hurdles history, Bradley did the first thing that came to his mind.
He started dancing.
Keep working hard.. your hard work isn\u2019t going unnoticed https://twitter.com/Donovan_Bradle/status/1521983590829072387\u00a0\u2026

— S. Grant C. Holloway, OLY, WRH (@S. Grant C. Holloway, OLY, WRH) 1651718171
"Keep working hard.. your hard work isn't going unnoticed," Holloway tweeted Bradley on May 4.
"It felt unreal," Bradley said. "I danced in my room for a good minute. Grant has always been someone I've looked up to. I just admired his pure dominance. He wasn't afraid to go out there and shine."
Bradley's stock is on a rise. Holloway knows. Others are starting to see it, too.
Like his role model, Bradley is not failing to shine.
Bradley is a big reason why Summer Creek's boys track and field team is a favorite to repeat as UIL Class 6A state champions this weekend in Austin. Bradley won the 110-meter and 300-meter hurdle events at the Region III-6A meet two weeks ago—posting times of 13.67 and 37.48 seconds, respectively—and ran the first leg of the Bulldogs' 4x100 regional champ relay.
It's a far cry from last season, when Bradley finished 14th at regionals in the 300 hurdles, though still made it to state as part of the Bulldogs' eventual 4x400 gold medal relay.
The difference this year for Bradley is between the ears. He always had the speed and raw talent. But the intensity of big moments is no longer feared. It is welcomed.
"I know what to expect now," Bradley said. "Last year was literally my first everything, because my freshman year (2020) was the COVID year. So, I think a lot of it was a big shock. But after I ran state last year, I realized it was not as big as I was making it. Most of it was in my head.
"I think mainly what messed me up was the pressure. The moment. At the time, I was so immature mentally and I didn't understand how to deal with that type of emotion. If I had just run at regionals like I did the whole season, I would have got the wild card (bid) to state. I was just so in my head."
With this year being an important one for his recruiting, Bradley set out to prove he can compete under pressure.
It started with the Junior Olympics last July. In front of a crowd of about 5,000 people at Turner Stadium in Humble, the same site that hosts the regional meet, Bradley finished second in the 400-meter hurdles.
Since then, he has continued to blossom. He credits his parents and grandparents for keeping him humble and grounded. He recently had a long talk with his family about his ambitions and season, and his grandparents encouraged his focus be put in God's hands.
"That's what I've been doing, and it's working," Bradley said. "I'm a new person. All I did was I prayed, and, mentally, I know that everyone is nervous, and what we do on this earth, with those types of nerves, is what makes us.
"As an athlete, I'm starting to learn that my biggest barrier is my own head. I can do anything I want through God, and telling myself and reassuring myself of that is what's helping me."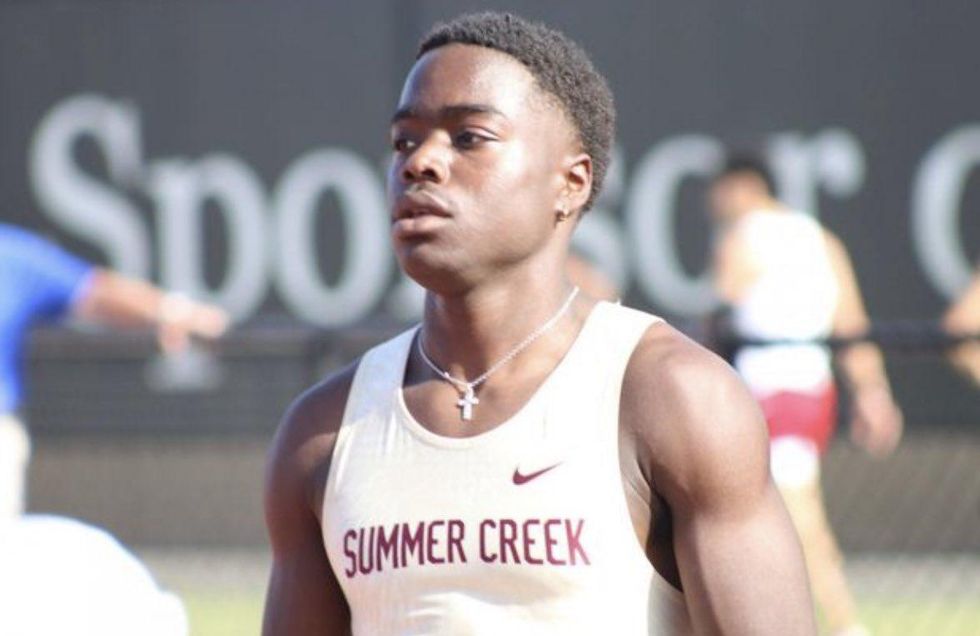 Summer Creek junior Donovan Bradley.Courtesy of Donovan Bradley social media
Bradley acquainted himself more with the weight room this season. He has been lifting more, and, as a result, his technique is more efficient.
His base is stronger, and his arms are no longer "all over the place, wild and everywhere," he said.
"Coming into this season, I was just very confident in what I can do," Bradley said. "I feel like track is a feeling. If you feel like you can do it, you can. And I had this feeling in my heart this season … like in the 110s, I wanted to become something. I just go with that gut feeling. I know what I want for myself, and as long as I stay humble and work, God is going to take care of me."
Bradley holds personal records of 13.55 and 36.82 seconds, respectively, in the 110 and 300 hurdles. Both of those marks were set at the prestigious 94th Texas Relays at the University of Texas—the site of this week's state meet—in late March, where only the best of the best compete.
But Bradley wants more.
He is a young man with great ambition. Humble, but confident. Grounded, but self-assured.
"I really, really, really want to break a state record," Bradley said. "If not the 300 hurdles, then the 110. I have another year, and have summer track to do it, but when I'm done, I want people, when they look at me and when they talk about me, to see me like a legend."
True