#BFND remains power in District 17-6A
Aug 26, 2019
By Bradley Collier
District Rankings
Cy-Fair
Cypress Creek
Jersey Village
Cypress Ridge
Cypress Falls
Memorial
Stratford
Spring Woods
Northbrook
…
PRESEASON AWARDS
MVP
LJ Johnson, Cy-Fair
…
OFFENSIVE MVP
Caleb Weaver, Jersey Village
…
Co-DEFENSIVE MVP
Josh White, Cypress Creek
Vernon Broughton, Cypress Ridge
…
BREAKOUT PLAYER OF THE YEAR
Carson Zahn, Memorial
…
SLEEPER TEAM
Cypress Ridge
…
THE PROSPECTUS
The more things change, the more they stay the same. C y-Fair looks to carry the district banner again, while the middle of the pack will be uber-competitive with five teams competing for three postseason spots. There are national recruits in this district like Cypress Creek's Josh White, Cy Ridge's Vernon Broughton and Je'Vaun Dabon, Cy-Fair 's L.J. Johnson balling under the Friday Night Lights.
Cy-Fair Bobcats
On the surface, Cy-Fair keeps it simple – running the football and playing stout defense – in a landscape of 7-on-7 and spread offenses. But it's a formula that worked for a state championship in 2017 and nine-straight winning seasons going into this fall. Expect more of the same with RB L.J. Johnson, a four-star junior with offers from the likes of Alabama, LSU, Oklahoma, Texas and Texas A&M to power the running game. He ran for more than 1,100 yards as a sophomore and should take the next step as the featured running back. A new quarterback will have help with talented TEs Bayne Tryon (6-2, 215) and JackWitmer (6-6, 225) and receiver Chase Davidson in the fold, while FS Payton Tally (Princeton) is the elder statesman on a veteran defense that returns seven starters, including Joe Pustejovsky (DE).
…
Cypress Creek Cougars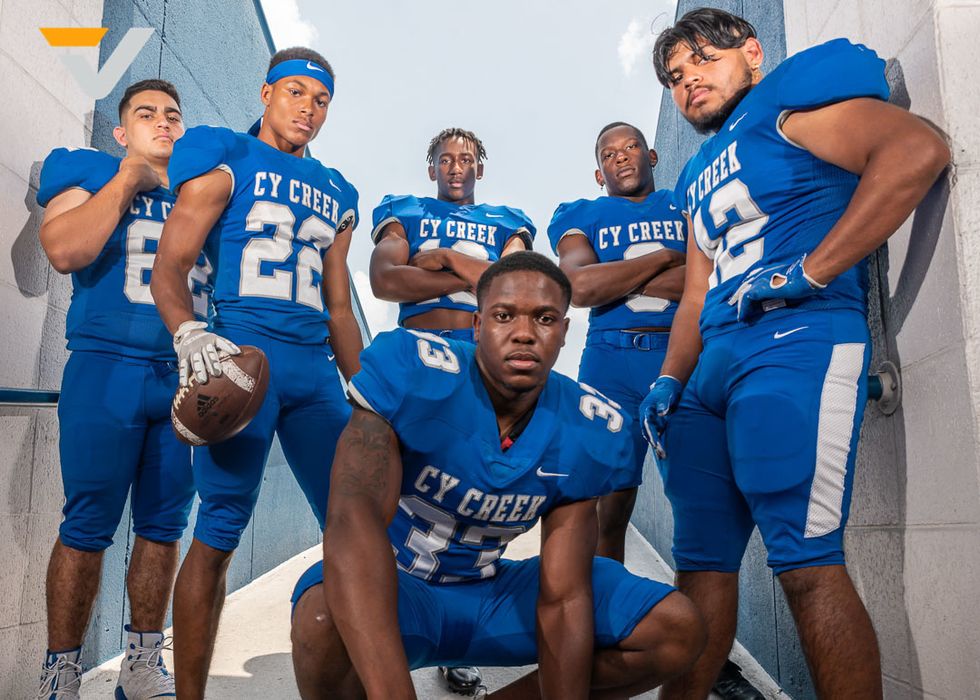 Cy CreekBy Bradley Collier
Cypress Creek made a surprise run to the Division II before falling to eventual state runner-up Beaumont West Brook. Stud LB Josh White showcased his talent in that game (16 tackles and returning a blocked punt for a touchdown) and the LSU-commit is regarded by his coaches as one of the nation's best defenders. Other key returners on the defense include Jerrie Spikes (SS/OLB) and Julian Coronado (DE). The offense will have a new quarterback under center, which will be played by Christian Medina. Whoever wins the quarterbacking duties will benefit from lining up with 1,000-yard rusher Eddie Jimmerson to hand the ball off to and who is also a threat in the passing game. Another player to watch will be receiver Legend Grigsby.
…
Jersey Village Falcons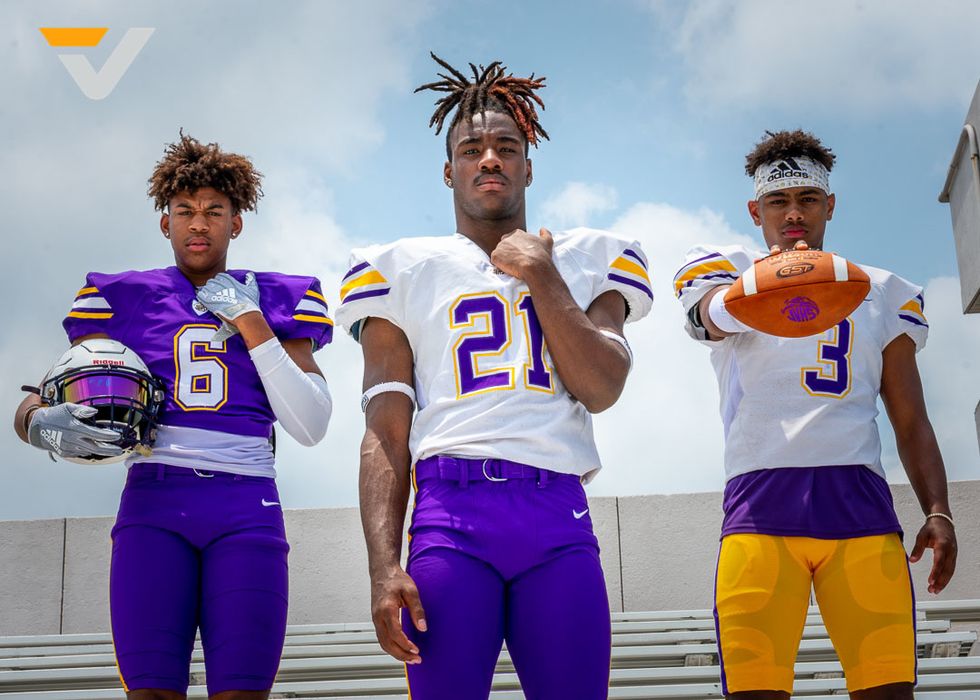 The Jersey Village Falcons
Jersey Village is the defending district champion, but the Falcons were hit hard by graduation in many key spots. Replacing Raymond Richardson, the District 17-6A Offensive MVP, at quarterback is key. Look for DB Caleb Weaver, a talented junior, to take over there and try to recreate the magic of an offense that averaged 418 yards per game a year ago. He will get help with WRs Dionel Burrell and Michael Evans in the fold. A defense led by LB Kelvin Cruse, DE Isaac Hocker and DT CJ Ortiz will help early in the season while the offense comes together as a unit.
…
Cypress Ridge Rams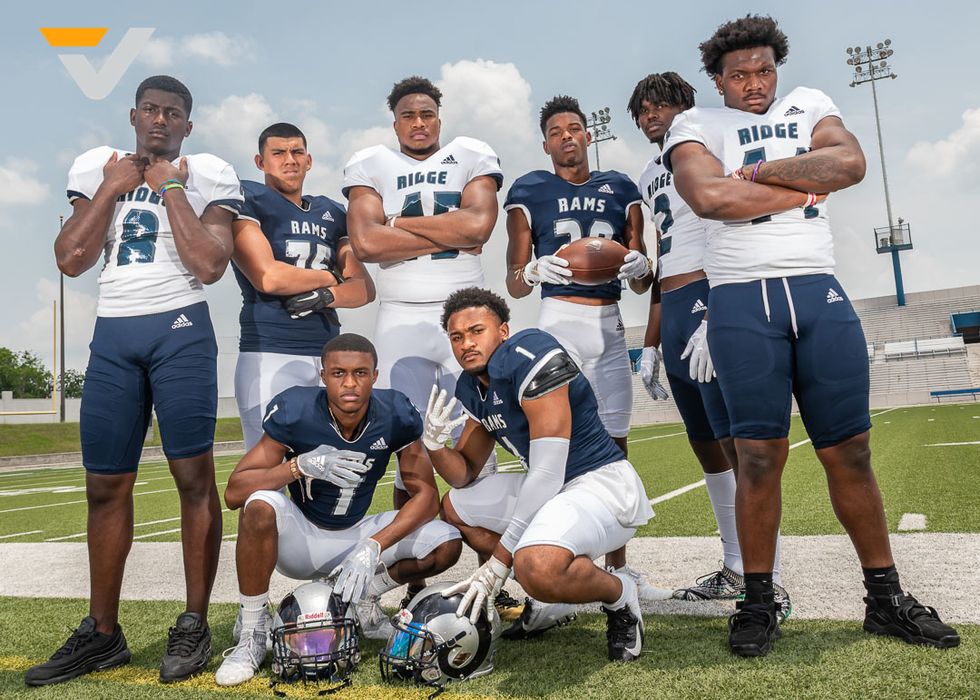 Cy Ridge
There's a new era at Cypress Ridge as Andrew Shanle comes over from his role as Cypress Ranch's defensive coordinator to replace Gary Thiebaud, who opened the campus in 2002. The Rams benefit from experience (14 total returning starters). DL Vernon Broughton (6-foot-6, 280-pounds) has quickly become one of the nation's top interior lineman and should open space for teammates from the attention he'll command. Another player to watch on the line will be Centraus Smith. DB Je'Vaun Dabon committed to Texas Tech in June and will anchor the secondary alongside DB Kade Barnes. At the linebacker slot, Ja'Nyus Morgan will be a name to remember. Offensively, watch for Lejuene Patterson (WR) and Leslie Wellington (RB) to make noise early onthat side of the ball.
…
Cypress Falls Golden Eagles
Cypress Falls needs to replace nearly every skill player on the offensive side, so expect some growing pains early in the season. The Golden Eagles did show positive signs in the summer when they not only qualified for the state 7-on-7 tournament but posted their best finish (Championship Bracket semifinals). QB Brandon Collins moves over from playing wide receiver in 2018. DBs Jayden Goodwin (89 tackles), who is the younger brother of UTEP QB TJ Goodwin, and Ricky Johnson will both give opposing offenses fits with their ability to cover in space. On the line, watch for Dontrell Kelley (60 tackles, four sacks) to be a disruptive force at defensive end. Other players to watch include, Cale Burk (H-Back, ILB), Dillon Wade (OL), Giancarlo Mazuera (OL) and Elliot Jones (DL).
…
Memorial Mustangs
Memorial returns five starters on each side of the ball. The defense will lean on a trio of three-year starters – DL Rocco Silvestri, LB Nicholas Haas and S Matthew McHenry. QB Matthew Sanders takes over the starting role and RB Carson Zahn should only get better after running for 310 yards and three touchdowns as a freshman. Other players on the offense to watch include Ben Dukes, who is a star on the baseball diamond, at receiver. Coach Gary Koch will have to sneak in some upsets to get into the postseason.
…
Stratford Spartans
Stratford will be going through a youth movement after graduating 50 seniors and returning only eight total starters. The early strength will be the defense – DE Van Heitmann is disruptive off the edge and linebackers Eric David and Thomas Fitzpatrick anchor the front seven. In the secondary, Charlie O'Block will be one to watch. Offensive linemen Eddie Velasquez, a second-team, all-district selection, and Bryce Calloway will be counted onto protect whoever takes over under center. Coach Todd Rankin hopes that having a full offseason under his direction will pay dividends on the field in 2019.
…
Spring Woods Tigers
Moving to Class 6A hasn't helped Spring Woods, who struggles with numbers on the football field. Spring Woods, which hasn't reached the playoffs since 1997, returns only 10 lettermen and is banking on a solid sophomore class to make the turn. QB Thomas Ainsworth and athlete Isaiah McKnight will both see the field in multiple ways. Others to watch include Elijah Chavez (RB) and lineman Wences Lopez.
…
Northbrook Raiders
Northbrook does return six starters on each side of the ball, which could help move the Raiders in the heart of district play and get in the win-column. Coach Jeff Sciba will need to move pieces around like Jalen Cox to QB. Several players will be playing both ways. Others to watch include Donnie Olney (WR), Jasaheal Vasquez (RB) and Juan Martinez (FS).
Keep reading...
Show less