VYPE 411: Ty Kana of Katy
Apr 27, 2021
VYPE : How long have you been playing football and how did you get your start?

Kana : I've been playing since I moved to Katy in the second grade and I've been in love with the game ever since. Going and seeing Katy football games was a big factor in my growth of passion for the game as well.
VYPE : You're committed to USC, what made USC the place for you?
Kana : USC was the best fit for me both athletically and academically. I really like the defense that Coach Orlando runs and it has many similarities to the one run at Katy.
VYPE : Who's your favorite football team and why?
Kana : I don't have a favorite football team other than Katy and USC just because I'm biased for the schools I play for.
VYPE : Go-to pregame meal? Routine?
Kana : For my pregame meal I like to eat pasta the night before and eggs the morning of the game, and I'm bumping Lil Wayne all throughout the day.
VYPE : Off the field, what is your favorite thing to do?
Kana : Off the field, and in between workouts, I like to just chill and hang out with my teammates to rest.
VYPE : In all of your years of football, what is the one memory you'll never forget?
Kana : In all of my years of football I'll never forget celebrating and holding that state trophy with the gold medal around my neck.
CLICK HERE TO SHOP OUR PHOTO COLLECTION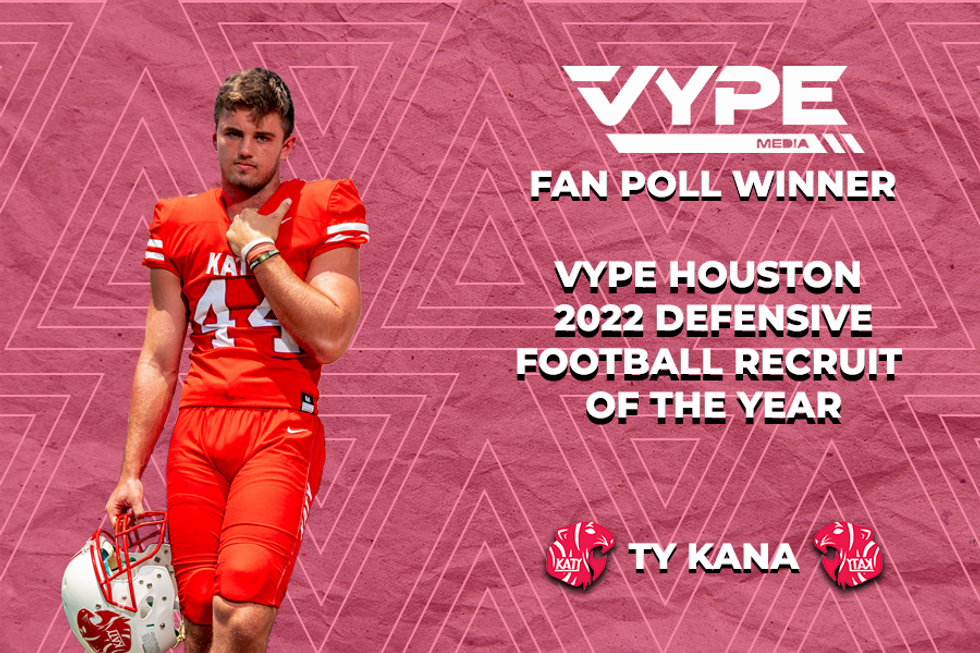 Keep reading...
Show less