VYPE DFW Preseason Girls Basketball Player of the Year: DeSoto's Amina Muhammad
Nov 03, 2021
DeSoto girls basketball had an impeccable season last year with a 93% winning percentage and a state championship season. The Lady Eagles posted a 28-2 overall record and a 13-1 record in district play with a first-place finish in their district. Despite a district loss to Cedar Hill, the Lady Eagles posted a seven-game win-streak before winning the state title in a commanding 53-37 victory over Cypress Creek. One of the keys to DeSoto's success was now-senior forward Amina Muhammad. Muhammad recently won the VYPE DFW Preseason Girls Basketball Player of the Year Fan Poll and VYPEDFW was able to catch up with her about basketball, the upcoming season, and the future.
Staying Focused leads to Success
It's easy to get lost in a big season- it's easy to lose your focus when you're a great athlete doing great things like winning state championship games, but Muhammad says the culture simply isn't that way with Lady Eagles basketball. "Our coaches are very hands-on," Muhammad told VYPE. "They make sure we stay focused day in and day out. Being able to stay focused is only one of the things that helped power Muhammad and DeSoto to their championship season last year.
Another component to Muhammad's success? "Not letting adversity get in our way," she said before adding "fighting to the end of every game and it will be the same this season." Last season, Muhammad believes that obstacles tried to hold back DeSoto, but they weren't able to halt their success. "Getting over every obstacle thrown our way and understanding that it was 'OUR TIME'" is what Muhammad believes powered the team to greatness.
The Season Ahead
With such a successful season last year, there's no doubt that Muhammad and the team are looking forward to the season ahead and everything it has to offer. "This season, I'm looking forward to competing with the best of the best and playing with my teammates," Muhammad said. "We have a chance to win another state championship and also a national championship, so I'm looking forward to that as well."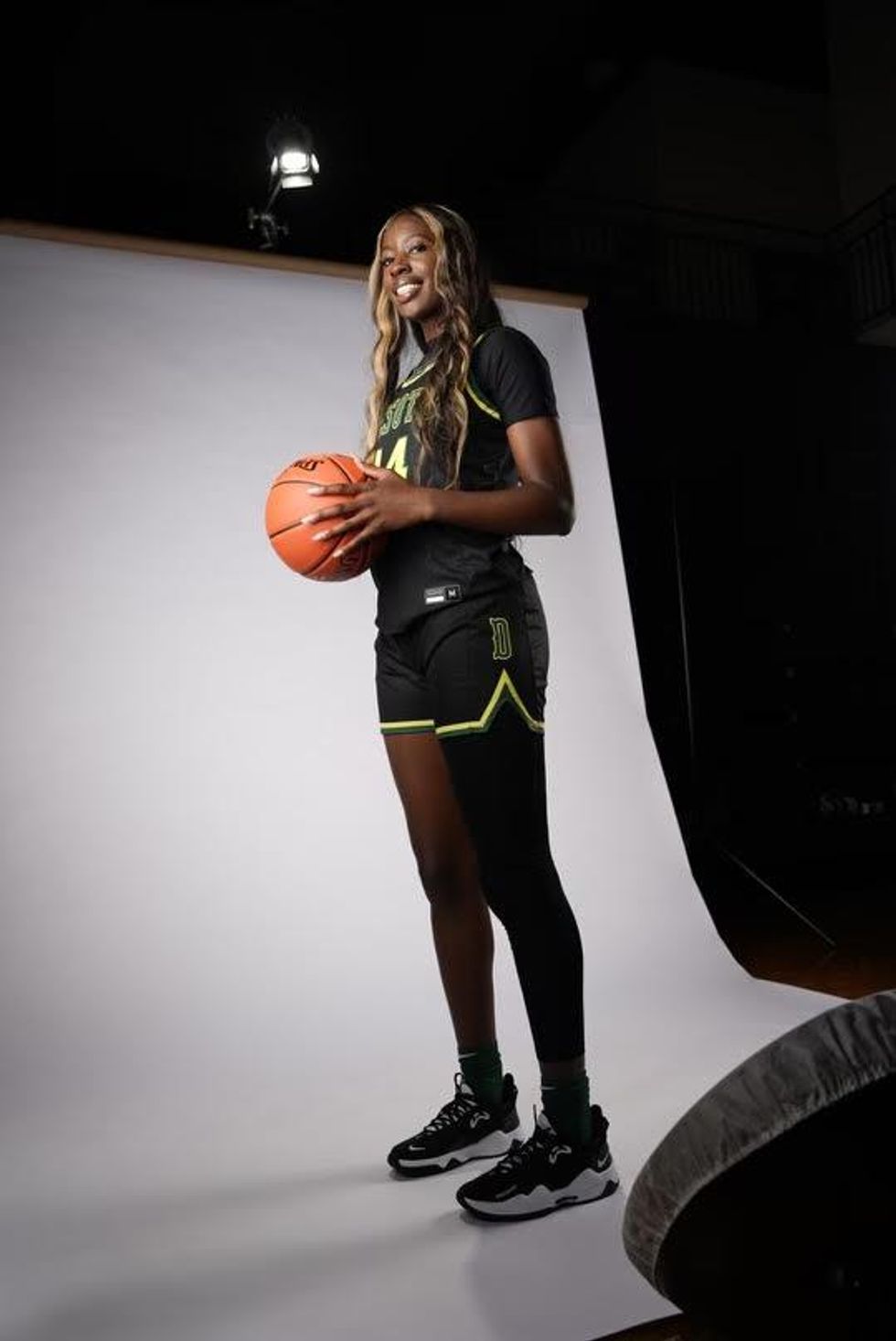 Photo provided by Amina Muhammad.
In order to win championships, there's no argument against the fact that you have to be in the right mindset. "My mindset is to compete, never back down, and be relentless in every game I play," Muhammad said when thinking about the upcoming season. "My individual goals are to be competitive in every game I play, average a double-double, and to help my team win," said Muhammad. "Our team goals are to win a state championship and a national championship," she added.
A Bright Future
Muhammad still has plenty of time left in her senior year, but following her high school career, she plans on attending the University of Texas where she has already committed to play for their basketball program. "I chose [Texas] because of the great coaching staff, their amazing facility coming in 2022, their style of play, and the fact that it is the #1 University in Texas," Muhammad told VYPE. Her plan is to major in business and if not, then communications.
Fun Questions
Who is your favorite professional sports team?
"Aces."
Who do you look up to?
"My parents because they inspire me to work hard on and off the court."
If you could go to dinner with one person (dead or alive) who would it be? What would you want to talk to them about?
"Mary, Queen of Scots. I would want to talk to her about how her lifestyle was back then and for her to go into detail about her everyday life."