VYPE Sunday Feature: Westside RB Kuykendall perseveres, stays strong through severe loss
Sep 04, 2022
Courtesy
The text message dinged at 3 a.m. A sleep deprived Jahbari Kuykendall, staying with family at his brother Jahwanza's house, could barely grasp what he was being told.

"It's my neighbor," Jahbari recalls, "saying that there was a river coming out of my garage and flowing out the front door."
A river?
The unforgiving, disastrous freeze of February 9 that rampaged Texas last year caused all the pipes to burst in the west Houston Kuykendall home.
Upstairs. Downstairs. Damage. Lostness.
"Our home was destroyed, and we ended up homeless," said Jahbari, a senior running back at Westside High School who is committed to play football at the University of North Texas next fall. "Thank God for some special people in our lives and lots of prayers, we are making it through."
Two days after that night, there was still two feet of water in the Kuykendall house.
"I'm guessing because (the pipes) were so old, they couldn't withstand the temperature and the pressure of the freezing water, even though I left faucets running (in hopes pipes wouldn't burst)," said Jahbari's mother, Robin. "We have two attics. Everything that was in the attic in (one) room was now in the kitchen, as the ceiling caved in. The only room that didn't sustain any damage was the upstairs bathroom. Even the wood railings were soaked from the moisture.
"When we saw it for the first time … it was very emotional."
For the last 18 months, Jahbari has moved from home to home. He needed to stay within the Westside school zone. So, while Robin and his sister Marjana stayed with Jahwanza about 35 miles away, Jahbari lived a nomadic journey, staying with a coach, his uncle and now with one of his best friends.
"Hopefully, it's only for the next couple weeks or so, because my house is getting worked on now," Jahbari said. "I was OK with all of this, for the most part, but this is very hard for my mom, because she is not used to being in a position where she has to let her kids live with other people. She is thankful that people love us enough to help, but she doesn't like it."
Robin said the remodeled and renovated house that was bought in 2007 near Highway 6 and Beechnut should be ready within the next month.
The light at the end of a nightmarish tunnel.
Robin has had many back-and-forth verbal bouts with FEMA as an appeal is still ongoing. She has taken out a loan in the meantime.
Jahbari's stepbrothers, Keith Jr. and Terrell, have been a critical support system, offering financial aid and cheering him on as he uses the football field as his release.
"It has been a long 18 months for everybody," Jahbari said. "I still thank God, because there are some people that went through this freeze and had to stay in shelters because they didn't have the support that my family has."
It's a mature, admirable perspective. But not surprising for a young man already well versed in dealing with loss.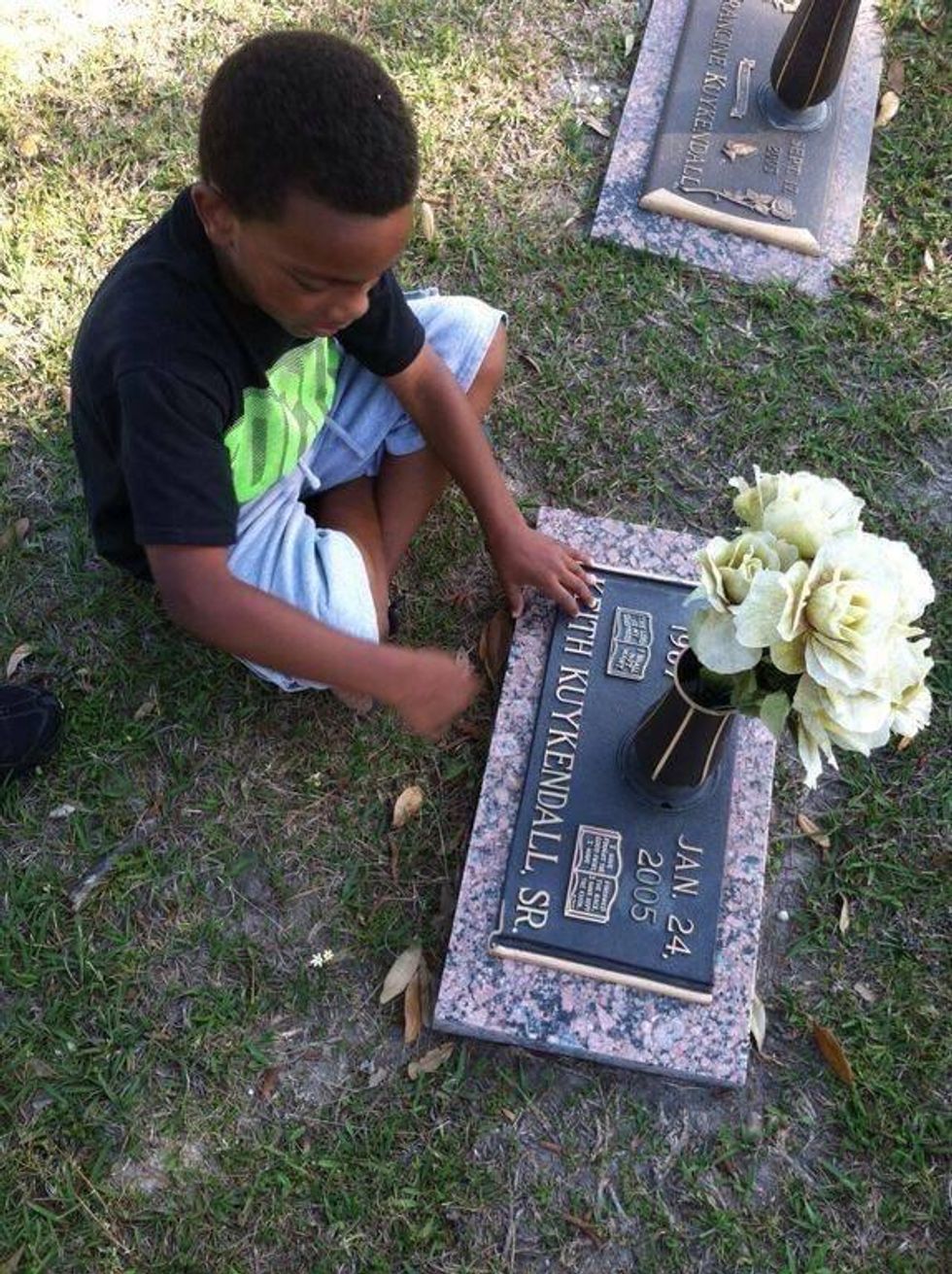 Young Jahbari Kuykendall pictured at the gravesite of his late father, Keith "Kirk" Kuykendall.Courtesy of Kuykendall family
'HE MOTIVATES ME'
Jahbari was only six weeks old when his father, Keith "Kirk" Kuykendall, died.
"I didn't have the chance to meet him," Jahbari said. "I heard stories about him when he played football and the type of person he was to everyone, and I know he watches me from above. He motivates me, along with God, my grandma, my aunt, who are also deceased, and my mom, who is my rock, my everything.
"Every down I play, or even when I'm not on the field, just dealing with life, I think about them. I really want to make it for them and myself."
Jahbari can go on and on about Kirk, an admired athlete who dominated football games on the southeast side of Houston. Such swag and confidence. A larger-than-life personality.
There is one story Jahbari particularly enjoys.
Kirk apparently never liked wearing cleats. One game, before his coach could notice, Kirk removed his cleats and put on his Chuck Taylor sneakers.
"Got the ball, lowered that shoulder, ran through everybody and got a TD!" Jahbari boasts, describing his favorite play from his favorite player.
Robin said Jahbari and Kirk have so much in common, from their athletic prowess to their physical build to their work ethic.
"When Jahbari walks into a room and when his father walked into a room, that's when the party starts," Robin said. "Keith was very family-oriented, and that's Jahbari. They both bring joy. His father was this person that was very dedicated to doing the right thing, loving people and just very loyal. That's Jahbari."
Jahbari, Robin said, shares the same "gift of gab" as his father. He also shares the same business sense.
Keith was known to teach his sons, Keith Jr. and Terrell, how to run a lemonade stand to show how to make money and run a business. When Jahbari heard those stories, it inspired him.
So, he started doing whatever he could to earn an extra buck or two, like knocking on doors to offer to take someone's trash out.
"He's always someone who wanted to get his own," Robin said.
Robin keeps pictures of Keith all throughout the house. He is never forgotten. Never out of sight.
There are times when Jahbari is fueled by Keith, ready to run through a wall and score a billion touchdowns and rush for a billion yards in his dad's memory. Then there's other times where he simply misses having a dad and getting to know a great man who was so beloved.
"It depends on the day," Robin said. "Normally he does really well. It gets difficult when you see other kids and their fathers hanging out, things like that. That's when it gets really tough for him. His dad loved football and all sports. So Jahbari misses the dad side. I try and do my best as mom but I'm not dad."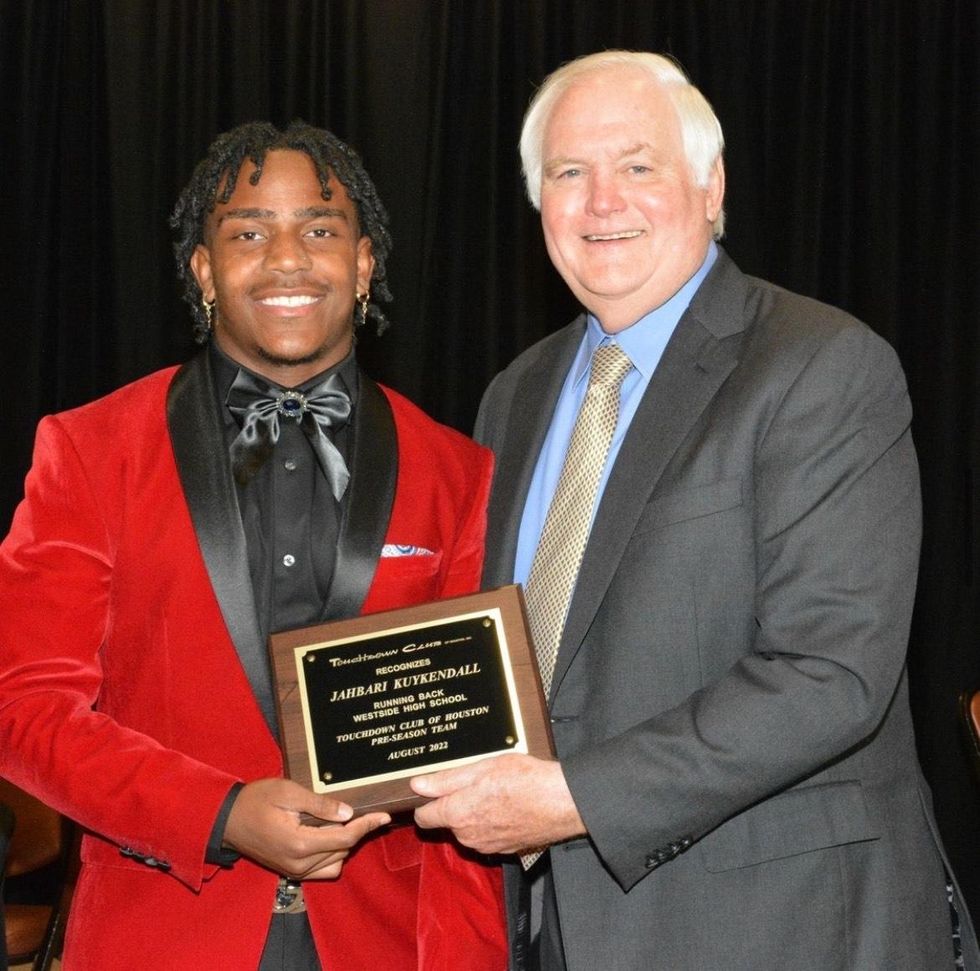 Westside senior running back Jahbari Kuykendall receiving his Touchdown Club of Houston preseason team plaque from legendary NFL coach Wade Phillips.Courtesy of Kuykendall family
HEAD HIGH, HAVE FAITH, DO RIGHT
Where Jahbari feels the presence of his father most is on the football field.
Keith would be overjoyed with his son's success.
Last season, Jahbari rushed for 1,603 yards and 14 touchdowns for the 6-3 Wolves, averaging an impressive 9.1 yards per carry. He totaled 1,788 all-purpose yards and was named Most Valuable Player of District 18-6A.
Entering this season, he was named to the prestigious Houston Touchdown Club preseason team. Jahbari, who runs a 4.4 40-yard dash, is a two-sport standout, with a mark of 10.6 seconds in the 100 meters for the Wolves' track team and a four-time All-American in track and field.
Jahbari Kuykendall 2021 JR. Szn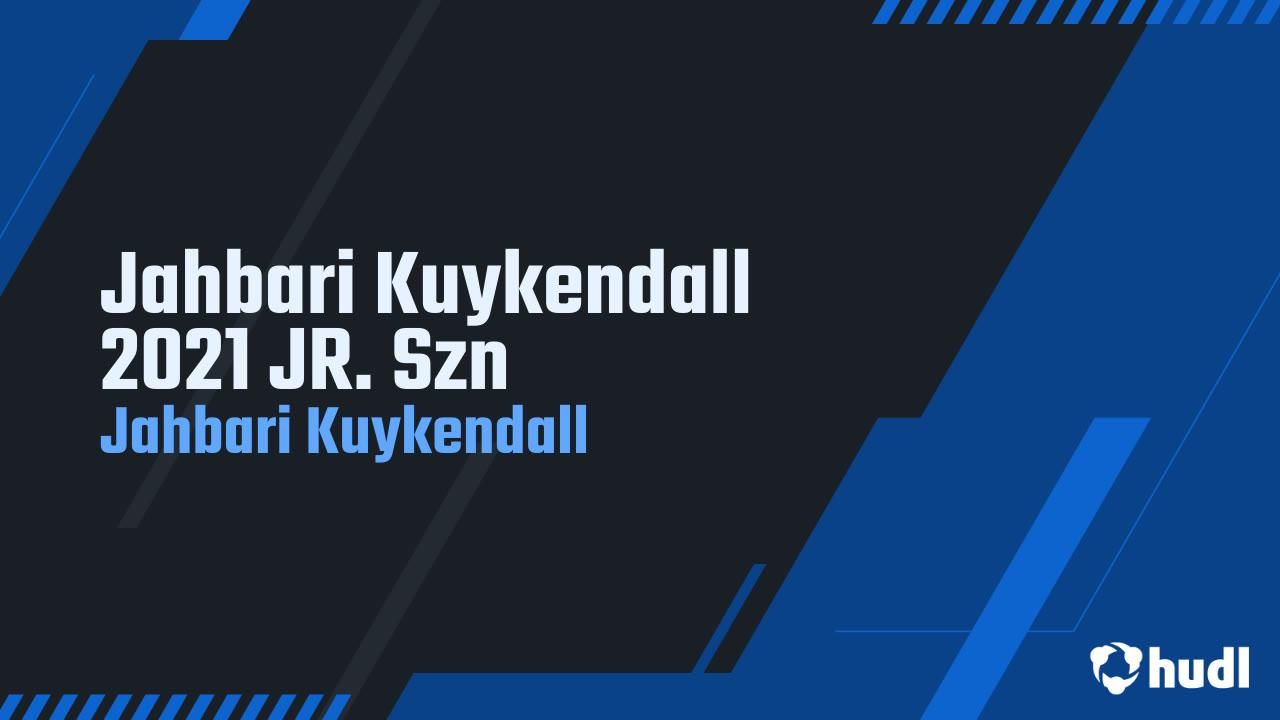 Jahbari Kuykendall 2021 JR. Sznwww.hudl.com
Jahbari Kuykendall 2021 JR. Szn
"I think the key to my success is staying focused, correcting the little things and pushing my team and myself to keep the momentum going," Jahbari said.
In the offseason, Jahbari worked with highly regarded training guru Margin Hooks to better his route-running and hands. He also ran summer track with Track Houston, honing endurance and speed.
Jahbari, who started playing football when he was four years old and was enamored with its competitive nature, is driven by family and haters. At 5-foot-7, he hears the doubters.
His numbers and North Texas, which Jahbari chose over five other schools that offered him a football scholarship, prove Jahbari is doing a nice job quieting them.
"Something that is misunderstood about me is that I can't perform to the level of some other elite athletes because of my height," he said, "but I've proven that that is a misconception and, God willing, I will put that misconception further to rest this season."
In the meantime, Jahbari, who holds a 3.7 GPA, is focused on academics and football. "Being a student in the classroom and a student of the game," as he puts it.
"What makes me the most proud about my accomplishments is seeing all the smiling and proud faces of my family, my peers, my mentors and my teammates," Jahbari said. "Through it all, good or bad, I make sure I hold my head high, have faith in God and do things right. I want to make it, so my family doesn't have to worry financially and be free from the stress."