VYPE DFW Football Preview: Chisholm Trail vs. Denton
Oct 01, 2020
Graphic by Stephen Peters
It's the second game of the 2020 season for 6A, 5A and TAPPS, which starts this Thursday night with a slew of games. Our preview takes us to Denton for a matchup of 0-1 teams.
The second week (Week 6) pits Fort Worth Chisholm Trail (0-1) against Denton (0-1). Both teams started the season off pretty slow, each scoring just three points last week.
PREVIEWING CHISHOLM TRAIL
Looking at the Rangers, it struggled mostly on the run last week against Keller Timber Creek, mustering just 23 yards in as many attempts as a team. The team lead went to Shone Mombo, who had seven rushes for 23 yards. The rest of the team was -23 yards on 16 attempts, which is something that must be corrected moving foward.
The passing game struggled a little, too, as Garrison Haskell completed just 40 percent of his passes for 107 yards and an interception. It was one of four team turnovers for Chisholm Trail, one of which that was returned for a touchdown.
Conversely, the defense did play well against Timber Creek in only giving up 289 total yards, but it could not make enough stops to keep the game close. Chisholm Trail trailed 40-0 by halftime and could only muster a field goal in the third quarter.
Entering the season, Chisholm Trail returns six starters on both sides of the ball as it makes the leap to 6A and into a district that includes Euless Trinity and Weatherford. It could be a tough 2020 for Chisholm Trail as it has never won more than four games in a season and is project to finish next-to-last in District 3-6A.
PREVIEWING DENTON
As much as Chisholm Trail struggled offensively, Denton had just as hard of a time in netting only 92 yards last week against Lake Dallas. Coco Brown was the standout offensively for Denton in getting 52 yards on 13 attempts. The passing game, which was split between Blake Courtney and Cole Hager, only total 39 yards on 15 attempts (16 counting the throw from JaCori Ellis).
But also like Chisholm Trail, the defense played well enough in holding Lake Dallas to 300 yards and recovered all three of the forced fumbles. Denton, though, turn the ball over twice, which both lead to Lake Dallas field goals.
It was 3-3 game at the half, but Lake Dallas opened up the game with 17 points in the third quarter and that was more than enough.
Denton entered the 2020 season with 18 returning starters (9 off; 9 def) from a team that went 4-6. Despite that high return in starters, the projections are dim for the Broncos in a loaded 5-5A Division I district. It has to content with Denton Ryan, Frisco Lone Star, Frisco Independence, The Colony, Frisco Reedy and Frisco Wakeland.
PREVIEWING THE GAME
It's hard to gauge this game. Both offenses struggled mightily in their first week of action, which could most likely be attributed to the lack of prep time due to the coronavirus.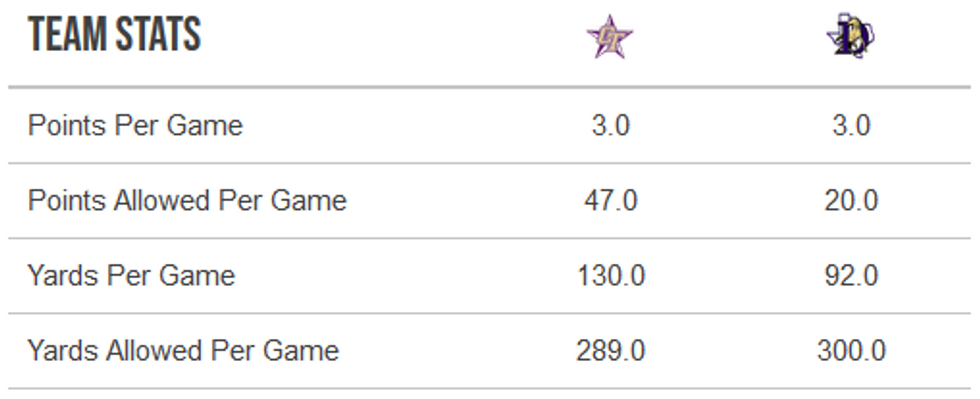 By all measures, Chisholm Trail performed a bit better than Denton despite only getting just as many points as Denton.
For this game, I think having a few more returning starters than Chisholm Trail will help Denton out a bit more. With it being the home opener for Denton could also provide a bit of a boost, just enough to eek out a low-scoring game.
PREDICTION: Denton 20, Chisholm Trail 14
Here is the complete Week 6 picks conducted through the Fort Worth Star-Telegram
Denton Ryan over Denton Guyer
Euless Trinity over Prosper
Arlington Bowie over Mansfield
Northwest Eaton over Mansfield Legacy
FW Nolan Catholics over Midland Catholic
Southlake Carroll over Rockwall-Heath
Denton Braswell over Keller
Cedar Hill over Arlington

Season Predictions: 43-8 (84.31%)
Week 5: 10-2
Week 4: 6-2
Week 3: 10-0
Week 2: 9-2
Week: 8-2