Megan Herzog
Hello! I'm Megan Herzog, a new VYPE U Ambassador for this school year. I am 17 years old and I'm currently a senior at Oak Ridge High School. Some of my hobbies consist of hanging out with my friends (weekdays and weekends), eating my favorite food queso, and loving on all my pets at home. It is literally an at home zoo. I have an Austrailian Cattle dog, and her name is Maxine. I have two cats, and their names are Mo and Jo. Lastly, my beautiful guinea pig and his name is Ron. I will be attending Sam Houston State University Fall of 2020 and I'm majoring in Mass Communications. Yearbook, Photography, and Journalism are my true passions and my dream one day is to own my own magazine company. As for the VYPE U program, I'm so excited to learn new skills and get out of my comfort zone.. I wanted this chance to get the experience and to hopefully help me for my resumes and job findings in the future. I'm so very grateful for this opportunity and can't wait for what is to come on my path to college.
The coach, team, family and friends supporting Oak Ridge all thought they had a high chance of taking home the victory. The Woodlands brought a powerful fight to the waterpolo game on Wednesday that Oak Ridge didn't see coming.
Oak Ridge was playing strong at the beginning of the game, but the Woodlands rose to the top and won with a final score of 10-8.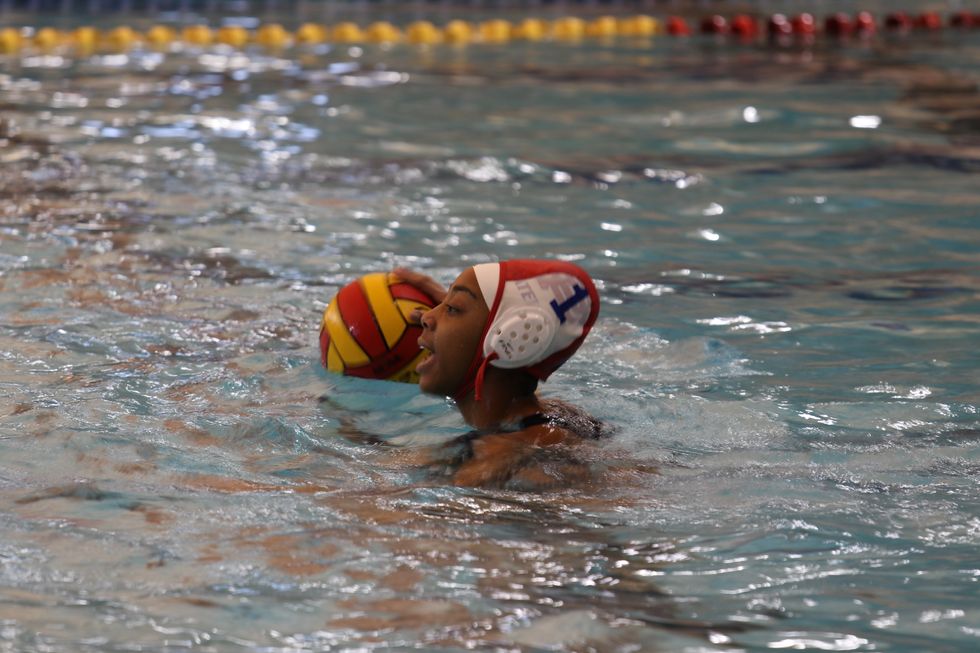 I was able to talk to the goalie herself, Rebecca Jefferson, to learn more about the Oak Ridge waterpolo team.
"As a goalie, I'm the prime communicator for my team in order to help them," Jefferson said.
Jefferson was also a part of the swim team at Oak Ridge.
"Waterpolo is different from swim because it is more of a team sport and you have to work together to succeed," she said.
The team has a whole routine before every game that Rebecca shared with me.
"Before every game we do a warm-up as a team and then we do a cheer to get everyone hyped up," Jefferson said, "We then have a prayer, and finish our pregame ritual with a pep talk from our coach."
The girls have until March 18th to prepare for the game against Tomball.
"To better ourselves for the next game we have to practice harder by doing more sprints during conditioning, taking shots in higher corners and we're really working on not being nervous when we are in possession of the ball," Jefferson said.
I was able to attend a local high school varsity golf tournament this week where Oak Ridge's Carson Cooper placed 1st.
The tournament was played in a span of two days including a final playoff consisting of five holes. I caught up with the champion himself to gather what it felt like to win.
"My thoughts were full of relief and thankfulness to God," Cooper said. "When the ball went in, I was just happy that it was over and excited that I won."
Cooper dominated the course with a 4-under par round of 68 to tie for 1st at a total of 142, then birdied the 5th playoff hole to defeat Klein Cain's Matthew Spaulding for victory. "Matthew is a great kid and a really good player, his whole team was there following him and cheering him on, so to sink that birdie seemed like I had just beat the entire world," Cooper said with gratitude.

Cooper's preparation required encouragement from fellow teammates and patience during practice. "I knew that I would have to work hard to have a chance of winning and that's what I did," exclaimed Cooper, "Luckily I have some great teammates and parents who push me to be the best I can and that helps a lot!"
The Oak Ridge golf team consists of many great players who work really hard all year in order to perform at their best. The coach himself was grateful and proud of Carson and the whole team for how well they did.
As for myself, I'm glad I was able to experience everyone's support for Cooper when he won. I was also able to capture some of the other teammates great playing pictured below.