JACE LAVIOLETTE HAS HAD A MAJOR TRANSFORMATION OVER THE PAST YEAR, WHICH HAS PUT HIM AT THE CENTER OF COLLEGE RECRUITING AND BEING A FUTURE MAJOR LEAGUE BASEBALL PROSPECT.
The 6-foot-6 lefty/lefty at Tompkins made the most of his time during the quarantine. The once-four tool star is now a five-tool athlete.
The junior can hit for power and average; he has a big arm and can field his position at first base or in the outfield.
Now he can run.
"A year ago, I was all about power," he laughed. "I was about 270 pounds and I've really worked myself into shape to 225 pounds. I was a big fat guy. I still have that power gap to gap, but now I can really run."
After his work is done at Tompkins, the name LaViolette will look good across his purple and gold jersey of the National Power LSU Tigers.
"It was an easy decision for me," he said. "I was born and grew up in Louisiana. It's always been my dream school and my dream became a reality. It all fell into place."
The "Big Smooth" played basketball until the ninth grade but saw his future was with the hardball.
"At that time, I had to pursue baseball full time," he said. "It takes coming out here every single day to put the work in. You have to work your butt off to get where I want to go. It's a 'no-days-off' thing. I'm just putting my foot down and ready to hit, no matter the velocity."
LaViolette has hit some jawdropping bombs at the high school level and for his showcase team 12 Baseball.
Outside of that, he's a country boy.
"I like to hunt, fish… anything outdoors," he said.
Which of course includes baseball.
CLICK HERE TO PURCHASE 2021 VYPE BASEBALL/SOFTBALL MAGAZINE
CLICK HERE TO PURCHASE 2021 VYPE BASEBALL/SOFTBALL PHOTOS
CLICK HERE TO VIEW FULL DIGITAL MAGAZINE
So, who has a legit shot at reaching Round Rock and the UIL State Tournament from Houston? VYPE breaks down the 2020 headliners with the best chance at bringing home the hardware.
The Woodlands, Tomball, Kingwood, Cypress Ranch and Cy-Fair have all won state before, while others have been close like Ridge Point last season.
Ridge Point Panthers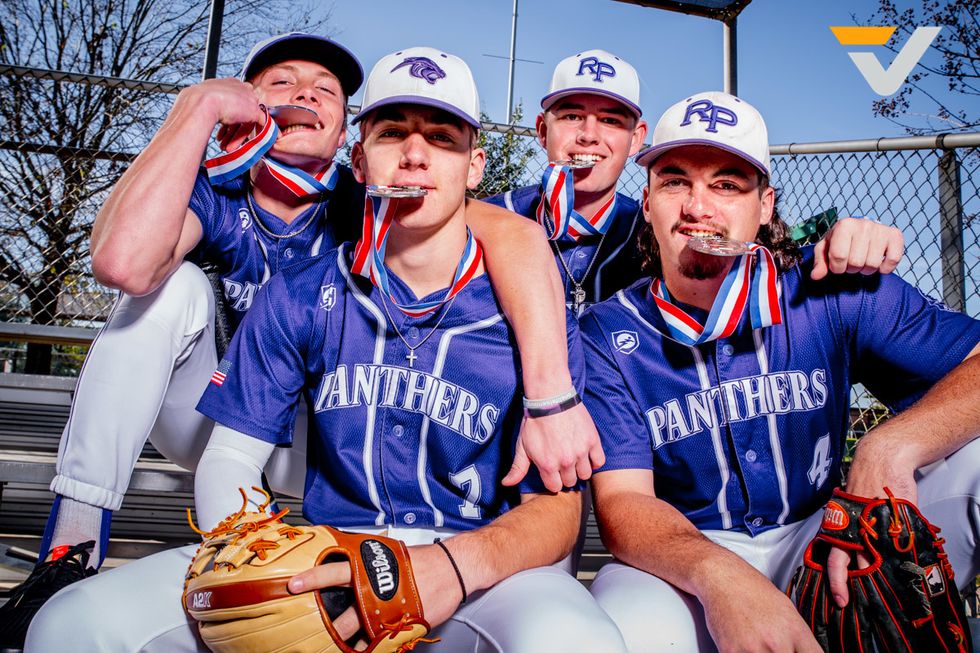 Ridge Point's Jack Baker, Justin Vossos, Will Pendergrass and Hayde Key
The Ridge Point Panthers made school history last season reaching the state championship game, before losing to Southlake Carroll in the finals. Coach Clinton Welch returns a squad loaded for another run. The 2019 district champs welcome back a ton of talent in 2020, who have high-level experience. Texas Tech-signee Hayde Key was the District MVP on the mound and at the plate. His battery-mate and first-teamer was catcher and QB Will Pendergrass (Houston). The catcher is the heartbeat of the team, providing tremendous leadership. Shortstop Justin Vossos (Texas A&M) is just a sophomore but locks up the middle with second-baseman Jack Baker (Trinity). Utility players Jacob Garcia and Preston Steszewski will also play a big role in Ridge Point's success. Fort Bend Travis lost a ton of talent, so District 20-6A should be a given, but the Panthers have higher expectations – a state ring.
Barbers Hill Eagles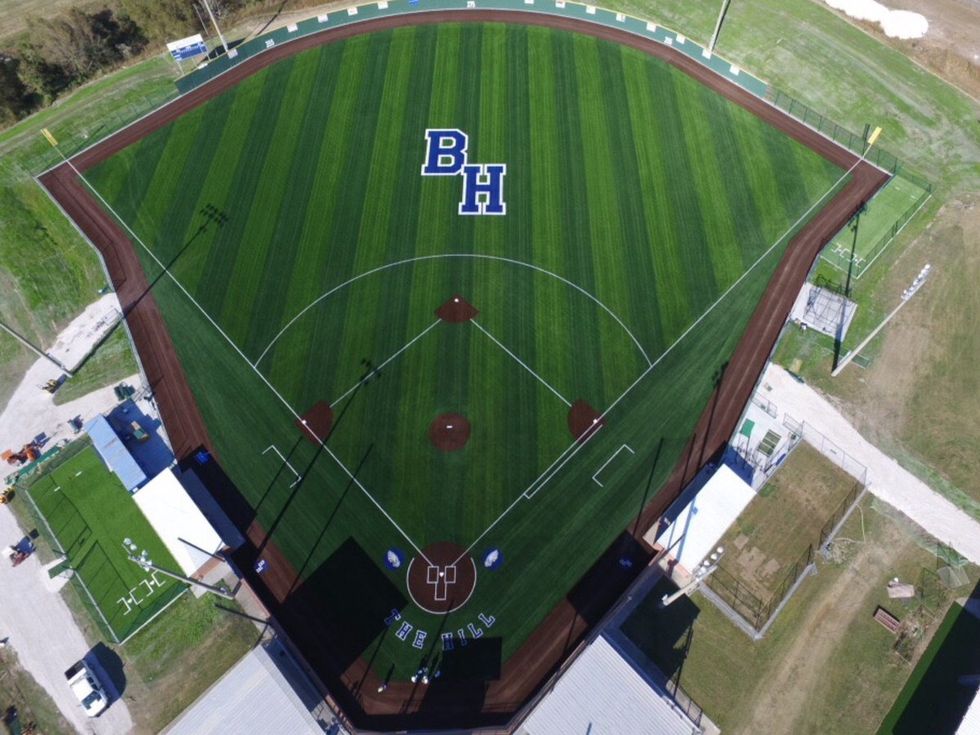 In coach David Denny's 22 seasons, the Barbers Hill Eagles have been to the Regional Semis eight times, but that has been the ceiling. Last year, the Eagles reached the Regional Quarters. With several returners back in the fold, Denny (422 wins) has a team with real state tournament aspirations, which would make school history. The bell cow is co-Offensive MVP Cameron Cauley, who can play anywhere in the infield. First-team battery-mates, pitcher Josh Herrera and catcher Greg Smith, will do some of the heavy-lifting during district play. Herrera is the ace on the mound. Cameron Hunt will also help on the mound, while Connor Dunham will patrol the outfield. Dayton, Nederland and Port Neches-Groves all made the postseason last year, so this district is competitive.
Memorial Mustangs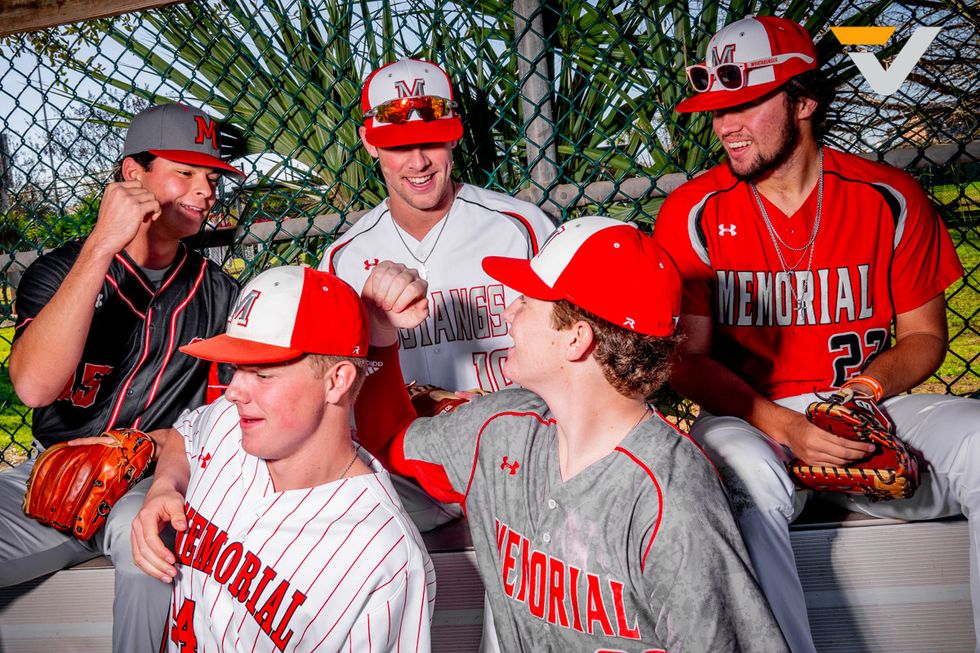 Memorial's Jack Riedel, Tom Vincent, Ben Dukes, Blake Rottino and Mason Flinn
Coach Jeremy York has been running a tight dugout the past 15 years as the captain of the Memorial Mustangs. The 'Stangs went 15-1 in district play in 2019 before falling in the Regional Quarters to the Lamar Texans. Memorial is looking to make school history by reaching state and they have the fire-power to make such a run. York's team is senior-heavy with lefty pitcher Thomas Vincent retuning as the District MVP. Vincent is headed to Texas A&M in the fall. First-teamer Blake Rottino will bolster the pitching rotation. Catcher Ben Dukes (Rice) was also a first-teamer a year ago and can roam the outfield. Shortstop Jack Riedel (North Carolina) is a smooth-fielding infielder with a solid bat, while first-baseman Mason Flinn will complement the lineup. The Mustangs are the favorites to win district with Cy-Fair challenging, but this is the year for York and Memorial to take that next step.
Kingwood Mustangs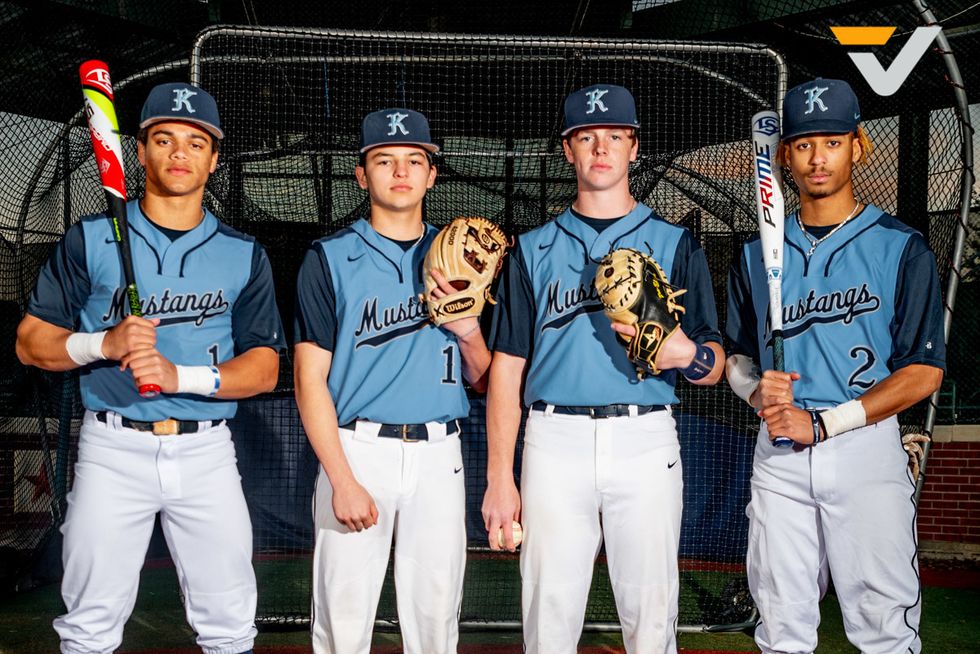 Kingwood's Masyn Winn, Julian Rodriguez, Justin Long and Nick Luckett
The Kingwood Mustangs were one step away from the state tournament last season, just falling to Ridge Point in the Regional Finals. So, what does coach Kelly Mead have in store for the 2020 campaign? A duo of studs returns to the stable. District MVP Masyn Winn (Arkansas) is the 'Stangs' ace sporting a low-90s fastball and filthy off-speed stuff. Winn is also a beast at the plate and will see playing time at shortstop. Catcher Justin Long was the Defensive Player of the Year and has signed with the University of Rochester. Nick Luckett (Southern) will also toe the rubber for coach Mead, while Julian Rodriguez will anchor the infield. Kingwood was dealt a blow, however, as District Offensive Player of the Year Tre Richardson was able to graduate early and enrolled at Baylor, where he will play this season. He had one of the city's best bats. Atascocita will challenge Kingwood in a pretty competitive district.
The Woodlands Highlanders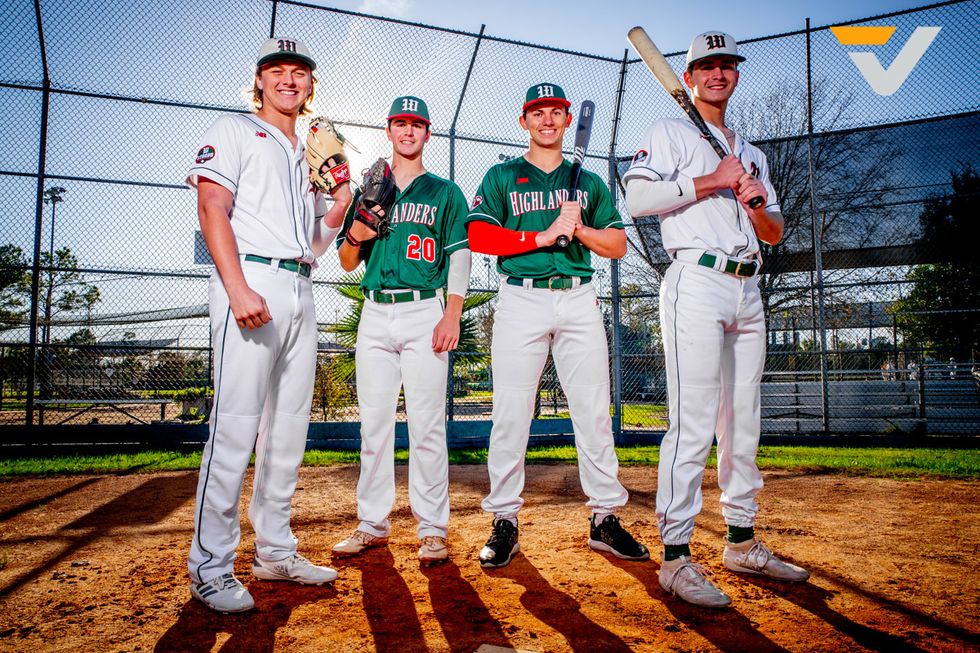 The Woodlands' Cody Howard, Cameron Caley, Drew Romo and Harrison Caley
One of the deans of Texas-area baseball, coach Ron Eastman has enjoyed state titles and MLB talent. This year is no different. Switch-hitting catcher Drew Romo is the most coveted high school baseball recruit and pro prospect in the State of Texas. The LSU-signee is the undisputed leader of the Highlanders on defense and at the plate. The Woodlands reached the Regional Semis a year ago and return several arms like Cody Howard (Baylor), Cameron Caley (Baylor) and Dylan Kerbow (Texas State). It will all come down to hitting. Eastman is going to have to protect Romo at the plate with the likes of Harrison Caley (Abilene Christian), Matthew Bulovas and Tyler Beard among others. Region II will be tough, but the Highlanders should dominate district. Oak Ridge and Klein Collins could put up a fight.
Cy-Fair Bobcats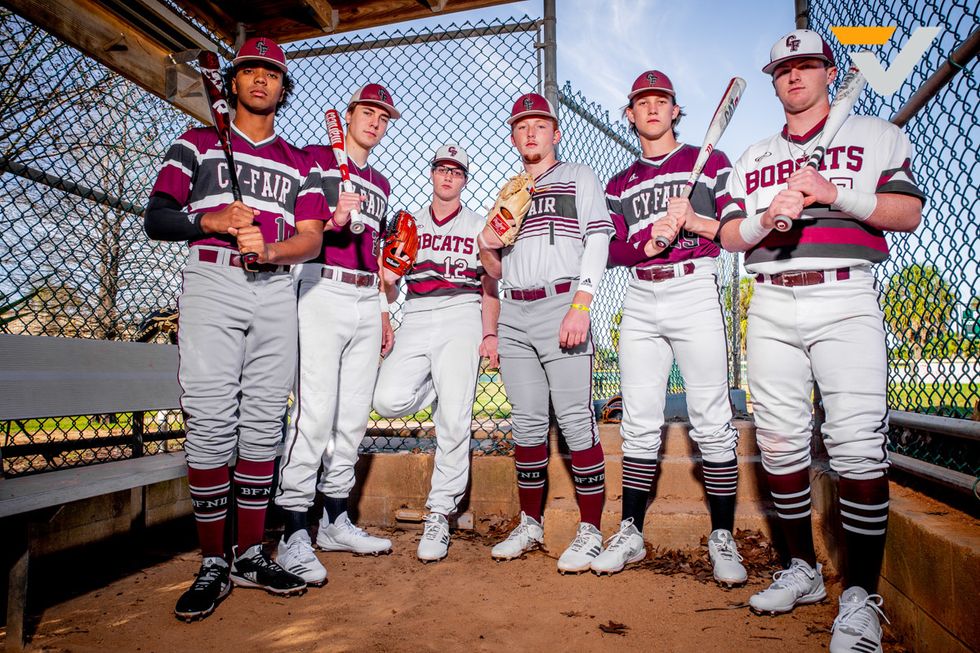 Cy-Fair's Mitchell Andrews, Tyler McClosky, Anthony Goss, Rhett McCaffety, Jacob Schoenvogel and Brandon Ellisor
Coaches love to have senior-heavy teams. Kids who have stuck with the program, provide leadership and want to go out on top. Cy-Fair reached the Regional Quarters, losing to state finalist Ridge Point in three games, last season. That left a bad taste in their mouths and the gritty 'Cats are looking for revenge. Ace Rhett McCafferty was the District Pitcher of the Year, going 10-2 a year ago. The Texas State-signee returns with a deeper bag of tricks. Big lefty Anthony Gross was a first-teamer and will assist on the mound with Mitchell Andrews and Ethan Clark. Brandon Ellisor can also toe the rubber or play in the infield. Tyler McClosky will be behind the plate while Alec Aranda will play first. Don't forget about Baylor-commit Jacob Schoenvogel, who comes back from an injury and will roam the outfield. Cy-Fair will challenge Memorial in district play, but the Bobcats will be most dangerous in the postseason with their arm depth.
Tompkins Falcons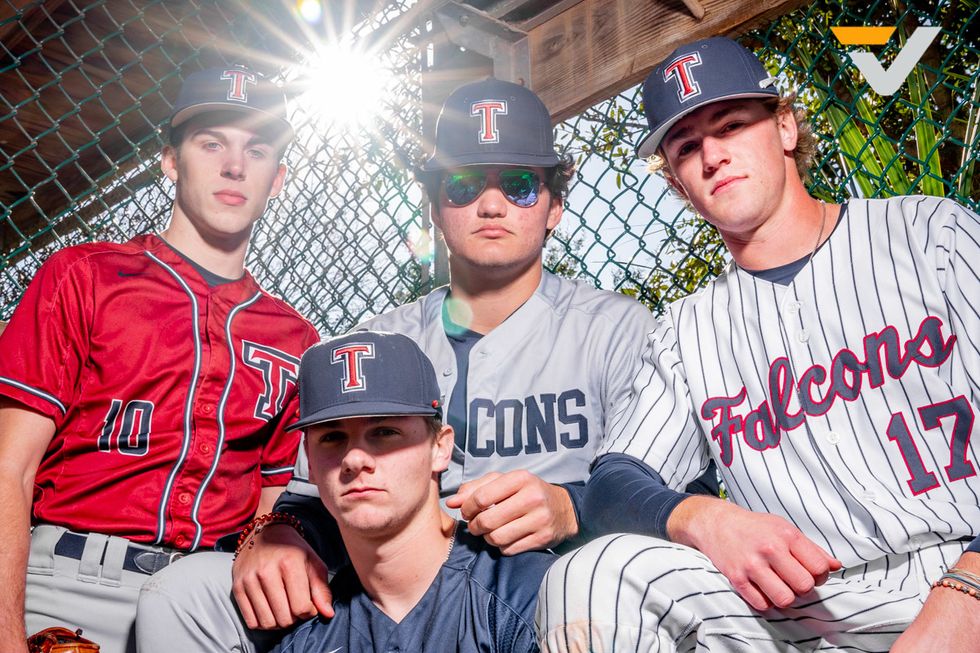 Tompkins' Pryce Powell, Jackson Brown, Jace Laviolette and Graiden West
The Tompkins Falcons' athletic program is on the "come up". The basketball team has reached the state finals; football has had an amazing turnaround; soccer is always strong and baseball is on the cusp. The Falcons lost in three games to Cy-Fair in the Area Round after earning a district title in 2019. Coach Kyle Humphreys has a full nest of big birds. Sophomore Jace Laviolette (LSU), shortstop Graiden West (Rice) and outfielders Pryce Powell and Jackson Brown were first-teamers in 2019. Senior second-teamer Zach Brewer is the ace and will get help from Deven McGrath and John Michael Nagle. Will Stark and Weston Valasek are the table-setters for Tompkins. The Falcons reached the Regional Quarters in 2018, the team's best-ever finish. If they get timely hitting, the Falcons could take flight to the Regional Finals and beyond.
Tomball Cougars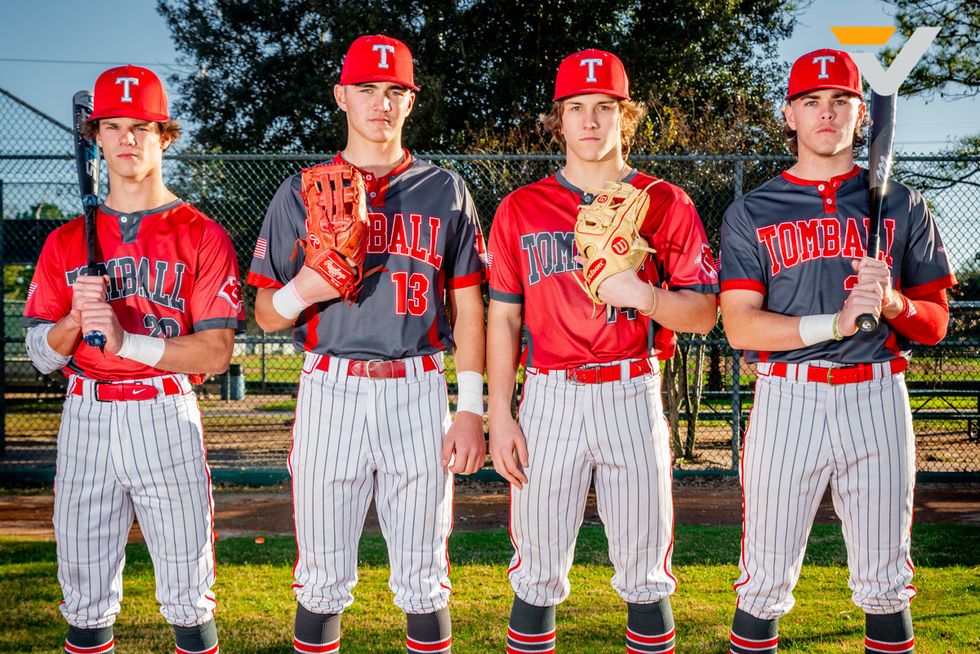 Tomball(Alphabetical Order) Mitchell Aitken, Jake Johnson, Mason Marriott and Casen Neumann
The Tomball Cougars went 16-0 in district play last season before running into a hot Magnolia West squad in the Regional Quarters. This will be Tomball's last season in Class 5A after moving up a class during realignment, so the Cougars have their sights set on going out on top like in 2013. Coach Doug Rush is one of the best in the business patrolling the dugout as a head coach for 25 years, and has built a power program up north. Back in the huddle is District Newcomer of the Year Mason Marriott, a Baylor-commit, who can pitch and play shortstop. Casen Neumann, also a Baylor-commit, will need to play big as a junior as the Cougars said goodbye to a large 2019 senior class. Senior outfielders Jake Johnson and Mitchell Aitken will need to take on larger leadership roles if the Cougars want to repeat as district champs. Kingwood Park and Porter will contend with them for the crown in 2020.