Angel Verdejo Jr. / Cy-Fair ISD Communications
Greg McCaig has led the Cypress Creek football program since 2002.
In his now 18th season at the helm, the veteran coach admits that Josh White is a special player. In fact, the best linebacker he's ever coached in his career, which has spanned 23 years.
"His character, work ethic, leadership, passion and enthusiasm for the game have set a standard that all other linebackers that play at Cy Creek will aim to match," McCaig said in a news release. "He's been nothing but a joy to coach."
The Touchdown Club of Houston agreed with McCaig on Wednesday night, naming White the 2019 Defensive Player of the Year at the annual awards ceremony.
White finished the year with 117 tackles and 5.5 sacks.
"This was a really big honor," White said. "It felt good knowing that my hard work was recognized. I couldn't have done any of this without my family and teammates."
The LSU-commit becomes the fourth Cypress Creek player to win a Touchdown Club of Houston Award. He joins past Defensive Player of the Year winners Sam Adams (1990) and Josh Williams (1994), and former Offensive Player of the Year recipient Ricky Vestal (1986).
White helped lead the Cougars to back-to-back Regional Finals.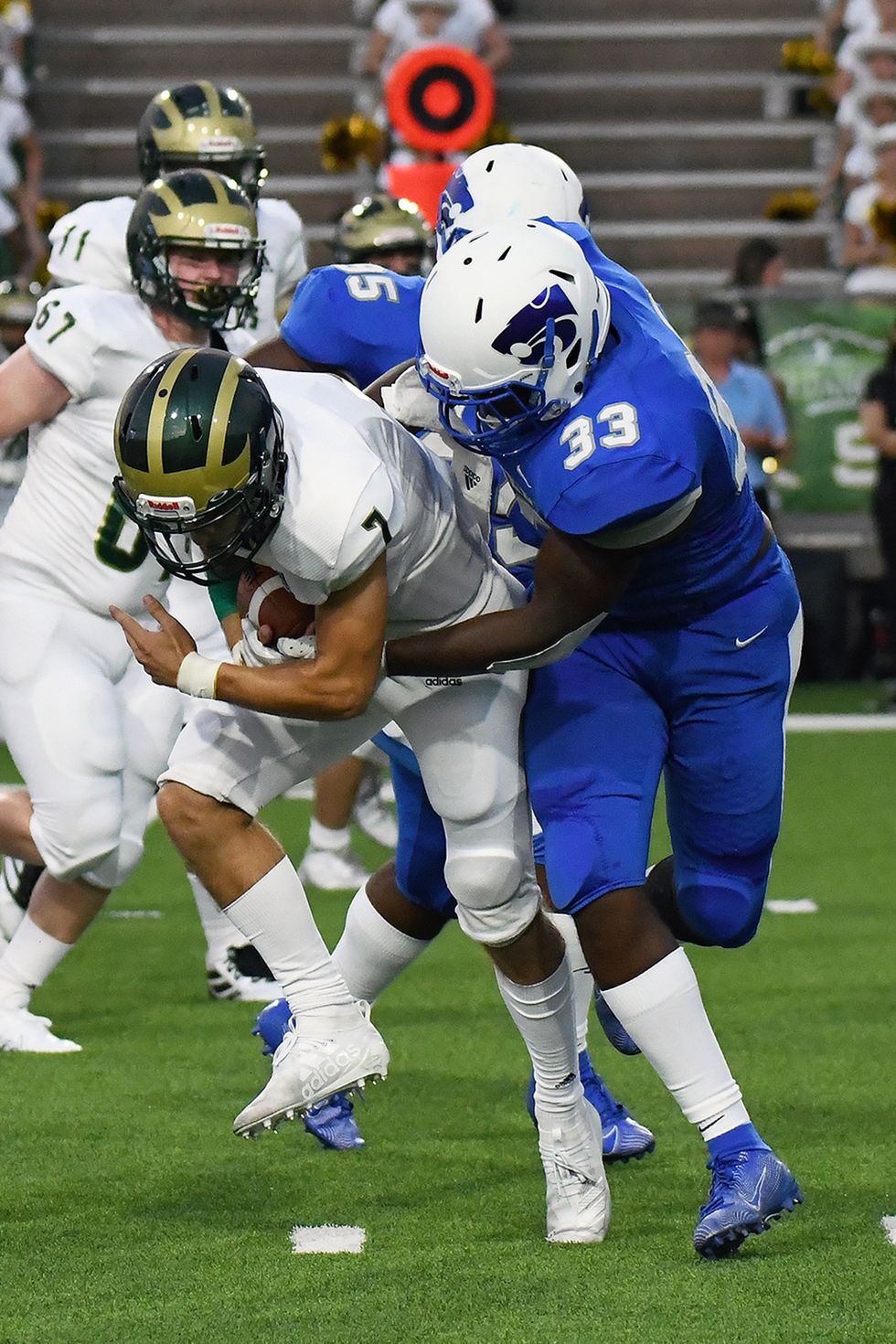 Photo by Angel Verdejo Jr. / Cy-Fair ISD Communications
T-Mobile at Jones & Cypress North Houston RdJones & Cypress North Houston Rd provides the highest quality in customer service in town. The store at 12113 Jones Rd in Houston has a full range of the current mobile handsets, including the latest iPhone and Samsung devices, as well as a full range of tablets, watches and accessories. Our store has knowledgeable Mobile Experts to help you find the right plan & device that fit your lifestyle and budget. So if you are looking for a change or looking for a new device to help you live a better life, come to T-Mobile on Jones & Cypress North Houston Rd, and let us help you choose.

HOUSTON – This weekend will determine a lot.

Can Fort Bend Ridge Point punch its ticket to a second-straight UIL Volleyball State Tournament? Can Pearland Dawson get to its second-straight regional final and first ever state tournament?
There are so many questions to be answered. Let's breakdown what the Region II tournament looks like and who could come out of it in Huntsville.
…
Klein and The Woodlands are on a potential collision course in Huntsville. The two Houston-area powers with wins on Friday would play for a spot at state on Saturday.
But first, they must win.
Klein has now made it to the Regional Semifinals for a third-straight season but the Bearkats are still looking for their first Regional Finals appearance since 2002. Led by Kate Zora, Klein has gone 40-6 this year after going 14-2 in district play. The Bearkats are led by Annie Antar's 491 kills and 620 assists, while Clemson-commit Devan Taylor has chipped in 273. Gaby Mansfield has chipped in 734 digs, while Camy Kling has a team-leading 774 assists.
As the bracket goes, Klein would have to take down Prosper, which won the Class 5A State Championship in 2017.
Prosper, just like Klein is loaded with a solid junior class. The group is led by Sami Jacobs, who has a team-leading 330 kills and 387 digs and is followed by Bailey Birmingham with 226 kills. Nikki Steinheiser leads the team in digs with 387 and Mackenzie Jefferson leads the team with 797 assists.
Prosper is favored in this match just since they have been there and done that along with the experience of head coach Erin Kauffman.
But it is time for Klein to get over the hump. With the combination of Antar and Taylor at the net, Klein has the players to make it to a regional final for the first time in 17 years.
VYPE Prediction: Klein 3, Prosper 1
The Woodlands is waiting on the other side of the bracket with a chance for redemption.
Last season, the Highlanders streak of Regional Finals appearances ended at five-straight years with a 3-1 loss to Plano West. Now, with a rematch set, you know The Woodlands is ready.
LSU-commit Dylan Maberry leads the group with an unbelievable 708 kills, while freshman Julieta Valdes has 314 kills to follow behind. Georgia-commit Clara Brower leads the team with 1,516 assists and is coming off the 3-2 win over Vandergrift, where she had a season-high 60. Allie Griffith leads the team with 731 digs.
The Woodlands is ultra-talented this year and with the emergence of Valdes on the outside to go with Maberry, that is a deadly combination.
Plano West has turned in another good season, reaching the Regional Semifinals in back to back years for the first time since 2007-2008. The Wolves will try and upset The Woodlands for its second-straight trip to the Regional Finals. Last season, Plano West reached the state semifinals.
Jill Pressly leads the team with 493 kills and 345 digs, followed by Iman Ndiaye's 369 and Noelle Piatas' 326. That trio was on the floor for Plano West a year ago and knows what it takes to get to state. Morgan Carter, just a junior, leads the team with 354 digs and Ashley Le leads the group in assists with 693 followed by Sydney Yap's 528.
The Woodlands is not about to go in there and lose in the Regional Semifinals for a second-straight year.
VYPE Prediction: The Woodlands 3, Plano West 2
If our predictions come true, it would be an all-Houston Regional Final on Saturday at 1 p.m. in Huntsville, so who would go to state?
It would be the third time The Woodlands and Klein have met this season. Klein handed The Woodlands a 3-0 loss early in the year and then the Highlanders returned the favor with a 3-1 victory later. So much college talent would be on the floor at once in this one but who wins?
The Woodlands in a nail-biting, instant classic.
VYPE Prediction: The Woodlands 3, Klein 2