State Semifinals DFW #TXHSFB Preview: Part 1
Dec 12, 2019
It's the penultimate week of the Texas high school football season. TAPPS wrapped up last week - SPC many weeks ago - and we've burned through 14 weeks of UIL play.
This week is the State Semifinals as 40 teams between 6A and 2A are vying to punch their ticket to AT&T Stadium next week.
In this space, we're going to do things a little differently. Instead of dropping each game preview at once and separate all the other predictions into post, we're going to go by each day. So to lead off, we'll do Thursday's game preview along with predicting the other Thursday games - or game - involving DFW-area teams.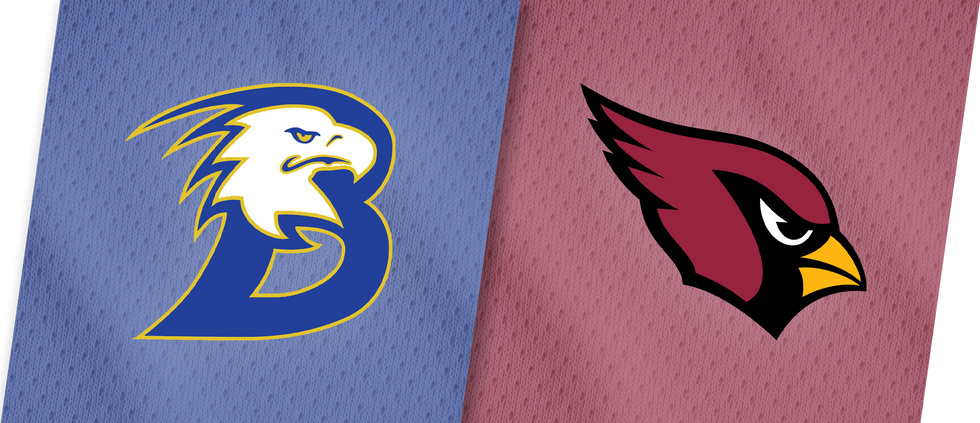 Game Details
Time: 7:30 p.m.

Day: Thursday, December 12
Location: Ford Center at The Star (Frisco, Texas)
Previous meetings: No previous meeting
Matchup notes: 3A Division I State Semifinal

Previewing Brock (12-2)
Brock avenged an early-season, district-opening loss with a win last week over Pilot Point. Brock is making its third straight semifinals appearance, having advanced to state in 2017 and losing to Malakoff last year at the Ford Center.
There is not a lot of cumulative stats for Brock on the year, but what can be found seems to point to Brock relying more heavily on the run game with Myles Semas and Tyler Riddle.
For Brock, though, the team leans on its defense, which has held teams to 7 points or less seven times this year including a shutout to open the playoffs against Clyde.
In four games, twice against Pilot Point, the defense has surrendered 20 more points going 3-1 where the offense averaged 30.4 points in those games.
Here is how Brock breaks down throughout the year.
| | | |
| --- | --- | --- |
| TEAM STATS | BROCK | OPPONENTS |
| Overall Season | 30.6 | 11.4 |
| Pre-District | 18.8 | 11.3 |
| District | 37.3 | 10.5 |
| Playoffs | 32.5 | 13.0 |
One striking trend for Brock's defense has been the increase in points allowed. In the first nine games, Brock had allowed just 86 points. In its previous four of its last five games, it has given up 74 points. If you take out the Clyde game, Brock has allowed 18.5 points per game, which is more than twice the average it gave up in the first nine game of the year.
Brock outscored teams 429-169 and has gone 7-2 against teams with winning records and 8-2 against playoff-bound teams.

Previewing Pottsboro (14-0)
Pottsboro is making its second-ever state semifinals appearance, having lost the only other appearance back in 2008 to Cisco. It enters having just slipped by Gladewater last week 35-34 and taking down Malakoff 38-31 the week prior.
In fact, prior to the Area Round game against Sabine, Pottsboro had been winning by an average score of 48.1 to 13.7 with the closest game being the 48-27 win over Van Alstyne in the second district game.
Pottsboro enters the game averaging 428.6 yards of offense on the year (an even 6,000) with 60 percent of the that coming on the ground game. Senior Cy Shope is the engine that drives that offensive train, rushing for nearly 2,000 yards this year and is accompanied by junior quarterback Braden Plyler, who has passed for more than 2,200 yards.
The name of the game for Pottsboro is points. Only once has Pottsboro scored less than 35 points this year (a 27-14 win over Gunter in Week 2), and it has crossed the 60-point threshold four times this year.
| | | |
| --- | --- | --- |
| TEAM STATS | POTTSBORO | OPPONENTS |
| Overall Season | 46.4 | 17.9 |
| Pre-District | 41.5 | 15.5 |
| District | 50.0 | 14.8 |
| Playoffs | 45.8 | 25.0 |
Pottsboro has outscored teams 649 to 251 this year and its 7-0 against teams that have winning records and 10-0 against playoff-bound teams.

Previewing the Game
Most prognosticators seem to be picking Brock in this one in some of the slimmest of margins. TexasFootball.com has Brock favored by 3. Calpreps shows Brock favored by 2 and Massey Ratings by 3.
The key matchup is going to be how well does Brock's defense match up against Pottsboro's offense, or vice versa. Can Pottsboro offense do enough against Brock's defense.
If recent trends are any indication, Pottsboro's offense might just be able to do just that. Pottsboro has shown it can win easily with points galore and, more recently, it has shown it can win close ballgames with just enough offense and timely defense.
Not to take anything away from Brock, but the defense has given up nearly have of its season points in four of its last five games, which now how coaches want their defense to be trending come playoff time.
I think this game might start off a bit slow as the teams try to figure each other out, but being playing on a domed field with no outside influences - cold, wind, rain, etc. - it could easily turn into a track meet around the late first quarter/early second quarter.
Prediction: Pottsboro 37, Brock 30
Follow @iamspeters for live updates of this game.