ARLINGTON - After getting so close in 2019, Denton Ryan laid waste to every opponent in 2020 and climb the mountain to claim its third state championship and first since 2002 with a 59-14 win over Cedar Park.
Seth Henigan was effective with the ball, connecting for four touchdown passes, and the defense forced four turnovers to completely shut down the Cedar Park offense.
Ryan jumped out to a 10-0 lead then Cedar Park followed up with a touchdown and two-point conversion to make it 10-8. Then Ryan went on a tear, ripping off 35 straight points on the way to another easy win.
Henigan took home the offensive MVP award with his 264 yards and four scores. And the bomb below to Billy Bowman, Jr. epitomize the ease at which Ryan was able to find the endzone during that 35-0 run.
Ty Marsh set the tone defensively all game long to take home the defensive MVP. His effort permeated across the team, highlighted below. And when Cedar Hill needed the points the most, Ryan wasn't having it. On the opening drive of the second half, Ryan forced a fumble and scooped up the loose ball for a touchdown.

And now for Ryan, the drought is over. After back-to-back state titles in 2001 and 2002, Ryan claims its first in 18 years. And really, it wasn't ever close much of the season.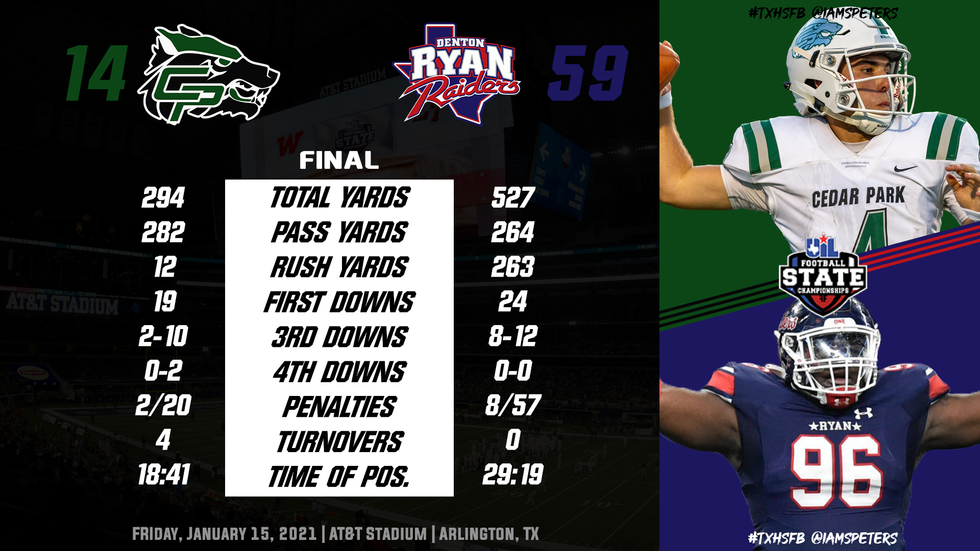 Some how, some way, the royal "we" found a way to get through this hectic, unprecedented season. There was always concern lurking in the background that the season would be further delayed or wouldn't even finish.
But here we are. The final week of a 21-week season with the final four games here.
Like the Wednesday's 5A DII preview and 5A DI preview, we're going to change up the preview style. Instead of previewing both teams, we'll take the local angle and dig deep into the DFW teams. First up is Cedar Hill, which meets Katy for the fourth time since 2012.
<p>Outside of an overtime thriller against Rockwall-Heath in the Regional Finals, Cedar Hill has somewhat flown under the radar this season. After an incredible loss in the playoffs last year to Denton Guyer, it was tough to really qualify what type team Cedar Hill was entering the 2020 season.</p><p>And on the back of its star quarterback Kaidon Salter, Cedar Hill back near the top of the mountain.<br></p><h4>HOW CEDAR HILL GOT HERE</h4><p>Again, it's hard to sell the point that a 12-1 team is under the radar, but coming out of a district with Duncanville and DeSoto, that's sort of what happened. Quietly and efficiently, Cedar Hill marched through its schedule with its only blemish against Duncanville. In the playoffs, Cedar Hill outscored its first two opponents 72-0 and then continued its strong defensive efforts over the next three rounds, especially holding down a potent offense in Rockwall-Heath.</p><p><ins class="adsbygoogle" style="display:block" data-ad-client="ca-pub-9787720712654893" data-ad-slot="8738871937" data-ad-format="auto" data-full-width-responsive="true"></ins> <script> (adsbygoogle = window.adsbygoogle || []).push({}); </script></p><p>But the success of the team starts and stops with Salter. As he goes, so goes Cedar Hill. Case in point in last year's loss to Denton Guyer. Guyer kept the ball out of his hands and the team collapsed. It got revenge last week with its suffocating defense and Salter's ability to extend plays or break of big runs.<br></p><h4>HOW CEDAR HILL WILL WIN</h4><p>Keeping Kaidon Salter clean.</p><p>Cedar Hill has a tough task in going up against Katy's defense, and making sure Salter has a clean pocket and the run blocking scheme is buttoned up are the biggest priorities. Salter, because of his athletic ability, will make plays, but he will need his support cast to make those key plays as well to lessen the burden.<br></p><h4>HOW CEDAR HILL LOSES</h4><p>Getting Katy off the field.</p><p>Katy raced out to a 42-0 lead at halftime last week and did it with a efficient run game and dominant defense. If Cedar Hill cannot keep Katy's offense from marching up and down the field, it'll be a long day. Again, if Katy does what Guyer did last year and keep Salter off the field, Cedar Hill will find it difficult to win.<br></p><p><ins class="adsbygoogle" style="display:block" data-ad-client="ca-pub-9787720712654893" data-ad-slot="8738871937" data-ad-format="auto" data-full-width-responsive="true"></ins> <script> (adsbygoogle = window.adsbygoogle || []).push({}); </script></p><h4>PREDICTION</h4><p>Katy is historically known as a ground and pound team and is back to its truest form this year. The combo platter of a strong rung game and equally strong defense will limit Cedar Hill just enough, which isn't know for its high octane, high-scoring offense.</p><p>Katy wins 31-20</p><p><strong>KICKOFF:</strong> 1 p.m. Saturday @ AT&amp;T Stadium (Arlington)<br><strong>LINE:</strong> Katy favored by 10<br><strong>FOLLOW:</strong> <a href="http://www.twitter.com/iamspeters" rel="noopener noreferrer" target="_blank">@iamspeters</a>, <a href="https://twitter.com/tommy_yarrish" rel="noopener noreferrer" target="_blank">@tommy_yarrish</a>, <a href="http://www.twitter.com/vypedfw" rel="noopener noreferrer" target="_blank">@VYPEDFW</a> and <a rel="noopener noreferrer" target="_blank">@vypehouston</a><a href="http://www.twitter.com/VypeATx" rel="noopener noreferrer" target="_blank"> </a>for various, live updates<br><strong>LISTEN:</strong> <a href="https://www.texanlive.com/2021/01/katy-13-1-vs-cedar-hill-12-1-1-16-2021-1pm-football-att-stadium-state-finals-playoffs-audio-only-broadcast/" rel="noopener noreferrer" target="_blank">Texan Live</a><br><strong>WATCH:</strong> Fox Sports Southwest and<a href="https://www.youtube.com/channel/UCRG0W0Drq75lntGXtARZ66g" rel="noopener noreferrer" target="_blank"> VYPE UIL State Watch Along on YouTube</a><br></p>