Byars runs wild again as state-ranked Lake Creek stays undefeated
Sep 23, 2022
VYPE Media
ROSENBERG—There are two primary catalysts for state-ranked Lake Creek's 5-0 start this season.

One is senior leadership. Quarterback Cade Tessier, linebackers Chase Brown and Grant Balke, and receiver Kolbey Wisnieske are as influential in the locker room as they are on the field. Coach Pat Kennedy likes to talk about "the standard being the standard." Tessier, Brown, Balke and Wisnieske, among other veterans, are seeing to it.
The other key ingredient is sophomore Tyvonn Byars, who is rapidly emerging as one of the top running backs to keep an eye on in the Class of 2025.
The 5-foot-10, 200-pounder rushed for 126 yards and four touchdowns on 12 carries in Lake Creek's 47-7 win over Randle on Thursday evening to open District 10-5A, Division II play at Traylor Stadium. It was Byars' third game this season with four touchdowns as he helped the Lions tie last season's win total.
\u201c.@TyvonnByars with his third 4-TD game this season. Gets it on this 23-yard run. @LakeCreekFBall up 38-0, 7:00, 3Q. #txhsfb @LakeCreekHS\u201d

— Dennis Silva II (@Dennis Silva II) 1663897477
"I'm playing to the fullest I can," Byars said. "Showing everybody what I can do. My line has been doing really well. I just watch how they block and see where the holes are. I think I'm doing pretty decent."
That would be a pretty decent understatement.
So far, Byars has 814 yards and 15 touchdowns on 82 carries through five games, averaging 9.9 yards per carry and a touchdown every 5.5 carries. Against Randle, he scored on touchdown runs of 3, 7, 44 and 23 yards.
Three of those touchdowns came in the first half as Lake Creek led 31-0 at the break.
"Tyvonn is Tyvonn," Kennedy said. "We expect him to rush for 200 yards a game. If he has to tote it 35 times, we're going to do it. He's the fastest kid we've got and the strongest kid we've got. We're going to give him the ball."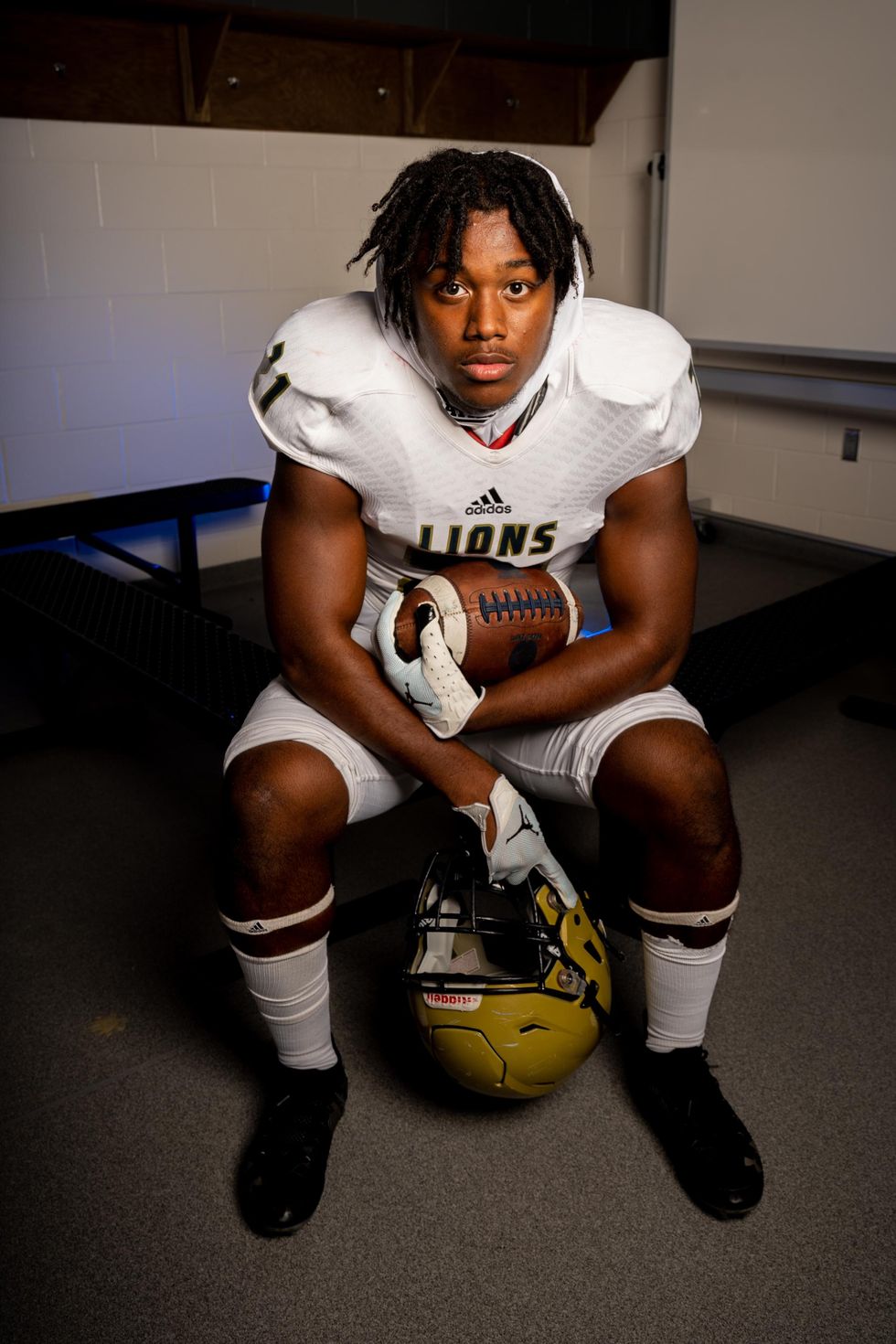 Lake Creek sophomore running back Tyvonn Byars.VYPE Media
And he's anything but a one-dimensional back. Byars has seven catches for 74 yards and two touchdowns.
"I can do a little bit of everything," he said, grinning. "I'm kind of like (New York Giants star) Saquon Barkley."
Byars has been a giant for the Lions.
He was pulled up to the varsity from the freshman team late last season and showed considerable potential with five touchdowns on 22 carries in three games.
Byars worked on speed, strength and quickness during the offseason, hungry to prove himself. He worked on his durability and spent a lot of time in the weight room, adamant on being as strong on his 25th carry in a game as he is his first.
Last year, Lake Creek went 5-5 (1-5 in district play) and scored 22 rushing touchdowns. Halfway through this season, it already has 26. Byars has also been key to the passing game, helping open things for Tressier, who has completed 69.6 percent of his passes for 829 yards and nine touchdowns and rushed for 414 yards and five touchdowns.
\u201c.@LakeCreekFBall strikes again. @CadeTessier17 46-yard bomb to Sam Lee. 14-0 Lake Creek, 1:10, 1Q. #txhsfb @LakeCreekHS\u201d

— Dennis Silva II (@Dennis Silva II) 1663893066
"The quarterback and running back are special," Kennedy said. "As long as they stay healthy, we're good to go."
Against Randle, Lake Creek scored on six of its first seven possessions and punted just three times in 10 drives. It totaled 364 yards on 54 plays, an average of 6.7 yards per play.
The Lions have scored at least 42 points in every game this season.
"Every time we touch the ball, we're trying to score," Kennedy said. "If we don't score, then we haven't done a really good job. That's where it is. That's the standard."
Lake Creek, seeking its second playoff appearance in its fifth year of varsity play, is outscoring opponents 271-101, an average of 34 points per game.
"It's starting to come together," Kennedy said, "and hopefully we can keep it going."
True