Photo from Fields' Twitter Handle: @ElijahF2023
North Shore is on the cusp of returning to the UIL 6A State Championship for the fourth time in the last six years. The team that stands in their path is another perennial contender, Austin Westlake, who they are set to face off against in the State Semifinals.
The Mustangs' defense has been relentless, throughout the postseason. Most recently, they held the explosive Atascocita to 7 points, last Friday, which allowed their offense to seal the victory.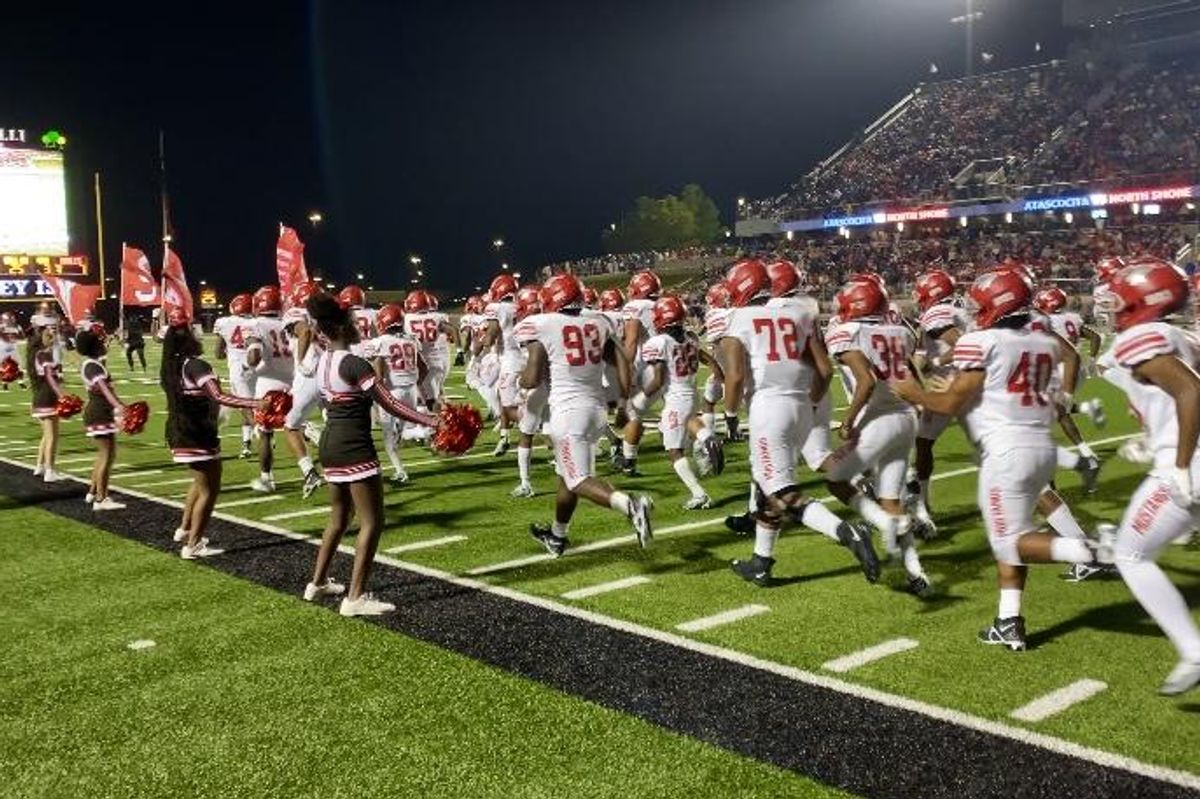 The Mustangs run onto Randall Reed Stadium prior to their Regional Championship victory, against AtascocitaMatthew Ogle (Vype)
One of the heroes on this stacked North Shore roster, DE Elijah "The Hulk" Fields, has established himself as a force to be reckoned with, on their tenacious defense.
"I got that nickname ["The Hulk"] when I was younger," said Fields. "I've been dominating since little league and that title has just kind of stuck with me."
Fields transferred from Spring High to North Shore, last year. His performance has only escalated since then, earning First-Team All-District honors, this season, which he attributed to the culture of the football program.
"[Compared to Spring] the culture here [North Shore] has been a nice change," Fields said. "Everyone wants it more, and there's more leadership. I've seen everybody has just bought in and we've become a brotherhood. Spring just got new coaches so they're still in the rebuilding process, whereas, in North Shore, everything is set and, really, it's all on the players."
The majority of current high school football players began their playing careers during their youth when they were inspired to compete through their adolescent years.
Fields is no exception, as his passion for the game was sparked by his uncle, Ramonce Taylor, who played running back for the University of Texas from 2004 to 2006 and, later, played in the Canadian Football League, as well as the U.S. Indoor Football League.
"My uncle [inspired me to play football]," said Fields. "He played for Texas, so he knew what it took it takes to play at the next level. He [Taylor] instilled that dedication and competitiveness in me. I need to have that 'dawg' in me always."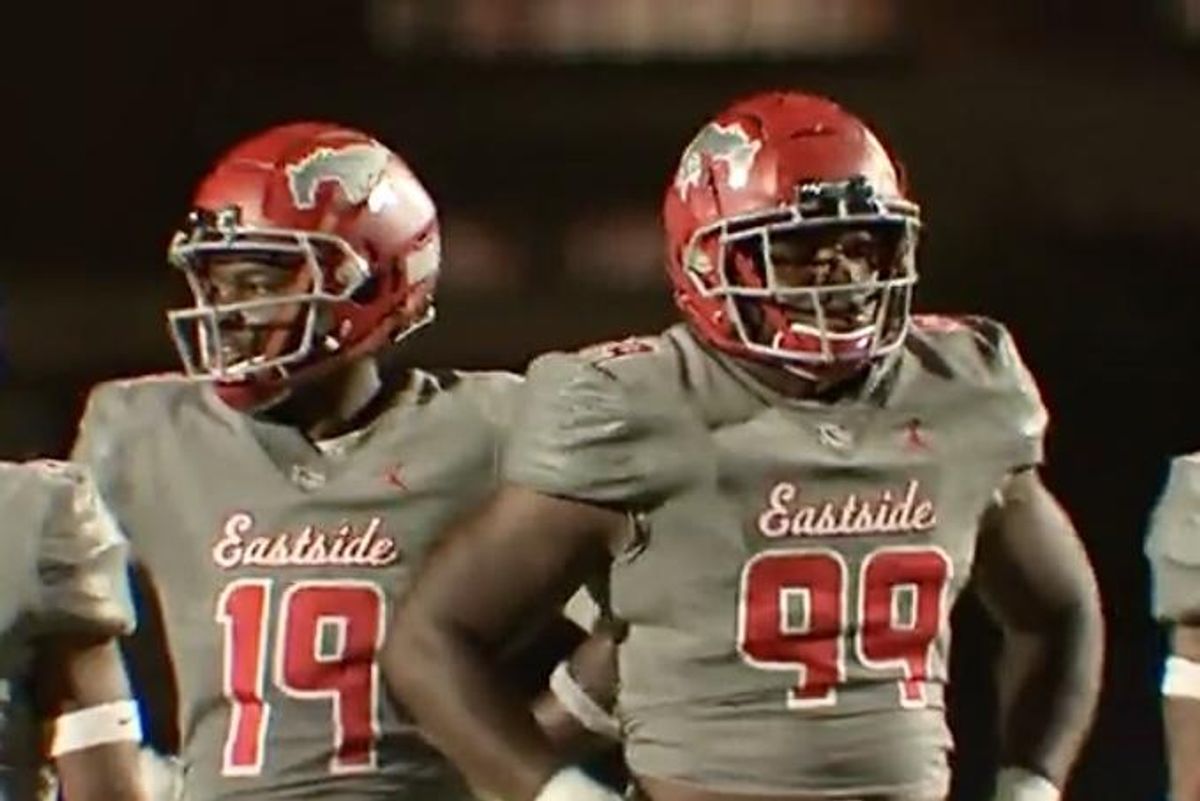 With all the accolades "The Hulk" has racked up, he's obtained offers from several universities to continue playing ball at the collegiate level, including Mary-Hardin Baylor, Midwestern State, Northern Iowa, and more.
However, Fields and the Mustangs, currently, have one goal in mind: Add another State Title to the North Shore legacy. They will be one win away from doing so if they can advance past Saturday's matchup, against a fellow undefeated heavyweight, Austin Westlake, at Rice Stadium at 3 p.m.
"We just gotta keep going like we have been doing, each week," Fields said. "Day in and day out, we're focused on the next opponent in front of us. Getting a ring would be crazy, but it's just this game that we are worried about since we will be facing a team that wants it just as badly as we do."
By Justin Hartojo
The nation's eyes will be on Willis, Texas (pop. 8,700) tomorrow as 5-Star QB DJ Lagway, Jr., will make his college decision live on ESPN in front of family, friends, teammates, coaches and his community.
"It's amazing, just being able to do this in front of everybody I've grown up with," he said. "I wouldn't be where I'm at today without them, they've been with me through the ups and downs. I'm excited to able to share this moment with them."
Pushing up his commitment date was a big move, and had his Top 10 favorites making a push to get a commitment from the 2024 QB as the center piece for next year's class. His Top 10 includes Arkansas, Alabama, Baylor, Clemson, Florida, LSU, Georgia, Oklahoma, Texas A&M and USC.
He did mention that Baylor, Texas A&M, Clemson and USC have been closing strong in his recruitment.
"I want to go to a program that will help me develop and that feels like home," he said. "And give me the best college experience. I'm ready to get rolling on recruitment. I want to help build the No. 1 class in the nation."
So, what's the message to the school and fan-base receiving his early commitment?
"Be ready, it's going to be exciting," he said. "I'm going to bring in the best... I'm going to go out and compete, and hopefully bring a National Championship to the school."
As the Volleyball season has come to an end, it's time for fans to pick who they believe should have the honor of being the 2022 VYPE HOU Public School Volleyball Player of the Year! With plenty of area athletes putting in outstanding seasons, there are many deserving of this honor! Be sure to get your vote in!
Voting will remain open until 11:59 p.m. on Tuesday, December 13th.
Please note that the use of voting software or bots will result in a deletion of votes and a potential DQ from the contest. PLEASE try to keep this fair and fun for all involved!
All athlete polls and their content are only associated and created by VYPE Media and its staff. The content is not created or voted on by any corporate sponsor or marketing partner. Please contact VYPE Media directly if you have any questions, comments, or concerns around our Fan Polls.
The Freddy's Way: Enjoying great food without a long wait doesn't mean your meal has to be cooked before you order it. From steakburgers to sundaes, Freddy's makes food fresh after you ask for it because that's the kind of quality you deserve. Take a moment to catch up with friends and family; it's almost time to eat. Click here to see the nearest Freddy's location to you!