VYPE-U Player Profile: Bianca Salazar, Forney Soccer
Nov 25, 2020
Bianca Salazar is a Forney High School soccer player who is driven and loves the game of soccer. VYPE-U takes a look into her current soccer career.
As student-athletes, we become very devoted to the game. We see the sport we play as the place where we can let go of our stresses and calm our busy minds. Bianca Salazar has become this exact person throughout her soccer career. She has had a longer career compared to many other high school sophomores I have met, but nonetheless has experienced her ups and downs. Let's take a look at what she has accomplished thus far and what she's working towards.
Salazar has played for a multitude of teams which include: Mustangs FC of SMU, Dallas Kicks Soccer Club, Forney Lady Rabbit Varsity, and she currently plays for Solar Soccer Club. Throughout her soccer career, she has made an immense impact on her teammates, coaches and has developed and sharpened her skills on defensive and attacking midfield. For her, soccer has become a custom to her life. If she doesn't stay actively involved with the sport in any way, shape, or form, she feels like her life is empty and dull. Salazar is a player that expects and craves competition with every game, and during practice. She has also become very socially active because of the amount of clubs or teams she's played for.
Bianca has created friendships with people she never thought she would befriend. Because of soccer, she has friends everywhere with whom she shares strong bonds, so much that she believes they will last a lifetime. Not only have these friendships and acquaintances expanded her friend group, made more socially active and have given her memories of a lifetime, but they have also provided many opportunities and connections for Salazar.
At every soccer event, Bianca gets to speak with other talented soccer players who also provide her with connections and opportunities. Through soccer, not only has she grown as a person, but she has found that it has given her a healthy lifestyle and has taught her valuable lessons. Because of this, she is eternally grateful for having the opportunity and privilege to play soccer.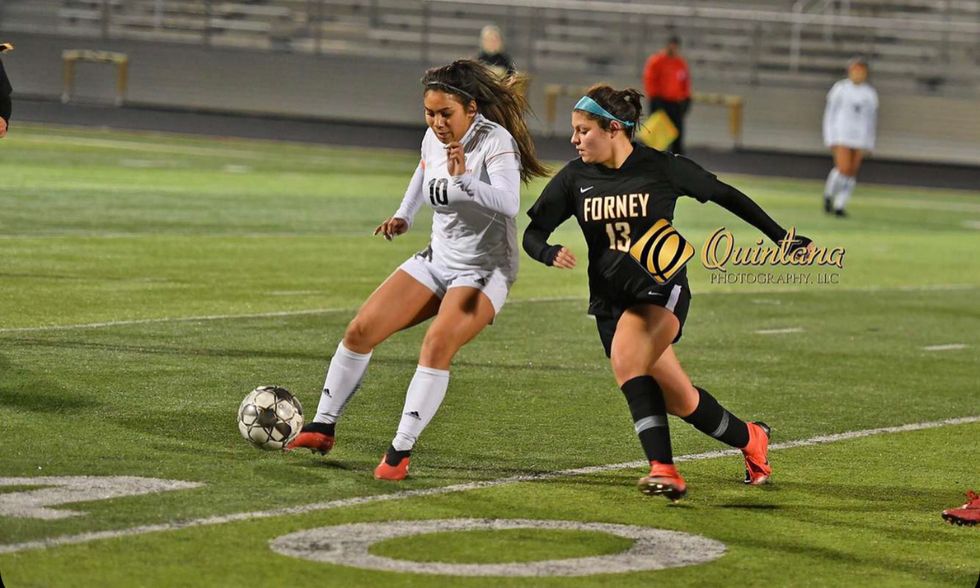 VYPE-U had the opportunity to speak with her on what she would advise younger players and what she thinks it takes to be a successful soccer player.
"A piece of advice I would give a younger player is to always work hard. Working hard will get you to many places and will open doors that you never thought would ever open to you. My dad always tells me, "don't focus on being better than everyone, focus on being the best at what you do." I live by that. I think that we should all focus on what we're doing and give it our best effort instead of trying to please everyone around us. Also, remember to always have fun! No matter if you're losing or not having a good game, you're given the chance to play and to be out there with your friends, so enjoy it."
In the future, Bianca wishes to pursue medicine while in attendance of Baylor University or University of Texas at Austin, and hopes to play Division 1 soccer. VYPE-U wishes her the best of luck in all she does.
Want to know more? Follow her on Instagram:
@n1col3.bs