2000s Club: Nolan Catholic's Odessa Ozuna soars
Feb 17, 2023
Photo provided by Odessa Ozuna
Throughout the course of an athlete's careers, there are many personal goals, records, and accomplishments that get chased after and broken. At Fort Worth Nolan Catholic High School, many athletes tend to stand out while working hard in a Vikings' uniform. Recently, girls' basketball stand-out Odessa Ozuna surpassed the 2,000 career points mark.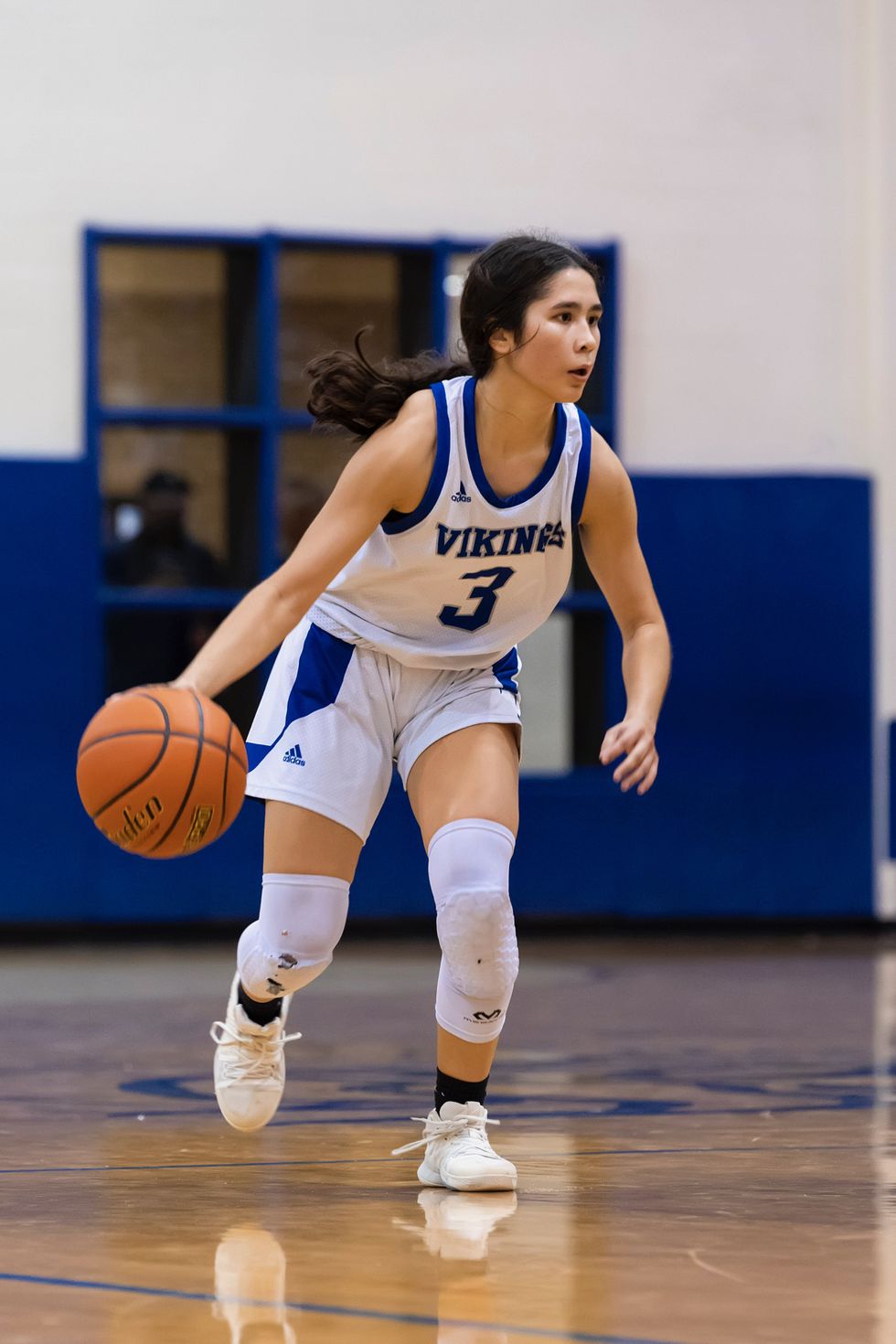 Photo provided by Odessa Ozuna
The senior star has been working hard throughout her high school career. This season, Ozuna has recorded an impressive stat line including a 25.4 average points per game, 5.4 assists, 4.3 rebounds, 75.4% free throw percentage, 47.6% effective field goal percentage, and 32.2% three point field goal percentage. Helping to lead the Lady Vikings to the playoffs, Ozuna is focused on and off the court. Although she is not yet committed to a college program, she currently plans on playing basketball in college.
"Her leadership is the difference maker for our team," Nolan Catholic girls basketball coach Josh Blok noted. "We had a talk after her sophomore season in which I gave her permission and the keys to our team. She took over and it has been amazing to watch her lead ever since. She leads by example and makes all of her teammates feel comfortable in who they are. The love her teammates have for her tells you everything you need to know about her leadership."
With a strong leadership presence, Ozuna has made a huge impact on the Lady Vikings' team. Coach Blok explained exactly what kind of impact: "She impacts the team in multiple ways. Her presence alone gives her teammates confidence. She guides them on the court through her play and leadership, but also off the court. She is our best player, but treats her teammates with unbelievable respect. That is not something you always see from the best player."
VYPE had the opportunity to catch up with Ozuna regarding her accomplishments in an interview below: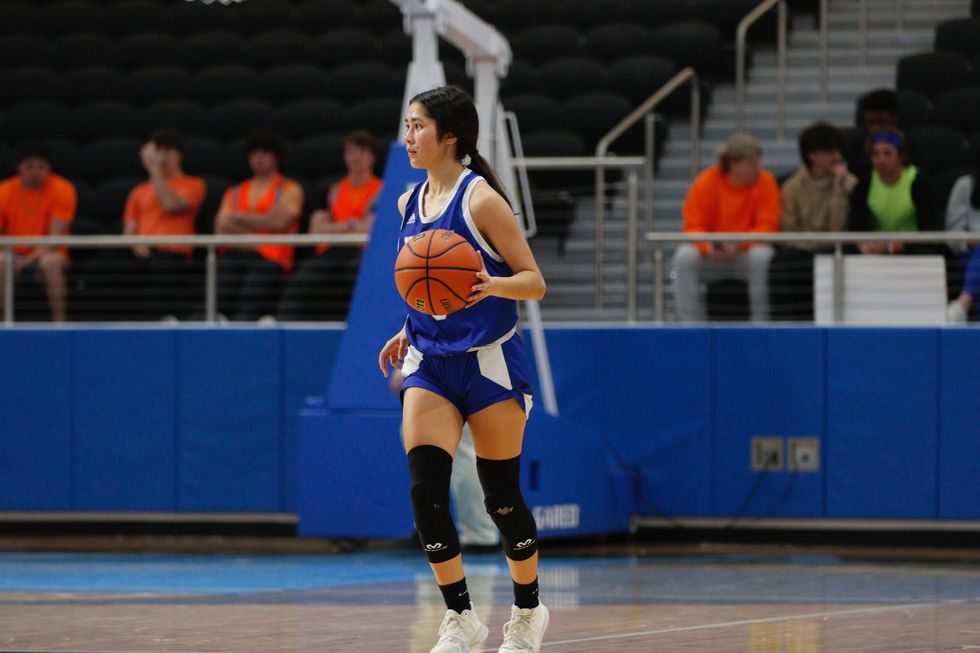 Photo provided by Odessa Ozuna.
When did you first start playing basketball? Who got you into the sport?
"I started playing basketball when I was in 6th grade. However, it was just for the middle school team where I was attending and I never thought anything of it, so it was more so just for fun. I have been around sports my whole life, so even before 6th grade I was still a little familiar with basketball just from playing with my cousins and the neighborhood kids outside. I've always had a gradual interest in basketball, but it seriously gained my attention in 8th grade after attending some of the varsity high school girls basketball games at Nolan Catholic High School as well as staying in touch with some of the coaches there before attending my freshman year. Being able to get a feel for the program before committing to the sport in high school definitely made me more eager and curious to see how I could contribute to the program."
You have been making quite the impact for Nolan Catholic- surpassing an amazing accomplishment with 2,000 career points. How does it feel to have this sort of legacy to your name?
"It has al been pretty surreal because I vividly remember how the thought of scoring 2,000 points seemed like a dream that simply started because I was eager to find something that I could chase after to test my limits. The goal quickly lit a fire in me because I knew I would have to work for it and it wouldn't just be handed to me. When I hit 1,000 a little over a year and a month ago, I didn't really tell anyone that I was already wanting to hit 2,000 because I remember how people kept talking about the achievement like it was impossible to do. What is better than accomplishing something people didn't even see possible?"
How did it feel when you realized you broke 2,000?
"My team and family made the achievement super special for me and actually surprised me after practice a few days after I hit it; they even took me out to dinner that night, too. I had no clue and they did such an awesome job keeping it all a surprise. I was definitely shocked to say the least because I didn't know the exact number I was at, but I knew that the 2,000 was attainable by the end of the season. It was honestly a huge relief knowing that I hit it when I did and that the little desire of possibly getting to 2,000 points came true. Along with that, I couldn't help but feel overwhelmingly grateful for all those around me that helped me not only celebrate the accomplishment, but also helped me reach it. I know that some of them would say this is strictly my achievement to have, but to that, I 100% disagree and know that this is their's just as much as it is mine."
What is your go-to game day routine? How do you get your mind in the moment?
"The most important parts of my routine are definitely spending time with the team that I'm going to share the court with and finding the time to gather myself and mentally prepare. Before games, you'll definitely catch my teammates and I blasting music in the locker room. Music is just what we use to help create that lively environment as we get ready to compete and when you hear the music playing is when you know it's game time. To me, mentally resting and mentally preparing is important. So whether that be taking a little power nap or finding a quiet place to think about how I can contribute during the game- even when things aren't going the way I hoped- the internal conversation plays a big part in my preparation going into the game. Finally, the last and most calming part of my routine is finding time to talk to my family and especially thanking God for giving me the opportunity to compete alongside my team and giving me the abilities I possess."
What do you do in the offseason to prepare for the next season ahead?
"During the offseason, we do a fairly even mix of playing, shooting, and skills training. It can be easy to look at the offseason as a long, lazy break before the next official season, but when used intentionally, offseason can without a doubt be used to identify who has been working and using it wisely versus the players that haven't."
What have been your personal goals this season?
"My personal goals this season were to reach 2,000 points and just be able to prove to myself that I can hold my own after moving to a more competitive district this year. I'm also eager to sign with the college that I see best for my family and I. I'm currently still waiting for TAPPS to announce district and All-State awards!"
Is there an athlete you look up to- why?
"There isn't a specific 'famous athlete' that I look up to and I would say that I, without a doubt, am encouraged more by the athletes around me: my teammates and every collegiate athlete. Being able to compete and push yourself at a high level is something that should be admired and most importantly to enjoy the privilege of being an athlete."
In your opinion, what has been the secret to your success so far?
"The secret to my success isn't a big secret at all, actually. When people used to say that hard work pays off, it was easy to brush off just because of how often I heard it. With that, I've discovered for myself that hard work isn't the only thing I needed to get better and that confidence plays a much bigger role in being successful than I thought because why work hard if you don't believe that it will ever pay off? Confidence isn't the same as showboating or telling everyone how good you think you are. It is trusting yourself and your abilities that you have worked diligently to perfect. My confidence in myself as a basketball player skyrocketed after I saw the positive results of the work I was putting in. I knew of the goals I was chasing and that those goals were completely unattainable if I didn't do some extra credit."
What has been your favorite memory with Nolan Catholic?
"There are so many favorite memories of mine that I created at Nolan Catholic, both inside and outside of the basketball program that it's hard to just pick one. One of my favorite memories was definitely the semi-final game of the Brownwood Bank Holiday Classic- which is a tournament in Brownwood, Texas that we attend over the Christmas break almost every year. My junior year, we played against the hometown team in this big coliseum and it felt like the whole town came. It was a pretty back and forth game and the environment was incredible even though the whole coliseum was cheering against us. I absolutely loved the competitive environment."
What are you looking for in a college program?
"There are a lot of variables that help med narrow down my search. First off, going on a visit and being able to talk with the coaches about the programs helps me get a strong feel for the school, the dynamic, the coaches' personalities, and especially allows me to see if I'm able to make a quick impact and contribution to the team. Academically speaking, it is also extremely important to find a college that suits me as a student and makes me feel comfortable being an athlete, too. My family has been very supportive of my decision to play collegiate basketball and I appreciate them being close, so I don't want to be too far from them either."
With plenty of great skill and leadership on and off the court, Ozuna continues to work hard to prepare for playoffs. Ozuna and the Nolan Catholic Lady Vikings will take on St. Pius X on Friday, February 17th.