STATE CHAMPS: Hockaday wins first SPC Title in 13 years
Nov 08, 2021
Photo provided by Hockaday volleyball coach Allison Camp
For the first time since 2008, the Hockaday Daisies have capped off an amazing season with a Southwest Preparatory Conference State Championship (SPC) victory. After climbing VYPE DFW's rankings week after week alongside state championship match opponent Arlington Oakridge, the Daisies have claimed the top spot in SPC volleyball. To read more about Hockaday's successful season, become a VYPE Insider today!
State Title Weekend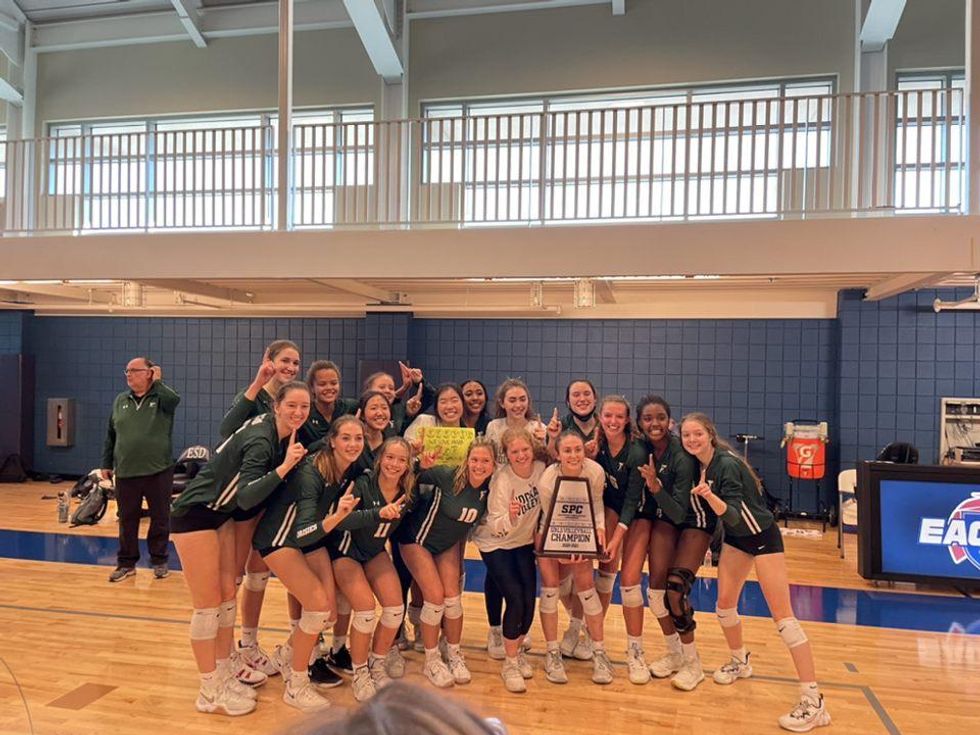 Photo provided by Hockaday volleyball coach Allison Camp
The Daisies posted a perfect 6-0 regular-season record en route to their 2021 State Title. Going 9-0 in SPC play, Hockaday posted a 17-1 record in sets against SPC opponents. The team finished with an overall 34-7 final record on the season. Sophomore outside hitter, Avery Jackson, led the charge on Saturday against a tough Oakridge squad as the Daisies posted a 3-0 sweep over the Owls. Jackson posted 59 kills, 42 digs, and nine blocks during the championship victory.
Co-team-captain Audrey Gass also had a big game on Saturday. Gass recorded 112 assists to finish the season with a school-record of 1,019 assists. Coming off of an ACL injury, junior outside hitter Lauren Ingram made her return to the court in the title match. Ingram, a usual strong force on the team, made it apparent that she came to play and wasn't going to leave the biggest stage in SPC volleyball with anything less than a first-place finish. Ingram tallied 26 kills, 38 digs, and nine aces during the championship tournament. Another big-time athlete on the court for Hockaday on Saturday was junior libero Payton Arbaugh. Arbaugh recorded 38 digs and a team-high of 49 total serves.
A team full of strength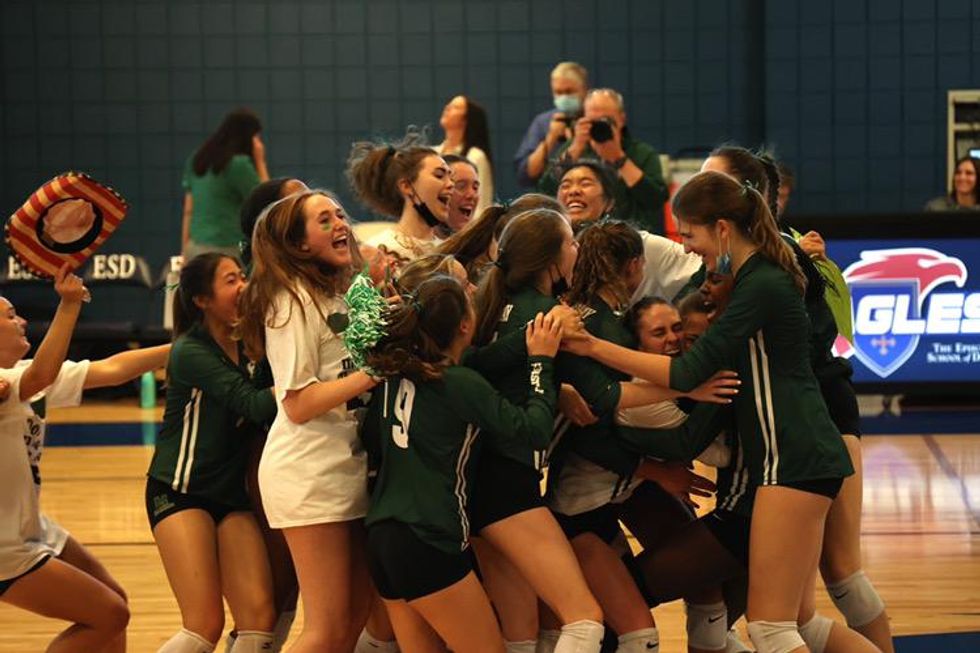 Photo provided by Hockaday volleyball coach Allison Camp
There's no doubt that it takes a full team of dedicated athletes led by motivated and inspiring coaches to make the dream of a championship season come to full fruition. Hockaday spent all season showing their strengths on and off the court with incredible leadership and talent from start to finish every single match. The team hosts athletes who are among Dallas Morning News' top 10 in kills, digs, aces, and assists this season as well as seven players on the AVCA Phenom list that includes Sydney Eyestone, Audrey Gass, Payton Arbaugh, Lauren Ingram, Avery Jackson, Katherine Shoup, and Olivia Wayne.
Jackson, Wayne, and Gass have been phenomenal on the season as they have set the school record for aces in a match at eight. During a match with Bishop Lynch, Jackson posted 40 kills to set the match record this season. Jackson also set this season's match record in digs with 28 against Oakridge. Gass was able to set a match record of 59 assists this season more than once in matches against Bishop Lynch and Parish Episcopal.
Strong Season Numbers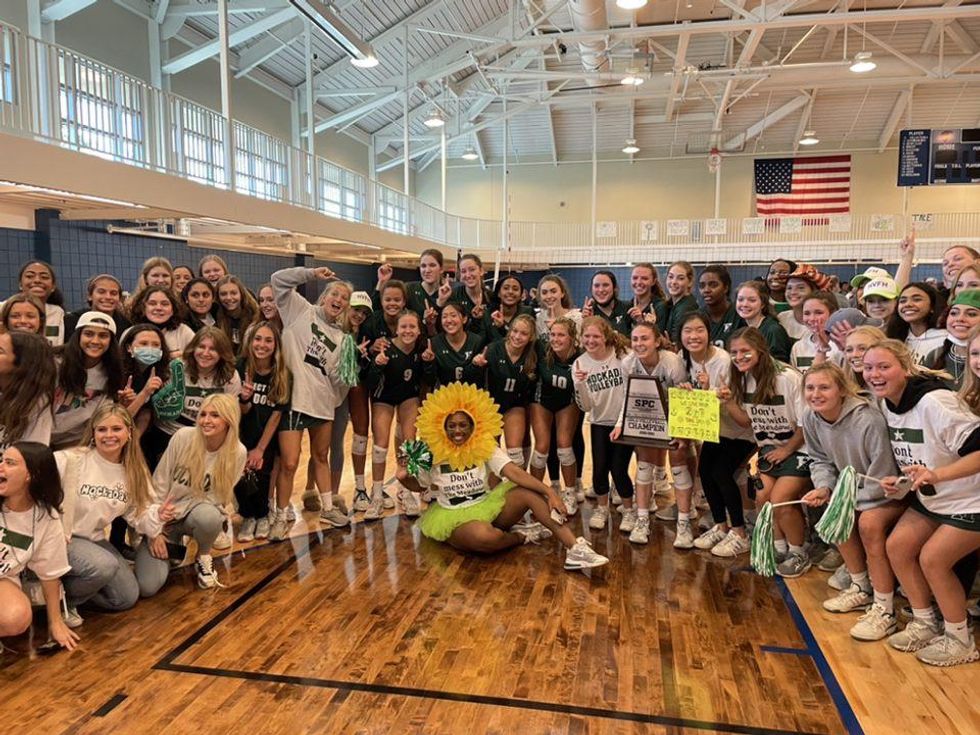 Photo provided by Hockaday volleyball coach Allison Camp
Multiple athletes for Hockaday turned out great numbers on the season. With great stats, strong playing, and good leadership, the team was able to perform to the best of their ability in each match. Stat leaders on the season include:
Junior Libero - Payton Arbaugh 381 digs, 519 service receptions with 2.1 rating
Sophomore outside hitter - Avery Jackson 545 service receptions with a 2.4 rating, second-highest aces with 61, a school record of 583 kills, a school record of 525 digs, a school record of 683 earned points, and second on the team in total points with 328
Senior setter - Audrey Gass a school record of 1,019 assists, 61 aces
Junior outside hitter - Lauren Ingram 48 kills, 25 aces, 9 digs, eight blocks
Freshman middle hitter- Olivia Wayne 57 blocks, 210 kills, a team-high .358 hitting percentage on the season
Sophomore middle hitter - Bennett Trubey 59 blocks
Senior outside hitter - Sydney Eyestone a team-high of 67 aces
*stats and records provided by Hockaday coach Allison Camp.

More To Come
Hockaday has two seniors who will be leaving the squad with a legacy to protect. As the team looks towards the offseason, fans and opponents alike shouldn't doubt the resiliency and dedication that the Daisies have shown. Hockaday will be returning incredibly strong athletes in the 2022 season and can be expected to post a similar record, if not another state title.
True