VYPE DFW 411: Celina Football's Kaden Lorick
Aug 01, 2022
Photo provided by Kaden Lorick
Friday night lights are all the rage throughout Texas. As the crisp Fall air, sounds of fight songs ringing through stadiums, and fans cheering rapidly approaches, VYPE DFW is scanning the metroplex for athletes you're not going to want to miss this Fall. We recently caught up with Celina Bobcats football program's incoming senior kicker/punter Kaden Lorick in an exclusive interview ahead of the season.
Staying Focused
Playing the sport you love comes with a lot of perks, but in order to reap the benefits of those perks an athlete must be dedicated at all times- especially in the off-season. It's easy to get caught up in the desire to hang out with friends, eat junk food, and be an every day teenager, but for athletes trying to be at the top of their game they must remain focused. Lorick seems to have no problem remaining focused throughout the off-season: "I stay focused by consistently working with my kicking coach to get better every day," he told VYPE.
The ability to work hard on and off the field has given Lorick an outstanding drive and mindset as he has entered each of his kicking seasons with the Celina Bobcats. "My mindset is perfection," Lorick started. "I want to execute every kick with excellence and be the best in what I do."
Goals + Success
A big component to being a great athlete is setting goals, working hard until you meet or surpass them, then setting new goals. Lorick goes into each season with a goal in mind- last season his goals were set and he remained focused on the end game. "I wanted to be consistent and be named All-State," Lorick explained. "I was able to accomplish both last year. I went 12/14 on field goals and 74/75 on point after attempts. I was honored to receive several awards-- including All-State as a punter."
With the strive to continue improving, Lorick and the Celina Bobcats were able to see amazing success throughout the season as they battled to defeat opponent after opponent. Some fans might wonder what exactly the secret to their success was last season and Lorick would tell you that it all boils down to hard work. "I believe our team's success came from out-working others. Everyday guys would stay after practice to put in extra work in order to be the best that we could be."
As far as his individual success? Lorick credits the athletes around him. "The secret to my success last season was my Special Teams unit. I never had to worry about the snap or hold because I knew I could trust my guys. This allowed me to put my focus on putting the ball through the uprights."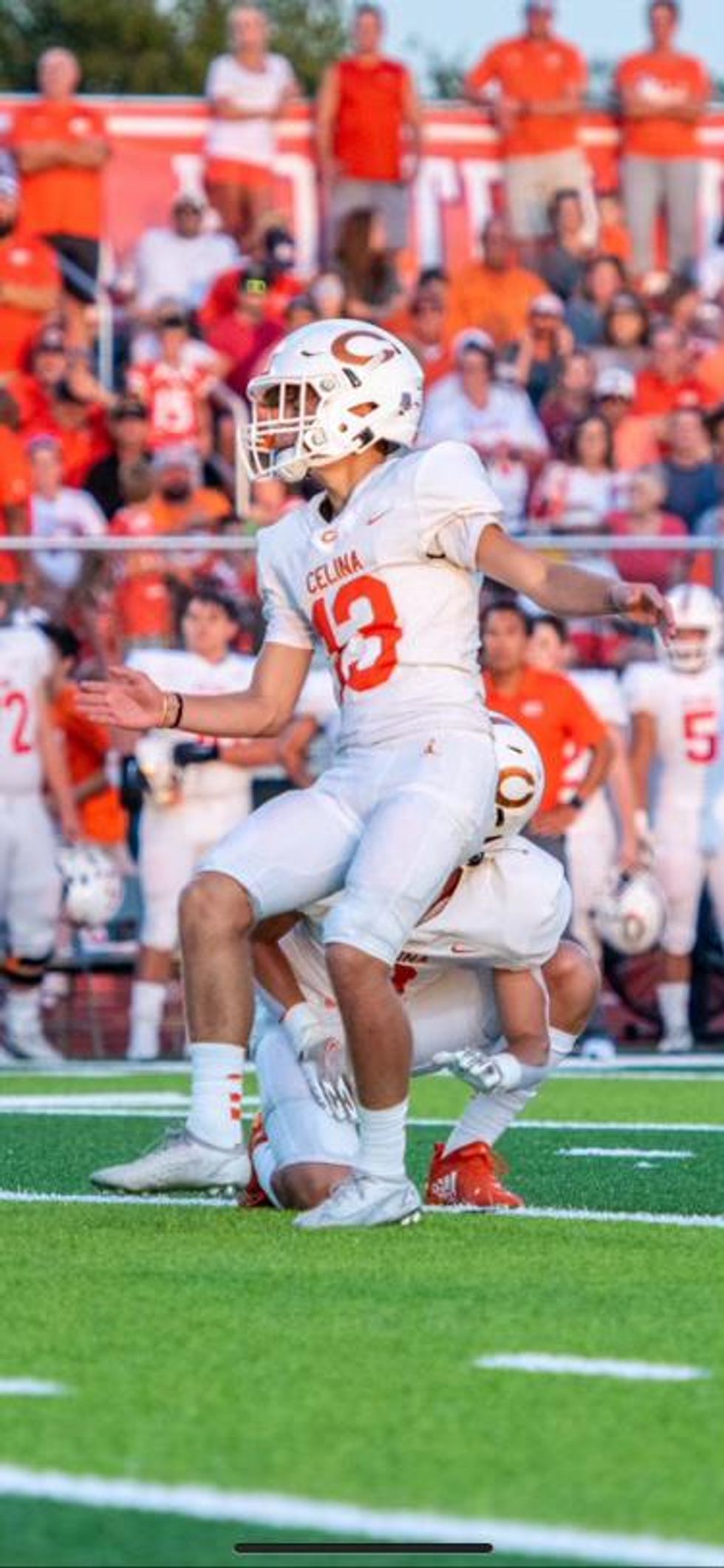 Photo provided by Kaden Lorick.
The Season Ahead
As Fall sports commence practice this week, there are a lot of things to look forward to. The season is rapidly approaching which means athletes, teams, coaches, and fans are already setting expectations for preseason and district play with the hopes of a playoff berth. Lorick explained exactly what he's looking forward to in his senior season: "Scoring a lot of points. I love hearing the siren go off every time we score."
A new season also brings about new goals. Much like last season, Lorick has his eyes on the prize and is willing to put in all the hard work that it takes in order to accomplish the goals he's laid out for himself. "I want to be named All-State back-to-back years."
Memories and Accomplishments
Celina had an extremely successful run deep into the playoffs last season- Lorick was able to draw one of his favorite memories from his time with the team from that experience. "My favorite memory was playing in the State Semi-Finals," he said. "I looked up right before kickoff and saw the stadium filled with thousands of people."
As he continues to reach his goals, Lorick highlighted what he believes has been his biggest accomplishment as an athlete. "Getting my first D1 offer!"
A Bright Future

Although Lorick is currently uncommitted, he is looking forward to putting in the hours and doing whatever it takes to get to the next level. Fans can expect to see offers roll in for the talented kicker/punter as his senior season kicks off. So, what exactly is he looking for in a college program? "The opportunity to compete for a starting spot from Day 1," Lorick told VYPE.

With plenty of time to still decide what he wants to do with his future, Lorick is currently looking at majoring in business.
Fun Questions
Who is your favorite professional sports team?
"The Dallas Cowboys."
Who do yo look up to as an athlete?
"Cameron Dicker. I have learned a lot from him."
If you could go to dinner with one person (dead or alive) who would it be? What would you hope to talk about?
"Justin Tucker. I would love to talk about his football experience."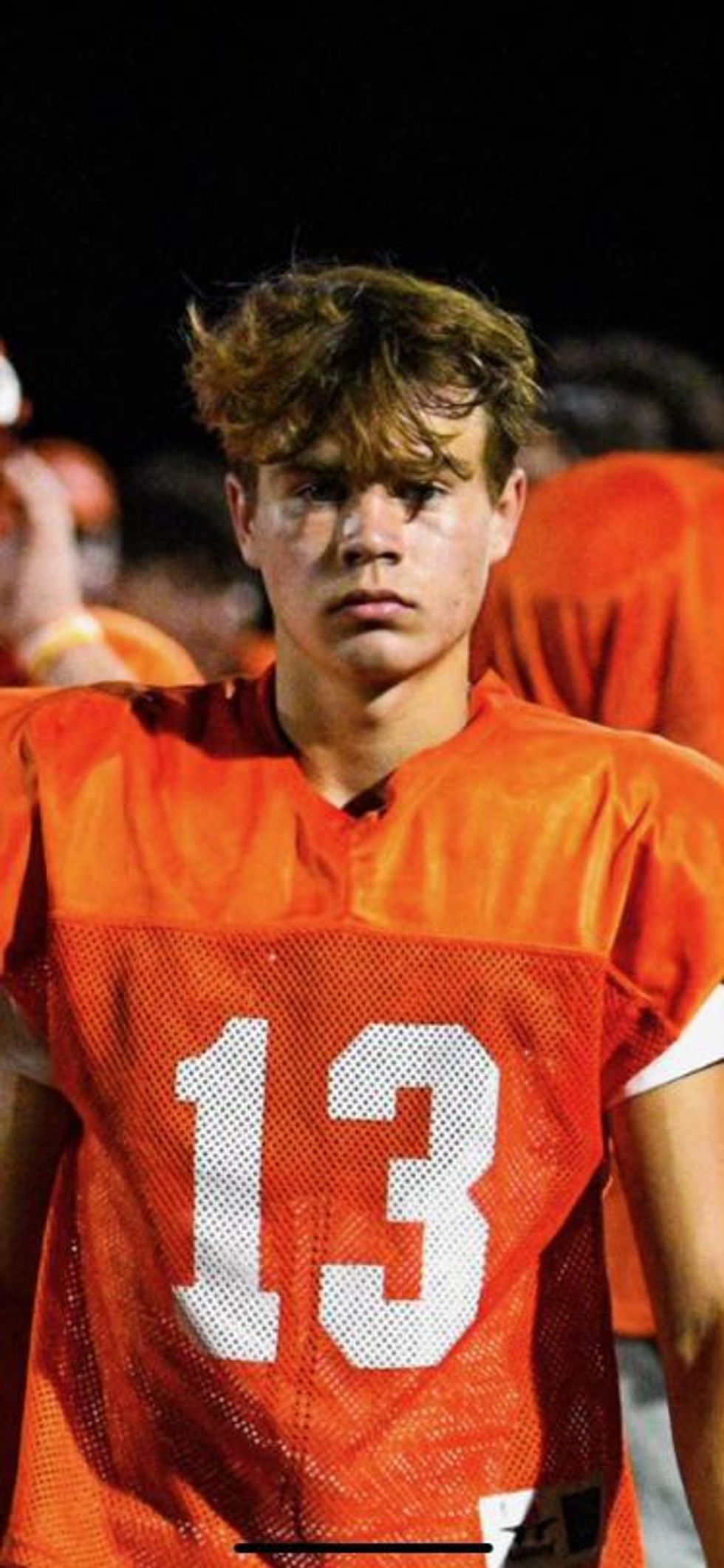 Photo provided by Kaden Lorick.