Top of the Class: Top ATH's of the '23 Class
May 11, 2022
As we head into the 2023 Football season, we take a look at the top 2023 recruits from across the state of Texas. Our last Top of the Class focused on the top TEs, this week we near the end of the offensive side of things by looking at the Tight Ends.
**Rankings reflected as of May 11th **
**Stats gathered from Max Preps**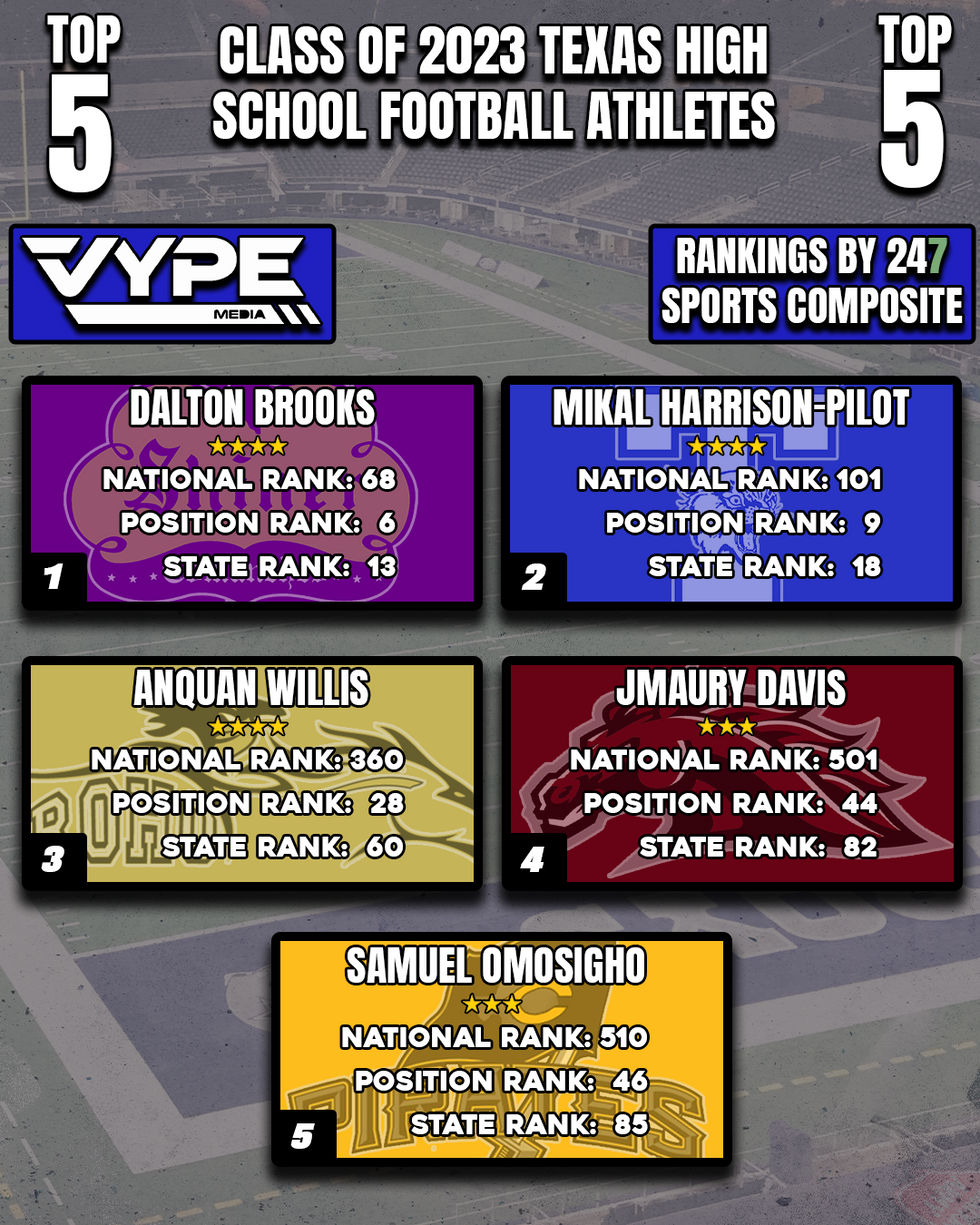 Dalton Brooks- Shiner: The 4-Star athlete, who is currently uncommitted, has been a big part of Shiners back-to-back state championship runs. He will get the chance to not only go for a three-peat, but to really put the team on his back now that his brother has graduated.
Mikal Harrison Pilot- Temple: The 4-Star athlete may be one of the sought after Football players in the state, if not the nation, for the class of 2023. It's also easy to see why. His speed and hands are undeniably great and will be a great pickup for whichever college he picks. He recently released his Top 12 so those schools are excited about the prospect of getting him on their team.
Anquan Willis- Wichita Falls Rider: The Texas Tech Commit had an impressive Junior season compiling 1,864 total yards and 27 TDs while helping his team to a 12-2 record. He'll look to break some of his own school records his senior season before heading to Lubbock where he will look to help the Red Raiders and Joey McGuire.
Jmaury Davis- Clarendon: After winning a state title in Basketball for Clarendon, Davis looks to try and do the same on the football field during his senior season. Davis will be joining Willis at Texas Tech and will look to show everyone just why the Red Raiders are so high on the 3-Star.
Samuel Omosigho- Crandall: The 3-Star Athlete had a monster Junior season, racking up over 150 tackles on defense while also accounting for over 800 yards receiving and 7 TDs on offense. While at number 5, Omosigho may be one of the most versatile Athletes in the nation. He currently holds 25 offers with most crystal balls projecting him to pick Oklahoma when all is said and done.
True