Top of the Class: Top 5 TEs of the '23 Class
Apr 27, 2022
As we head into the 2023 Football season, we take a look at the top 2023 recruits from across the state of Texas. Last week we took a look at the top WRs, this week we near the end of the offensive side of things by looking at the Tight Ends.
**Rankings reflected as of April 27th **
**Stats gathered from Max Preps**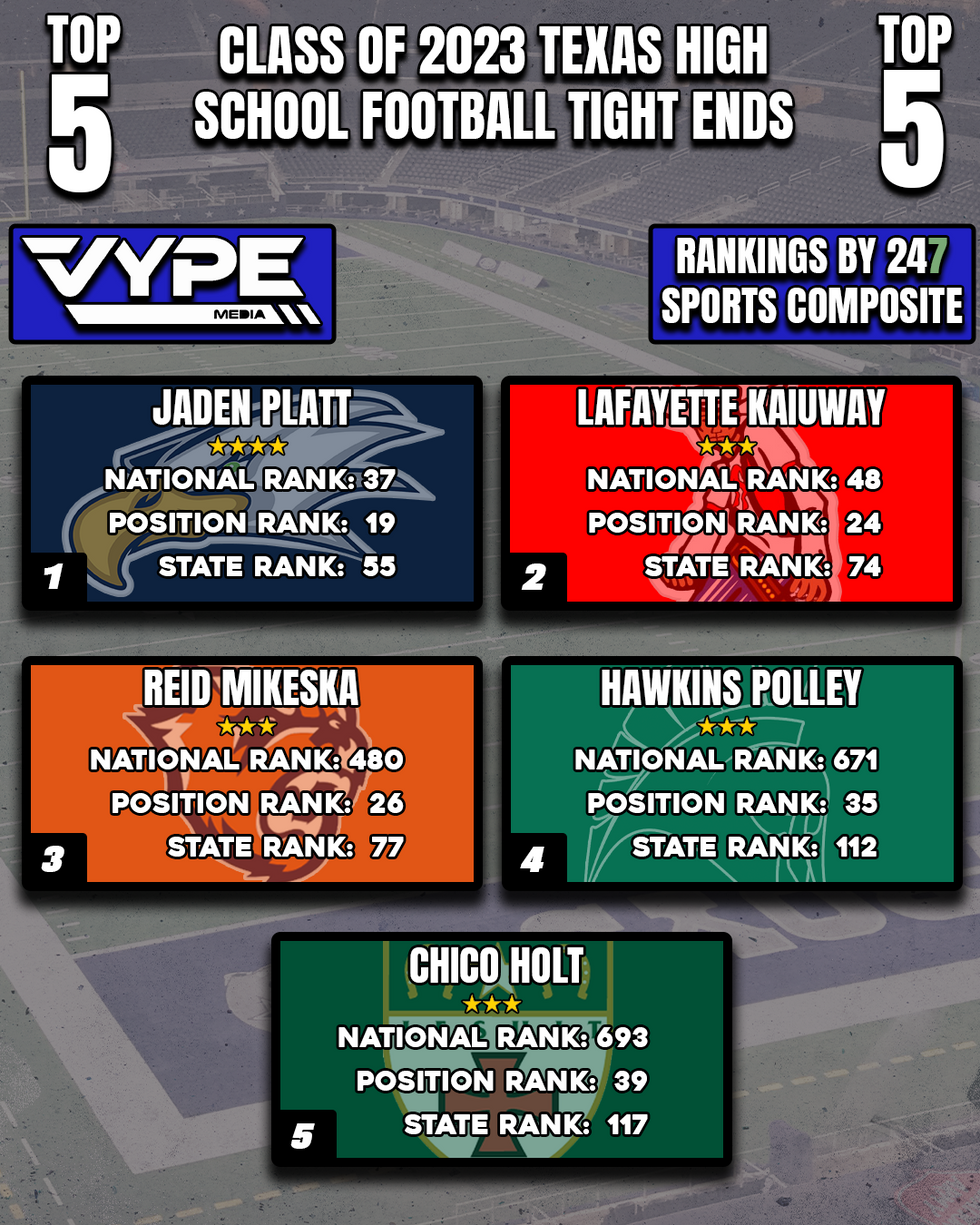 Jaden Platt- Eaton: The 4-Star Tight End, who is committed to play football at Stanford, returns for his senior year looking to build upon his 573 yards, 4TDs and 28 receptions performance from last season. The top rated TE in the state of Texas may not be getting the "buzz" like others on this list, but he's at the top for a reason and also committed to Stanford early on. Expect him to continue to show why he's the top Texas TE throughout his senior season.
Lafayette Kaiuway- Arlington Houston: The 6'6" 235 had a great junior season compiling 403 yards on 27 receptions, tallying 9 TDs in the process. Kaiuway currently holds 22 offers including ones from UT and UNC.
Reid Mikeska- Bridgeland: Mikeska has had quite the Spring. The Junior TE, who compiled 229 yards on 24 receptions, exploded on the recruiting trail picking up over 40 offers and became one of the hottest commodities in the state of Texas. But when all was said and done, Mikeska ended up committing to Clemson where he will join Texas High School Football legend Cade Klubnik in the 23/24 season.
Hawkins Polley- Stratford: One thing that is immediately apparent about Polley is his consistency. After his 437 yards on 26 receptions his sophomore season, he picked up another 426 yards on 39 receptions his junior year. This cumulated in the 6'4" 205lb junior to not only receive an offer from Baylor, but led to his commitment there as well. Polley will now go into his senior season hoping to build upon Stratford's great 2021/2022 campaign.
Chico Holt- Strake Jesuit: The Junior TE has slowly been climbing up the rankings and now finds himself as one of the top 5 best TEs in the Class of 2023 according to 247 composite. Holt currently holds 15 offers with his latest offer coming from Duke Football. Expect Holt to continue to pick up offers as he his senior season starts.
True