Top of the Class: Top 10 WRs of the '23 Class
Apr 20, 2022
As we head into the 2023 Football season, we take a look at the top 2023 recruits from across the state of Texas. Last week we took a look at the top RBs, this week we continue to look at offense by looking at the Wide Receivers.
**Rankings reflected as of April 20th **
**Stats gathered from Max Preps**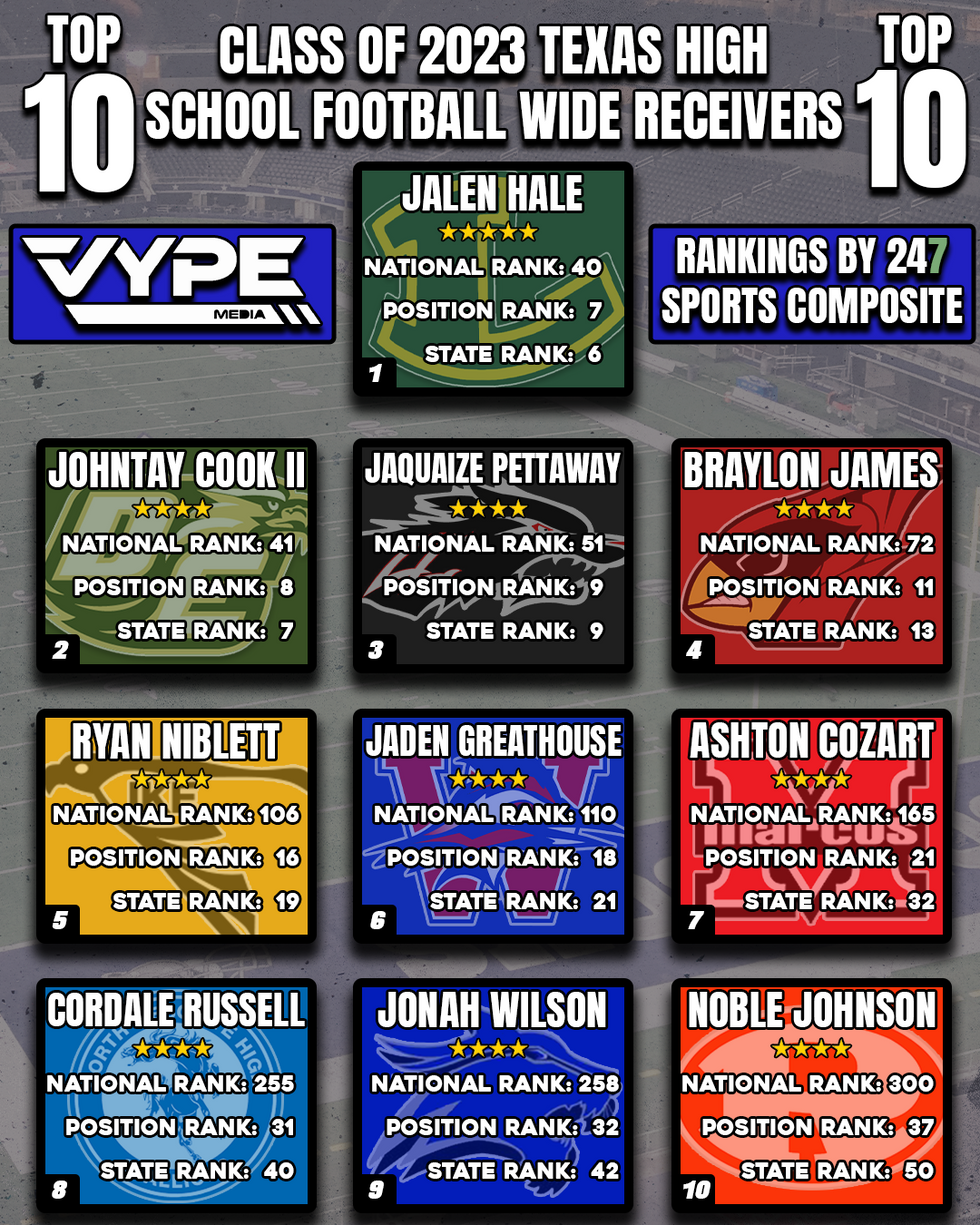 Jalen Hale- Longview: The 5-Star Wide Receiver, who totaled 1154 yards and 14 TDs off 50 catches, returns looking to get Longview back to the state title game, last appearing in the 2018/2019 season. Hale currently holds 35 offers and will be a huge addition for whichever college he chooses.
Johntay Cook II- DeSoto: The second man on our list comes into his senior year with 806 yards and 18 TDs from his junior season and has had, in my opinion, one of the most fun recruiting seasons to watch. His trips to Texas and A&M have been great content (https://youtu.be/jgBymcXb1hQ) (https://www.youtube.com/watch?v=8jScLboYGLo&t=475s)
Jaquaize Pettaway- Langham Creek: While Langham Creek's season may not have been one to remember, Pettaway's was. Tallying 745 yards and 7 TDs in only 8 games played Pettaway has proven he will be a force to be reckoned with wherever he ends up going. He recently released his Top 10 to include UT, Georgia, Ole Miss, TCU, OU, LSU, Oregon, Houston, Cincinnati, and Ohio State.
Braylon James- Del Valle: One of the key Cogs in Del Valle's offense, James will come into his senior year at Del Valle focused on continuing to hone his craft as the 6'3" Wide Receiver committed to Notre Dame yesterday.
Ryan Niblett- Eisenhower: If there was one athlete you would want to say "you should pay attention to this one over the next 5 years" to me that would be non other than Ryan Niblett. Sometimes athletes tend to be under looked if your not seeing their team in the playoffs or always dominating. That's not the case for Niblett, who is an absolute monster on the field. Even crazier, his track prowess may is just as good if not better than his football prowess.
Jaden Greathouse- Westlake: The Westlake legend comes into his senior season looking for that rare 4-peat. The 3 year Varsity player has had quite the High School career and is coming into his last year after having his best year yet with 1,274 yards and 20 TDs off 66 receptions. People will say Cade Klubnik played a large roll in that, but Greathouse, who has yet to commit to a school yet, will be able to show he was just as much of a factor.
Ashton Cozart- Marcus: The OU commit comes into his senior year looking to make a name for himself like past Texas HS greats like CD Lamb and Marvin Mims did before their great starts at OU.
Cordale Russell- North Mesquite: The 6'2" Junior is coming into his senior year with 20 offers and looks to continue to make a name for himself. Sitting at the 8th spot in Texas when it comes to WRs he will have a chance to move up those rankings when he plays Longview later in the 2022/2023 season.
Jonah Wilson- Dekaney: Wilson is slowly climbing the must watch list when it comes to players in Texas. The Junior had 469 yards and 8 TDs this past season. The soon to be senior has 14 offers including offers from UT, A&M and LSU
Noble Johnson- Rockwall: The 4-Star Wide Receiver rounds out our list and comes into his final season with 28 offers so far. His junior year saw 49 receptions for 875 yards and 8 TDs and looks to keep making plays like the one below for a great senior season.