Top of the Class: Top 10 RBs of the '23 Class
Apr 13, 2022
As we head into the 2023 Football season, we take a look at the top 2023 recruits from across the state of Texas. Last week we took a look at the top QBs, this week we stay in the offensive backfield and talk a look at the Running Backs.
**Rankings reflected as of April 10th. 247Sports Composite was unavailable during the writing of this article. Updates will be made once back up**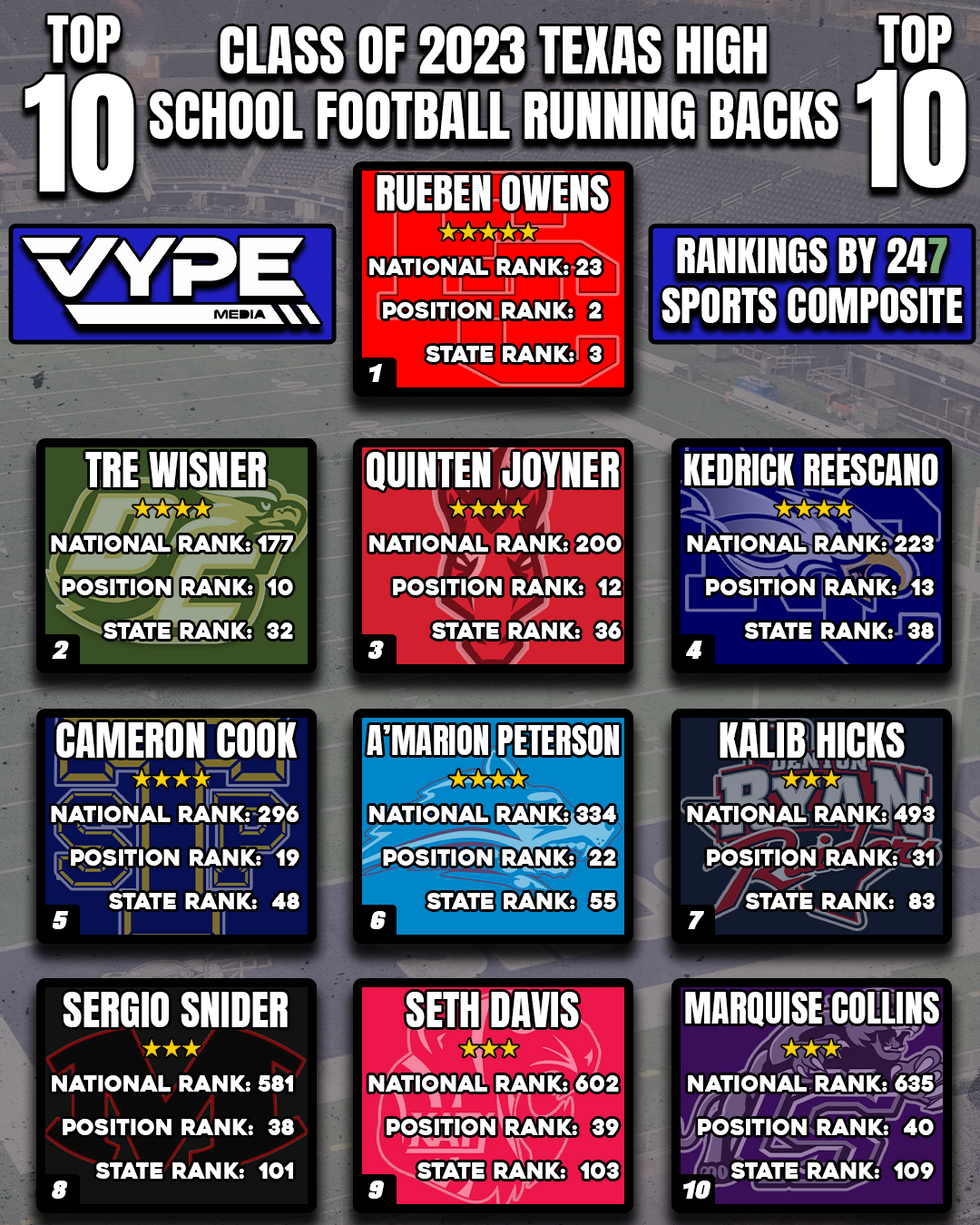 Ruben Owens-El Campo: The 5-Star Running Back is coming off a monster season for El Campo. Owens not only led his team in rushing, but the entire state of Texas as well, rushing for nearly 3,000 yards while recording 46 TDs in the process. He currently holds over 40 offers and was recently named MaxPreps Top HS Player in Texas for 2022. Last season he helped lead the Ricebirds to the 3rd round of the playoffs and looks to take his team even further this season. With such an amazing year last season what could be in store this season for Owens? Could he via for the all time rushing total that's stood strong for nearly 60 years. Honestly anything is possible when it comes to Owens, that's what kind of talent he has.
Tre Wisner-DeSoto: The former Waco Connally Running Back, who will be playing his senior season at DeSoto, looks to continue his run of dominance with the Eagles. Wisner recently released his top schools to include Oklahoma, Oregon, USC, Oklahoma, State, Texas, Texas A&M, Arkansas and Florida State.
Quinten Joyner-Manor: The Junior Running back had an explosive 2021 campaign rushing for 2,494 yards and 31 Touchdowns. He helped lead the Mustangs to a 10-2 record before losing to eventual state champion Katy Paetow in the first round of the playoffs. One of the most impressive things about Joyner is his ability to separate when he gets space. VYPE was able to watch Manor all season because Manor is part of the VYPE Live family and if Manor ever needed a big play there was one man to rely on (or if you were the opposing team one player you needed to stop); Joyner. As he and Cook (see below) battle it out for Austin supremacy they'll really get a chance to show off November 4th as the new district foes will square off.
Kedrick Reescano-New Caney: Reesano's last 2 seasons have seen a consistent contributor on the offensive side. He rushed for 1,157 yards in 2020 and 1,542 yards last season tallying 26 TDs during that time. The Junior is committed to Michigan State to continue his football career
Cameron Cook-Stony Point: In only 7 games last season, Cook rushed for 695 yards and 7 TDs while putting up 1,092 all purpose yards. The Junior currently holds 16 offers heading into his senior season. Cook is one of those backs that can do it all. Not only is he a natural running the ball, but he is able to spread the field as a great receiver as well, able to create separation to get open.
A'Marion Peterson-Wichita Falls Hirschi: A'Marion rushed for 1,817 yards and recorded 28 rushing TDs his Junior season while helping lead Hirschi to the state semifinals falling to eventual state champion Stephenville. Peterson holds 19 offers but has recently released his Top 6: Baylor, USC, Cincinnati, Texas Tech, Missouri and a mystery 6th team yet to be revealed. You can expect Peterson to improve upon his Junior season while trying to get his team one step further into the state championship game.
Kalib Hicks-Denton Ryan: Hicks nearly doubled his rushing totals from his Sophomore season, tallying 1,448 yards and 18 TDs before falling short in the playoffs to state runner up College Station. The 6' 200 pound running back currently has offers from teams like Alabama, Baylor, Ole Miss, Texas Tech among others. His versatility at running back has not only been a key component for Denton Ryan, but will also be true for whoever he ends up committing to.
Sergio Snider- Arlington Martin: Sergio was a versatile Running Back during his Junior campaign rushing for 643 yards with 11 TDs while also accumulating 325 yards and 3 TDs receiving. Snider recently competed at the Under Armour Dallas Regional camp and showed why he is one of the Top Backs in the '23 class. the 5'10" 185 Junior holds offers from over 20 programs including Baylor, Texas Tech, Washington State, and Cincinnati among others.
Seth Davis-Katy: Davis followed up his 1,625 yards rushing Sophomore season by rushing for 2,460 yards with 28 TDs during his Junior season. The 5'9" 175 Davis recently committed to Duke to continue his football career. The Junior comes into his senior season as one of the most decorated backs in Texas receiving the Texas District 19-6A MVP, Houston Chronicle Greater Houston Offensive Player of the Year award and made the Class 6A first team all-state selection by the Texas Sportswriters association
Marquise Collins-College Station: Marquise took a big leap his Junior year rushing for 2,826 yards with 39 TDs to boot. Collins, who was voted as the 5A offensive player of the year by the Texas Sports Writers Association has been picking up steam recently on the recruiting trail and just generally being recognized as one of the best backs in the state of Texas. It sounds weird to say when talking about someone in a Top 10 list, but don't be surprised to see Collins stock rise even more during his senior season.
**Numbers/Stats gathered from MaxPreps. Recruit Rankings are from 247 Composite**
True