Top of the Class: Top 5 QBs of the '23 Class
Apr 06, 2022
As we head into the 2023 Football season, we take a look at the top 2023 recruits in this new weekly segment. We start by looking at the Top Recruits for each position. First up the QBs.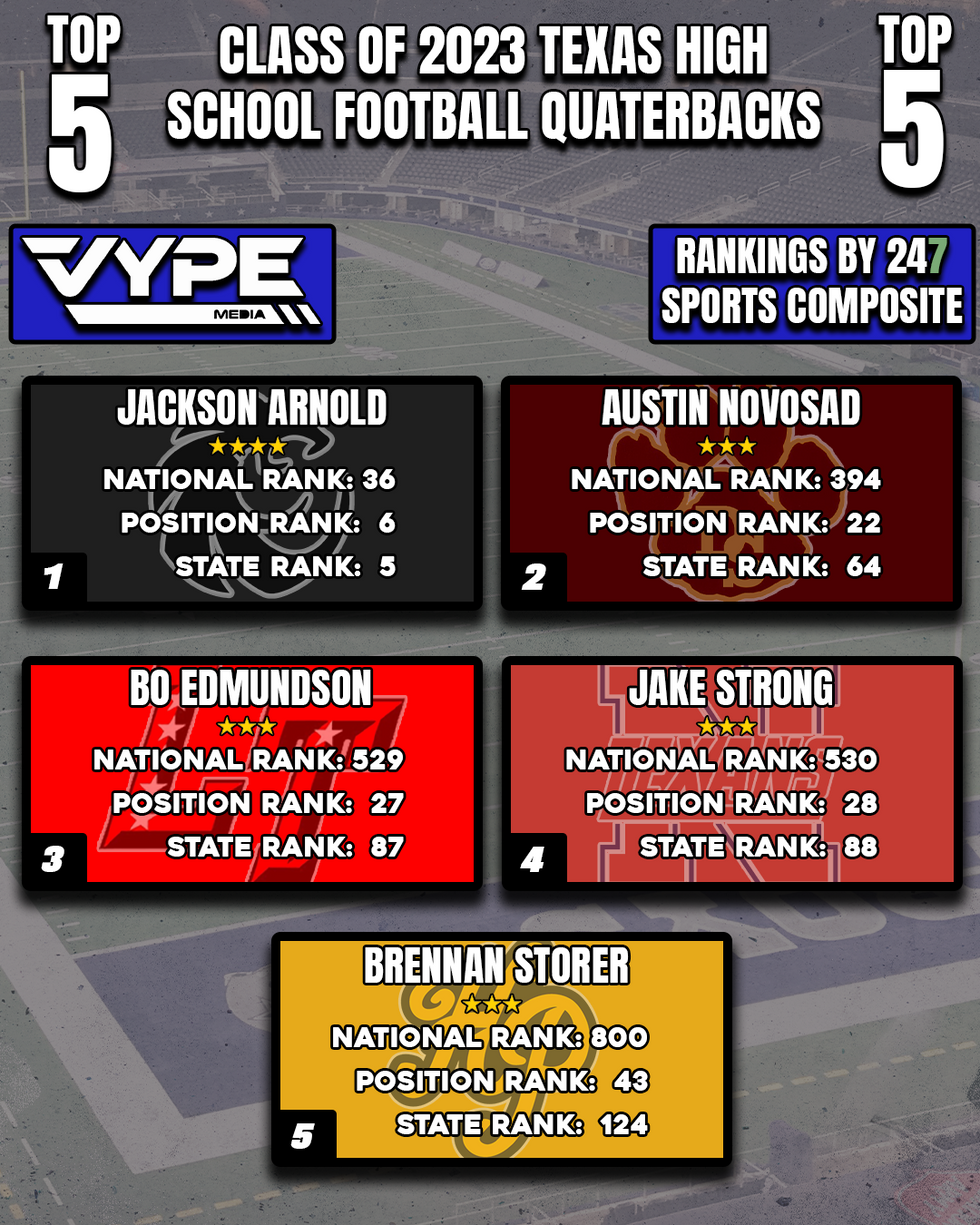 Jackson Arnold- Denton Guyer: The Oklahoma commit comes into his senior year looking to put the finishing pieces on his High School Football career after coming up short against Westlake last season. He's already showing his skill leading into the season, getting an invite to Elite 11 and will get to showcase his skills this summer there.
Austin Novosad- Dripping Springs: The hidden gem of the hill country is hidden no longer. The Baylor commit looks to bounce back after a disappointing exit in the UIL playoffs last season. He will also be attending Elite 11 and let me tell you this invite and getting moved to 6A where he will face both Lake Travis and Westlake will give him the chance to showcase what some of us already know; this kid can ball.
Bo Edmundson- Lake Travis: The Lake Travis quarterback will look to build off his 3,239 yard 38 TD performance from last season. Lake Travis had a strong showing last season reaching the State Semifinals before losing to eventual champion North Shore. The Michigan State commit hopes to get his team back to the state championship game for the first time since the 17/18 season.
Jake Strong- Northwestern: The Tech commit will get the chance to show his skills this upcoming season with Texas power houses Aledo and Denton Ryan joining their district after the most recent realignment. Northwest will rely on his skills for sure this season to via for a playoff spot in a seriousouly competetive district.
Brennan Storer- Highland Park: The 5A staple Highland Park moves up to 6A this season and will be a great test for Storer who comes into his senior season looking to show that their move to 6A won't slow him or Highland Park down. And as the only QB of the 5 to not be committed as of yet, I feel that now that he has one year of starting under his belt he will not only build on his first season of play but for recruiting to quickly pick up.
**Numbers/Stats gathered from MaxPreps. Recruit Rankings are from 247 Composite.
True