Argyle Golf Twitter Account (@ArgyleEagleGolf)
The golf season is complete after some amazing performances from the area's best golfers.
VYPE has scoured the results of UIL State competitors and selected those who have finished at the top with their teams and individually. Now, fans will have the chance to vote for who they deem to be worthy of the 2021 VYPE DFW Public School Male Golf Athlete of the Year Fan Poll.
The Academy Sports + Outdoors VYPE DFW Private School Male Golf Athlete of the Year Fan Poll is now live! Fans will have the chance to vote until Monday, June 28th, at 7 p.m.
Please note that the use of voting software or bots will result in a deletion of votes and a potential DQ from the contest. PLEASE try to keep this fair and fun for all involved!
All athlete polls and their content are only associated and created by VYPE Media and its staff. The context is not created or voted on by any corporate sponsor or marketing partner. Please contact VYPE Media directly if you have any questions, comments, or concerns around our Fan Polls.
For all the ways you love to play, Academy Sports and Outdoors makes it easier than ever to gear up and have fun out there! Get free shipping on your favorite brands at academy.com or get free curbside or in-store pick-up at your Academy store. Gear up this Spring at Academy Sports and Outdoors.
UIL Twitter Account (@uilstate)
For the 22nd time, Highland Park golf took the top prize at the UIL State golf tournament. The Scots sent two teams, Gold Team and Blue Team, and came back with two medals as the Blue Team came in first place and the Golf Team came in third. Along with two medals, Highland Park is home to the 2021 Individual State Champion: Preston Cooper.
The Blue Team is golden
The Highland Park Blue Team was led by Hudson Weibel who posted a total score of 143 (72-71). Weibel finished the tournament in a three-way tie for third place with Highland Park Gold Team's Thompson Huthnance (72-71— 143) and Granbury's Ty Holbrook (72-71— 143). Weibel along with Christian Clark (77-70—147), Pierce Johnson (77-71— 148), Key Coker (75-74— 149), and Joe Stover (75-77— 152) combined for a total score of 585 to secure first place and a gold medal. Highland Park Blue Team topped Boerne Champion by two strokes and Highland Park Gold Team by three.
The first-place finish from Highland Park Blue Team marks the 22nd state title for the Scots- breaking the former state record of 21 titles which was also held by Highland Park. The state title is also the fourth-straight title for the Highland Park Scots Golf Team.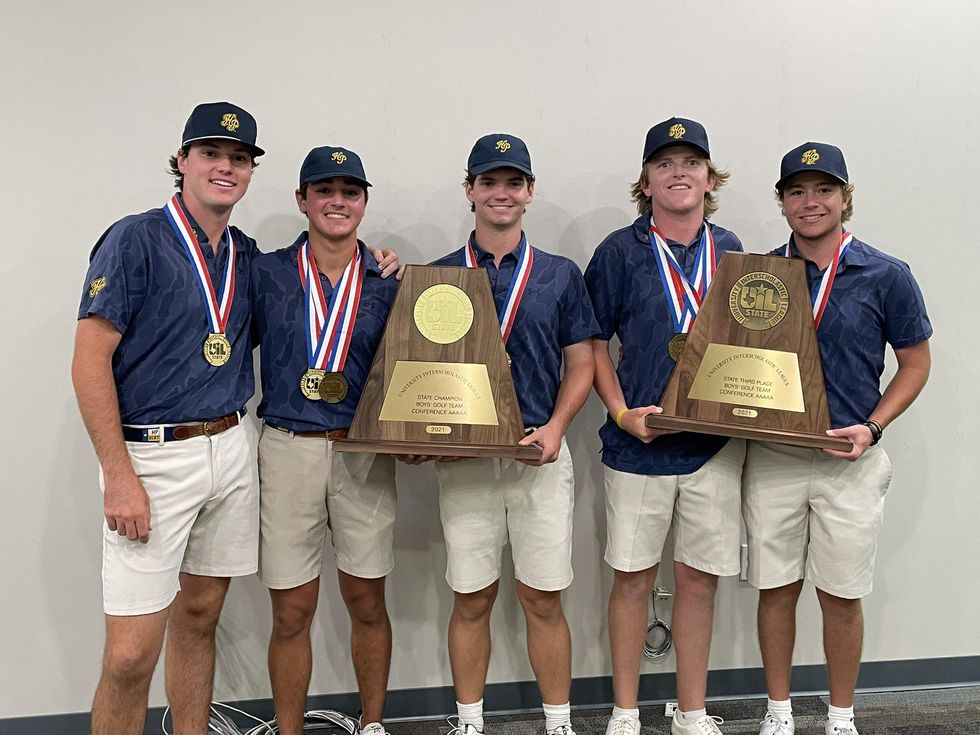 Coach Ringo (@ScotsAth)
The Gold Team led by Preston Cooper
The Highland Park Gold Team finished in third place with a total score of 588, just one stroke behind Boerne Champion. Individual state champion Preston Cooper led the Highland Park Gold Team with an outstanding performance. On Day 1, Cooper scored 70 before following with a score of 71 on Day 2 to total 141. Cooper finished just one stroke ahead of Austin Anderson's Trevor Mierl.
Alongside Cooper, the Gold Team had Thompson Huthnance who finished in a third place tie with a total score of 143. Together with Huthnance and Cooper, Mack Duvall (81-70— 151), Martin Kemp (79-74— 153), and Nick Visconsi (81-77— 158) combined for a total score of 588 to bring home a bronze medal.